Effetto Mariposa Caffelatex tire sealant
Not all tire sealants are created equal. Where most are based on latex, Effetto Mairposa's Caffelatex tire sealant is formulated around a more complex and innovative chemistry. It uses a technology they call Actifoam to protect against punctures. Where latex based sealants remain fluid as you ride, the centrifugal force of the wheel spinning causes Caffelatex to foam and expand to fill the inside of your tire. Those centrifugal forces push other fluid sealants to the edge of the tire, leaving the sidewall less protected than the centre. By filling the entire tire, Effetto Mairposa claim their blend is more effective at repairing sidewall punctures. It uses a much smaller level of particle too, to help keep your valves clear. Normal sealants uses particles between 150 and 300 microns in size, but those in Caffelatex are just 2 microns across, allowing them to flow freely. The final element is silicate particles that help slow the flow of fluid through a tear and help it seal faster. It is rated for tears up to 5mm long. However, this performance comes as a cost in terms of lifespan - they recommend you check your sealant every two months and advise that even in the best conditions it will last no more than six months. One other important feature is that it is claimed to be 100% non-corrosive to rims and tires, unlike some of the alternatives. In the compostion of Caffelatex sealant is
ethylene glycol
- which has been used in antifreeze for years - which Wikipedia describes as "moderately toxic." Working out concentrations and volumes, this means a 20kg child would need to drink more than 200ml of the Caffelatex fluid, which is
10-12.5% ethylene glycol
, to be at serious risk. In the US,
the CDC
is clear that "Your health is not likely to be seriously affected by the very small amounts of ethylene glycol that could be tasted or otherwise accidentally eaten." In the environment it lasts for several days to a few weeks, causing no long term damage, however it is toxic for that period. Not to get too bogged down in science, but the message is simple: If you choose this sealant, you will need to think about how you use it, dispose of it, what to do if you spill any, and keep it well out of reach of both children and idiots. MSRP $16.71 (1 litre)
www.effettomariposa.eu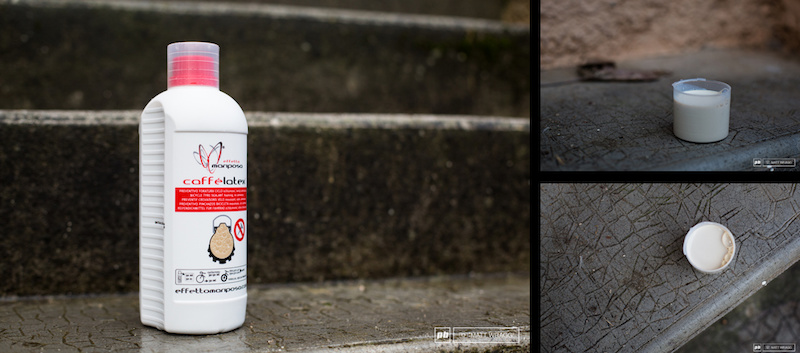 While the Caffelatex may be doing exciting things on a molecular level, on the outside it looks a lot like any other bottle of tire sealant.
Pinkbike's Take:
| | |
| --- | --- |
| | If you talk to any pro rider or mechanic who uses a tubeless setup, you will sooner or later hear stories of pro-tweaks. One of the most common is putting baby powder in the fluid in order to thicken it to make it seal faster. Caffelatex does this right out of the bottle. There is a reason why Nico Vouilloz uses it as his sealant of choice these days. Having spent six months using several different sealants back-to-back, we can confidently say this is the highest performing one we have tried so far. It seals more punctures, quicker than anything else we have tried - nothing else off-the-shelf works better to keep you rolling. However, that performance comes at a price, with it's lifespan being shorter than some of the other options, and you need to think carefully about storage and disposal of the fluid. - Matt Wragg |
---
Shimano MW81 winter riding shoes
The MW81 is Shimano's winter riding shoe that has been designed to keep you warm and dry, no matter how bad the conditions get. At their heart is an insulated Gore-Tex liner that is not only waterproof, but breathable too, and the insole is polar fleece for extra warmth. On the outside they are constructed from polyurethane-coated leather that should be tough enough to survive for several years. Reinforcements at both ends protect your toes and heel, and it's all held in place with three big velcro straps and a water-resistant neoprene ankle closure. Underneath, the tread pattern is big and deep to offer grip and mud-clearance, and there are two fixtures for spikes to the toe if conditions get really bad. They weigh 815g (claimed) for a pair in size 40. MSRP $250.86
www.shimano.com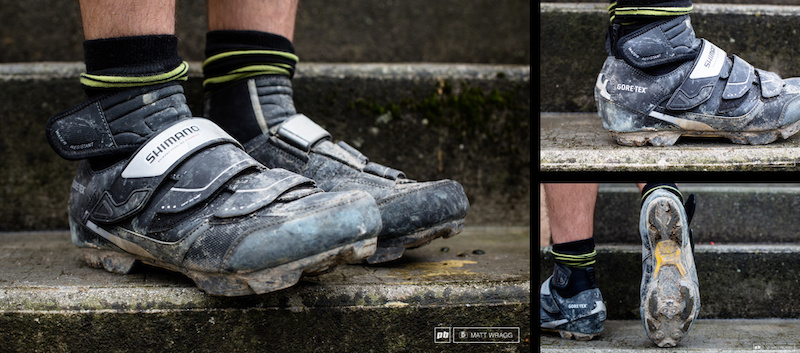 The MW81s put function well before fashion, and every part of their make-up is there for a purpose; While the insulation and rugged materials on the outer are all pretty useful, it's the Gore-Tex liner that makes these shoes stand out - if you're not sure how good it is, just ask anybody who has invested in a Gore-Tex waterproof jacket, it's the kind of thing that once you've used, you can't go back from.
Pinkbike's Take:
| | |
| --- | --- |
| | We're sure that the first thing many of you will say is "$250 for a pair of riding shoes?" And we'd say yes, and yes again. Sure, you can keep your feet sort of dry and warm with plastic bags and multiple pairs of socks, and if you'd prefer to do that, stop reading now. However, anybody who spends a lot of time out in the cold and wet will most likely appreciate the value of high-quality outerwear and appreciate that quality inevitably comes at a price. Knowing your feet are going to come back warm and dry no matter what the weather is a great feeling, one that makes getting the bike out onto the trail that little bit easier. On the trail we couldn't get them to falter, so we stuck these under the hose at the bike wash for a good spell, just to see how well they did. Our feet stayed dry. Aside from their all-weather performance, the sole is a nice balance between stiffness and flexibility, and the grip off the bike is very impressive, even in the mud. Our only small gripe is that the three strap and ankle closure system makes them a bit difficult to get on and off. Right now, in the middle of winter when the weather is at its coldest and wettest, the MW81s are simply fantastic and we have no hesitation in saying that they are worth every single one of those $250 dollars. - Matt Wragg |
---
Madison Zenith short
Madison, the well known UK distributor, launched their own range of clothing in 2013 with the idea to produce good quality kit at sensible prices. The Zenith is their take on a lightweight, versatile short for a rider who wants to spend long periods of time in the saddle, and the material strikes a balance between light weight and durability. The lay-up of fabrics is complex, with a seamless, stretch crotch, tougher fabric on the exterior of the leg and vent on the thigh. There are five pockets, two on the hip, a phone pouch, and two on the leg, all with zippers to close them. Both sides of the waist employ elastic adjusters, and the fly is a nice, chunky zipper coupled with a pair of buttons at the top. They also come with a limited lifetime warranty. MSRP £49.99 (only available in the UK right now).
www.madison.cc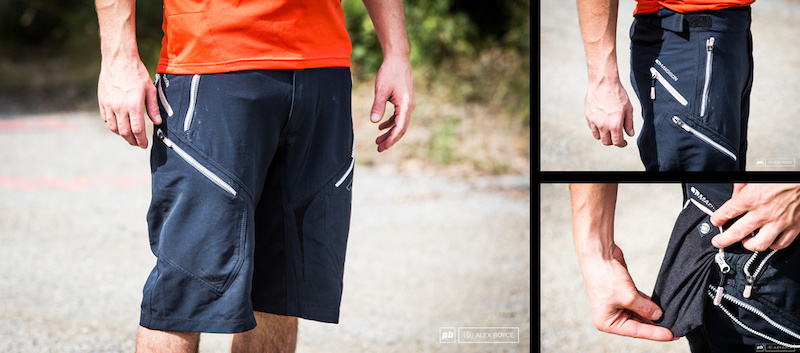 The Zenith short features a decent length and a good number of pockets; there are the two hip pockets, two leg pockets and an phone pouch in the righthand side.
Pinkbike's Take:
| | |
| --- | --- |
| | We like the approach Madison have taken with their clothing line, focusing squarely on function over fashion. One of the most important things is always the feel of the material, and the Zeniths score well there, although it took a couple of washes to soften the inner enough to be properly comfortable. Length is good, coming just past the knee and leaving no awkward gap between kneepads and the short. Many lightweight shorts opt for equally lightweight zippers, which is a common area for failures, especially on the fly. The Zeniths avoid that pitfall, with a sizeable, solid zipper. We aren't so keen on the zippers used to close the hip pockets, though, and we'd prefer a simple, deep pocket with no zips. We are big fans of the phone pouch that is lined with an extra-soft material to protect your screen. Aesthetically, the logo on the leg is a touch big for out taste - simpler would be better. The other, bigger problem is that they don't come with a liner included, which means you will need to buy one later, counting against them on the value stakes. - Matt Wragg |
---