Truvativ Jerome Clementz BlackBox handlebar
Developed with help from French enduro superstar Jerome Clementz, the 750mm wide carbon fiber Truvativ BlackBox handlebar that bears his name offers a balance between ultra-wide but hefty downhill bars, and lightweight, narrower cross-country options. With 5 degrees of up-sweep, 7 degrees of back-sweep, and 20mm of rise, the Clementz bar features similar dimensions to the popular BooBar handlebar, but in a lighter weight, carbon fiber package. A standard 31.8mm clamp size works with most current stems, and they weigh in at a claimed 240 grams. MSRP: $198 USD.
www.sram.com/truvativ
The Clementz BlackBox handlebar didn't make us go as fast as Jerome, but it is comfortable and light.
Pinkbike's Take:
| | |
| --- | --- |
| | The Clementz BlackBox bar offers a nice compromise between width, stiffness, and great specs. Previously, to get a 750mm width bar riders were had to choose from hefty, overbuilt downhill bars in order to get the width they preferred. The Clementz BlackBox bar fills this niche nicely with a claimed weight of 240g, and ours weighed in at 236g, or about 30g lighter than the comparable 740mm BooBar aluminum bar. Sometimes wary of carbon bar durability, the first few bad line choices eased our minds, and the Clementz bar has since been through a few OTBs while still holding strong in the clear coat department. Having said that, sharp edges did easily mar the bar's clearcoat finish while installing or making any lever adjustments, although it is nothing more than cosmetic. The 750mm width seems just about perfect for the average build rider looking to enjoy some extra width without feeling overwhelmingly wide and sluggish, the 7 degrees of back sweep sets the bars comfortably inward while 5 degrees of up sweep puts them in a nice comfortable position that provided control on high speed, loose sections or when the bike needed to be brought back in hairy situations. At $198 USD, the Clementz bars are on the high-end of the carbon bar market, but with a sensible width, reasonably low weight, and great durability, the Clementz bar is a great option for riders looking to lighten up their rig while still maximizing control and comfort on the trail. - Jordan Carr |
---
POC Cortex DH MIPS helmet
Simple aesthetics and Swedish styling have kept POC highly sought after in the armour and protection segment of late, but with the brand integration and licensing of the MIPS protection system, POC has taken their popular Cortex full face design and paired it with the latest in helmet safety technology. Multi-directional Impact Protection System (
or MIPS
) consists of the helmet's outer shell combined with a plastic liner separated by a low friction layer that, POC says, allows a small amount of rotation in the shell relative to the liner when subject to an off-angle impact. This technology, taken from a process that occurs naturally within ones head upon impact, is said to show a significant reduction in forces transferred to the brain in such circumstances. POC has paired MIPS with their aramid-reinforced, carbon shell, and the finished product weighs in at 1000 grams (
claimed
), which is the same as the non-MIPS model. While the weight is similar, there is a price to pay for the increased protection, with the MIPs model retailing for $499 USD, or about twice as much as the standard Cortex helmet.
www.pocsports.com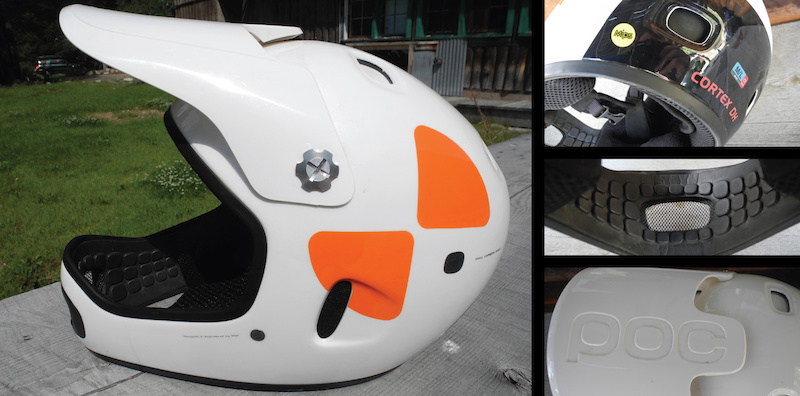 The Cortex DH MIPS is expensive but it offers more protection. How much is your head worth?
Pinkbike's Take:
| | |
| --- | --- |
| | The Cortex MIPS had a lightweight, comfortable feel without feeling too overbuilt, and after watching a few videos explaining the MIPS system, it is obvious that the proven concussion reducing technology offers added peace of mind on the rowdiest of terrain. Truth be told, we thankfully didn't get to test the system's anti-rotational protection properties with a head-pounding crash, but we believe that it is well worth the added coin. From a fit standpoint, though rather personal, the helmet offers a comfortable snugness that features a good amount of adjustability, even for those with oddly shaped domes. In warm weather the Cortex offer some ventilation, but not as much as other options that feature more openings, meaning that it is a bit hotter than some. With a claimed weight of 1000 grams - ours weighed 1035 grams - the helmet feels light on the head and is easy to wear during long days riding the lifts. At $500, the Cortex MIPS helmet is far from cheap, but if safety is high on your priority list or you have had one too many concussions in your past, the MIPS system is worth shelling out the extra dough. - Jordan Carr |
---
Ergon SuperEnduro BA3 pack
More widely known for their ergonomic grips, Ergon has also been manufacturing uniquely designed packs since 2008. Aimed at the ever-so-popular enduro segment of the market, the SuperEnduro BA3 was also designed with the help of the Canyon Enduro team. Offered in two sizes, small and large, the BA3 features a 4-stage adjustable back length system for further personalization to fit almost any body type and size. A full 15L capacity also offers 2L of expansion to make carrying extra padding or clothing tolerable, even when unexpected. A front strap system provides a pocket for a full face helmet, and lower straps to accommodate kneepads as well. Four compartments make tool and food storage neat and tidy inside the pack, along with a separate pocket for a bladder and a contoured aluminum bar that keeps the water weight snug on your back. The hip strap features small pockets to keep tools, cell phone, or food accessible when on the bike, and the wide, elastic belt can be adjusted with a single hand. For increased visibility reflectors are integrated throughout the pack. Available in both black and blue options, the BA3 SuperEnduro retails for $129 USD.
www.ergon-bike.com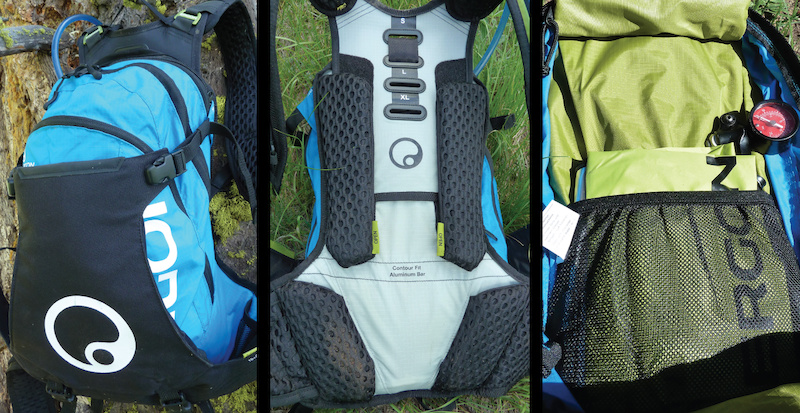 Like to pack for every eventuality? The SuperEnduro BA3 pack might be for you.
Pinkbike's Take:
| | |
| --- | --- |
| | The phrase 'enduro-specific' seems more like a marketing ploy than anything else, but after a couple weeks with the pack, it is safe to say that many of the features of the BA3 are really well designed. Carrying weight with the BA3 was painless, even when the trail required lots of movement on the bike. Stowing a variety of important items in the pack was neat and organized, making trailside repairs efficient, and the waist belt pockets made important items accessible without having to remove the pack. What stuck out most on the Ergon BA3 SuperEnduro was the immense amount of adjustability, from two size options at purchase and four ranges of height adjustment within each size, the BA3 truly offers one of the most personalized fitting packs on the market. All this adjustment could lead to some over thinking when first setting the pack up, though, and it was difficult to find the sweet spot between different settings after compromising on fit with so many packs previously, but this is a good problem to have once fit is pinpointed. The raised back panels take a bit of break in time before they become soft enough not to be as noticeable, but once broken in they conform nicely. One minor issue we noticed with the BA3 was that when taken on and off numerous times on a ride, the shoulder strap support would sometimes work its way out, which due to its stiff feel, was difficult to maneuver back inside the shoulder strap. Overall, the BA3 SuperEnduro offers tons of great features combined with a very detailed fit adjustment system, and it fits and functions much better than expected. If carrying a lot of gear is high on your priority list, or finding a pack that fits well has been an issue, the BA3 SuperEnduro is well worth trying on at your local shop. - Jordan Carr |