Renthal SR4 Chainring
Not all chainrings are created equal and Renthal have arguably more experience making chainrings than any other company out there. Making them for more than 50 years for motor bikes means that they know a thing or two about it. Lining one of these single ring-specific SR4 rings up next to an OE-type chainring you can see how thick they are in comparison, nearly twice the width of what you often find. Yet that doesn't mean they're heavy - the clever drilling keeps the weight of this 32t version down to just 38g (the 44t version is 82g). They're also pimp as hell, the quality of machining and finishing is top notch. Being Renthal, they are only available in this lovely gold colour, and we like that, it's always good to see companies with the confidence to do things in their own way - in this case it's choosing to stay out of the trend for offering kit in a technicolor vomit of "colorways". MSRP is $59.95 USD (£39.99).
www.renthalcycling.com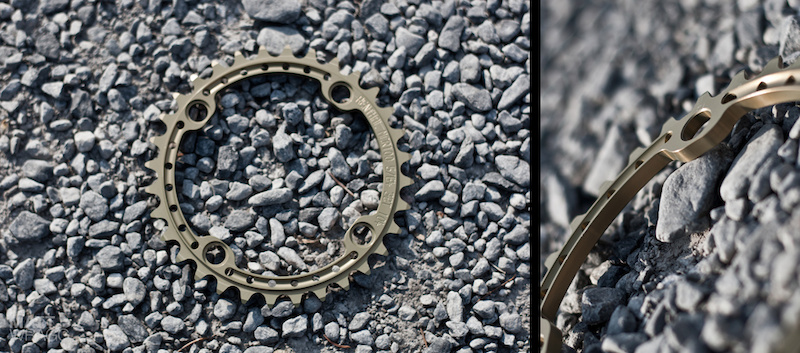 The Renthal SR4 32t chainring, what more is there to say? (Right) Just check out the quality of the machining and the finish.
Pinkbike's Take:
| | |
| --- | --- |
| | What do we need to say about Renthal SR4 Chainrings? They're light, strong, durable, look good and are not over-priced. We've had one of these strapped to our Saracen Ariel test bike for the last year and can't report a single fault with it. Nothing less than a perfect piece of kit. - Matt Wragg |
---
Troy Lee Designs T-Bone Kneepads
Usually Product Picks are reserved for new(ish) kit, but in this case we need to make room for something we're starting to consider a bit of a classic: the T-Bone kneepad. When you start to list the things that you want a kneepad to do, you come down to two things: protect your knee and stay in place, so that it can do that. Across the front of the pad, the big plate provides good protection from frontal hits, but it's the padding round the side that really makes them special. It's something that many companies seem to forget when they're designing knee pads, but those six foam pads make a huge difference for protecting your knees. To keep them in place they have a strap at the top and the bottom, rather than relying on the elastic. MSRP on these is $59.95 USD (£54.99) a set.
www.troyleedesigns.com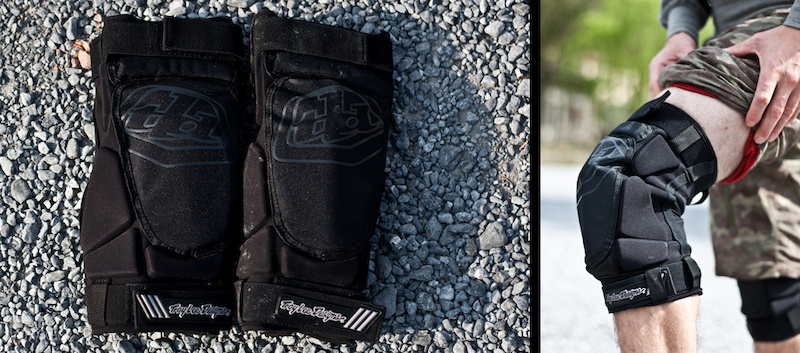 Yep, they're definitely kneepads. (Right) Showing a bit of thigh to demonstrate that important side padding.
Pinkbike's Take:
| | |
| --- | --- |
| | This set here is replacing an older set of T-Bones that we've worked out to have been in regular use since 2007 - including two full seasons. After five years, the foam pads on the side have been shredded somewhat (rocky, Mediteranean trails tend to do that), the finishing at the top and bottom is starting to come away from the pad and they don't smell too great, but they still work fine. The simple system of two straps to hold them in place works as well as it did the day they came out of the packet, unlike many elastic-based pads that tend to sag and lose grip all-too-quickly. Out of the box they do need some time to bed in, a good few days riding before they soften up and take to the shape of your knee. Once they have you rarely need to adjust these or fiddle with their position. Sure, you will find lighter pads and some people complain that these are quite hot, and we can't argue with that, but if you get back to the two most important things you want a kneepad to do (protect and stay in place), these are still some of our favourites. Just make sure you try a set on as the sizing seems to come up quite small. - Matt Wragg |
---
Urge Endur-O-Matic Helmet
Urge were one of the first companies to pick up on the breed of riders who wanted to go out all day and pedal, but still go hard on the descents. Call them enduro, all-mountain or trail riders, or whatever takes your fancy. Traditional open-face helmets just didn't have enough protection, especially on the back of the head, yet full-facers aren't practical for climbing as even the best out there restrict your breathing too much. The Endur-O-Matic was born into this gap. At $99.95 USD (£79.99) they're good value compared to a lot of the other new-generation, trails helmets out there.
www.urgebike.com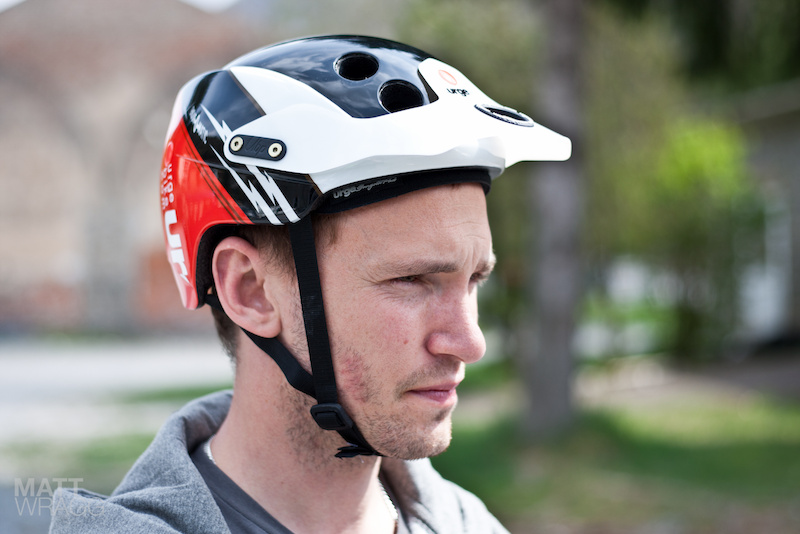 (Clockwise) For our money, one of the best looking open-face lids going (it's just a shame you can't say as much for me); The double-bolted plate holding the peak in place; The lettering around the peak vent; That all important protection at the back of your head.
Pinkbike's Take:
| | |
| --- | --- |
| | Out of the box the first two things you will notice about the Endur-O-Matic helmet are how light and well-finished it is. Holding it in your hand it is genuinely surprising that it weighs so little. You need to see one in the flesh to appreciate the little details, like the double-bolted plates on each side to retain the peak and the raised lettering around the peak's air vent. While the vents provide more airflow than you'd expect, this isn't a breezy XC affair and on hot days it does get a bit sweaty. However, the reassuring feeling of that extra coverage at the back of your head is well-worth the trade-off in cooling. If you do soak the pads, they pop in and out incredibly easily for drying and washing. Obviously we can't talk about this helmet without mentioning the way it looks - generally people love or hate Urge's helmets. Initially we will admit that we were in the dislike camp, but they've grown on us over time and if we were pushed now, we'd say this is one of the best-looking, open-face lids on the market. - Matt Wragg |
---
---