Mavic Notch helmet
Mavic's new Notch lineup, which includes the helmet tested here, as well as a new jersey and short, heads in the opposite direction of the Euro-tech flavour that one might traditionally think of when they hear the French brand's name. The Notch helmet has more of an all-mountain slant to it, with added protection out back when compared to your average cross-country lid, as well as a larger and much sturdier visor and eighteen good-sized vents. Mavic employs their proven Ergo Hold SL adjustable retention band that allows riders to tune the fit on-the-go with one hand via a knurled dial, and the entire system features a three-position height setting that makes for even more fitment options. It all adds up to a 365 gram helmet on our scale. Small, medium, and large sizes are available, and color options include yellow, white, and the black version shown here. MSRP $109.99 USD.
www.mavic.com

Mavic offers another option for those who are looking for a helmet that provides more protection than your run of the mill cross-country lid.
Pinkbike's Take:
| | |
| --- | --- |
| | Like a lot of trail/enduro/all-mountain influenced lids, the Notch's burly appearance will appeal to a lot of riders who don't want to look like they're lining up for a World Cup cross-country race while heading out for a Sunday lap. Our understated matte black Notch has a stealthy "I'm here to enjoy myself" look to it, and despite the slightly increased rear protection it still weighs in at a competitive 365 grams on the Pinkbike scale. Coverage is on par with other trail-oriented helmets on the market, with it having a very similar footprint to Giro's Xar, and lower reaching protection than a lighter helmet. It is the front of the Notch that gives it its brawny appearance, with a visor that protrudes more than what you'll see on most other designs. The visor also attaches to the helmet via a dual push-pin system on each side and center section that is shaped to clip into the center vent. The setup doesn't allow for any adjustment, but it is so sturdy that it makes other designs look like rickety afterthoughts, although there were a few times when we found ourselves wishing it was just a touch higher so as to be out of our sightline. As far as fit is concerned, our medium Notch fit bigger than other mediums we've worn, but the helmet's adjustable retention band allows for quick fine-tuning that resulted in a comfortable feel on our heads without any issues. As always, fit is such a personal thing that we highly recommend purchasing the Notch from a local shop rather than an online retailer in order to do a test fitting, but we would say that the Mavic has a neutral shape that should work for a lot of riders. Air flow seemed on par with similar designs, although our chilly winter riding conditions are not the best for evaluating venting. The Notch's Ergo Hold SL Retention System does a good job of holding the helmet steady, and it also has a large adjustment range that can be dialled in with one hand while on the go, but it doesn't seem to distribute the pressure as evenly as some other designs. While some other helmets have retention systems that can be cranked down far too tight without any causing any hot spots, we found that there was a very fine line regarding how snug you can do the adjustment band before it made for some discomfort at the sides of our head. Thankfully, it didn't need to be overly tight to hold the helmet steady, but we did find ourselves adjusting its tension at least a few times every ride due to this fact. Is the Notch better than other trail-oriented helmets on the market? That will come down to how well it fits your head, but it is safe to say that the Notch is certainly a contender in our books. - Mike Levy |
---
North Shore Billet Overlord stem
North Shore Billet's CNC machined Overlord stem is manufactured in their Whister, B.C., shop that also produces their trick looking brake adapters, hose guide clamps, and new direct-mount crank spiders and rings, making them one of the few outfits who produce their entire lineup in British Columbia. This is certainly a more expensive approach than ordering 10,000 stems from a Taiwanese catalog, but it also means they control every aspect of the process, from raw materials to packaging. Fitting of where it is manufactured, NSB puts sturdiness and quality above ultimate weight on the Overlord's priority list, with a relatively substantial cross-section and bar clamp profile compared to some other stems out there. The result is a 189 gram weight - not light but certainly not portly either. Grade 8.8 gold zinc plated M6 bolts are used for the opposing steerer tube clamp bolts and the four face plate bolts, meaning that rust shouldn't ever be an issue. Riders can choose from 40, 50, 60 (
shown here
), and 70mm length options, all with 0° rise. Colour options include black, pewter, red, gold, blue, and a purple tint that will add a touch of mid-nineties flare to your bike. MSRP $110 USD
www.northshorebillet.com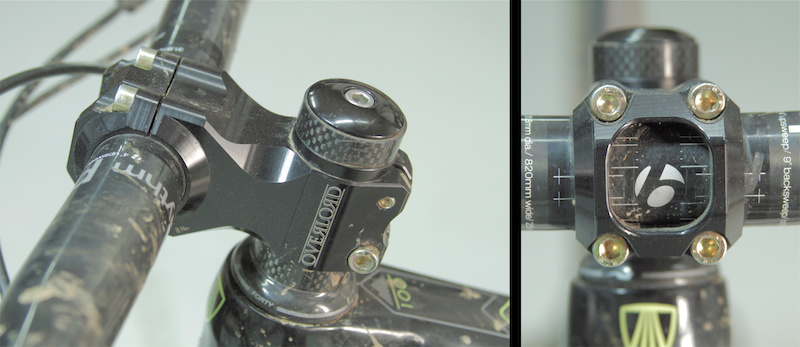 North Shore Billet's Overlord stem might very well be the last stem you buy.
Pinkbike's Take:
| | |
| --- | --- |
| | There must be at least a few hundred stems out there for riders to pick from, the very large majority of which hold your bar and steerer tube just fine, don't creak, and will last for many seasons of riding. All that is left to do is pick one with the rise, length, weight, and aesthetics that you are looking for. And besides, when was the last time a you used a short stem that wasn't stiff enough? Dig a little deeper, though, and you'll find that a some of those options are better than others... Are there any sharp, knee-slicing edges at the steerer clamp? Tiny and soft 4mm-head bolts that you will be wary of in a year's time? Will it sport a finish that looks as if the stem spent a year at the bottom of the ocean after only a few months of use? The Overlord can answer no, no, and no to all three of those questions. The sturdy-looking, zinc-plated M6 bolts should shrug off any attempt at rusting, an especially nice point for those who do a lot of wet-weather riding, and the 5mm hex heads resist deformation far better than 4mm, lower-grade fasteners. As for the finish, our black anodized Overlord looks as good as the day it arrived. Some riders will likely balk at the 60mm stem's 189 gram weight - there are options out there that come in 40+ grams lighter - but NSB isn't trying to win over the shameless weight weenies out there. The Overlord is for those who can appreciate a made-in-B.C. product, someone who might want a stem they move from bike to bike as their tastes change over the years. And while it certainly isn't inexpensive, there are also far pricier stems to choose from that don't compare to this beauty. - Mike Levy |
---
Kore Durox Ti seat
Kore's growing lineup now includes eight different saddles, with the Durox Ti tested here being being a slimmer and firmer choice compared to the seats that come stock on many bikes. A ''
microfiber cover with under stitched K22 carbon weave corners
'' has been employed up top, while titanium rails make for a respectable 255 gram weight. Total length measures 272mm, with a 132mm width that makes for a slightly racier appearance. A split shell that Kore calls the ''
EA Pressure Release System Base
'' allows for more flex and foam displacement, while a relief channel that runs down the saddle's center should help alleviate any of that dreaded numbing. Riders can choose from either black or white color options, both of which carry an MSRP of $88.00 USD.
www.kore-usa.com

It may look skinny and hard, but the Durox Ti feels forgiving and comfortable to our behinds. Looks can be deceiving.
Pinkbike's Take:
| | |
| --- | --- |
| | While the seat on a downhill or dirt jump bike isn't required to do much more than serve as a place to sit when not in motion, those who plan on pedalling for more than an hour per ride will benefit greatly from finding a seat that works for them. Yes, there may be far more comfortable seats than the one that came stock on your bike, and many bike shops will offer to fit different ones to your bike so you can figure out what it is you need. Length, width, general shape, and firmness all come into play, with a lot of riders assuming that a seat with soft padding is one that will feel good in the long-run. This isn't true, though, as it is the shape that counts the most: where and how the seat widens out, and the amount of convex to the saddle top. Kore's Durox Ti employs relatively firm padding that may put some riders off if they only do the finger push test, but the slim shape did well to direct pressure to our sit bones without any painful load points. We used the Durox Ti on quite a few days with four and five hours of saddle time, all of which had us completely forgetting about the seat under us, which is the best compliment that a seat can receive. Obviously, this might not be the case for everyone, but the firm padding and slim shape certainly belies the Durox Ti's forgiving feel. The microfiber cover and reinforced corners show no signs of wear at this point, and the titanium rails are still straight, although we did get some creaking from the rail/saddle base interface that was quickly remedied with some spray lube. The only change we might make is a slight softer foam material on the nose: it felt a touch invasive when we needed to slide forward on the saddle for a steep climb. - Mike Levy |
---