Fly Racing Action jersey
Fly Racing's Action Jersey is a simple short sleeve jersey, without any superfluous bells and whistles. There are no pockets, no zippers; it's a basic, synthetic shirt that is designed to be fast drying and odor-resistant. The v-neck jersey is made from 61% polyester, 36% S.Café polyester, and 3% spandex. S.Café is a fabric made partially from recycled coffee grounds, which is supposed to provide odor control, quick moisture wicking, and protection from UV rays. Available in red, black, and grey, and in sizes small to XXL. MSRP $39.95 USD.
www.flyracing.com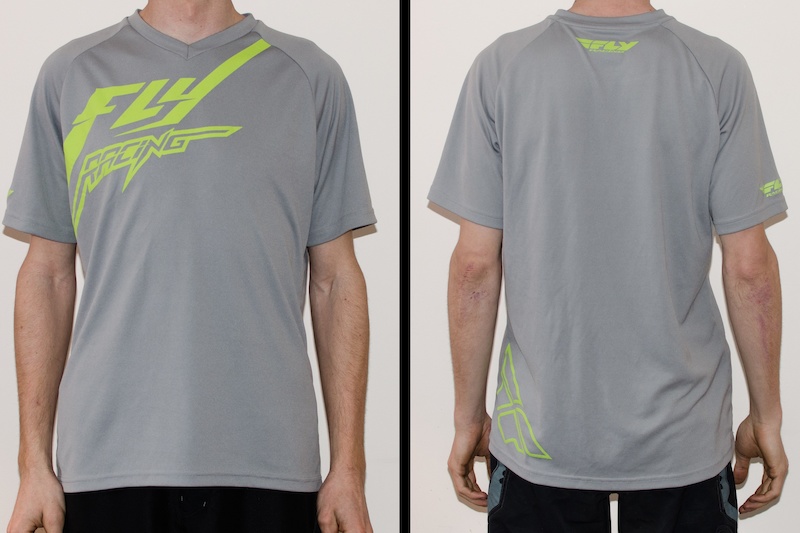 Made from a fabric that contains recycled coffee beans, the Action jersey is a no-frills layer designed to keep you dry and odor-free.
Pinkbike's take:
| | |
| --- | --- |
| | The number of cycling jerseys on the market these days is staggering - with so many similar options available, it's difficult for any one jersey to stand out from the crowd. At first glance, the Action jersey looks like all the rest - a polyester t-shirt with the company's logo splashed on the front. And that's exactly what it is, except for one thing - the fabric used for this jersey has an incredibly soft, almost silky feel to it. We're not sure if it's the recycled coffee grounds used in the S.Cafe polyester that create this softness, but whatever the case, it makes for a very comfortable jersey. The jersey fit well, with a relaxed cut and a slightly longer overall length than a body-hugging XC jersey would have. In the name of science (or laziness), we wore the jersey on a number of rides without washing it, in order to test the claimed odor reducing properties of the fabric. The jersey didn't remain odor free, but it was less pungent than we would have expected, and once we did wash it there was no residual stink. Since winter is still making its presence known here in the Pacific Northwest, the UV protection capabilities of this jersey went untested, but it should be a useful feature for those who reside in places where the sun comes out more than a few times a month. Overall, the Fly Racing's Action jersey is a simple, comfortable, quick drying layer that works as advertised. - Mike Kazimer |
---
Chromag Fubar OSX
Chromag's Fubar OSX is the Whistler-based company's 780mm wide aluminum DH handlebar, with 5 degrees of upsweep, an 8 degree bend, and 25mm of rise. Weighing in at 310 grams, the Fubars are svelte enough for use on an all-mountain or trail bike, but are designed to handle the abuses of downhill biking. There are a rainbow of available color options and finishes, with everything from gold flake to ocean blue, or even purple, for all your color coordinating needs. Pricing varies depending on color choice, but our black anodized bars have an MSRP of $100 USD.
www.chromagbikes.com

Wide, light, and strong, the Chromag Fubar OSX can be used for everything from downhill to trail riding.
Pinkbike's take:
| | |
| --- | --- |
| | The Fubar OSX's length felt perfect right from the start - we didn't feel the need to trim it down at all, although there are marks printed on the bar should you decide to do so. There are also marks on the center of the handlebar that make it easy to get it properly aligned in the stem. The back and upsweep are fairly standard for this style of bar, but for good reason - it makes for a comfortable, neutral hand position. The 25mm of rise worked well for us, but now that riser bars seem to be making a comeback, it'd be nice to see a version with a little more rise. This handlebar saw action on a downhill bike and on an all-mountain bike, and worked well for both applications. As far as stiffness goes, we've ridden other handlebars that are so stiff they cause wrist pain, translating every bump on the trail right into your bones, but this never happened with the Fubar. It's a stiff bar, but it also has enough give so you can survive a day in the bike park without developing carpal tunnel syndrome. There's a reason this is arguably the most common handlebar used at the Whistler Bike Park - it's strong, wide, and comfortable. Plus, Chromag's iconic twin bear logo is printed on it for those extra style points. - Mike Kazimer |
---
Specialized Bennies platform pedal
Designed with input from Specialized rider Brad Benedict, the Bennies platform pedals are 100mm wide and have a center thickness of 17.3mm, increasing to 19mm at the ends. 12 replaceable pins on each side thread into the pedal's aluminum body, which rotates on a chromoly spindle via two sealed cartridge bearings and a bushing. No special tools are needed for disassembly – a 6mm hex wrench will remove the dust cap, and an 8mm socket will take off the locking nut that hold the pedal to the spindle. Installation can be accomplished with either a 6mm hex wrench or a 15mm open end wrench. The Bennies weigh in at 430 grams, and are available in red, black, and white. MSRP: $80 USD.
www.specialized.com

The Bennies proved to be resilient, even when dragged over rocks and through deep mud puddles
Pinkbike's take:
| | |
| --- | --- |
| | We installed the Bennies over four months ago; since then they've been ridden through pretty much every abusive trail condition possible - deep puddles, mud, snow, ice - they've seen it all. Impressively, they're still spinning freely, without any grittiness or play in the bearings. When we removed the body to take a look at the internals, the original grease was still intact, without any signs of contamination. Underfoot, the Bennies feel solid, with the 100mm width and 105mm length providing enough room for a comfortable foot position, even when wearing Five Ten's notoriously wide Impact shoes. The Bennies are not as concave as some other pedals on the market, but we didn't have any trouble keeping our feet securely planted. The grip was excellent, so much so that we removed a few of the pins to make it easier to reposition our feet. All of the remaining pins survived the testing, despite repeated encounters with roots and rocks. The pins do thread into the pedal body from the outside, which means it could be be more difficult to remove or change them if the head gets deformed from an impact, but that isn't anything a pair of vice grips wouldn't be able to fix. The pedal body has a few scratches and impact marks, but nothing out of the ordinary for what the pedal went through. The Bennies may not have the paper thin width, or the rainbow colored traction pins of other platform pedals on the market, but for less than $100, the Bennies are a solid choice, a light and durable flat pedal that can handle abusive riding conditions. - Mike Kazimer |
---