Pivot ISCG-05 Chain guide Adapter Plate
Pivot Cycles adopted Shimano's non-threaded PressFit bottom bracket system at its inception. Pivot's mid-travel trailbikes lack ISCG chainguide mounts and without threads, customers who wanted to retrofit chain guides were left in single chainring limbo. Pivot responded with a trick looking aluminum adapter plate, which we have often written about - so we thought we should show it to you. The machined aluminum adapter plate nests into the frame and clamps securely around the bottom bracket shell with a single 6 millimeter allen screw. The adapter costs $68 USD and fits single chainring guides. The ISCG-05 adapter fits all aluminum Pivot Mach 4, 5, 5.7 and 429 models with PressFit bottom bracket systems. We mounted it to our Mach 5.7 test sled and used an MRP chainguide with a 34-tooth MRP sprocket mounted to a Shimano XTR dual ring crankset.
Pivot Cycles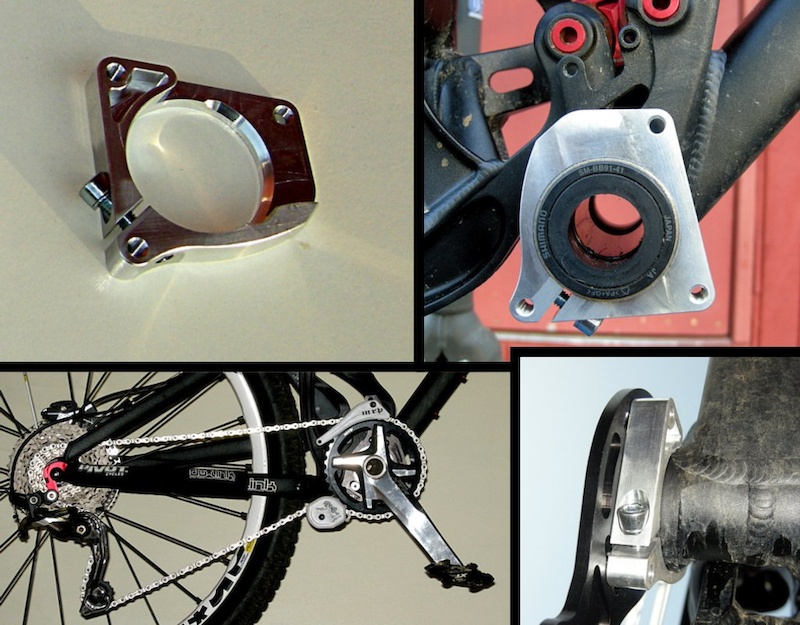 Pivot's ISCG-05 clamp-on aluminum adapter plate is relieved on the inside face to index into the frame. The clamp-on arrangement is necessary because Pivot's trailbikes use a PressFit unthreaded bottom bracket shell. A look from below the bike shows the single pinch bolt that fixes the plate to the frame. The finished product looks quite nice on the Mach 5.7.
Pinkbike's Take:
| | |
| --- | --- |
| | Installing Pivot's ISCG-05 plate is not too difficult, as long as you understand the basics of removing a crankset and installing a chain guide. The plate is a tight fit around the bottom bracket shell and it is recessed to stop against the fixed derailleur mount. Slide it on as far as it will go until the plate contacts the flats of the front derailleur mount, and then rotate it clockwise until the recessed part nests against the frame. Cinch it up with a 6 millimeter allen wrench and you can mount the chainguide. Our adapter needed no spacers with the MRP guide and required only a minimum of fussing to get the upper and lower guides to remain quiet as we shifted across the entire range of the ten-speed cassette. We are using a 34 tooth chainring, so the Mach 5.7 has a lot of clearance. So far the plate is still where we left it, and we have yet to bash the guide to the point of destruction. Not all was perfect in OZ, however, a tiny piece of weld blocked the adapter plate from lining up perfectly - and while we initially got the MRP guide to work, a call to the Pivot factory helped us troubleshoot the adapter situation. We filed a little bit of aluminum from the plate to work around the trouble spot and were good to go. Pivot said that they have been installing the plates without trouble at the factory, so we must have gotten lucky. - RC |
---
Caffelatex Tubeless Tire Sealant
.
Effetto Mariposa's Caffelatex has been around long enough to prove itself among the tubeless tire set. The synthetic latex based fluid looks like a flavored coffee drink, but it doesn't taste anything like one. A foaming ingredient added to Caffelatex is said to suspend the tire sealant closer to the outer walls of the tire where it can seal punctures faster. Perhaps a more important benefit is that Caffélatex's maker claims that its formula is not harmful to rubber products like some alternatives, and in fact, the stuff has been embraced by tubular tire users on the road to protect thin natural rubber tubes. A 250ml bottle costs about $10 USD.
Cantitoe Road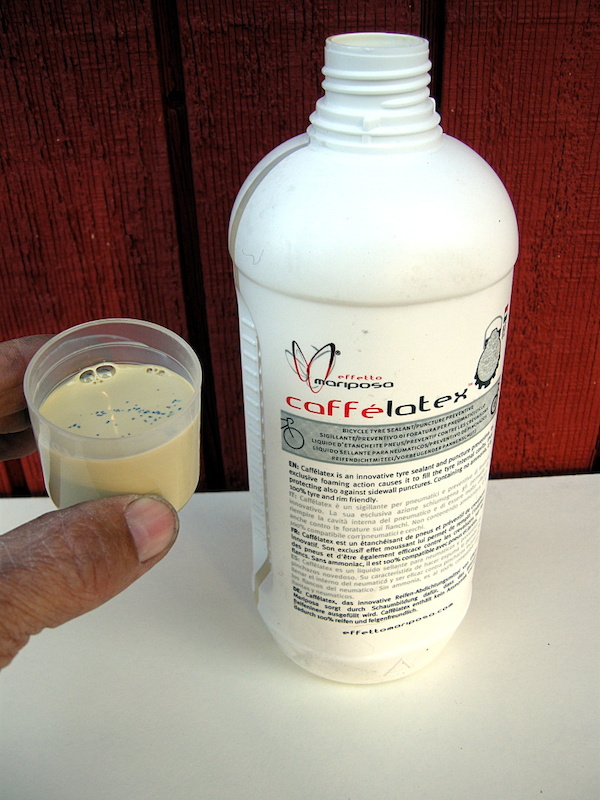 Looks like a coffee drink, but it tastes pretty bad. Caffelatex is the only sealant that can come close to Stan's
Pinkbike's Take:
| | |
| --- | --- |
| | After using Caffelatex in a number of tubeless tires, the verdict is that the sealant is good, but not great. Where Caffelatex seems to rule is in desert situations where one may get twenty needle punctures in a single ride from various cactus and thorny plants. Where Caffelatex loses ground to the industry benchmark sealant (Stan's NoTubes) is when the holes get larger. When damage like stone bruises create larger leaks, it takes Caffelatex a lot longer to stop the hissing. Cross-Country racers like it because they claim that the foaming action means that they can use less sealant and thus run lighter wheels. Remarkably, I was forced to run tubes on a desert epic, so I squirted Caffelatex in the tubes before I installed them and did not get a single puncture in six hours. Not as good as Stan's, but certainly a worthy alternative in a pinch. - RC |
---
Jagwire Ripcord Derailleur Cable System
Cable is cable and housing is housing, right? Well, maybe, but Jagwire makes truly quality cables and housings in a number of colors. The selling points are Kevlar reinforced housing, Teflon coated wires, and the company's special L3 liners - and the kits come with a multitude of sealed endcaps, anti-frame rub O-rings and other dodads that make re-cabling your derailleurs instead of riding seem like a good idea on a Sunday morning (
well, maybe not
). Jagwire Ripcord cable and housing kits sell for about $34 for two derailleurs and come in twelve colours, including smooth or woven finishes.
Jagwire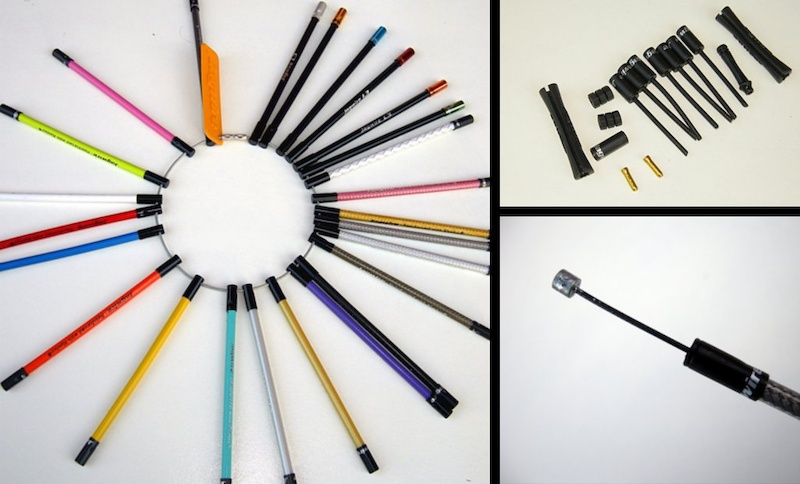 Lots of colors mean you can match your components or accent your bike. Jagwire's cable accessory kit is second to none. The derailleur cables are coated to keep them happily sliding in their Kevlar-reinforced housings.
Pinkbike's Take:
| | |
| --- | --- |
| | It's tough to beat Shimano at the cable and housing game, but Jagwire comes pretty darn close - which is a good thing, because Shimano makes such boring colors and Jagwire makes such wonderful looking stuff. I have had two Jagwire equipped bikes and both were the last cables and housings I needed to use. Where Jagwire may not be the best is if you have tight bends in the line (like with an internally routed road bike). In this situation, the plastic liners can be a little draggy. That said, it's pretty rare to find a mountain bike with such poor cable routing these days, so it's thumbs up for Jagwire and to the end of gray and black, for a while at least. - RC |
---