Yeti Freeland short
New for 2013, Yeti's mid-weight Freeland short features a 14" inseam that makes for an over-the-knee cut on most riders without being excessively baggy. Zippered cargo and non-zippered hand pockets provide plenty of room to store smaller items, and zippered vents on the front of each leg can be opened up to improve airflow on hot days. Adjustable waist straps - one on each side - and belt loops ensure that there is no reason for you to be exposing your lycra clad ass to riders behind you, while a stretch panel along the rear of the short allows for some improved ergonomics when in action. The Freeland short is available in either black or grey, and retails for $89 USD. Yeti offers three different liners separately: the minimalist Ames for $30 USD, the $60 Morely with a standard thickness chamois, and the more heavily padded Como, also for $60.
www.yeticycles.com
Only think of bikes when you hear the Yeti name? If the Freeland short is any indication, that will soon change.
Pinkbike's Take:
| | |
| --- | --- |
| | Yeti's Freeland short strikes a middle ground between a slimmer fitting cross-country baggy and a heavy duty DH short, although we'd happily use them for both days in the bike park and long days in the saddle. The fit was excellent, although there did seem to be a touch more material out back than we're used to, and the just-over-knee length felt spot-on to us without being too baggy. One nice touch that is hidden from view is a section of soft fabric sewn in place directly over each knee, making them not only a bit less abrasive during long rides but also providing some extra durability. A clever application of sticky silicone gripper strips to the waistband helps to keep them from slipping down, and two adjustable waist straps let you cinch them down (or let them out, depending on the time of year) to tailor the fit. As with the large majority of riding shorts that feature cargo pockets, these are really only useful when off the bike due to whatever you stash in them flailing around wildly when pedalling. While Yeti may not be the brand that first comes to mind when choosing a pair of shorts, the Freeland is certainly worth a look. - Mike Levy |
---
Leatt H4 backpack
Although better known for their range of neck braces, Leatt also offers a number of different backpacks in their lineup, including the H4 model tested here. The medium-sized H4 features five liters of storage space, with a number of separated pockets inside. An un-zippered mesh cargo pocket on the outside of the bag is large enough for a bar, gel,or pair of gloves, but a bit small to be stuffing anything else down into it. The pack comes from Leatt with a 2.5 liter bladder that uses a threaded hose connection and a rather large bite valve, complete with a push-on cover to keep it clean. It's Leatt's strap layout that sets the H4 apart from the crowd, though, with a distinctive setup that resembles a 4-point harness from a race car. Instead of traditional shoulder straps combined with a sternum and waist strap, the H4's wide shoulder straps converge with two side-mounted straps at the front in a single buckle, and all four can be adjusted in length via hook and loop attachment points. This layout, along with the low-profile of the bag, allows the H4 to be used both with and without a neck brace, meaning that you no longer have an excuse for not having tools and water with you while riding the lift. MSRP $95.00 USD
www.leatt-brace.com

We applaud Leatt for thinking outside the box with their H4 backpack, but we can't vote in favour of it unless you'll be pairing it with a neck brace.
Pinkbike's Take:
| | |
| --- | --- |
| | With no lower waist strap, the H4 pack's cross-strap harness layout make for a surprisingly comfortable fit. Pressure from a heavily loaded bag is spread out evenly, and having each of the four straps adjustable in length makes it easy to get the H4 to fit just right. Unfortunately, this is where the good news ends. While Leatt claims that their "exclusive harness system eliminates all that excess bouncing", we found the exact opposite to be true when using the bag without a neck brace (it is designed to be used both with and without a neck brace in place). The bag moved up and down on our back constantly, and slid up against the back of our helmet on any sort of remotely steep section of trail. No amount of adjusting the straps seemed to remedy the situation, and we eventually gave up and resorted back to our usual bag. This movement would be a non-issue when using the H4 while wearing a neck brace, but the bag simply doesn't work well in any other situation. The bad news doesn't end there, though, with the 2.5L USWE bladder making life difficult by needing to be filled through the same threaded opening that the hose attaches to, making for a rather messy way to do things. Although we admit that we didn't use the H4 long enough to require cleaning the bladder, the small opening will also likely make doing such a job more difficult than if it employed a large, hand-sized opening. The H4's storage layout is acceptable, although we would like to see the outer mesh pocket be either larger or made from expanding material to allow a thin jacket to be stuffed in - it's far too small to fit much of anything. The H4's compatibility with a neck brace is nice, and it allows brace-wearing riders to carry a tube, pump, and a few tools while smashing out laps in the bike park, but we can't recommend the bag for day to day trail use simply because it moves around far too much compared to the competition. - Mike Levy |
---
One Industries Vapor glove
While the majority of clothing items that see double-duty in both the motocross and mountain bike realms are usually a bit overbuilt for the latter, the ultra-light Vapor glove is an exception to that rule. The top of the Vapor consists of lightweight and stretchy mesh for maximum breathability, while a single layer Clarino palm has been employed for better feel on the handlebar. Tacky silicone grippers have been added to the thumb, pointer, and middle finger of each glove, as well as in the shape of the One Industries logo on the palm. The slip-on Vapor is all about being thin and light, but you'll still find some added material around the thumb, along with gussets in areas prone to showing wear and tear. The Vapor glove is available in either white or orange. MSRP $33.00 USD
www.oneindustries.com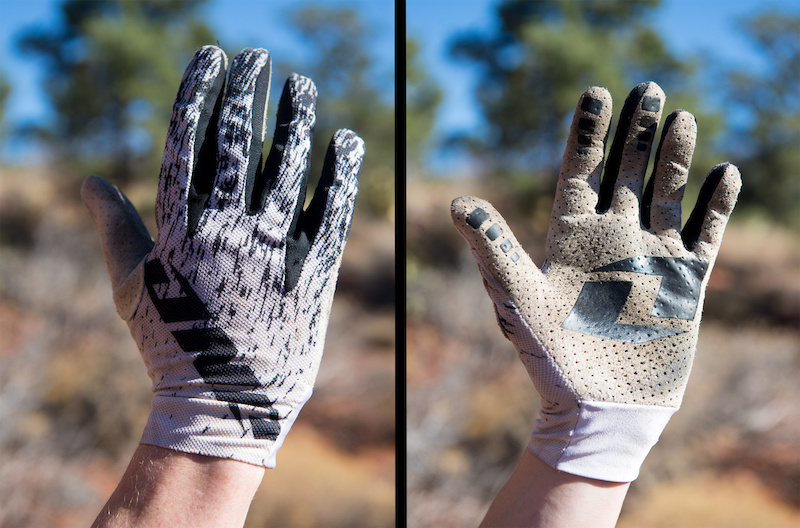 The Vapor glove sports an excellent fit and is a great warm weather choice.
Pinkbike's Take:
| | |
| --- | --- |
| | If you've read our glove reviews in the past you might be aware that we're big fans of a minimalist design. While the lack of knuckle and palm protection may be an issue for some, we love the lightweight and near-gloveless feel that the Vapor can brag about. The perforations on the single layer Clarino palm make them ideal for warm days, and the stretchy mesh top lets air flow through very freely. For such a lightweight glove we haven't experienced any tearing or seam failures after months of use, which is more than we can say about many other equally feathery options out there. The one feature that may make or break the Vapor in many riders' minds will be the extra-long slip-on cuff that extends farther down the wrist than most will be used to. It's long enough, in fact, that it extends well over the wrist bone, although the thin fabric won't really provide any protection. While clearly not a year-round glove for our B.C. riding conditions, the Vapor has become the glove that we reach for more often than not for warm weather riding. - Mike Levy |
---