Park Tool IB-12 Multi-tool
A forged, lightweight i-beam multi-tool with 2mm, 2.5mm, 3mm, 4mm, 5mm, 6mm and 8mm forged allen keys, T25 torx compatible star-shaped driver and a straight blade screwdriver. The 8mm allen key is an adaptor fitted onto the head of the 6mm. It comes with a lifetime warranty and weighs in at just 79g, MSRP $32.99 USD.
Park Tool
Fitting neatly in the palm of your hand, or the pocket of your shorts, it has all the basic tools you need to keep rolling.
Pinkbike's Take:
| | |
| --- | --- |
| | We were nervous about receiving this as Park's plastic-bodied trail tools are something of a classic. We shouldn't have been. Slimmer, sexier and lighter is all you need to know. It's not problem free; the 6mm to 8mm adapter is a pain and we'd rather they just left it out as it kept sliding off or moving out of position. Once we'd taken that off it became a joy to use and its tiny size makes it easier to carry it all the time. Park have updated the old classic with a new classic. With the added lifetime warranty it might just be the last trail tool you ever need to buy. - Matt Wragg |
---
Urge Realjet
On its most basic level, the Urge Realjet is their Down-O-Matic fullfacer with the mouthpiece chopped off. But to reduce it to that misses the point, the fun, of this helmet. When we previewed it last year, the press release talked of a return to '80s BMX fashions and the bikes many of us rode as kids, and who are we to argue? It features the same refinement and detailing as their other offerings and the same love or hate styling (we're split here at Pinkbike over their helmets). The visor is one of their trademark thin, plastic affairs that won't shatter when you eat dirt and d-rings hold it in place on your head. They are limited edition, with just 400 available, MSRP $338 USD.
Urge Helmets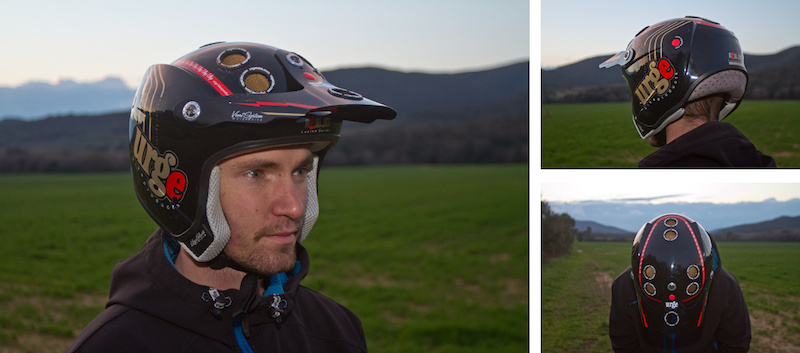 The Realjet offers much of the protection off a full-face helmet, including a much thicker EPS liner.
Pinkbike's Take:
| | |
| --- | --- |
| | When we asked Urge for this helmet we admitted we had no idea when we'd actually wear it, just that we knew we wanted to get our hands on it as we liked the look of it so much. It's too hot for trail riding and too little for downhill, so it sat on the shelf looking pretty for weeks. Then we took it to the pumptrack and suddenly it started to make sense. It's perfect for pumptracks, sketchy jump lines and doing skids in the car park, for wearing jeans, riding hardtails and bunny hopping traffic cones. OK, it's not the most practical helmet in the world, but once in a while it's nice to have something simply because it's shiny and exciting, to go back to being a kid again for a few minutes. - Matt Wragg |
---
Endura MT500 Jacket
The MT500 is Endura's heavy-duty, hard-wearing offering. Made of tough 3-layer fabric with PTFE protection and sealed seams that will keep you dry all day, it is still breathable enough not to cook you like a boil-in-the-bag chicken. Out back is a hood big enough to properly cover an open-face helmet (we didn't try it with a full-facer) with reinforced edges. It also has a "Napoleon" pocket, we have no idea what that is, but like the sound of having one. MSRP $253.99 USD.
Endura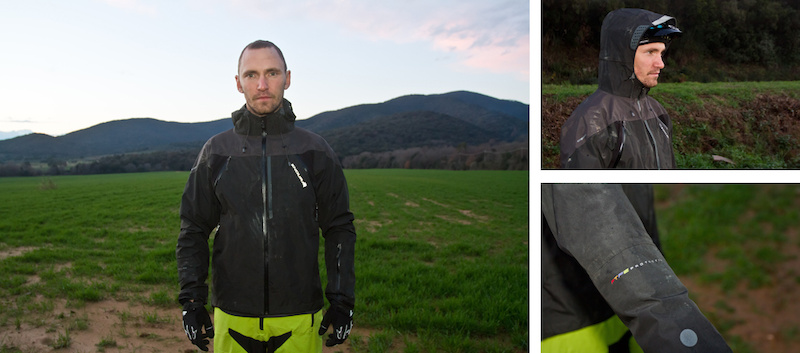 Pinkbike's Take:
| | |
| --- | --- |
| | If the main thing you are looking for in your waterproof is to stay dry all day without sweating to death, this is a very good option. The same goes if you think you might crash because the fabric is incredibly tough. Of course, this does mean that it's not the right choice to tuck into your backpack just in case, but sometimes a lightweight jacket just isn't going to cut it and, on those days, we find ourselves reaching for the MT500. - Matt Wragg |
---