Camelbak Charge 10LR backpack
While a traditional backpack holds its bladder in a vertical postion, Camelbak's 2013 Charge 10LR has it positioned horizontally at the bottom of the bag. The idea is twofold: first, move the heaviest item, the bladder full of fluid, to the lowest possible location in order to take some stress off of the wearer's back and shoulders, and second, to create a pack that is far less prone to shifting around under duress. The two liter bladder bears a slight resemblance to a manta ray, with two '"wings" that slip within lumbar extensions (
which are also home to zippered pockets
) on each side of the bag. The same wide opening that we've gotten used to seeing on Camelbak's bladders is used, as is the handy 'Quick Link' hose connection. The bladder loads into the bag from the rear, with a wide catch handle replacing the finicky hanger hook from past years. The hose's bite valve remains the same, complete with the handy on/off switch to prevent leaking when you inevitably place your bag on the mouthpiece while it is in the back of your car - we've all been there. The bag itself employs lighter weight materials than some of Camelbak's burlier traditional bags, with a mix of lightweight 40D Diamond Ripstop and 230D Taffeta fabric being used to keep things svelte. The main large zippered opening is split into two sections about two-thirds down, with a Velcro fastened pocket and two smaller stash pockets within. While there aren't as many organizational options as a larger, heavier bag, there is a pump loop and a short strap and clip to attach your keys to. An external sleeve can stretch out to fit a jacket, with an adjustable strap and buckle at the top. Smart zippered hip pockets extend out from each side, a good place to store things like bars and gels, multi-tools (
although we'd recommend not falling on them
), or a phone/camera. Clever hooks on each side of the bag are designed to have your helmet's straps slip down into them in order to keep your lid from sliding down and hanging off the bottom of the bag when transporting. Total storage space adds up to 500 cu in. All of the straps are adjustable in every which way, with the sternum height adjustment range being increased relative to what we've seen in the past. MSRP $110 USD.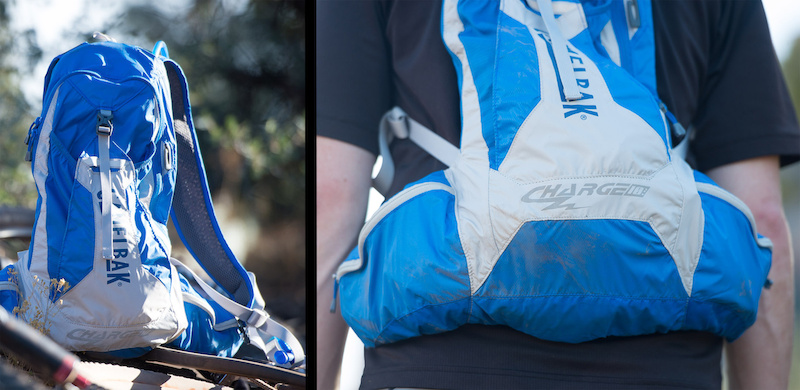 The Charge 10LR's low bladder makes a ton of sense on the trail - it remains incredibly stable, even when the bladder is completely full.
Pinkbike's Take:
| | |
| --- | --- |
| | Moving the bladder so it's spread across the rider's lumbar region isn't an entirely new concept, but we admit that the Charge 10LR was our first on-trail introduction to the idea. We're kicking ourselves for waiting so long. The positioning of the two liter bladder low on the body goes a long way to hiding its weight when full, not to mention that it also creates a much more stable bag that moves around far less due to its lower center of gravity. This is clearly a good thing, especially for those who end up doing a lot of jumps and drops while wearing a pack - there is far less chance of the Charge 10LR coming up to smack the back of a rider's head mid-jump or when pointing it down a steep chute. Filling the bladder with water and reinstalling it is a bit more involved given that you have to push the bladders 'wings' into each side of the bag, but the large Quick Link hose connection and easy to manage hanger do certainly help. We didn't notice any more or less back sweat while using the Charge 10LR compared to any other bag. We liked the easily reached side pockets (although not as much as a dearly missed shoulder strap pouch), but the looseness of the fabric sometimes made zipping them shut with one hand a bit tricky. Our pre-production bag depends on a small strip of Velcro to hold the main internal storage pocket closed, but it only spans about one third of the opening, meaning that whatever is there can come out if the bag is upside down. Camelbak agrees that this isn't ideal and has added full-length zipper to the production version, thereby keeping your wallet and other valuables safe and sound. What's not to like about the Charge 10LR? The small plastic hooks on each side of the bag that are designed to hold your helmet by its straps are a bit too tight for us, making it a sometimes finicky job to remove the straps - we like the idea of keeping the helmet from slipping down and hanging off the bottom of the bag, though. Our only other complaint boils down to how the two liter lumbar bladder seems reluctant to give up its last few sips of water without a fight - we ended up needing to squeeze the bladder with a hand to get the outtake valve to pick it up. Those two complaints aside, the Charge 10LR impressed us with both its fit and ability to stay put while charging on tricky terrain. - Mike Levy |
---
Chromag Ranger stem
Located in Whistler, B.C., Chromag offers a lineup of sturdy steel hardtail frames that make sense for the area's challenging terrain, as well as a range of components that continue on that same theme. Their Ranger stem is relatively light, at 140 grams for the shortest 40mm option, yet it has been designed to be durable enough that you will happily move it from bike to bike as your rides change over the years. Each stem starts life in Whistler as a block of 7075 T6 billet aluminum before being CNC machined down to its finished shape, after which it is anodized and has Chromag's twin bear logo laser etched on its side. Length options include 40, 50, 70, 80, and 90mm (
all with zero degree rise
), and you can choose from black, pewter, red, gold, purple, and the blue shown here. MSRP $140 USD.
www.chromagbikes.com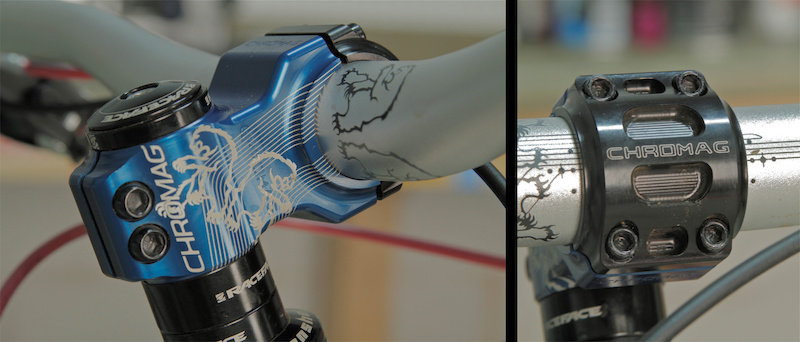 Made in B.C., the Chromag Ranger is one component that may end up gracing the front end of multiple bikes during its lifetime.
Pinkbike's Take:
| | |
| --- | --- |
| | Our Ranger stem does the same job as most other stems. That is, holding the bar firmly in place without the slightest hint of trouble. No squeaks, no groans, and no unwanted bar or stem rotation from a big crash. So why pick up the Ranger instead of any other of the near countless trouble-free options out there? There are two reasons in our minds. One, the finish is impeccable - we've seen Chromag stems that are many years old and still look great. Two, we have to admit that we are big fans of it being manufactured in B.C., as opposed to being a catalog knock-off unit from Asia. We have no idea if that fact puts the Ranger on your wish list, but it certainly does for us. - Mike Levy |
---
MRP G3 chain guide
MRP's new G3 chain guide takes some cues from the previous G2 model, but comes to the fight sporting some clever updates in the name of making mechanics' lives easier and increasing strength. The biggest talking point is an entirely new lower assembly that brings the bash guard and lower roller unit together, increasing strength while keeping things simple. This means that the lower roller is now adjusted independently of its shroud, but it can also be removed and replaced with a plastic slider unit that MRP calls the 'G-Slide'. Using a slider instead of a roller isn't a completely new idea, but it is one that makes a lot of sense for muddy, gritty conditions because there is nothing to gum up. If you've ever had to install and remove a chain guide multiple times when trying to sort out crank arm or chain ring spacing, you'll no doubt know that it can be a huge hassle. Someone at MRP must know this as well, because the G3 uses a clever 'Swingset' concept that allows the entire lower assembly, both the roller and guard, to hinge down and out of the way of your crank and chain ring by removing a single 4mm hex bolt. Pretty clever. The final touch is a coating applied to possible chain contact points that should help keep noise down. All of this is attached to a new lower profile backplate, available in both carbon fiber and aluminum, that can be had in ISCG, ISCG-05, and BB mounted flavours (
no BB model for the carbon, though
). MRP offers two different models depending on ring size, one for 32 - 36t, and one for 36 - 40t setups. Colour choices are either black or white. MSRP $150 USD

The G3's clever design points mean that it simplifies installation and removal of both the guide itself and your cranks.
Pinkbike's Take:
| | |
| --- | --- |
| | The MRP G3 guide tested here was fitted to our Banshee Rune 650B test bike, mated to a set of Race Face Atlas cranks and a Chromag chain ring. While we didn't perform the initial install ourselves, we have since removed, re-installed, and adjusted the guide on the bike, all with great results. Just like on the G2, the split upper slider means that the chain doesn't need to come apart, and the new 'Swingset' hinged bash guard/lower guide unit allows you to fit or remove the crankset without having to take the guide off of the bike. While this is possible with other models, it usually involves having to completely remove the lower guide assembly from the backplate, a sometimes finicky operation. Setup-wise, we managed to get the G3 running drag free within a few minutes, and it ran smoothly despite running it through quite a lot of B.C. mud and grime. As expected, we haven't dropped a chain while using the G3, and it has brushed off a few good impacts along the way. MRP's older G2 model also performed quite well for us, but the G3 is a step up due to the new integrated lower roller layout and hinged guard unit - we are big fans of simplifying things, and that is exactly what MRP has done. - Mike Levy |
---
Follow Mike Levy on Twitter:
MikeLevyPB