Fly Racing Talon RS shoes
Fly Racing offers an expansive line of gear that covers moto, BMX, and even snow and water, but it is their $99.95 USD Talon RS shoe from their MTB lineup that we're taking a closer look at here. While they may not be as flashy as some pricier models on the market, their understated appearance might be just the ticket for a rider who isn't looking to make any fashion statements with their shoes (
oh, how we wish that was sarcasm...
) Three straps across the top of the shoe are used to adjust fit, with the bottom two using Velcro. The top strap employs Fly Racing's 'Ratchet Strap Closure System', which works exactly as the name would have you guess: a lever on the buckle tightens the strap, while a release button is depressed to do the opposite. The entire system can be replaced if it becomes worn or breaks, a nice touch. Fly Racing says that the SPD compatible shoe uses a ''Super Stiff Advanced Composite'' sole, and there are two threaded holes under the toe box if you wish to use toe spikes for muddy rides. The Talon RS shoes are only available in the black/grey combo shown here, and come in even full sizes between 5 and 13 US.
www.flyracing.com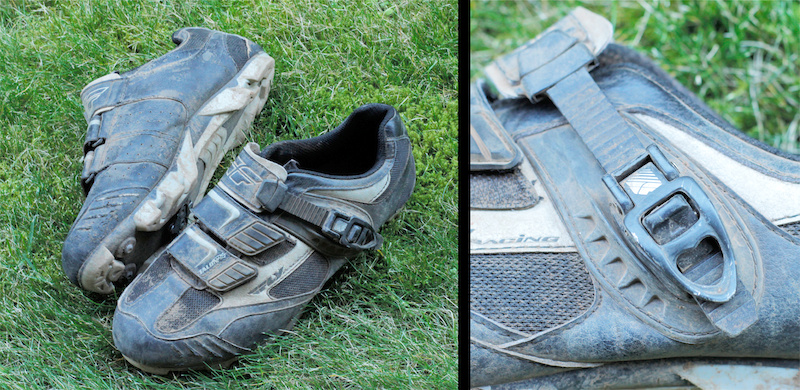 The Fly Racing Talon RS shoes are priced very competitively for how well they fit our feet, but are not the best choice if you ride in warm weather or find yourself having to hike-a-bike often.
Pinkbike's Take:
| | |
| --- | --- |
| | First things first, the Talon RS' fit very nice for a pair of shoes that retail for a quite reasonable $99.95 USD. Our feet take a size 11 US shoe, and they are of average width so we don't require anything special when it comes to sizing. With this in mind, the Talons fit extremely well, with no seams or hot spots that popped up during long days in the saddle. The heel cup did a decent job of holding the backs of our feet securely, with no more heel lift than we've experienced while using much more expensive shoes, and the three straps did well to spread out the pressure over the tops of our feet. The upper ratcheting strap allows for the fit to be easily fine tuned, and although the ratchet mechanism itself feels a bit flimsy, it held up just fine. We used the Talon RS' with a pair of Shimano XTR Trail pedals and found that, unlike the last pair of much pricier shoes we had been using, we didn't have to trim their soles away at all in order to fix any interference with them and the pedal body. Sole stiffness felt to be on par with other similarly priced performance oriented shoes on the market, although they do give up a bit compared to a high-end race shoe. That last fact should make them a bit easier to walk in, which leads us into our two complaints... It's not all good news, and there are a few things to complain about regardless of the Talon RS' economical price. Our biggest gripe centers on the their thick and stiff uppers that not only made them difficult to put on when they were new, but equated to some relatively hot feet when riding in warm temps. On the flip side, their burly construction has us speculating that they'd last for many, many seasons, but we'd trade some of that burliness for lighter weight and more breathability. Flipping the shoes over reveals the other issue: the "rubber" used for their soles is more akin to a hard plastic, thereby making for some very entertaining moments when we were forced to dismount and carry our bike over anything remotely slippery. Yes, the same can be said of most other clipless shoes, but the Talon RS' are by far the worst offenders we've used. Regardless of the two issues mentioned above, the black and grey Fly Racing shoes are priced right and fit well, with the latter being the most important point of the review. - Mike Levy |
---
Gravity Light CSI handlebar
There are aluminum handlebars and there are carbon fiber handlebars, but there aren't many hybrid aluminum and carbon handlebars out there. The 740mm wide Gravity Light CSI bar - the CSI stands for Carbon System Integration - uses a thin double butted 6066 aluminum core inside of its unidirectional carbon fiber outer shell, a construction method that is claimed to add rigidity and improve reliability. The two building components are thermally bonded together, and the carbon plays a structural role in the bars performance. The 240 gram CSI handlebar isn't the lightest on the market for its width (
although its weight is very respectable
) but creating a featherweight handlebar wasn't the goal, with it being intended for aggressive trail riders who might otherwise be wary of a full carbon fiber bar. Cut marks make trimming easy, although we can see most riders leaving it at its full 740mm width, and the bar employs a 9° backsweep and 4° upsweep. MSRP $119.99 USD
www.ridegravity.com
Great for trail bikes with tall front ends, the Gravity Light CSI handlebar feels comfortable and looks great.
Pinkbike's Take:
| | |
| --- | --- |
| | At 740mm, some might not consider the CSI handlebar to be that wide, but it turned out to be exactly the ticket for one of our test bikes that we felt steered just a touch too slow. The 2012 version of said bike employed quite a steep head angle, which made sense given its cross-country intentions, but it was relaxed by one degree for 2013, a change that we weren't getting along with. Swapping out the cut down 765mm bar that was on the bike for the 740mm CSI bar sped up the handling just a touch, but it was enough to make tight switchbacks easier, especially when we were at redline. This could of course have been accomplished by further trimming of the stock bar, but we also appreciated the zero rise of the CSI unit that made sense on the front of our 29er trail bike, with its already tall front end. The bar's 9 degree backsweep and 4 degree upsweep felt fine to us as well, although we have to admit to not feeling like the bar was any stiffer than anything else that we've used recently. The bar's aluminum and carbon construction does make a lot of sense for riders who might be a little ham fisted with their tools, though, with it likely being more resistant to damage from stems and lock-on grips that have been over tightened. And although we haven't crash tested the bar on purpose, we suspect the same could be said for its resilience in such situations relative to a standard full carbon bar. - Mike Levy |
---
Crank Brothers Sterling LG pump
The Sterling LG pump uses an aluminum barrel and handle that exudes quality, as well as a twin piston internal design that allows for pressures of up to 100PSI, making it possible to use for both mountain and road bikes. The trick to accomplishing this is the dial at the end of the pump handle that can be turned to either move a lot of air for high-volume situations like filling a 2.4'' mountain bike tire, or high-pressure needs when simply getting air in takes priority over how much air you are moving per stroke (
like with a 25mm wide road bike tire
). A dial gauge at the pump head gives you a good idea of how much work you've done and, just like nearly every other pump on the market, the locking head can be converted to work with either presta or schrader air valves. Total length is 276mm, and the pump weighs in at 173 grams. Crank Brothers offers a five year warranty on the Sterling LG, and it retails for $50 USD.
www.crankbrothers.com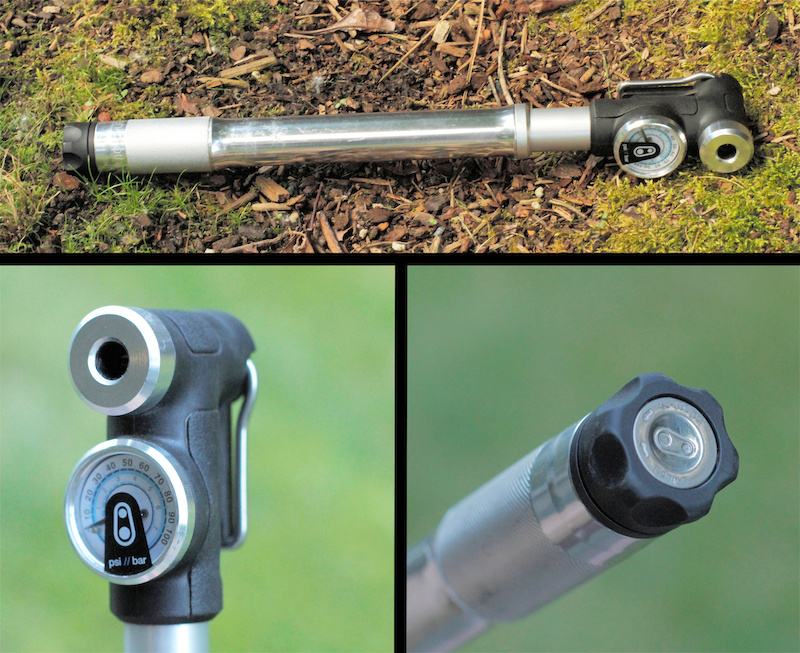 Are you the guy in your group of riding buddies who flats often? If so, the Sterling LG pump might be worth the extra coin.
Pinkbike's Take:
| | |
| --- | --- |
| | There are a lot of shitty mini pumps on the market, some that make us want to just throw them in the bush and walk out before actually repairing our flat, but the Sterling LG pump isn't one of them. It doesn't seem to move quite as much air per stroke as some of the higher volume pumps we've used, yet it is far better than some others in that regard. But we like the Sterling LG simply because of how solid it feels. Its head grabs onto the valve stem firmly and with no air loss regardless of how maniacal you pump, and its aluminum body and knurled handle feel top notch. The head mounted gauge is good to have but it did seem to be out by about 5PSI, although it was nice to have a rough estimate of how much longer you had to pump until you'd be ready to roll again. At the end of the Sterling LG's handle is a dial that you can turn to switch it to work better with higher pressures, with it making a noticeable difference after 40PSI. No, we don't often ride with our tires pumped up that hard, but it was handy when a higher pressure was required to properly seat a tire's bead after fixing a flat. At $50 USD the Sterling LG is twice as expensive as some other mini pumps out there but it is also one that we're likely to have in our backpack for years to come, unlike some other pumps that we'd classify as being nearly disposable. - Mike Levy |