JayBird BlueBuds X headphones
Anyone who has ever used headphones while doing any sort of activity knows full well that the cord catching and tugging on stuff is one of the most annoying things that can possibly happen, forcing you to constantly tinker with it while on the go. JayBird's wireless bluetooth BlueBuds X headphones look to solve that issue by not only eliminating the attachment to your music device, but also by incorporating clever flexible fins of different sizes that work to hold the earbuds in place while you exercise. The soft rubber fins, which come in three different sizes, work by fitting up into the folds of your ear, while the rubber earbuds themselves push into the canal much like you'd find from standard earbud style headphones. JayBird has designed them to be worn with the cord connecting the left and right earbuds either under the wearer's chin or behind the head (
the call function does not work when using the latter setup, though
), and the cord can be bundled up to keep its length in check. Battery life sits at an impressive eight hours - they charge via the included micro USB cable - and they are compatible with any Bluetooth capable music device, not just an iPhone or iPod. MSRP $169.95 USD.
www.jaybirdgear.com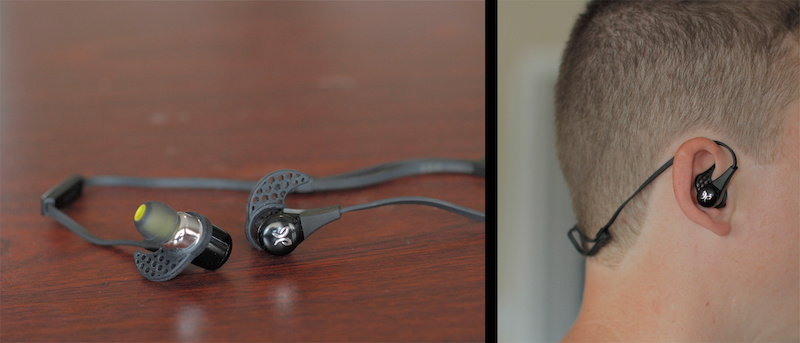 Like to listen to music on the go? The BlueBud X headphones are not cheap, but they might be just what you're looking for.
Pinkbike's Take:
Wearing headphones while riding rates pretty high on the anti-social scale, not to mention being downright dangerous on busy trails, but there is a time and place where they do make sense. Many of our rides start with a twenty minute spin to the mountain, followed by a good hour or more of climbing up a steep decommissioned gravel road in order to access the goods, a task that can be made a bit more bearable by pumping our favourite tunes. With this in mind we were pretty stoked to try out the BlueBuds X headphones. With three different sizes of rubber buds (we found the medium size to work best for us), and three different fin sizes (we preferred the smallest), figuring out the best fit and setup is a small effort but it's certainly worth it to achieve the most secure fit possible. After tinkering around for fifteen minutes or so, we ended up with a setup that refused to budge from our ears, regardless of what we were doing. While we admittedly didn't expect the JayBird headphones to work that well, we have more than twenty rides with them now and can't remember having them dislodge once. The cord that connects the left and right earphones can be run either behind the head to keep it out of the way, or in the more traditional position under the chin, with us favouring the prior due it feeling invisible and not rattling on our helmet strap. We don't pretend to know much about sound quality but the BlueBuds Xs sound pretty decent to us, with deep bass that doesn't feel tinny whatsoever. Their range seems to be about four feet or so, more than enough to function fine if you have your music device in a pocket or your bag, and JayBird's claim of an eight hour battery life looks to be true.

While the JayBird headphones may be one of our favourite new pieces of gear, they aren't perfect. The control buttons that allow you to adjust the volume or answer calls while on the go feel a bit vague with gloved hands - it'd be nice if they stood out higher for a more tactile feel - and we kept accidentally dialling the last caller while trying to adjust the volume. We also experienced intermittent cutting out, with the sound being interrupted for for a split second once or twice an hour. Our other complaint is that the JayBirds don't fit as snuggly into the ear as other earbud style headphones, simply because the rubber fin that acts to hold them in place also dictates how deep they sit into the ear canal. The result is that they are a bit more prone to being affected by wind noise than a standard earbud setup that can be pushed further in. This isn't the end of the world - we noticed it more on our commute to the mountain than when we were actually on dirt - but it is worth noting. So, would we recommend picking up a set of the $169.95 USD BlueBuds X headphones, especially given that an inexpensive set of earbud style headphones can be had for around $20 USD? That really depends on how often you listen to music while riding (or running, hiking etc). The wireless Bluetooth technology is a massive plus in our mind as it means not having to fiddle with cords that can get caught on your shirt, jacket, backpack, or bike, and the sound quality is very good to boot. We're big fans of music, and despite the lecture that we are sure to get from some riders, we are also big fans of listening to music during a ride. With that in mind we would happily pony up for the BlueBuds X headphones. - Mike Levy
---
Prologo Scratch Pro seat
You could be forgiven for not knowing of Prologo if you don't live in Europe or split your saddle time between a mountain and road bike, but they offer a massive range of saddles for everything from skinny tired bikes to full out DH machines. With its carbon fiber rails, the Scratch Pro CPC tested here is intended for cross-country use, and it's for this reason that it uses Prologo's relieved 'ESD' shape to its sides that the company says allows for more efficient leg movement as the rider pedals. Its microfiber cover features what looks like growths of some kind but are actually patches of small upright rubber tubes of different heights and diameters, with the concept being to keep the rider from sliding back and forth on the seat. Prologo calls this design 'CPC', which stands for Connect Power Control. The seat features a slightly rounded profile that looks more forgiving than a flatter shape, and measures in at 134mm wide and 278mm long. MSRP $285.00 USD
www.prologotouch.com

Prologo's Scratch Pro CPC seat had everyone at the trailhead asking about it. It looks weird but it works.
Pinkbike's Take:
| | |
| --- | --- |
| | Reviewing a seat is a tough thing to do. Not only are we all shaped differently down there, we all ask very different things of the seats we use: a lot cross-country or all-mountain cats needs something that's comfortable for the long haul, while those who don't often go past the two hour mark might be happy with anything. Then there are the downhillers and freerider types whose main concern is that they aren't going to break the rails or rip the seat's fabric cover the first time their bike goes off on its own. Prologo's unique looking Scratch Pro CPC most definitely falls into the first category, and we would go so far as to say that it likely isn't the ideal choice for an all-mountain type bike that will be leaving the ground on a regular basis, despite the seat's carbon fiber 'NACK' rails holding up just fine to the abuse we doled out. We also found its gently rounded top and 134mm width to work just fine for us, even on rides that went into the six hour mark, and the seat's nose didn't feel like it was going to drill into our nether regions when it came time to slide forward for a steep climb. And what about those rubber patches that look like a cat's tongue is about to lick your underside clean? It turns out that they actually do make a difference when it gets wet and muddy, enough so that we found ourselves noticing how much we moved around on a more traditional seat in similar trail conditions. Having said that, it isn't like anyone is going to be ever held back by using a regular seat, just that Prologo's CPC rubber patches are appreciable. Unfortunately, those same rubber patches tended to make quite the interesting noise sometimes, with them emitting an odd squeak as our baggy shorts rubbed against them as we pedalled. This seemed to happen regardless of what material our shorts are made from (although we admit to not using the Scratch Pro CPC with only lycra shorts), and it was annoying enough that we could see it being a deal breaker for some riders, especially given the seat's $285 USD retail price. Want to try the same shape and CPC rubber bits but without the carbon fiber? The 'TIROX' rail version goes for a full hundred dollars less at $185.00 USD. - Mike Levy |
---
Demon Hyper Knee X D3O pads
As their name suggests, these knee pads from Demon utilize D3O to protect the wearer's knees. The density changing material remains malleable until it is struck, when it then near instantly firms up to provide protection. The advantage is that while a hard plastic knee cup is just that, hard and inflexible, D3O can both contort to better fit you, and also allow for better range of motion as you pedal. Demon also goes one step further by adding a thin layer of memory foam on the underside of the D3O, with the idea being to keep your knees from being right up against the material when it hardens during a crash. A panel of rip resistant kevlar fabric is used overtop the D3O, and burly triple stitched seams are used to keep everything together. Internally, a terrycloth liner is employed for comfort, and an opening behind the knee helps to keep temps down and any excess fabric from bunching up. Two elastic Velcro straps work to hold the pads in place, although their mostly closed back means that they still have to be slid up or down the leg to put them on or take them off. MSRP $89.95 USD.
www.demonsnow.com
Demon's Hyper Knee X D3O pads get top marks thanks to offering both a lot comfort and a lot of protection.
Pinkbike's Take:
| | |
| --- | --- |
| | The Hyper Knee X D3O pads aren't slim fitting numbers that would go unnoticed under your your favorite pair of jeans, and we'd even go so far as to call them bulky, which is why we were so surprised by how invisible they feel during riding. The soft material that Demon uses as the pad's inner liner feels very comfortable, even after a few hours of wearing them, and there are also no internal seams that might cause irritation in the longrun. One problem that we sometimes see with pads that utilize adjustable straps to hold them in place is that the straps can often shift off of the pad itself and chafe, but Demon threads both their upper and lower straps through loops to prevent this from happening, and we didn't ever feel like they needed to be snugged up overly tight in order to hold the pads from sliding down - they stayed put even when a lot of pedalling was required. The D3O knee protection allows them to conform to your leg better than if they used a hard plastic shell, likely contributing to how comfortable we found the Hyper knee pads, and the inner and outer side knee protection was appreciated as well. While not inexpensive, their $89.95 USD price is very reasonable considering Demon's use of the pricey D3O padding, but it is their ability to stay put and feel close to invisible that makes them winners in our books. - Mike Levy |