Mavic Stratos H20 Jacket
Mavic have been one of mountain bikings top brands for wheels for as long as most of us at Pinkbike can remember. So the thought of them making a waterproof jacket felt a little bit weird. That was until they pointed out that they are in the same family of companies as Arcteryx and Salomon. Suddenly it made a whole lot more sense. This Stratos H2O Jacket is in their Altium line, meaning it is the top-end MTB jacket. They describe it as an "extreme wet weather jacket with technical features designed for the rigors of trail riding." It's made of breathable Cocona Xcelerator fabric, bonded together at the seams to create a jacket rated for whatever nature throws at you. It's light enough to fold into a backpack and is covered with useful features, like scuff guards on the sleeves, a removable hood and even a little plastic window to view your watch. MSRP $399.99
www.mavic.com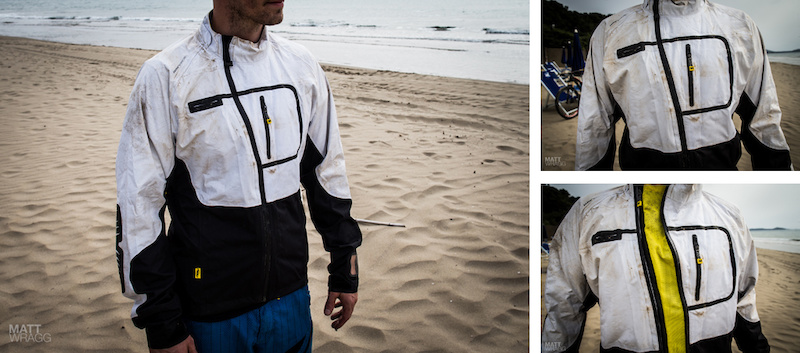 We really like the way this jacket looks - technical, maybe even stylish, but not over the top. On the right, the zipped vent was a feature we are very fond of.
Pinkbike's Take:
| | |
| --- | --- |
| | It may sound silly point to start with, but the Stratos simply looks and feels right. It's a fairly high-end jacket with a pricetag to match, so being styled this nicely and feeling this good in your hands and when you're wearing it goes a long way to helping you justify the extra money it costs compared to a basic jacket. It's also worth keeping in mind that it is still a lot less expensive than the GoreTex exotica offered by its sister brand, Arcertyx. The lightweight, breathable material belies how waterproof it is and we are starting to suspect that we'd need to go swimming in it before it lets us down. That light weight also makes it a perfect pack jacket, as many times you have to compromise how waterproof your jacket is to have something that folds up this small. One feature we found surprisingly useful (but difficult to explain) is the unique system of having a strip of vent material alongside the main zipper, so you can keep the jacket open a couple of inches to let air in, without the jacket flapping about. The only two negatives we can find are that if you are wearing a full-face helmet the chunky main zipper taps on the chinbar as you ride and, if you like to roll your sleeves up, the watch window cuts into your arm a tiny bit. In all, this is a great riding jacket. - Matt Wragg |
Renthal Kevlar Compound Lock-on Grips
Renthal's lock-on grips take a slightly different approach to anybody else out there. While most companies make their grips as three separate components, two collars and a rubber body, four if you count the end cap, these Renthals are a single, integrated piece. The rubber is bonded to the collars and the end cap is part of the outer collar because they felt that having separate pieces introduced too much play into your grip. Working with Fabien Barel to develop these grips, he identified that most riders put the heel of the palm on the outer collar of the grip as it's a hard surface to push against and control the bike, so they tailored the shape, tapering the rubber to the collar to make this as comfortable as possible. They are available in a range of compounds: super-soft, soft, medium and, these here on test, kevlar. MSRP $32.99
www.renthalcycling.com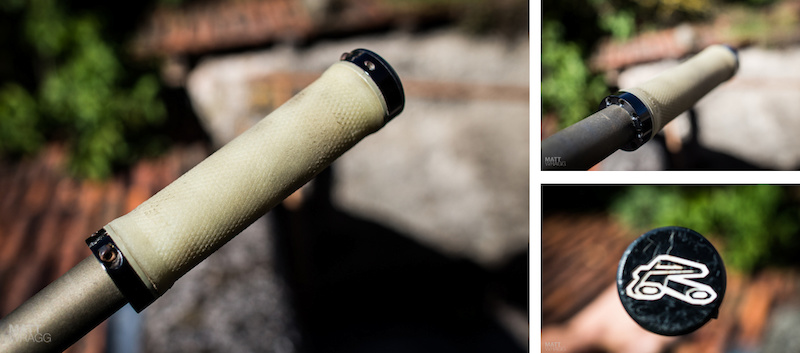 After around 500km of trail miles, the kevlar grips still look fairly fresh, if a touch muddy. There are lots of nice touches all the way though, look the drilled collars to save weight and the Renthal-branded, integral end caps.
Pinkbike's Take:
| | |
| --- | --- |
| | These kevlar compound grips feel about equivalent to the soft compound, costs $3 extra over the regular compounds, but have a noticably longer lifespan. After a month on the bike we're struggling to see any signs of usage. We dismissed Fabien's theory of hand-placement initially, then we started thinking about it, realising we were doing exactly what he described. That doesn't mean there is a revelation moment with these grips, you don't put your hands on a set and feel your world has changed. It is more like a subtle, underlying sense of them just feeling right. Unless you spend time analysing it like we have here, we would suspect it would be hard to explain what it is about them which makes them so nice. Coming from much bigger grips, they are a touch small for our personal preferences, although we have heard mutterings from Renthal about offering them in a range of widths eventually, which is something we would be keen to see. The only warning note is that this kevlar compound gets very slippery in the wet if you ride without gloves. Renthal say that the super-soft is a much better bet in that situation, but we haven't had chance to test this out yet. We do also need to mention that the end bolts are very soft, so be careful when you're tightening and loosening them. - Matt Wragg |
SKS Aeron Mini-pump
The Aeron is an aluminium-bodied mini-pump made in Germany. It's nine inches (220mm) long and weighs just 157g. It's mountain-bike specific, in that it has a fairly large volume, but is only rated up to 5bar/73PSI, whereas road bikes would commonly need pressures over 100PSI. However, for a mountain bike that is no issue as we can't imagine when you would want more 40 or 50PSI in your tyres. The configuration inside the head can be quickly changed to accept both schraeder and presta valves. MSRP $24.99
www.sks-germany.com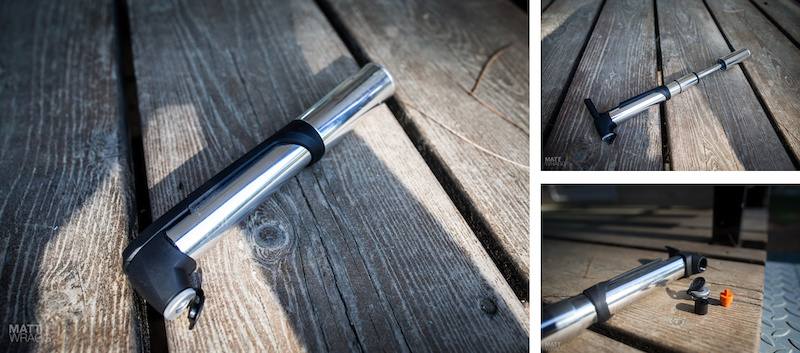 We reckon the Aeron looks more expensive than it actually is and we cannot fault it has been a solid performer.
Pinkbike's Take:
| | |
| --- | --- |
| | If there is one country we would trust to make pump, it's Germany. While it may not have the elegant, boutique feel of offerings from companies like Lezyne, the aluminium body is classy and, more importantly, solid. We especially like the rubber ring they use to keep the head in position while the pump is closed, it is both utterly simple and very effective. Inside the head are the usual two rubber parts to change the valve size, it is no better or worse than anything else out there, but it can be done quickly and easily. What sets this pump apart is the high volume, for mountain bike tyres it is spot-on as you need to get a lot of air in there. However, if you do need a pump to use with your road bike as well, then the limited pressure capacity will rule this one out for you. - Matt Wragg |