Kali Avatar 2 Carbon Helmet
Kali Protectives
is on the vanguard of helmet design, with a satchel of innovative construction strategies designed to lengthen the time it takes for an impact to reach your skull, and to spread the force of the blow into the widest possible area of the helmet's protective layers before that moment arrives. Due to its advanced carbon fiber construction and in-molded foam technology, Kali's Avatar 2 Carbon is a surprisingly lightweight full face helmet at 780 grams, yet it passes both North American and European standards for Downhill (EN 1078 or CPSC, ASTM F2040 and ASTM F2032). Molded directly into the carbon shell are two intertwined layers of foam, a higher and lower density sandwich that reportedly disperse concentrated impacts from the shell to surrounding areas of foam like a crumple zone in a modern automobile chassis. The Avatar's removable padding is washable and anti-microbal (resists stink) and air is channeled into the comfortable enclosure through eleven screened vents to keep the helmet cool. A standard D-ring retaining buckle is used and the free end of the webbing snaps cleanly out of the way - flap free. Plenty of room for goggles of all sizes and shapes is a plus, as is the fact that Kali squeezed as much peripheral vision from the Avatar's side-panels as was safely possible to present a wider field of view. The rear of the helmet's shell is relieved to securely retain a goggle strap and up top, a breakaway visor helps further protect the rider in a fall. Kali's Avatar 2 Carbon helmet is sold in white and black or gray and green colorways, and in X-small, small, medium, large and X-large sizes. Avatar 2 Carbon lids come with a protective carry bag and an extra visor and padding set for $349 USD.
Kali Protectives
(Clockwise) Kali Avatar 2 Carbon helmet showing the goggle-strap relief in the rear of the shell, the first of eleven screened vents, and the breakaway visor.
Pinkbike's take:
| | |
| --- | --- |
| | "Comfortable and cool" come to mind after a Summer of sessions with Kali's Avatar 2 Carbon full-face in North American bike parks and on Europe's enduro-style downhill trails. June and July in the Alps is warm and humid, yet the Kali lid felt nearly as comfortable as an all-mountain half-shell helmet. Half-day enduro rides were enjoyable, and in the bike parks, the carbon helmet never felt heavy through the jumps or braking bumps. Wide visibility, good ventilation and truly comfortable padding make the Avatar feel like it disappears from your head, which led to a few embarrassing moments, banging it inside gondolas and the like. While the Kali lid was crashed a number of times, I never yard-sale'd the visor, and the paint remains quite new looking on the shell. Liked, but never mastered, was the snap closure on the end of the chin-strap webbing. Finding the small plastic snap with gloves on requires a moment of pause - which is often enough time for your buddies to gap you on the start of a descent. I began strapping my helmet on before I reached the top of the uplifts. Great helmet from sharp-minded people.- RC |
---
Zoic Ether Trail Short
Zoic
as been making baggies since the end of spandex and the beginning of real cycling clothes. Ether shorts are Zoic's best-selling trail baggy and the plaid version is its most popular style. With a 12-inch inseam, Ether shorts reach just over the knee and taper ever so slightly to prevent unwanted baggy flop while pedaling. A reinforced, adjustable, elastic waist band prevents plummer's crack, and vent panels across the back and down the insides of the short ensure that the garment breathes on hot days. The short is well constructed from a lighter-than-it-looks stretch fabric and all of its zipper pockets are flat seams. Speaking of pockets. The Ether has two docker style man-pockets in front, a pair of zip cargo pockets on the sides, a right-side cell-phone/iPod zip pocket and a rear zip pocket with an external loop for a wallet chain or iPod routing. The man-pockets are rivet-reinforced. Belt loops are included, and all Ether shorts are sold with Zoic's 'RPL Essential' padded mesh liner. Snap loops on the sides retain the liner, which has silicone panels on the waistband to keep it functionally in place. Colors are black, gray, brown or white plaid, and five sizes are available from small to XXX-large for $89USD.
Zoic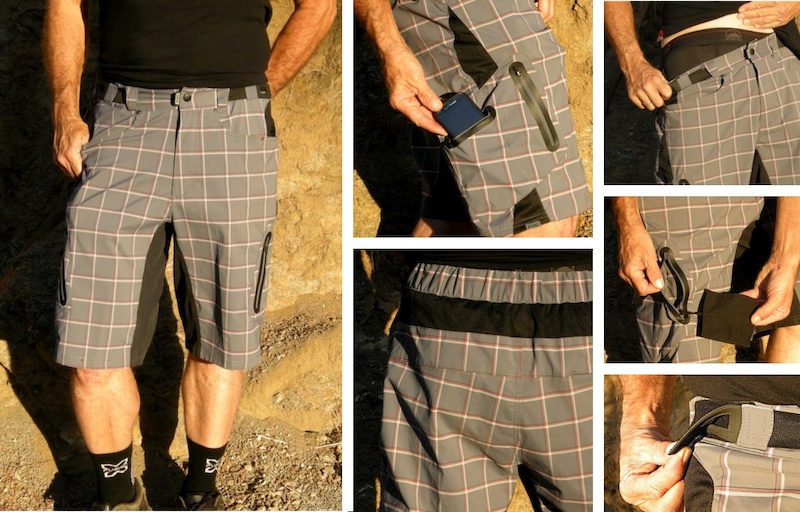 (From top left) Zoic's Ether Plaid trail short reaches just below the knee. A look at the cell phone pocket. The comfortable padded mesh liner is detachable. A vented strip runs across the back of the short and the right-lower pocket contains a handy tethered goggle wipe. Rubberized reinforcements make it easy to adjust the elastic waistband.
Pinkbike's take:
| | |
| --- | --- |
| | As baggies go, Zoic's Ether is among the more comfortable to pedal in. The stretch material and ample vents are perfect for sunny Southern California, which is two thumbs up from me. I usually hate side pockets in trail shorts, but Zioc managed to place them at an angle that keeps small items from swinging around while pedaling. I forgot my phone was in the designated pocket, which is a good thing. The Liner fits well, but is not as comfortable as I had hoped. I usually wear good quality spandex XC shorts beneath baggies for trail use. Zoic's mesh liner fits well, stays put and is much cooler, but it does not attain the long-ride comfort that I am used to. I am not throwing Zoic's liner under the bus, however, because it manages to stay in position and better still, help keep the short in position as well - two rarities in the baggy business. Considering that the liner is included in its 89-dollar suggested retail, Zoic has priced its most popular short quite reasonably. Good looking and comfy trail short from a reputable US brand.- RC |
---
WTB Frequency i23 TCS rims
Wilderness Trail Bikes
offers its Frequency i23 rim separately because the all-mountain/trail category that it services has such a wide range of riding styles and intensities that many of us prefer to custom build our wheels. To this end, WTB went out of its way to make the Frequency rim compatible with standard components. The 4D spoke drilling helps by pre-angling the spoke holes to align with a standard two or three-cross lace pattern. Inside the rim extrusion is WTB's 'I-Beam' vertical reinforcing web and outside, WTB shortens the rim flanges to give the tire a rounder profile. Inner rim width is 23 millimeters - which is well suited to higher volume tires from 2.125 to 2.4 inches. The outer width is darn near 28 millimeters. A carefully arched rim well is used to assist tubeless tires to air up, and the rim flange interfaces are a UST/tubeless-ready design. 'TCS' is WTB's term for tubeless-ready-but-only-with-the-addition-of-approved-rim-sealing-tape-systems. In short, Frequency i23 rims still have spoke holes, so you'll need to buy a Stan's NoTubes kit or equivalent to convert them to tubeless. WTB pegs the weight of a single rim at 475 grams, which checked out on PB's scale, and for those who think that is too light for all-mountain, WTB adds a little bulge at the rim flange called 'Unbendum' to ward of dents. WTB's Frequency i23 TCS rims come drilled for 32 spokes for $75 per wheel.
Wilderness Trail Bikes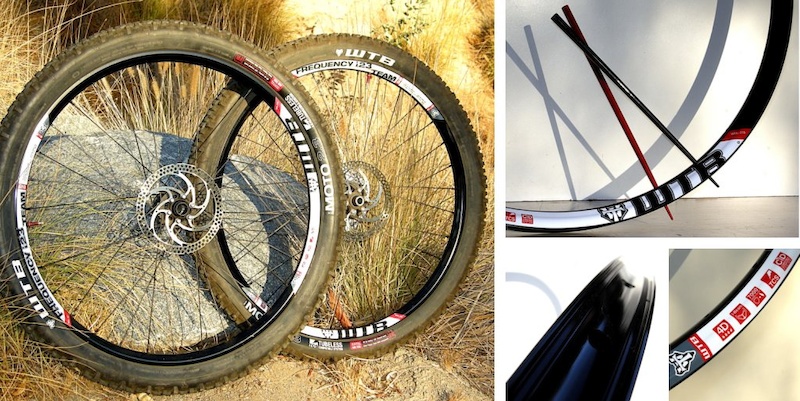 WTB Set us up with a complete wheelset with which to test its Frequency rim, Wooden spikes illustrate the rim's 4D angled spoke drilling. A look at the inside profile of the tubeless compatible rim well. A list of handy reminders populate the outside of the Frequency i23 rim to outline its unique features.
Pinkbike's take:
| | |
| --- | --- |
| | Initially, our experience with WTB's Frequency i23-equipped wheels did not fare well. When we attempted to inflate tubeless ready tires (Specialized and WTB brands), they took a lot of fussing to get them to air up - and afterwards, would not retain air pressure. Our test wheels were set up with sealing tape and the single wrap of Stan's NoTubes tape was not enough. One more time around with the tape and the tires jumped on with a few quick strokes of a hand pump. Of course, tubes would have solved the problem, but what's the point of riding tubes in rims that scream 'tubeless' from every facet? (Note: WTB sells its own sealing system, which may be better suited to its rims.) A Summer of riding on two different bikes proved that WTB's new rims are pretty strong. Most riding where PB tests in Southern California is riddled with imbedded rocks, taken at mach speeds, where the wheels only accumulated only a few minor dents. The aspect of the Frequency rims that caught out attention though, was the sweet rounded profile that the low-flange rim imparted to the tires. The sense is that the rims are slightly wider than they measure and cornering feels enhanced by that. We liked the rims and WTB's simple-is-best concept as well. Our initial inflation trouble could have been a solitary experience, but if it wasn't, it's an easy fix.- RC |
---
---