Platypus Duthie AM 17 Hydration Pack
Platypus Duthie AM 17 pack is designed for the all day epics and caters to more aggressive descenders, as well as the Enduro crowd, with its stashable full-face helmet carry system and body armor compression straps. It can carry up to three liters of fluid inside the Big Zip™ SL Reservoir and has 14 liters of volume for carrying all the food and gear you'd need on a long ride. The cargo area offers a plethora of pockets and compartments to keep everything well organized. The suspension system of the pack is ventilated and the back offers a cool-riding narrow profile. There are tons of nice touches and little details, like reflective bits, and a loop for attaching a rear light. The Duthie AM 17 is constructed from 210-denier, PU-Coated Diamond Ripstop and Oxford Nylon and is outfitted with YKK® Zippers throughout. For a pack offering such ample volume, it is relatively light weight, at claimed 907 grams. And while the pack is sewn up in China, the reservoir is made here in the USA and promises to be BPA- and Phthalate- free. MSRP: $129.99 USD.
Platypus Hydration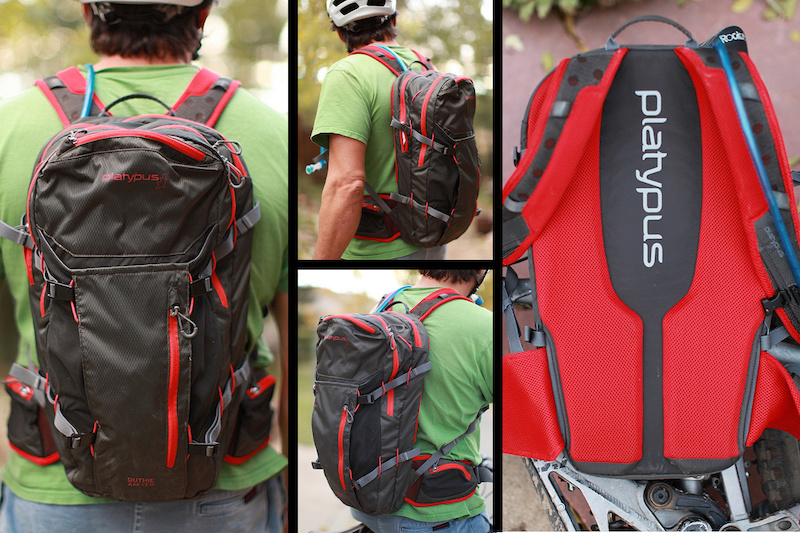 Platypus Duthie AM 17 is a good looking hydration pack, which carries armor and a full face helmet, and offers ample storage for gear and water
Pinkbike's take:
| | |
| --- | --- |
| | Platypus has put a lot of thought in the Duthie AM 17 pack and we loved the generous storage space, the provisions for carrying armor and a full-face, and all the pockets and compartments to keep us organized on the ride. We especially loved the big zippered pocket on the outside of the pack, which was perfect for giving quick access to a map. The pack felt comfortable, even fully loaded (although the we found ourselves with wetter backs than with most other packs) and because it has so much volume, we liked using it as an all around backpack - even around town and on long hikes. Had we not experienced issues with the bladder, we were ready to give it very high marks; however, the bite valve has been our nemesis, always rationing the water flow and never allowing us a big mouthful of fluid. We also found it challenging to get all the volume of the bladder filled; the big zip-lock style opening at the top always spilled significant amount when we tried to get it closed. We could have just had bad luck with the bladder and save for that one (albeit major) dissatisfaction, we think it's a sharp looking and well thought out pack that carries a lot of weight well. - Michael Klimek |
---
StemCAPtain Enduro 32mm Clock
StemCAPtain Enduro Clock is a clever little accessory; it mounts into the spot occupied by the boring 'ole stem cap. The system is comprised of a carrier piece which replaces the standard stem cap and an accessory which mounts into it. In the case of the Enduro Clock, the accessory is an analog watch. StemCAPtain offers a multitude of functional inserts to replace your stem cap with: several styles of watches, different compasses, a thermometer, a picture frame and even a bottle opener for the post ride refreshments. A Garmin mount is coming soon. The Enduro clock got it's name from a new set-screw retention mechanism, which makes it less likely to slide out of the holder. The original clock was held in place via a special composite gasket which retained the accessory through compression/friction. The Enduro Clock is currently available with black face only, with a white face is coming soon. StemCAPtain is proud to CNC machine the base plates in the USA and offers them in multitude of anodized colors. MSRP: $24.99 USD.
StemCAPtain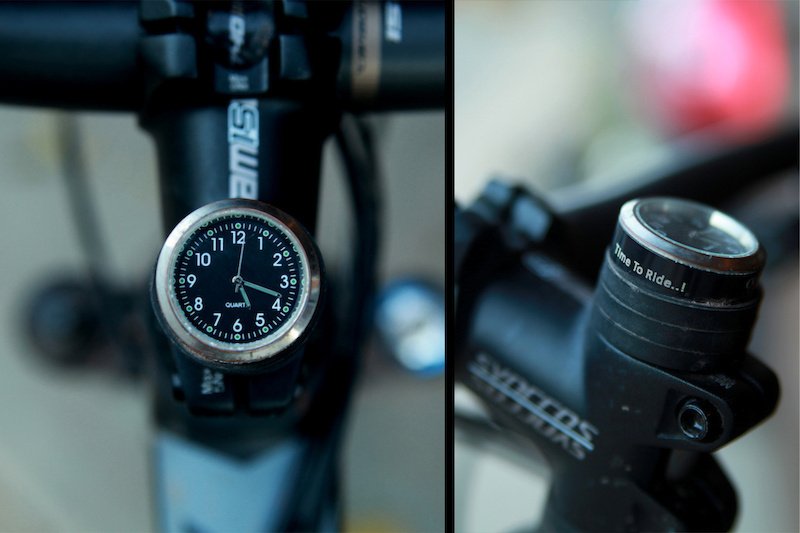 StemCAPtain Enduro Clock is a clever idea which turns the boring 'ole stem cap into a functional piece.
Pinkbike's take:
| | |
| --- | --- |
| | We are quite smitten with StemCAPtain Enduro Clock. Gone are the days when we rode with a cycling computer or a Garmin attached to our handlebar or stem. When we head out for a ride on our local trail, we seldom carry a phone or another timepiece, so having a clock right there in sight has been a welcome addition. The clock has proven durable and the set screw retention mechanism, very secure, it also makes installation and removal a breeze. Our one minor gripe is that tightening the headset or removal of the fork now has one extra step of having to remove the clock before proceeding, but the gripe is minor and the StemCAPtain gets our vote! - Michael Klimek |
---
Kenda Excavator Pro 2.35 UST 26"
Kenda's Excavator Pro is billed as their gravity tire, indicating hardcore applications. It is designed to be a versatile all-rounder with its center tread optimized for fast rolling on the straights and the H-shaped shoulder knobs, designed for grip in the corners. The 2.35" width is true to claim and the volume of the casing is relatively low. Our UST variant of the 26" tire was outfitted with Kenda's premium DTC compound which places 60 durometer rubber in the center for longer life and lower rolling resistance, while placing 50 durometer rubber on the sides for better cornering and off-camber grip. The tread is directional; the square and H-shaped blocks are staggered and are placed relatively densely and the tire has a distinct roundness to the profile. The center knobs are also ramped to help reduce rolling resistance. Kenda estimates the weight of Excavator Pro to be 1105g +/- 55g. MSRP: $59.99 USD.
Kenda Tires
Kenda Excavator is a fairly versatile tire offering great width, protection and durability at a very reasonable weight.
Pinkbike's take:
| | |
| --- | --- |
| | There is a lot to like about the Kenda Excavator. Both our test tires came in below the low end of estimated weight, at 1045g each, which is very good for a true UST 26" tire at true 2.35" width. It also rolls fast and when in its element, provides outstanding grip. Although the volume of the tire is low, we found it capable of protecting our rims. The profile of the tread is distinctly rounded which provides predictable cornering grip until you run out of tread - and when the tire lets go, it gives very little warning. The dense placement of the shoulder knobs resulted in ample grip in intermediate conditions; however, in loose over hardpack, the tire seemed to like to grab a hold of the surface layer and failed to punch through to make contact with the solid ground underneath, resulting in pronounced drifting in the corners. It also doesn't like mud. It packs up quickly and when you find yourself on a trail saturated with moisture, it can be difficult to keep your wheels spinning. All in all, the Excavator is an appealing combination of weight, rolling speed and resilience. When run in the environment it likes, it is an excellent performer. - Michael Klimek |
---
---