O'Neal Stormrider shorts & jersey

New to the 2013 O'Neal line up are the Stormrider short and jersey, aimed towards gravity riders or anyone who wants a tough set of riding gear. We first saw the Stromrider while at Eurobike in 2012 but as with all things, the looks don't mean anything if the fit and feel isn't right. The shorts feature zippered pockets on each hip and thigh, a back pocket, and a further Velcro pocket on the left thigh which has a fitted elasticated cord for holding lift passes. Not much use for off season in Scotland, but as soon as the lifts open up around the world, it's no doubt going to prove a useful feature. All the pockets are deep, and the two hip pockets feature long toggles for easy access without removing your gloves. The jersey sleeves come down to cover your elbow, and the shorts reach your knees properly while being baggy enough that even bulky knee pads don't feel restricted or awkward beneath them. A padded waistband features a Velcro and snap closure, and twin adjustable tabs to fine tune the sizing. A mesh lining and stretch panels in the crotch complete the picture. MSRP: €74.99/€39.99.
O'Neal Europe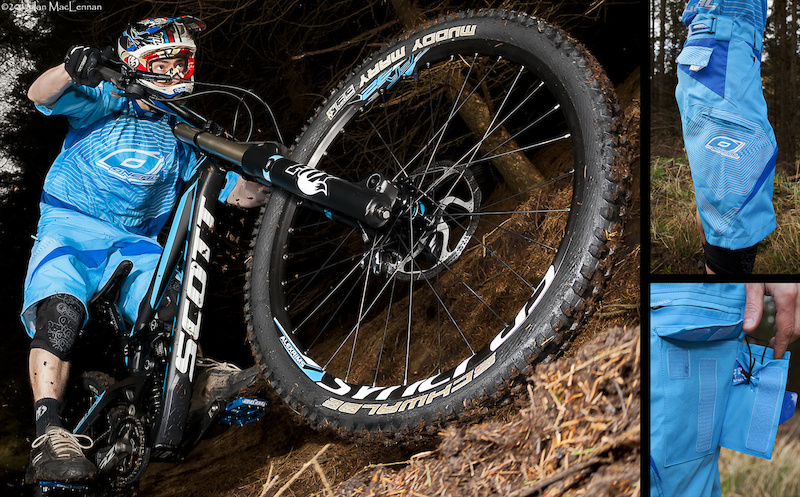 Stormrider kit is both comfortable and practical thanks to a multitude of pockets, both Velcroed and zipped. A lift pass pocket with elasticated clip is great for bike park riding (bottom right).

Pinkbike's Take:
With sizing clearly cut to accommodate any armour you choose to wear, it's all comfortable gear, even with core protection, or bulky knee pads. The multitude of pockets and the reasonably stiff construction has meant reaching for these shorts more than any other over the winter months, regardless of bike. For downhill they're a great choice as there are numerous pockets to stuff vital things into, a painful omission from many downhill kits, and for trail riding the pockets are supported well enough that you don't feel a set of Allen keys, car keys or phone bouncing around everywhere. We're fans of the bold colouring, the cut that is more downhill than cross-country, and the toughness. The only downside is that you either need to like the blue seen here, or the alternative of black. A few more colour options would no doubt widen the appeal further, but that aside, they're great for all manner of riding styles, especially with summer just around the corner.
- Alasdair MacLennan
---
POC VPD 2.0 knee pads

POC have made a strong name for themselves in recent years, with their bold and striking styling making them stand out from the competition. Is it a Swedish thing? You can certainly see styling cues between POC and the other Swedish brand doing its best to take over the world. The VPD 2.0 is POC's latest knee pad, and another which uses the POC VPD visco-elastic foam (VEF) to dampen impact forces. It's the same stuff used by several other companies (
although it differs from D3O
) and works by having micro pockets of air which can move freely when flexed slowly in normal bodily motion. But strike it hard, or quickly, and these cells 'lock up' to provide significant impact absorption. What this means is that the protection is soft, flexible and unobtrusive in use, moulding itself to the contours of your body to provide great fit and comfort. Yet when you crash, the armour will harden like a non-Newtonian fluid (
think thick cornflour/water mix
) to provide all the protection you need. In most pads this material is used for the front portion of the pad only, simply replacing the plastic/PU foam insert. But POC take this further and utilize the characteristics of the foam more than any other by extending the insert to cover both sides of the rider's knee, rather than just relying on normal foam. As with any good pad the front is wrapped in an aramid (Kevlar) reinforced material so that it'll stand up to repeated crashing, while the rear is stretchable mesh to allow for breathability. This creates a sock which does a significant portion of the work to hold the pad in place, with two small elasticated Velcro straps, above the knee and above the calf, to hold it in place.
MSRP: €120 / $120 USD.
POC Sports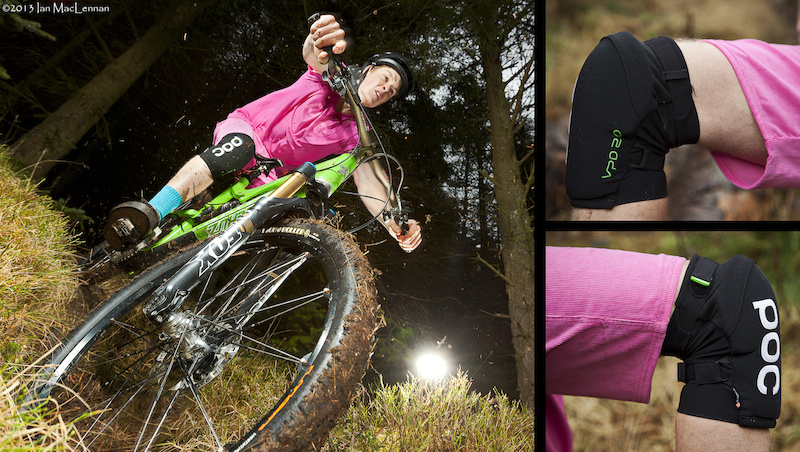 Scott Laughland rides the POC VPD2.0 kneepad (left) with detail shown of inside (top) and outside (bottom).

Pinkbike's Take:
POC stick to bold, simple shapes, and as such appeal to many precisely because they're different from the majority of the alternatives. In the case of the VPD2.0 kneepads they not only look good, but they work well too. The wraparound VPD2.0 provides the most protection of any knee pad we've tried of this type with significant side protection, yet is flexible and doesn't restrict movement when in use. The lower strap is situated so that it sits above your calf, and thus in the thinnest portion of your leg, which is also very effective at preventing it from sliding down without resorting to pulling the pad up too far and creating bunching. It also allows for better blood flow to your calf muscles when pedalling, as on some pads you can certainly feel the constriction if you have the strap tighter than ideal to keep it all in place. When it comes to cost, there's no escaping that they're a bit pricey. Very pricey in fact at €120, but they go a long way to mitigate that by being so unrestrictive while offering full protection in a more complete package than much of the competition. If we were nit-picking we'd have to say that the small straps place reliance on the actual pad being sized correctly. This can be a problem if you don't try before you buy as they come up a little larger than their stated size. A large in most, we'd have definitely been better going for the medium. Overall though, the VPD2.0 is a great pad that is very easy to recommend thanks to the fit, comfort, and protection offered. The price is high, but if you can afford it, the performance more than outweighs this downside.
- Alasdair MacLennan
---
Bluegrass Grizzly Lite

Yes, it's another enduro product review, and unashamedly so. As with the products in some other recent reviews, this product has been created for the middle ground of riding; not quite downhill, yet also clearly not cross country. With full downhill back protectors usually being quite bulky affairs, it's definitely A Very Good Thing that companies are getting in on the action to provide armour for the riders wanting something to protect themselves without resorting to something quite as restrictive as a full on back plate. This D3O offering from Bluegrass is light, thin, and flexible, all wrapped up in a lightweight and stretchy mesh vest. The front is zipped, and so thin that it's barely noticeable. The back features a slightly harder wearing material to provide resistance to abrasion and the padding is removable for washing so that it doesn't start to smell worse than camel breath after a few weeks of riding in the sun. The padding itself is split into three segments, two thick pads (
right at C2 level
) and another down at your coccyx, while the central segment protecting the majority of your back is made from corrugated D3O to allow for flexibility. It's slightly thinner than the other sections and allows for a hydration pack to be worn comfortably which is pretty vital for all day riding. MSRP: €149.95.
Bluegrass Eagle
Pinkbike's Take:
Although targeted at enduro riders (and no doubt will be pushed hard to racers through the Bluegrass Enduro series), the Grizzly Lite forms a very versatile piece of armour. Although we'd hesitate to suggest wearing it for full on gravity riding in lieu of something heavier duty, it's an ideal option for those days when you really don't want to be getting bogged down with lots of protective gear, or when you're riding trails not tough enough to warrant dressing up like a Ninja Turtle. It's a supremely comfortable protector that's barely noticeable once on, and in the few offs we've had with it, protection also seems sufficient despite the minimalistic design. The mesh material the majority of the vest is made from keeps you well ventilated and certainly helps you to forget you're wearing it.
- Alasdair MacLennan
---