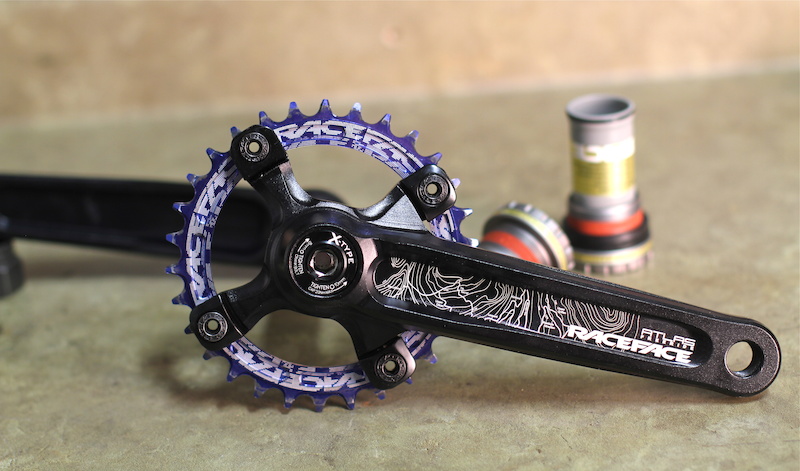 Race Face Narrow Wide Chainring



Are the days of multiple chainrings and often troublesome chain guides behind us? Certainly not for everyone, but clever chainring tooth shaping and clutch-equipped derailleurs that act to keep the chain from bouncing off of the ring mean that it might be the case for some riders. Of course, going to a single ring is entirely dependent on both the terrain that you spend your time on and how strong of a rider you are, but SRAM's release of their single ring, wide range cassette XX1 drivetrain, complete with the group's X-Sync chainrings, has proved that many riders can get by without using a chain guide, a previously unheard of setup. While SRAM may have been first to the party when it comes to machining chainring teeth into the alternating thick and thin shapes that match the inner profile of the male and female chain links, it didn't take long for other brands to come up with their own options. Race Face's Narrow Wide chainring is available in 30, 32, 34, 36, and 38 tooth sizes, and it's the $59.99 USD 30 tooth option that has us the most interested as it offers an easy enough range for many riders without sacrificing too much at the opposite end of the gearing when it comes to a lot trail riding. The 32 and 34 tooth rings retail for $43.99 USD, the 36 and 38 tooth for $49.99 USD.





• Intended use: single ring drivetrains
• Alternating narrow and wide tooth profiles
• Sizes: 30 (tested), 32, 34, 36, 38
• BCD: 104mm
• Compatible with 9, 10, and 11 speed chains
• Threaded and unthreaded versions
• Colours: red, green, blue, black
• MSRP: $43.99 - $59.99 USD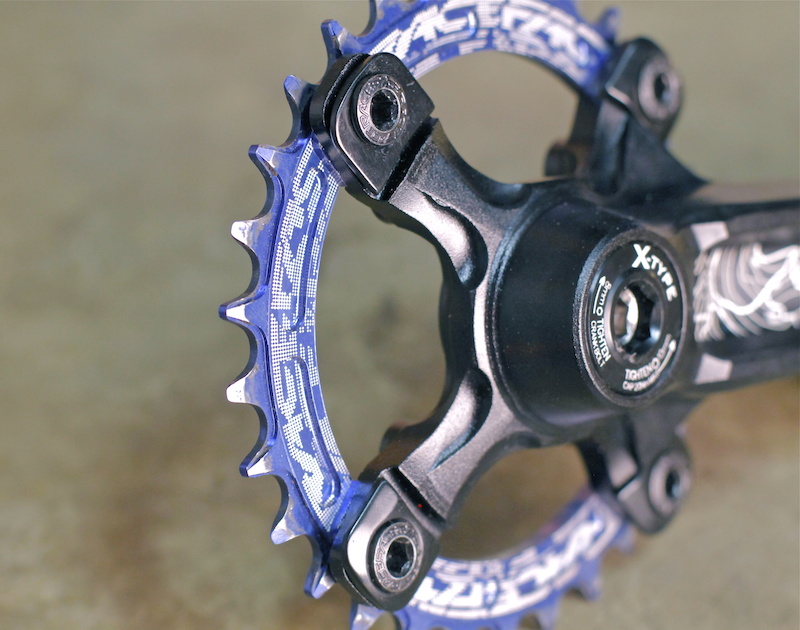 The ring's alternating narrow and wide teeth mesh with the thinner and thicker gaps between the chain's inner and out plates to provide a snug interface.
Construction
The shaping of chainring teeth is far from being a fresh idea. Have a close look at the rings on a double or triple ring setup and you'll see that many of the teeth look either slightly twisted or seem to be missing a third of their height, something done to allow the chain to move across the rings easier and faster, especially when under pedalling loads. Now take a look at a standard chainring designed to be used as a single ring and you'll likely notice that it is completely flat, with no gates or pick-ups (
the technical terms for shift aids
) to be seen. But why not shape the teeth to help keep the chain on? That is the idea behind Race Face's Narrow Wide chainring, with the name referring to the ring's alternating narrow and wide tooth shapes. While the thinner teeth look to be of standard width and fit between the chain's inner plates, the thicker teeth are shaped to fit snuggly between the wider spaced outer plates of the chain, thereby make for a much tighter meshing of the chain and chainring. Viewed from above, the alternating teeth match the inner profile of both the male and female chain links.
While the narrow and wide tooth shaping is the big talking point with Race Face's chainring, the fact that it fits standard 104 BCD crankarms is of equal importance as it allows the Narrow Wide ring to be bolted to the large majority of cranks available today (
SRAM's XX1 rings use a proprietary 76mm BCD
). While this would usually mean that the smallest size available would be a 32 tooth option thanks to the crank tabs interfering with the chain on smaller sizes, Race Face was able to offer a 30 tooth version by offsetting the ring slightly to sit inboard of the crank tabs. This isn't the first time that this method has been used, but it is more valid than ever thanks to many riders wanting to go with a slightly smaller than usual single ring setup that will allow them to continue using their standard 11 - 36 tooth spread cassette and still be able to grind up steep climbs.
The Narrow Wide ring is also offered in both threaded and unthreaded versions, with the latter using standard male and female chainring bolts to attach it to the crankarm. The version tested here sees threads machined directly into the chainring bolt holes that allow it to forgo using the usually required female nuts, with the male chainring bolt threading straight into the chainring. Crank tab shims of different thickness
can also be used as required
depending on what type of crankset you are mounting the ring to, with them also making for a nice, clean look.
Performance
We fit the Race Face Narrow Wide ring to a few different types of cranks and bikes - everything from a 150mm travel Scott Genius to a hardtail - in order to check for any chain line or interference issues, as well as to test the Narrow Wide's ability to keep the chain in place without the support of a clutch-equipped derailleur. As for the first two concerns, there proved to be no issues with alignment or with the ring not sitting on the crank tabs correctly. The offset mounting, which is required by the smaller diameter 30 tooth size, allowed the chain to sit just inside the crank's tabs, with no jamming or clearance problems to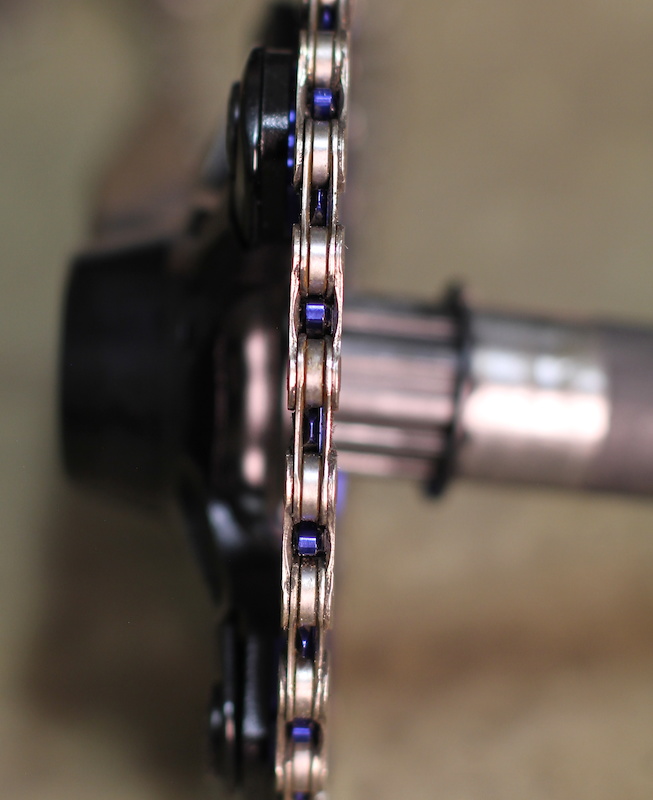 report. The spacer caps also make for a nice, clean setup that doesn't look cobbled together like many of the single ring setups out there - no weird spacers or funky hardware required.

The real question, though, is if we dropped the chain while using the Narrow Wide ring. It wasn't that long ago that we couldn't imagine using a single ring setup without a chain guide of some sort, and while the narrow/wide shaping of chainring teeth is certainly a vital component in keeping the chain from derailing, clutch derailleurs play an arguably larger role... or so we thought. We didn't suffer a single dropped chain while using the Narrow Wide ring, both with and without a clutch derailleur. This includes everything from charging rough trails on a 150mm travel trail bike, to getting rowdy on a steel hardtail that managed to rattle our teeth but not rattle the chain off despite not using a chain guide of any sort. Impressively, the hardtail was the bike that was spec'd with a standard non-clutch derailleur, and the bike that had us fully expecting at least a few dropped chains. Not only were we proven wrong, but there was also a noticeable reduction in chain slap noise while using the 30 tooth Narrow Wide ring.
Issues
With an easy and trouble-free installation, and not a single dropped chain to report, we really have nothing to complain about. Our single concern, although one that we were admittedly not able to suss out due to a long dry spell here in South Western B.C., boils down to how the ring's tooth profiles would perform in excessively muddy conditions. We say this only because other rings that use the same shaping have shown to pick up loads of mud and trail debris, sometimes enough to actually derail the chain. Again, this did not happen to us while using Race Face's chainring, but the incredibly dry weather never really did give us a chance to properly test this aspect.
Pinkbike's take:
| | |
| --- | --- |
| | While we can see many riders still doubling up by using both the Narrow Wide ring and at least an upper slider-only guide, we have complete confidence in our guide-free Race Face Narrow Wide setup while charging on some pretty serious terrain. Not a single dropped chain, even while riding a hardtail without either a guide or a clutch derailleur on rough, rooty terrain, has proven to us that going guide-less is a viable alternative for a rider who wants a simple and lightweight setup. - Mike Levy |
www.raceface.com