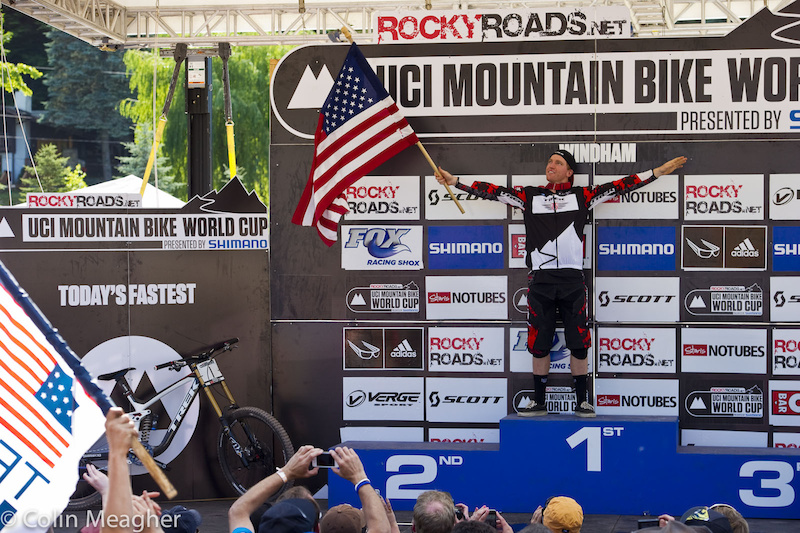 With this win Gwin has put an unheard of winning stamp on the World Cup circuit: 9 of the last 12 races have been won by the Trek World Racing rider. We're pretty sure the closest anyone has come to this is Nicolas Vouilloz with 9 of 14 back in 1998-2000. Outstanding!
Men's Top 5
1. Aaron Gwin
2. Steve Smith
3. Gee Atherton
4. Danny Hart
5. Loic Bruni
complete results at bottom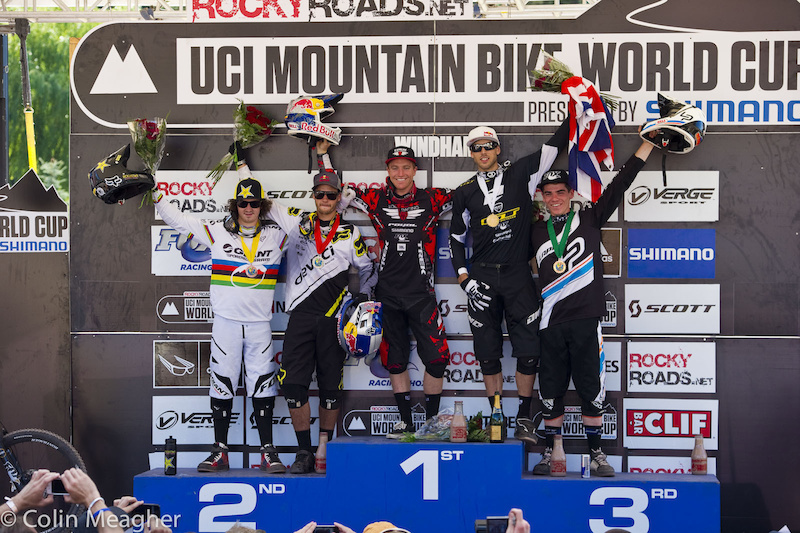 Men's Podium L-R: Danny Hart (4), Steve Smith (2), Aaron Gwin (1), Gee Atherton (3), Loic Bruni (5).
Junior George Gannicott took an early lead, holding the hot seat for quite a few riders. Then as the faster riders made their way down the lead started to change fairly quickly. Mitch Delfs took the hotseat away from Patrick Thome and held it for a while, as Josh Button, Sam Dale, Joe Smith, Matt Simmonds, Justin Leov, Josh Bryceland. Next up was Danny Hart, he was looking incredibly fast earlier but crashed in qualifying. Fastest at both splits he put in a time 1.18 faster than Delfs to take the hotseat. Markus Pekoll was up next but had a slow run, then Cameron Cole looked fast up top but crashed somewhere on course only making into 26th at the end of his run. Suding couldn't do it, then Richie Rude took to the course, on home soil as the second fastest American qualifier Rude looked absolutely pinned, but couldn't quite do it, finishing only 1.69 back. Great things to come for Richie as this is only his first year racing World Cups as a junior. Steve Peat up next, he was second here last year but is still recovering from his hamstring injury sustained at Fort William. Unfortunately he flatted at the end of the rock garden and had to roll it out with his rear tire off the rim. Greg Minnaar qualified poorly and started with 15 riders to go. Only 4th at the first split, he moved up to 2nd at the second split, but couldn't do it and only moved into second behind Hart by 0.09. Next up Nick Beer, he was charging hard and second fastest at the first split, still in second at the second split, he finished just behind Hart, 0.313 down. Great run by Nick, but with 13 riders left would Minnaar even make the podium. Mick Hannah up next, looking so fast but really loose, into third spot behind Hart and Beer, 0.84 back. With 12 riders left Minnaar was already off the hotseat. Remi Thirion on course, looking fast but 1.2 back at the second split, and 1.2 back at the finish. Sam Blenkinsop couldn't do anything, 10th at the finish, but only 1.92 back, with a short course like this the times are tight.
Many of the top men were having trouble with the last jump as well, possibly due to the wind, but there were a lot of hard landings just short of backside, even in the top men.
With 10 riders left to go it was Danny Hart in the lead, followed by Nick Beer and Mick Hannah. Junior rider Loic Bruni from France, another rider to look for in the future. Sixth at the first split, 4th at the second split, and then 2nd at the finish. Only 0.27 back it was a great ride for the Lapierre rider.
Gee Atherton up next, he had a slow qualifier, could he go a lot faster in the final? He took the overall series by winning here in 2010, and was absolutely pinned, was fastest all the way down today, moving into the lead by 1.372, a great time for Gee.
Gee's teammate Marc Beaumont up next, and after a nasty crash in practice he crashed again in the rock garden in the final, going over the bars. George Brannigan, twelfth at split one, eleventh at split two, he was 3.218 back and 12th at finish.
Brook MacDonald up next, 3rd at the first split and only 0.4 back, but he went down hard in the rock garden, seemed to be okay but only into 30th spot with a time that was 6.8 seconds back of Gee.
Sam Hill on course next, only sixth at the first split, he got really loose and lost a bit of time, but still made it up to fitth at the second split, charging hard but ending up 1.93 back and into fifth just ahead of Mick Hannah. Less than 3 seconds between the top ten riders at this point, and 1.3 of that was between the first two riders.
Andrew Neethling was 1.4 back at the first split and in 13th place, he moved up to 6th at the second split, but then lost a tiny bit to finish in 7th spot, tied with his countryman Greg Minnaar.
Damien Spagnolo is looking for a win and he was fastest at the first split, absolutely charging down the course. Into second at the second split, but he flatted, and it was all over...
Two riders left, Steve Smith and Aaron Gwin.
Stevie is ready for a World Cup win, he's won the US Open fairly beating Sam Hill, and then at Mont Saint Anne World Champs two years ago he was second to Sam Hill. It's Canada Day, can the Canadian do it? Eleventh at split one, he was moving fast but two far back. Seond split he was fastest, insane, finishing the race 0.75 ahead of Gee and into the hot seat with only Aaron Gwin left.
Aaron Gwin on track, only third fastest at split one, absolutely pinned on track though. 0.9 ahead of Stevie at split two, and taking the win by 0.958, almost a full second ahead of Stevie, another win by Gwin!
42234 DHI ME Results