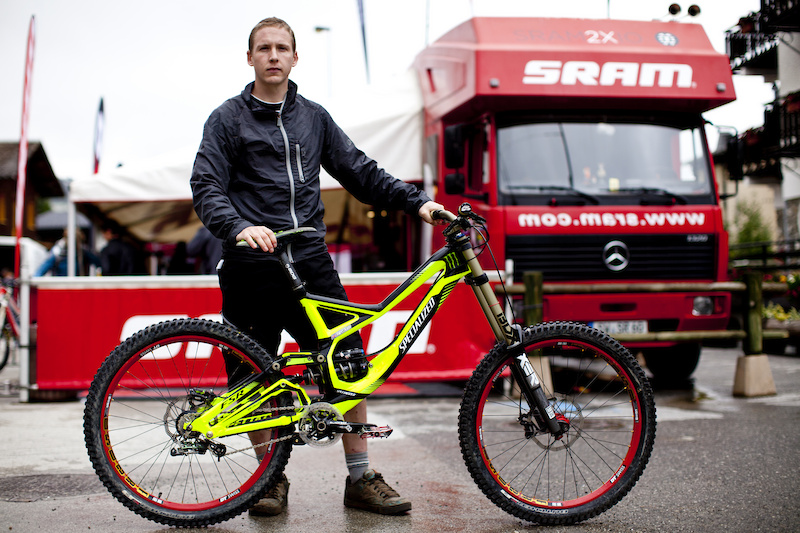 Will riding a bike that is setup to go faster than you are capable of mean that you'll go quicker? Despite my hopes, riding Brendan Fairclough's bike didn't automatically mean that I had his speed or style. In a bit of an eye opening experience, the opposite turned out to be true.
Brendan's Demo 8 details:
- Production frame, size large
- 64 degree head angle, 343mm bottom bracket height
- 8'' of rear wheel travel
- BlackBox tuned RockShox BoXXer World Cup fork and Vivid R2C shock
- Code calipers and BlackBox levers brake combo
- Custom 6 speed cassette with 9 tooth small cog (
uses 10speed spacing
)
- Prototype Renthal direct mount stem
- 740mm wide Renthal bar
For a lot of us, mountain biking is very gear driven. Sure, we all love nothing more than riding trails, pushing our personal limits and being out on our bikes with good friends, but having the ideal equipment for the terrain is also important to many riders, myself included. And thus it can sometimes be easy to blame a bad day on what we are riding, or to have dreams of grandeur that usually go along the lines of "
Yeah, well if I had his support...
" or "
But look at the bike he's on, of course he won!
". But what if you did have his bike? In this case I am referring to Brendan Fairclough's Specialized Demo 8 and the full support of SRAM - can a World Cup race bike and factory support make a punter like myself any quicker? Will his pro-only BlackBox tuned suspension allow me to devour the roughest of tracks at a speed that will have Brendan worrying about his spot on the team? The obvious answer is no, Team Monster Energy - Specialized won't be calling Mike Levy up anytime soon with a multi-season offer, but the day I spent riding his race rig in Les Gets, France, did prove to be an enlightening experience as to the vastly different demands that a World Cup professional has of his equipment compared to an average Joe rider. The gulf is much larger than you may expect.
I rolled out of the SRAM pits in Les Gets with Brendan's bike setup exactly as he would have it on race day - I made no changes to his suspension, cockpit (
besides swapping the brake levers to have the rear lever on the right
) or tire pressure. I even left his saddle height where he would have it. I wanted to ride his bike as how he would experience it, albeit a touch slower. The plan was to do a few warm up laps at a gentle pace in order to familiarize myself with the green and black machine, followed by cracking the throttle open later in the day with an eye on discovering if you really can go faster on a "faster" bike. Les Gets' lift accessed trails consist of a mix of bermed runs, most full of rough braking bumps from a lot of early season traffic, and natural, rooty singletrack that weaved in and out of the forest. Much of the terrain is also off camber and less groomed than the typical North American bike park, which made it especially challenging considering just how slippery the mountain was after a few days of torrential rain.

Shown here first on Pinkbike at the last World Cup round, Team Monster Energy - Specialized has been rocking this prototype Renthal direct mount stem (left) that seems to look very polished and close to being a production item. Brendan uses a set of Renthal bars (right) cut down to 740mm on both his Specialized Demo race bike and his Enduro.

His bike his equipped with SDG's unique looking I-Fly Storm saddle (left) that uses injection molded lugs to keep him from sliding off the seat when conditions are nasty, although interestingly, he prefers to run it in both wet and dry conditions. Brendan runs a combination of Avid's Code calipers and BlackBox levers that put out a tremendous amount of power, and his rear caliper had this neat little mud guard made from a Monster can (right) that helps keep the mud and debris buildup, mostly from the front tire, to a minimum.
Production frame:
Brendan rides a standard large sized production frame, meaning that the bike uses a stock 64° head angle and ground skimming 343mm bottom bracket height (
when set to the slack and low position as his was
), and while I was concerned that the 447mm long reach would make for a bit of a stretch for my 5'10" frame, my lanky arms and legs had me feeling right at home. There are certainly some wacky setups out there, but Brendan's cockpit isn't anything out of the ordinary; his bar is at a proper height - not stupid low, and wasn't a foolish width either, having been cut down to a reasonable 740mm. All of his controls are positioned near where most people would run them. He uses an SDG I-Fly Storm saddle, the very one that lit off a huge discussion over whether its molded lugs made any sense, but it felt just like any other saddle when sitting on it. Yes, it looks weird. No, the lugs don't make it uncomfortable. Besides a rather lofty seat height (
he's got a few inches of height on me
), there really isn't anything remarkable about his cockpit.

A lot of downhillers are asking for a smaller spread, six speed rear cluster like the one on the back of Brendan's Demo 8 (left), but his also has a smaller than usual, nine tooth cog. This lets him use a smaller chain ring, and therefore a smaller chain guide for more ground clearance, while still having a sufficiently high enough gear for racing at World Cup speeds. His custom six speed block still uses ten speed spacing and the shifting is done with a standard XX rear shifter, although the rear derailleur is equipped with a longer limit screw to keep it from moving the chain onto the custom aluminum spoke guard. Brendan's bike will no doubt be sporting the new Crank Brothers pedals at some point soon, but his rig still had the original versions while in France.
The BlackBox touch:
If the bike's cockpit felt somewhat standard, his brakes are anything but. All it took was a few loops around the parking lot to realize that the green and black bike's stoppers had out of this world power. I'm not talking about just a bit more power than what you'd find on a stock brake set, but a gigantic leap over what I was used to. Of course, more speed requires more braking power, but the question is how? His Avid Code calipers are fitted with production pads and controlled via a set of BlackBox levers that, while light and trick looking, shouldn't raise the stopping power (
they don't use a different leverage or port size
). When I inquired as to where the power came from I was told that setup is key, that the powerful bite comes from simply taking the time to do a comprehensive bleed on the system. Regardless, I'm reasonably sure that I could bleed my brakes all day long and not have them turn out like Brendan's, but I guess that's why his mechanic looks after his bike and I don't!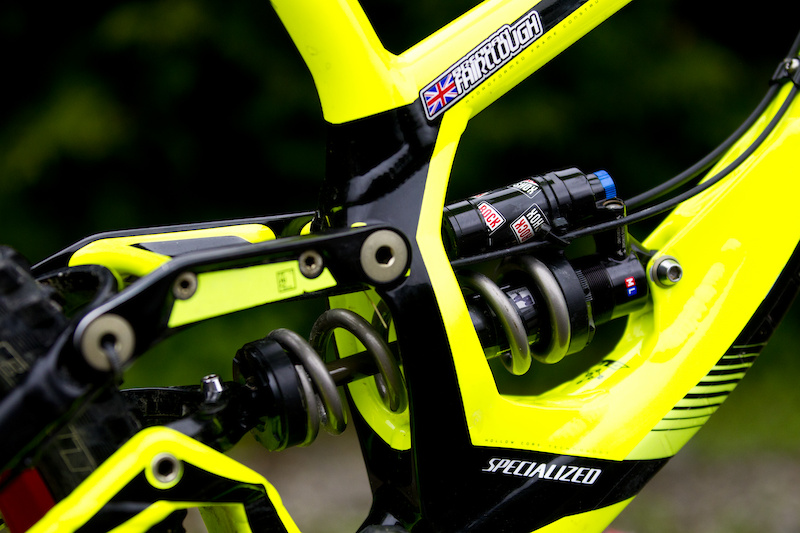 A 450lb titanium spring and firmer compression tune inside his RockShox Vivid help to neutralize Brendan's very rearward riding style.
Despite Brendan being quite a bit taller than me we are of similar weight, but his suspension was setup drastically different than how I would run my own. Given how hard riders of his caliber hit sections, this isn't really too much of a surprise - the faster the rider, the stiffer the suspension needs to be to hold him up. This is especially true of Brendan due to his somewhat rearward riding style that sees him leaning off the back of the bike more than other riders. BlackBox technician Jon Cancellier explains:
| | |
| --- | --- |
| | Brendan runs a pretty firm spring and compression tune on his Vivid. He uses a 450lb titanium spring and a heavier tune than his teammates to help offset his rearward biased riding style. When you watch Brendan ride he is always hanging off the back of the bike and we run his rear suspension stiffer to accommodate this. Up front, he runs 75 psi in his BoXXer. This is a pretty standard air pressure for our World Cup guys as they need higher air pressure to hold them up when they are hitting things at speed. We also make use of the volume adjuster on the fork, running it at one turn from full closed to help make the air spring even more progressive. - Jon Cancellier, BlackBox technician |
Not exactly a setup made for piddling about on the trails, is it?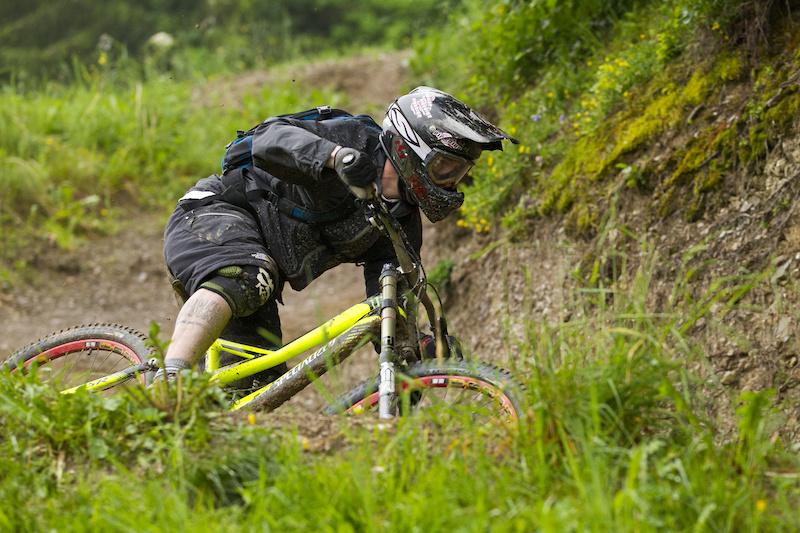 Trying to get the most out of myself was key to understanding Brendan's Demo. Mid corner and take note of how high the bike is in its travel. I hit this berm on other bikes during my stay in Les Gets and the results were very different than on the Demo race bike.
On the trail:
So, with its extremely stiff suspension and brakes that felt as if they could bring a locomotive to a quick stop, how did the bike feel on the trail? Common sense prevented me from rolling into the most difficult trails that Les Gets has to offer straight off, instead spending the first two runs on tamer lines that would give me the opportunity to get a feel for the bike's handling before jumping into the deep end. Even though the early runs weren't challenging, it was clear that the stiff suspension would require me to really pick up my pace for it to perform at its best. It was obvious early on that the bike was simply going to get the best of me unless I rode it hard and well above my comfort zone - this didn't exactly come as a surprise to me. The bike was a handful at my initial guarded clip, wanting to deflect off of braking bumps instead of tracking over them, and it took a lot of effort to simply hold a line on the trail. The stiffly tuned suspension was not the only thing at fault here, although both it and my lack of aggression and speed played a large part in my floundering. The other factor was Brendan's tire pressure, no doubt higher than I require due to his much more aggressive cornering and attacking style. The high pressure, combined with the mixed conditions, had me reacting to how the bike was tracking instead of the other way around. I was in for it if I didn't get off the brakes and let the bike pick up speed.
A difficult start to the day then, no doubt. But I knew that things would be much smoother, literally, once I pushed past that line where the bike would begin to perform like it was intended to. I am never going to come close to approaching the speeds that Brendan would hit, but I was determined to at least open it up as much as I could in order to get a glimpse into his Demo's personality. I began to wrap my head around the bike once I got on more demanding ground and picked up my pace to a respectable speed. All of a sudden the bike set about to behave how I expected it to and it really felt as if my traction instantly doubled. I didn't need to work so hard to keep the bike on a line because the bike wanted to stay on the line, and the suspension went from feeling as if it was working against me to genuinely having my best interests in mind. There wasn't a lot of concession for early travel suppleness, but both the front and rear dampers seemed to do a surprisingly impressive job of erasing the small trail chatter, especially given their stiff nature. How it managed to accomplish this, I have no idea, but my guess is that Cancellier's BlackBox trickery has a lot to do with it. There is no doubt in my mind that mimicking Brandon's settings on your stock suspension wouldn't have the same results. The other upside to his firm race settings are that the bike does a wonderful job of preserving its geometry under braking or when on steep sections of the track. This makes for predictable handling and no surprises when pushing hard or when tired near the end of a taxing run. And as firm as the bike's suspension felt, I was also aware of it being supremely balanced - There were going to be no surprises, no sudden bucks or jolts, and it made me believe that I could charge into any lip no matter how awkward it looked.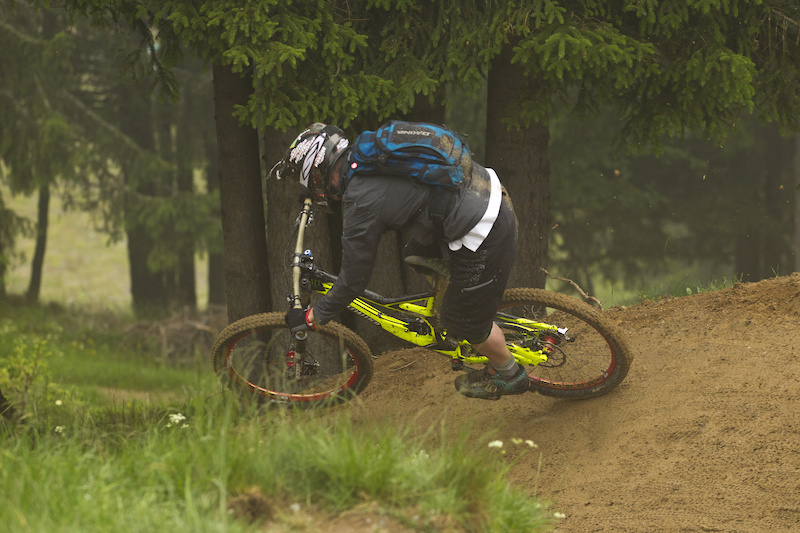 The stiff suspension, and especially the rear end, encouraged a much more playful riding attitude instead of the usual ground hugging downhill bike that is so common these days. In this way, the bike very much suits Brendan's style.
The bike's Specialized Butcher tires also came to life when my speeds picked up, but I could feel that his higher pressures, required by his much faster cornering speeds, wouldn't ever be ideal for me at my slower pace. Regardless, it was easy to see how he could absolutely tear a corner a new a*shole given the bike's predictable handling and stiff, balanced nature, along with the powerful brakes that let him get on the binders as late as traction will allow.
Have you ever watched the Top Gear episode where Richard Hammond tries his luck at driving Fernando Alonso's Renault F1 car? It wasn't a pretty sight, and if the car wasn't equipped with Anti-stall he likely wouldn't have got out of the pits, but he also couldn't drive the car quick enough to make the aerodynamics produce the required down force or get enough heat into the tires or brakes to have them actually do their job. Luckily for me I can't stall Brendan's bike, but I felt much like Hammond must have. I simply couldn't ride the bike fast enough to have the suspension function ideally, to have the brakes not feel so powerful as to be overwhelming, or to get the tires to hook up. After spending a good part of the day on his bike, none of it doing it any justice, I handed it back to him so he could ride it like it was intended. Watching him ride, it was easy to see how the setup works for him. Without mincing words, Brendan
rode
the bike, while the bike rode me for most of the day. He looked at ease on it, lazily doubling over sections of trail where I was floundering on the ground, and picking up speed where I was on the brakes. The wet conditions seemed to trouble him little, and it looked like his was on rails through corners that had me dropping an anchor and sliding about. A rider of his caliber on a bike that is setup ideally for his style is an impressive sight to see, but it was also a lesson in how a bike has to evolve according to the rider on it.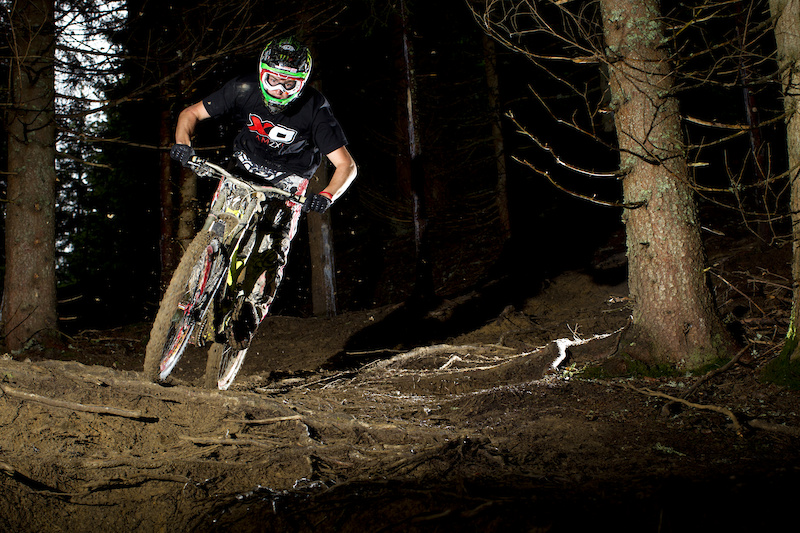 Brendan taking a completely different line at at a much quicker pace than I could manage through this section. His Butcher tires looked to be glued to the ground here, despite the slop and wet roots.
Pinkbike's take:
I'd like to think of myself as a fairly proficient rider, someone who can ride at an expert level and feel comfortable on any bike or trail, but it was clear to me pretty quickly that Fairclough's bike was literally too much for me to handle for long periods of time. I could push myself hard for a few runs to get a glimpse of what his World Cup Demo is capable of, but I didn't have the strength, aggressiveness, or confidence to get the most out of the bike. Of course, none of this is really too much of a surprise to me. You simply can't jump on a bike not setup for you and expect to be riding at your best, but Brendan's preferences show that what allows him to ride so fast can actually hinder a rider of lesser skill. Can the average rider throw a leg over a World Cup rider's bike and expect to suddenly take ten seconds out of their race run? Not a chance in hell.
It's not often that the chance comes up to spend some time on a full fledged World Cup race bike, so thanks to both Brendan for allowing it to happen and to SRAM for giving me the opportunity. The great photos are courtesy of Sven Martin.
Astonishing brakes and top drawer suspension that isn't made for the average rider, Brendan's Demo is certainly put together for speed. Let's hear what you think about Mike's time aboard Fairclough's race bike - put those thoughts down below!