We were greeted with great weather this morning, so we knew that it wasn't going to last. The courses were trying to dry out and riders were getting eager to ride lines that were finally becoming rideable. DH practice ran through out the day and 4X qualifers were to begin at 4 pm, so the gravity events were finally getting under way. But for a lot of us, the day was spent waiting eagerly for night time to arrive and
the ROAM premier
.
The good weather lasted until early afternoon and then it went to hell real quick. It was like a mini tornado rolled in. By my account I only saw one wrecked tent, but a lot of vendors began taking down their wares early.
The non-pro 4X qualifiers began at about 4 pm and with only about 500 riders to go through in the mud, it took a few hours to complete. I'm sure some of the racers were close to being hypothermic in the rain.
Once the slog fest was over, we loaded up the trucks and headed into Monterey to the Portola Plaza Conference Center where tones of riders had begun to converge for what has been such a highly anticipated video release.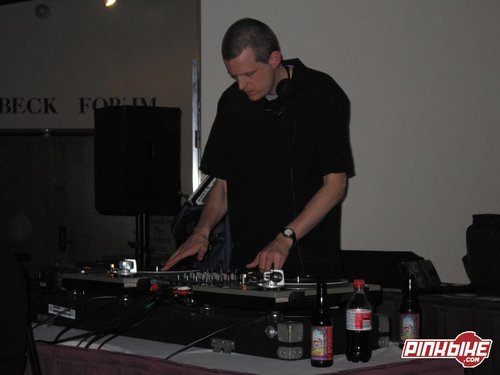 Matt spinning beats for the crowd
Matt the Alien was spinning beats for the gathering crowd in the foyer as they took a look at the pictures on display. There was a silent auction going on before and after the movie to raise funds for
Trips for Kids
. Once the doors into the theater opened up, the gathering crowd of a few hundred riders all filtered in and grabbed a seat.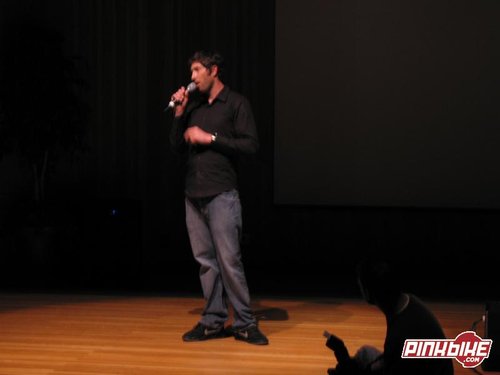 The ROAM premiere was the event to be at for sure. It was like a reunion for Canadians, as they were all there. Mitchell Scott of Bike Magazine was the MC for the evening and got things rolling after giving the boys behind the film a proper roast. I won't get too into the details of this great film, but I will tell you that you need to watch it. Go to a premiere, buy the DVD, however you need to go about it-just watch it. The bonus features, which include "the making of" are worth the price of admission on their own.
After the film was done playing Mitchell had all the riders whom starred in the film give a bow to the crowd. Everyone filtered back into the foyer where the silent auction prices were going up like crazy now that everyone had seen the film and had a greater appreciation for it. That and the fact that all the funds would be going to
Trips for Kids
.
Pics from the foyer:
Happy Trails,