Santa Cruz previewed its 2012/'13 29er lineup this week in Sedona, Arizona, and two of its most surprising developments are made from aluminum, not carbon. Those who fell in love with the iconic Santa Cruz Superlight XC/trail bike will revel in the fact that its single-pivot triangulated swingarm and simple-is-best profile has been reincarnated as a sweet 100-millimeter-travel 29er. Price is set at only $1850 for the complete bike in Santa Cruz's D/XC build. Want a simpler 29er? How about the Highball-a, an aluminum-framed version of the recently released carbon 29er hardtail by the same name. The aluminim Highball features single-speed-convertible dropouts, progressive geometry and a tantalizing MSRP that begins at $1499 with the geared D/XC complete build. First-production bikes should hit the bike shops in April or May this year.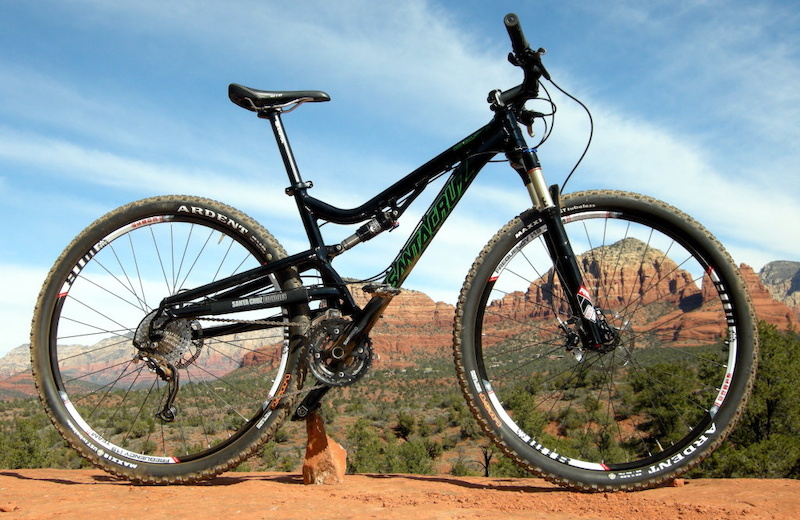 Santa Cruz created an all-new frame, geometry and a different suspension rate to make its Superlight 29, but the family resemblance to its 26er sibling is unmistakable.
Superlight 29
The single-pivot aluminum framed Superlight is now a 29er, and for good reason. The triangulated swingarm and its mid-height pivot location is perfect for a 100-millimeter suspension - and that seems about perfect for a 29er in the XC/trail category. The easy-to-make frameset has been tweaked to emulate the performance of its VPP sister-ship, the Tallboy, which has been said by many test riders to be one of the best handling big-wheel suspension bikes to date. Why reincarnate the single-pivot Superlight instead of making a less-expensive aluminum Tallboy? Price is the answer. The Superlight 29 costs only $1850 0r $2350 depending upon your choice of Shimano components. And its suspension is tops too, with a RockShox RL100 fork and Float RL shock. The up-charge for the Tallboy's VPP suspension would force Santa Cruz to drastically compromise its components to approach the Superlight's MSRP. The other reason is that Santa Cruz knows that many new riders will be buying a 29er as their first bike, and they wanted to place the best possible machine underneath them to maximize their experience (scroll down to view the Superlight's build options). After putting some miles on the new Super on the red soil and sandstone around Sedona, I think Santa Cruz hit the mark.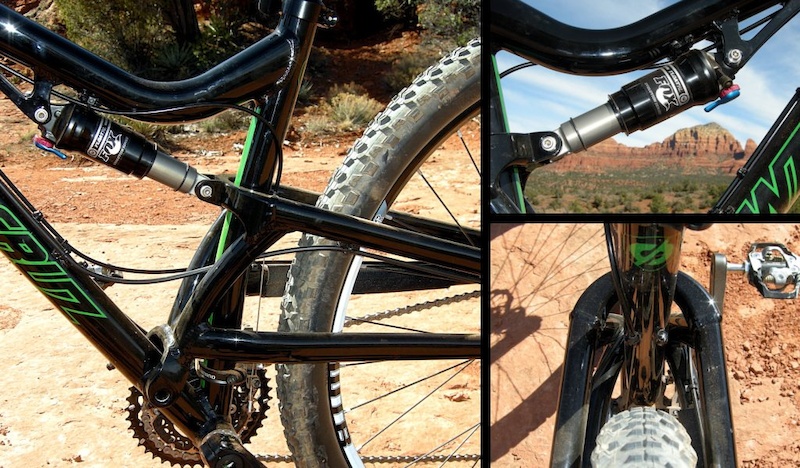 (Clockwise) The Superlight's top tube bows heavily downward to maximize stand-over clearance. The shock length is shorter and the swingarm's leverage ratio is increased on medium and small-sized frames to boost sensitivity. The forward-of-the seat tube seatstay junction gives the Superlight's swingarm plenty of tire clearance.
Superlight Frame Notes
Like the original 26-inch-wheel version, the Superlight 29 frame is about as simple as a dual-suspension frame gets, but its design incorporates the sum total of knowledge that Santa Cruz compiled over the years. Elements like forged dropouts tube-junctions, and the addition of the collet-type 15-millimeter adjustable pivot mech developed for the VPP linkage. Hydroformed tubes and a tapered steerer keep the frame tight and flex free, while its Tallboy geometry ensures that the new chassis will be as fun to descend upon as it is efficient on the climbs. Santa Cruz chose a threaded bottom bracket shell instead of the now-popular PressFit type in order ensure that the bike can be serviced with off-the-shelf parts at the bike shop for years to come.
Suspension choice:
The elephant in the room during the Superlight 29 presentation was, "why use the old-school Superlight's single-pivot suspension instead of a less-expensive version of the dual-link VP design?" The answer is that, a single-pivot.placed correctly provides a beautiful shock rate for a moderate-travel 100-millimeter suspension. Extending the new Super's travel far beyond that would require the more expensive and complicated VPP or APP linkage to produce the perfect shock rate - and Santa Cruz will not take the cheap route on either design simply to make price point.
Superlight 29 Geometry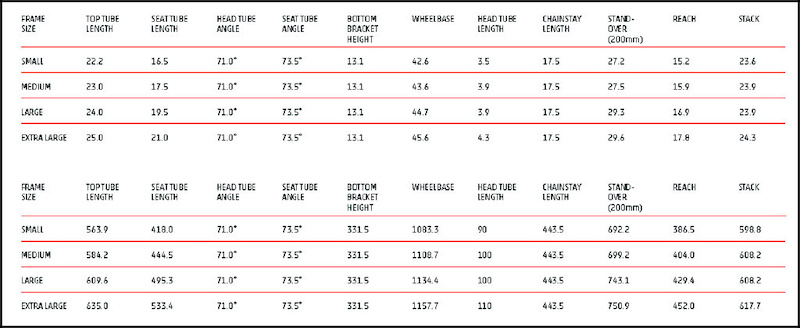 Small means Small:
Small riders can rejoice that the 'small' frame is claimed to have the lowest stand-over height in the 29er class (27.5") and a top tube length that actually fits small-framed folks. Better still, the shock stroke is shorter and leverage rate higher on the small and medium frames to soften the suspension and boost the effectiveness of the shock's damping adjustments for lighter-weight riders. While the travel remains at 100-millimeters on all sizes, using two different shocks and leverage rates will make the smaller Supers' ride as smoothly as the large and XL models. Just to review, sizes offered will be Sm, Med, Lg and XL. Colors are orange or black.
Superlight 29: First Ride
Anyone who has the opportunity to throw a leg over the big-wheel Super will discover another chapter of Santa Cruz's signature handling and easy pedaling action. Back in the day, when the 26er version was one of the top performing trailbikes, I gravitated towards the Superlight when I had no idea what a particular ride had in store - up and down, the Super could handle it. The same holds true for the Super' 29. Its moderately-slack-for-29er, 71-degree head angle felt steady while plying the stepped drops and shifting rocks that pepper the trails of Sedona, and its tight-tracking rear end made for a lively bike in the turns, which is refreshing for a 29er in any form. Its numbers are the same as the carbon fiber Tallboy, and you'll be happy to know that the Superlight 29 is a spitting image on trail - versatile, predictable and energetic.
Suspension travel is limited to 100 millimeters, which at one point was considered cushy for any 29er dualie, but after plying the bumps for a year or so on 150 mm-plus bikes, I used up every millimeter of the Superlight in the first kilometer on the trail. In XC fashion, most of the big hits and short drops I launched on the Super' required damping and spring assistance from my arms and legs. Once the bike and I came to an agreement over which bumps were the domain of the suspension and which were to be shared events, the ride became quite seamless. Better still, the moderate travel front and rear provided enough pedaling firmess to allow me to ignore the blue platform features on the fork and shock.Sweet! The bonus effect of pounding over relatively technical terrain on a minimal-travel machine is that the fore/aft balance is rarely upset, so the rider and bike are in good position to handle any surprises.
Component choice on the Superlight 29 I rode was the predominately Shimano Deore XT RXC 29 ensemble that puts the retail price near $2350 USD. The highlights were its Ice-Tech rotors and Deore XT brakes, Fox shock and RockShox Reba fork. Wheels were Mavic TN179 rims converted to tubeless and spinning on Deore XT hubs. The 30-speed DynaSys drivetrain was a Deore item. The Superlight 29 shifts and stops like a much more expensive machine.
The Superlight 29's good fore/aft balance and moderately slack head angle made poking around on Sedona's slick rock quite fun. Ron Kratch photo
Pinkbike First Impressions:
| | |
| --- | --- |
| | If the Superlight was your first introduction to mountain biking in general, you would be hooked. If the Superlight 29 was your first-ever dual-suspension big-wheel bike, you would probably fall in love with it in one ride. Its affordable price belies its enthusiast-worthy do-anything performance and its trustworthy handling is the reason that Santa Cruz riders are an unusually loyal group. Is it perfect? No value-priced bike is. The Superlight 29 could use a through-axle in the rear, a longer-stroke fork and some may wish for a fashionably slacker head angle, but two of those additions would short circuit its purpose - to be the most versatile, easy-to-ride XC/trail 29er in the entry-level dual-suspension 29er market. I've ridden a lot of 29ers in the 100mm category and I felt right at home on the Superlight 29. A warm welcome to an old friend.. - RC |
---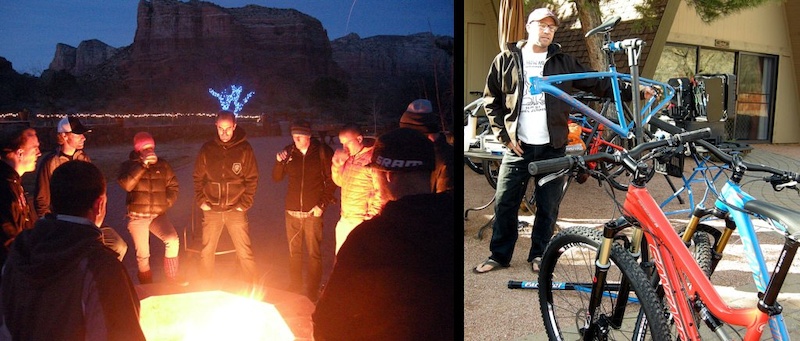 Santa Cruz launches are casual affairs packed with good food and plenty of saddle time. Much of the technical discussions were tossed around over the evening campfire, with formal breakfast seminars hosted by Santa Cruz Don Mike Ferrentino.
Highball Aluminum
Surprised by the brisk sales of its carbon fiber Highball hardtail, Santa Cruz realized that the basic design that founded the big-wheel movement was still thriving in the hearts and minds of enthusiast-level riders. The Highball aluminum shares the same geometry and features of its far more expensive sibling and can be purchased for the wallet-friendly price of $1499, ready to roll. Care was taken to keep the HighBall aluminum's stiffness high and weight low, so that its rider will get a chance to ride the real thing - not a dull-handling lookalike of a great performing pro-level machine. Highball aluminum hardtails will initially sell as complete bike packages for $1395 with predominantly Shimano Deore drivetrain parts, or for $2350 outfitted in Deore XT. Frame sales are scheduled for Fall 2012. Color options are white or blue with special colors available for an upcharge.
Clean and simple lines, backed up by a stiff frame and trustworthy handling make the aluminum version of the Santa Cruz Highball a must ride for entry-level trail riders - and budget-minded enthusiasts as well.
Frame details
With its swooping double-bend rear triangle, Santa Cruz's Highball pays a little homage to the Yeti Arc - the seminal aluminum XC hardtail. The Highball one ups the Arc, however, with bolt-on dropouts that allow purists to easily convert the Highball into a single-speed. Add a forged bottom bracket journal, hydroformed top and down tunes, a tapered head tube, and one realizes that the Highball is very up-to-date. Its geometry is exactly the same as the carbon fiber version, which is a good thing. Small frames feature a 28.5 inch stand-over height and a 22.5 inch top tube length - both are welcome and uncommon among 29ers. Santa Cruz offers the Highball aluminum in small, medium. large and XL sizes.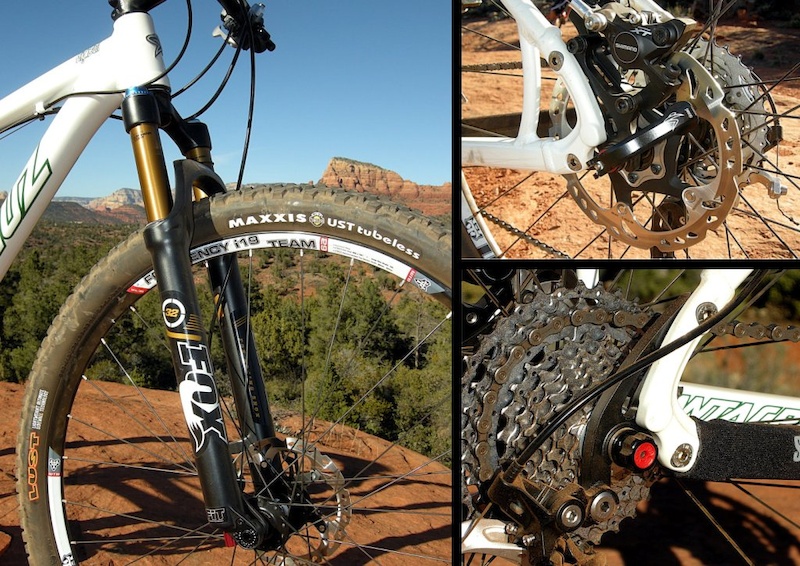 (Clockwise) We appreciated the upgrade to the Fox Kashima-coated Float RLC fork, but probably would opt for a longer-stroke 120-millimeter slider in place of the fancy coating. Standard Superlight 29s come with Avid Elixir 5 brakes, but we'd spring for the XT Ice-Tech stoppers after riding them on the red rock.
Highball Aluminum: First Ride
I would be foolish not to point out that the Highball that Santa Cruz gave me to ride was upgraded to its third-tier SPX XC 29 kit, which includes a Kashima coated Fox Float RLC fork and Shimano Deore XT Ice Tech brakes. The upgrades add considerably to the Highball's price, bumping it to $3593. The slick fork stanchion only makes a big difference once the fork breaks in and the factory lubrication begins to disappear, but the brakes, they stop with a better feel and more authority than the standard-offering Avid Elixir 5s.
Although I don't ride too many hardtails these days, I was right at home on the Highball. Its steering feels more accurate than the average 29er and it remains tractable while descending some pretty step stuff. With only 100 millimeters of cushion up front and narrow Maxxis Ardent tires, the rough-angled stones and pocked slick rock that punctuate Sedona's trail system could all be felt to some degree. The larger wheels do roll noticeably faster over most chatter and the slackish (for a 29er) 71-degree head angle seems to calm the steering when cornering over uneven steps and imbedded rocks. Unless your hindquarters are hewn from stone or steel, convert your tires to tubeless (the Highball's Mavic TN 719 rims come pre-assembled with Stan's tape and tubeless valve stems are included with each bike) and you will roll faster and smoother over the chatter. Ours were converted - thanks Santa Cruz.
Highball Aluminum Geometry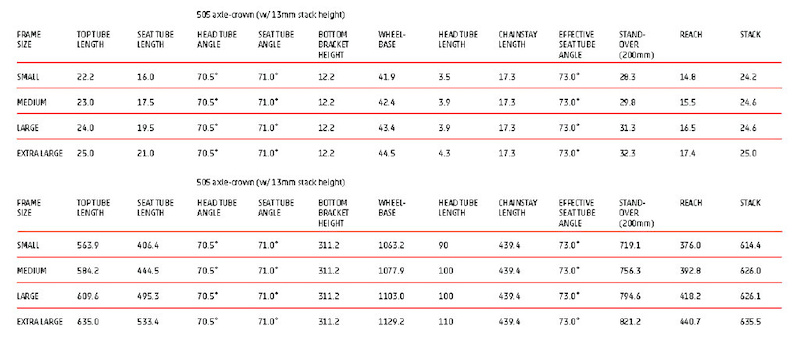 While the Highball's skinny tires and rigid rear end had me wishing for rear suspension while I was banging up stepped climbs and over square-edged rocks, it manages to maintain momentum quite well. There is a positive connection between rider and rear tire that helped me to claw my way up and over a few climbs that I did not make earlier in the week. As hardtails go, this one is among the more pleasant rides I can remember. Its weight balance is on the money, with little tendency to skid the rear tire into tight corners and not much lift on the front wheel when climbing or turning up steep grades. Both are positive 29er benefits, but the Highball manages to steer without the lagging, heavy feel that normally comes with big-wheel stability and rough-surface performance.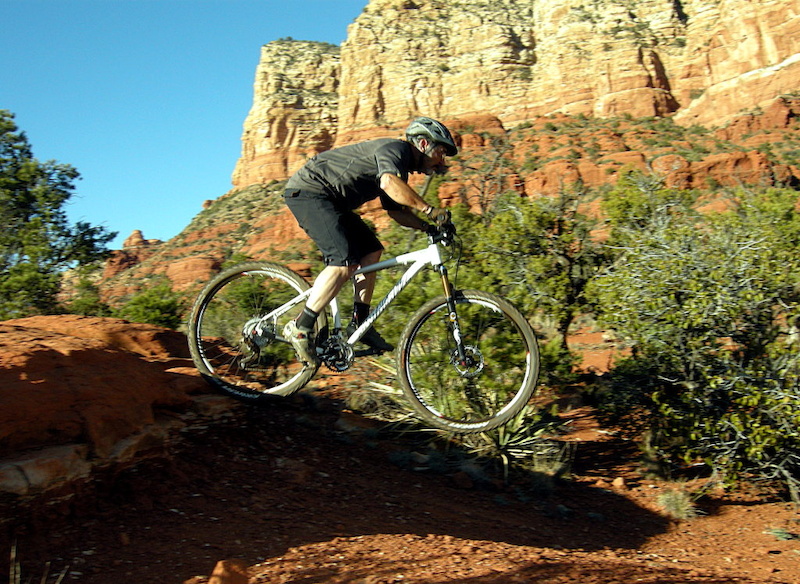 The Highball Aluminum's big wheels and stable handling made easy work of the area's many drops and short, steep descents. Ron Kratch photo
Pinkbike First Impressions:
| | |
| --- | --- |
| | IIf you truly want a 29er hardtail, there are many good ones to choose from. The Highball is one of the better handling 29ers I have ridden in a while, and it transcends the old-school twitchy racer-boy feel without sacrificing the efficient feel that most people buy hardtails to revel about. Many will maintain that aluminum frames feel harsh, but this one seems to have circumvented that prejudice with big wheels and a centered rider position. It rails corners, doesn't push the front tire, accelerates well and handles technical downhills (technical within reason) with conviction. Best of all, you can get a sweet performing 29er hardtail, from a brand that knows what a real mountain bike is, for only $1500. - RC |
---
Santa Cruz Complete Build Options for 29ers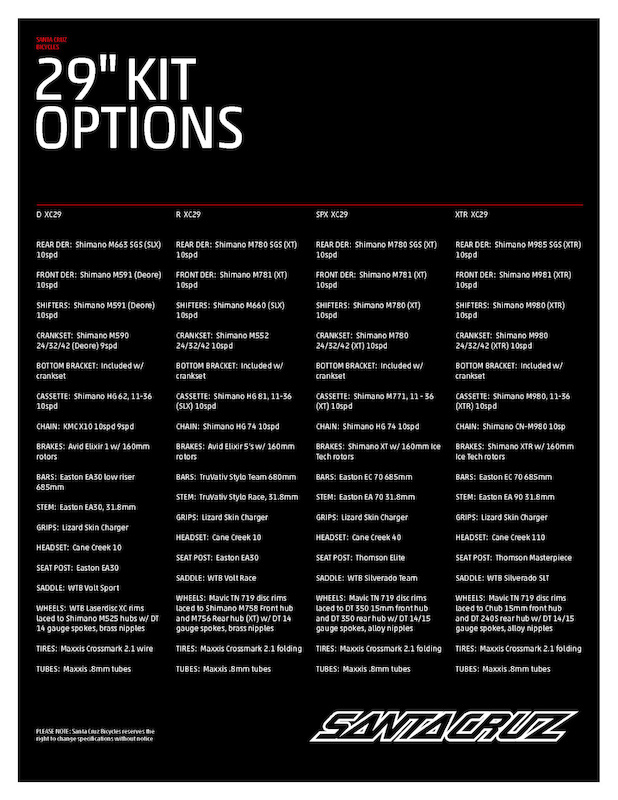 Santa Cruz will initially only sell complete bikes outfitted with the D XC29 or R XC29 kits. Customers will still be able to upgrade for an up-charge to any of its four component levels - or mix and match. As Santa Cruz catches up with deliveries early this Summer, it will begin selling frames.
---
---