Wednesday at the Sea Otter is kinda like being at the circus early-you get to see all the big tents getting set up. Just days before Sea Otter was to begin, the whole venue area was pretty much under water. The organizers have been flying around draining areas for the circus to set up and its working.


All the pits were slowly growing and racers were signing up today.
I met up with the
Norco Factory Team
, whom I'll be staying with for the remainder of Sea Otter.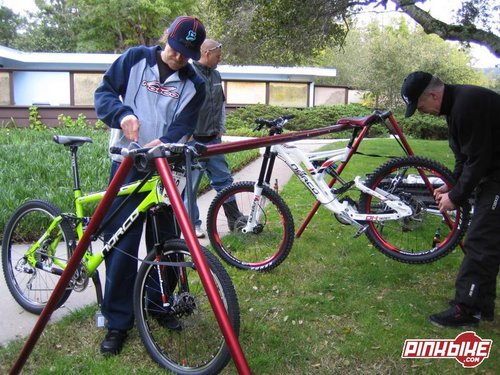 Bike set up the night before the races begin
I am staying in Carmel where I have no access to wireless, so I am sorry for the delay in my reports that I am prepping from our kitchey 60's quarters.
THURSDAY-
We were at the venue early this morning for 4X practice, but since the course is still under construction, that has pushed practise back to dinner time.
With the opening in my morning, I headed over and took in the ladies super XC race. Gunn Rita Dahle put on a clinic from the get go. Kiara Bissaro gave a great chase for about 2 laps, but had to ease off. Gunn Rita took the win by 2:44 over the chase pack. Alyson Sydor took the sprint finish from the chase pack for second.
DH practice ran through out the day. I ran into Jamis Bicycles rider Kathy Pruitt and had her give me a little run down of how the courses were shaping up so far.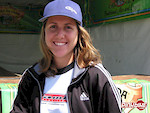 The Pruitt Report
DH Conditions:
-The course is as slippery as a wet slip and slide that we all played on as kids, but now you have to ride your bike on it.
-It's muddy enough that they could host a WWF bikini match out there.
-Should be re-classed as a Super D as there are climbs and descents-really pedally course right now.
-Planning on running the Diablo for these courses as the big bikes are just not needed, and put on the skinny tires. (Maxxis Medusa)
Kathy's 2006 focus is to remember that it's bike riding and to relax. She will no longer be known as just a Luna Chix rider, but rather as Kathy Pruitt of Jamis Bicycles. Visit
www.kathypruitt.com
to learn more about who's supporting her this season.
Shameless Plug- The new Blue Camo Troy Lee kit is Dope!! -Kathy Pruitt
Well it was now time to go see what was happening at the DJ's. The wind was a factor as usual at the Sea Otter DJs, but riders were still trying hard to dial them in. The DJ's were a good place to see some of today's top street riders hanging out too.
Well the sun was out ALL day and that had everyone excited. Some of us forgot sunscreen, but a little color is great. Fingers are crossed that the weather keeps co-operating. I'll leave you with a few pics from the pits:
Happy Trails,