Shimano turned its attention to the mid-priced SLX mountain bike ensemble and embellished it with technical innovations like Ice Tech brake pads and rotors, the Shadow Plus clutch in the rear derailleur, the new ultra-positive shift lever mech and a full complement of gearing options for the 10-speed SLX crankset and cassette – all features that only recently were the domain of XTR. Why? Well, the back story is that complete bike prices are expected to rise up to 30 percent by 2013, driven by higher manufacturing costs in Asia and unstable currency in Europe and the US. The new supercharged SLX group has a sharper appearance and is poised to deliver a closely matching performance to its illustrious (and expensive) XTR and Deore XT siblings.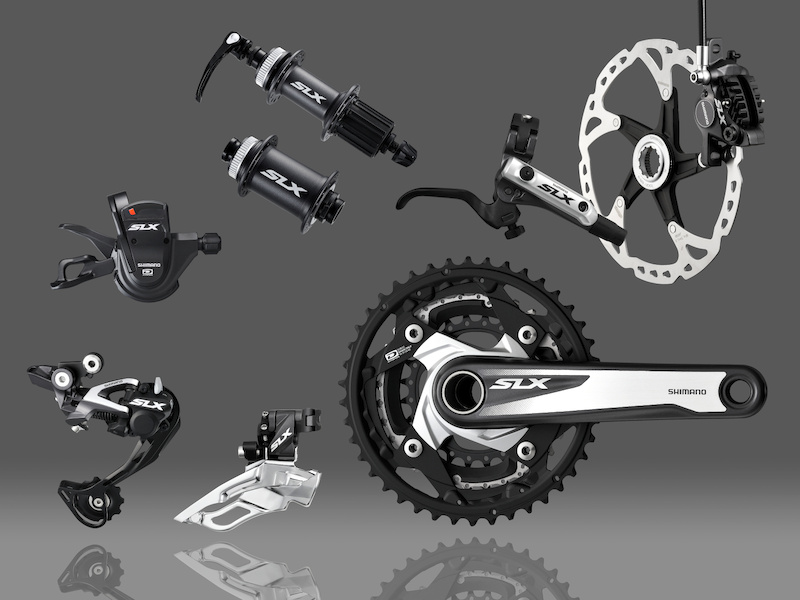 The 2013 SLX group looks great and it is nearly as brilliant on the technical side as XT, while sporting features recently exclusive to XTR. We expect to see SLX on performance bikes priced in the $3000 range.
Dollars saved by spec'ing SLX can be used by bike makers to buy into other technologies like a high-level fork and shock, or perhaps to make a carbon frame available at a particular price point. We expect to see a lot of SLX on mid-travel trailbikes in the 3000-dollar range, where experienced riders expect an off-the-rack machine to sport everything found on a pro bike - from a dual-chainring drivetrain to a dropper post. In a landscape where both retail prices and customers' expectations are on a collision course, SLX must fill the shoes of Shimano's Deore XT-level components.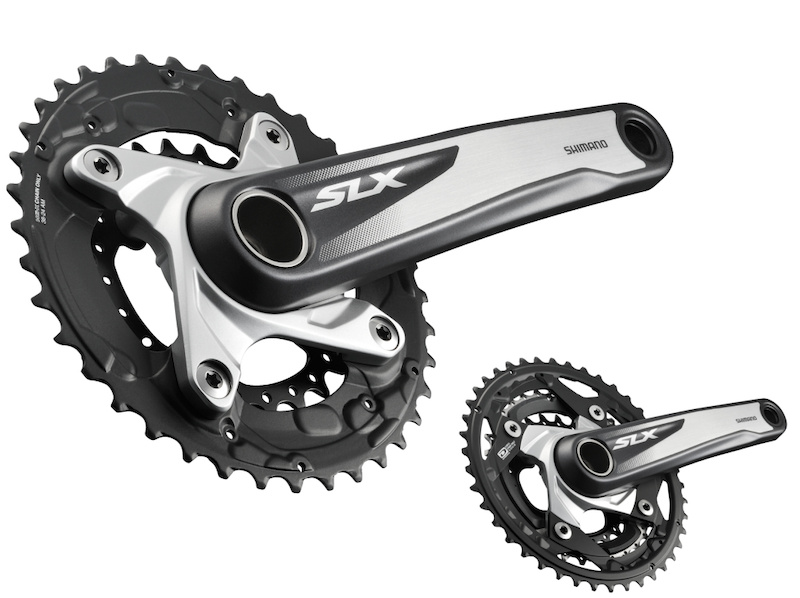 The 2013 SLX group's low-geared 38 x 24 two-by crankset is good news for long-travel trail riders and 29ers. Two-by options are 38 x 24, 38 x 26 and 40 x 28. Shimano's DynaSys close-ratio 42,32,24 triple (inset on lower right) is its default crankset.
29er technology
Shimano missed the bus on 29ers – twice - first when it launched the current XTR and again a couple of years ago when it followed with the new Deore XT group. SLX incorporates a low-profile front derailleur mech that makes room for 29er tires, a lower 38 x 24-tooth gearing option for its two-by crankset range, and a 'Direct Mount' rear derailleur option that adapts well to the 12-millimeter through-axle option that many 29er designers are using to stiffen up the lengthily hindquarters of their frames. The Direct Mount standard eliminates the Shadow derailleur's B2 link and the frame's wimpy replaceable derailleur hanger with a single part, and it can be configured for either standard quick-release or through-axle rear ends. Not exactly SLX, but still news for big wheel riders is the appearance of two new UST-compatible 29er wheelsets for 2013.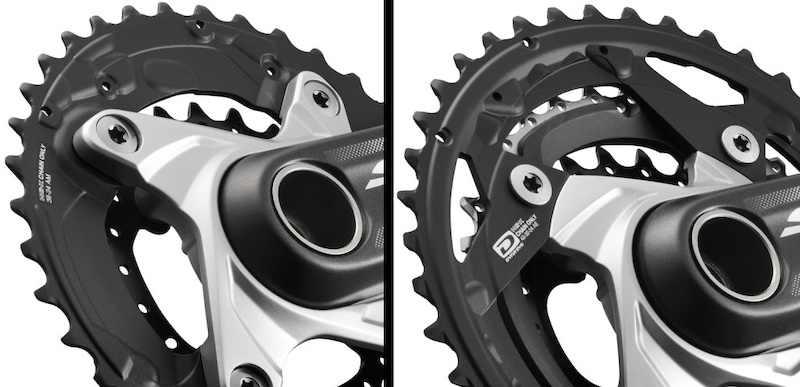 A closer look at the SLX crankset indicates the two-by version (left) has a different spider than the triple crankset on the right. Torx hardware indicates that SLX chainring bolts may be aluminum.
Shimano 2013 SLX Walk-through
Shimano was vague on some details of its new SLX components. Weight figures were missing, although the word is that its components are slightly heavier than XT, which stands to reason. The good news is that SLX seems to be designed specifically to survive the rigors of aggressive trail riding, which means that it will plug into bikes with suspension travel in the five to six-inch range that most riders are gravitating towards.
SLX Crankset
The beefy crankarms and bold shape of the SLX crankarms are a welcome sight. Better still are its 'rider Tuned' gearing options: The new-school 24,32,42 triple crankset, and three options for the SLX double chainring crank - 40 x 28, 38 x 26 and the new, 38 x 24 option. The chainrings feature stamped and pinned ramps, which are a bit harder on the eyes than the beautifully machined XT and XTR items, but we can expect clean, fast shift action from any Shimano crankset. Like Deore XT, SLX crank arms are separate from its aluminum, four-arm spider. The three-ring and two-ring spiders are different parts altogether, so if you want to configure a double-ring crank with a bash ring, you'll need to order the triple crankset.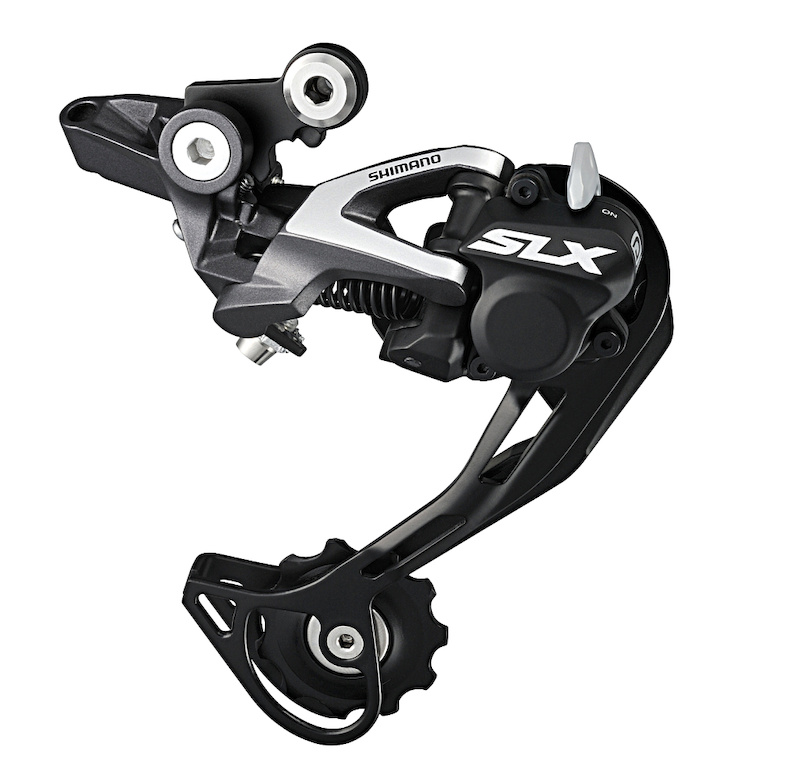 The on/off lever at the cage pivot housing shouts that SLX rear derailleurs get the Shadow Plus friction clutch that was only released to XTR a year earlier. Insiders say that the clutch design is a simpler, sturdier second-gen version. The SGS long-cage version is shown here. Shimano also offers a medium-cage GS derailleur for its two-by drivetrains. A 'Non-Plus' rear derailleur is also available. Both feature Shimano's new 'Direct Mount' hanger (not shown), which replaces the short pivot arm above the derailleur body, as well as the frame's derailleur hanger.
Shadow Plus Rear Derailleur Comes to SLX
Shimano XTR's most useful innovation is easily the Shadow Plus one-way friction clutch that prevents the slack run of the chain from whipping around and derailing the chain from the crankset. SLX (along with XT) gets the latest version of Shadow Plus, which is reported to have a stronger and simplified clutch design. Non-believers can opt for a slightly lighter weight non-Plus rear derailleur. Both SLX rear derailleurs are sold in the 3 x 10-specific long-cage SGS or the 2 x 10-specific mid-cage GS configuration.
Direct Mount
All Shadow derailleurs for 2013 are available in a 'Direct Mount' option. Direct Mount is said to be a 29er-specific option, but that seems to be a rubberized notion, as the key benefits of the design are valid for any mountain bike that will be ridden to the redline. The Direct Mount link spans directly between the frame and the derailleur body, bypassing the B2 link and the dropout's traditional replaceable hanger segment. To convert the Shadow to Direct Mount, simply remove the derailleur's B2 link and attach the derailleur directly to the Direct Mount arm. We've inspected prototype Direct Mount mechs and it appears to a perfect marriage to the 142/12-millimeter through-axle standard, destined to replace the quick release in the very near future.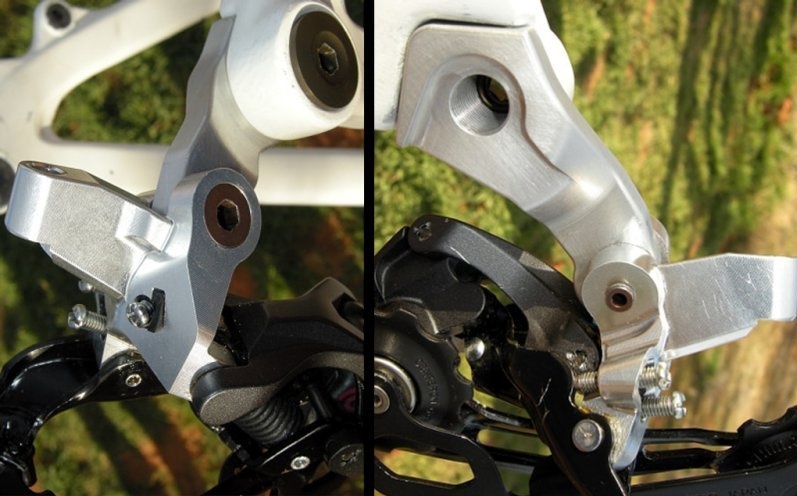 A look at the prototype Direct Mount rear derailleur setup reveals that Shimano is anticipating widespread use of through-axle rear wheels. The Direct Mount link is an adaptation designed primarily for through-axle 29er frames (although it can easily be adapted to a standard dropout) and is an option with all 2013 Shadow rear derailleurs. It replaces two flimsy pieces with one direct connection between the frame and derailleur pivot.
Front Derailleurs
Four front derailleur configs' are available next year: two clamp-types with a high and low-mount option (the low-mount is a nod to the 29er folks); and two direct-mount models, also in high and low-mount options. The far-more-complicated-than-necessary levers and cable guides of past Shimano front mechs have been streamlined to take up less real estate behind the seat tube and thus make room for more important stuff like 29er tires and suspension linkages. While on the subject of suspension, Shimano reconfigured the profile of the front derailleur cage to compensate for the change in angle of the chain as the rear suspension compresses – and also to reduce rubbing when riding in the extreme cross-over gears.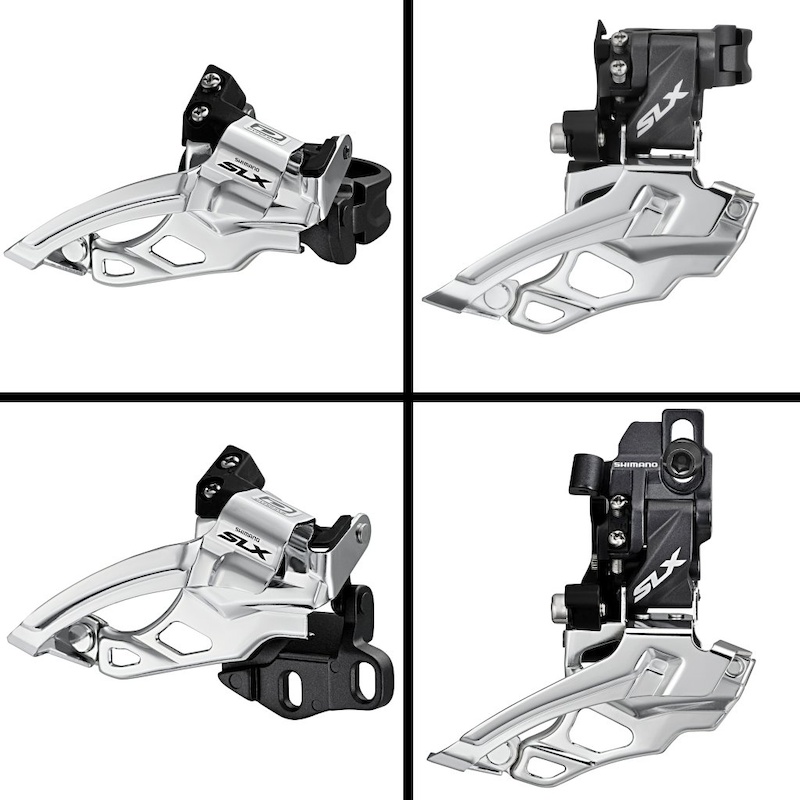 Shimano simplified its derailleur offerings with four SLX models: two clamp types (high and low mount) and a high and low-mount version that bolt directly to the frame. The cage has been redesigned for rear suspension to shift the chain as it passes through a wider arc. The rear-facing bits of the SLX front changers have been narrowed to clear 29er tires and suspension linkage
Shift Lever Love
Shimano reports that SLX shift levers have been upgraded with the crisper, more positive action of its XT and XTR mechs. The trigger paddles have also been redesigned for better ergonomics and the left-side shifter can be configured for either three or two-chainring cranks with an XTR-like mode switch. SLX shift levers, like its expensive kin, can be had in the ISPEC, multi-mount version, or with a standard handlebar clamp arrangement. An optical gear display is also an option.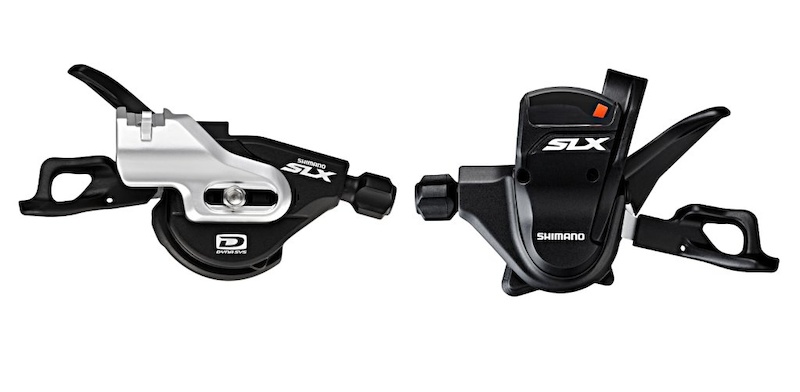 SLX shift levers look and feel better. Left-side shifters also get the two-by/three-by mode-change switch that was once exclusive to XTR and XT. The shifter on the left is the ISPEC integrated clamp design, while the one on the right features the optional indicator and standard handlebar-clamp mount.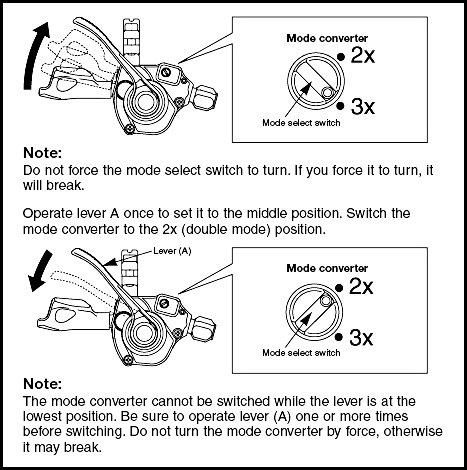 In case you didn't know about or understand the mode switch on the left-side shift lever, we stole this illustration from Shimano's XTR instructional PDF. The small cam limits the standard three-position shift action to shift only two chainrings. It is a sweet feature should you decide to switch cranksets later.
SLX Brakes Get Ice Tech Rotors
Last year, SLX brakes could be had in the aftermarket with Shimano's stainless steel/aluminum sandwich rotors and finned brake pads. Now all SLX brakes will be fitted with Finned pads and the exotic rotors that are said to dissipate heat nearly 20-percent better. The not so great news is that all standard SLX brakes will feature the softer-stopping organic OEM pads, not the super-stopping, sintered semi-metallic aftermarket option. Rotors are sold with Shimano's splined Centerlock interface and a six-bolt version is also available. Diameters are 160, 180 and 203 millimeter. Not so new, but worth a mention is that SLX calipers have the same ceramic pistons and one-way bleeding feature as XTR and upstairs, SLX features the top-dog's shorty lever and ServoWave action as well.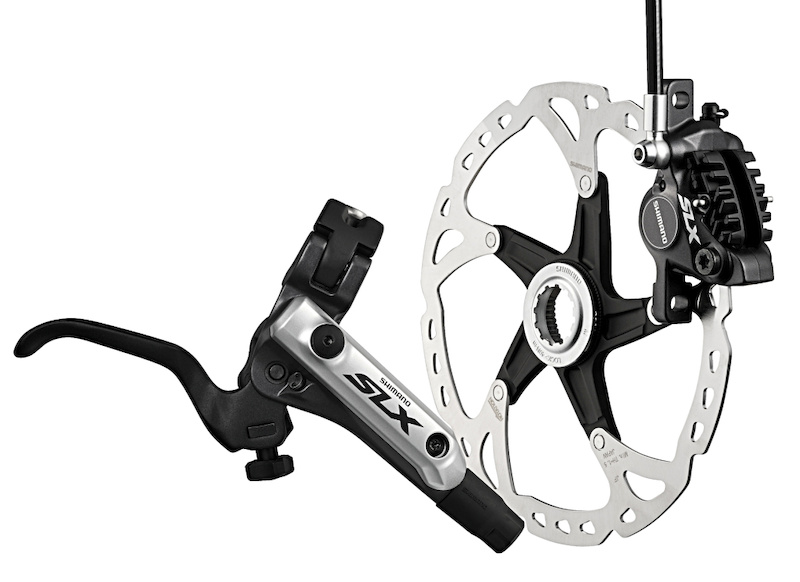 SLX brakes are big news. Ice Tech XTR and XT has gained traction among the best rider in the sport as the best of the best. SLX shares the ceramic pistons, finned pads and aluminum-sandwich rotors below, and the crisp-feeling Servo Wave action shorty brake lever design above.
SLX Hubs
Some call them cup-and-cone, some call them angular contact bearings, but the good news is that they are well sealed and you can easily adjust them. Shimano's SLX hubs can be found in standard quick release axles or with a 15 millimeter through-axle for the front and a 12-millimeter through axle for the rear. Shimano also has increased the engagement points for the freehub cassette so riders will enjoy near-instant acceleration response. All SLX rear hubs feature the splined Centerlock brake rotor interface. Shimano and DT Swiss offer six-bolt adaptors should you feel a panic coming on.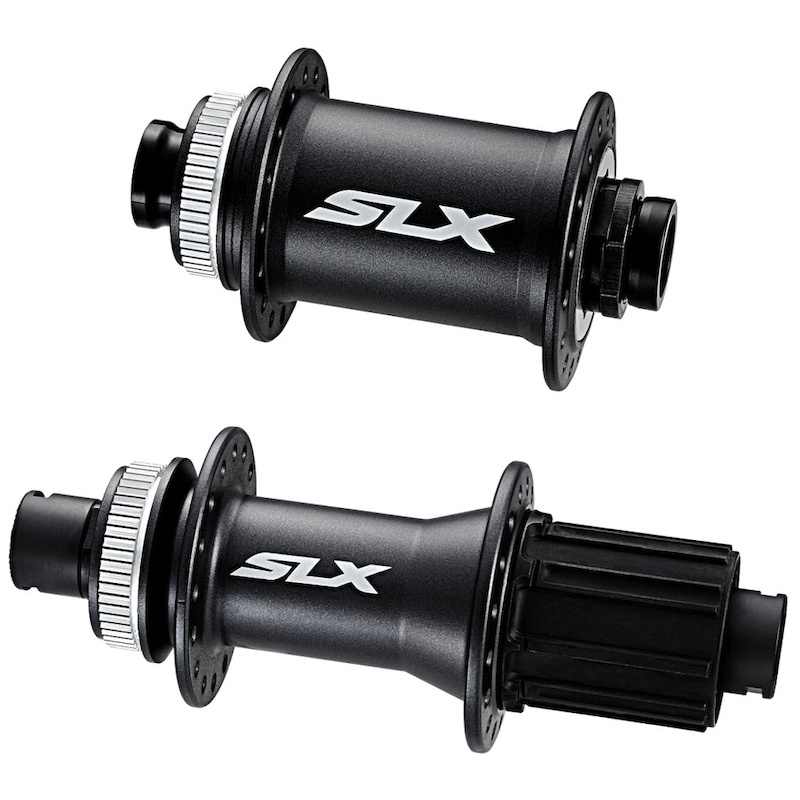 SLX hubs use adjustable angular-contact bearings and are available in standard quick release or with through-axles (15QR front and 142/12-millimeter rear) SLX hubs feature Centerlock rotor interfaces. Six-bolt SLX Ice Tech rotors are also available for alternative hubs.
New Wheelsets
Shimano's wheel factory has been working overtime, with two new rim profiles, both UST certified. Shimano completely hand builds it wheels, which is a wonderful thing to watch. The MT66 rim is a 19-millimeter ID cross-country profile that is available in both 29er and 26-inch diameters. MT66 wheels feature rear quick release and 142/12 through-axle options while the front hub is 15QR thro0ugh-axle only. The MT68 rim has a wider, 21-millimeter profile that will accept up to a 2.5 inch width tire and is targeted the 26-inch-wheel aggressive trail/am rider. MT68 front wheels feature 15QR through-axles while the rear hub can be spec'ed with a quick release or 142/12mm through-axle. Colors are white or black. Shimano's 29er wheels use 28 spokes in the rear and 24 up front to balance the strength requirements of the larger format hoops, while the 26-inch wheelsets use 24 spokes front and rear. The straight-pull hub/wheel configuration allows for higher spoke tension and longer lasting wheels.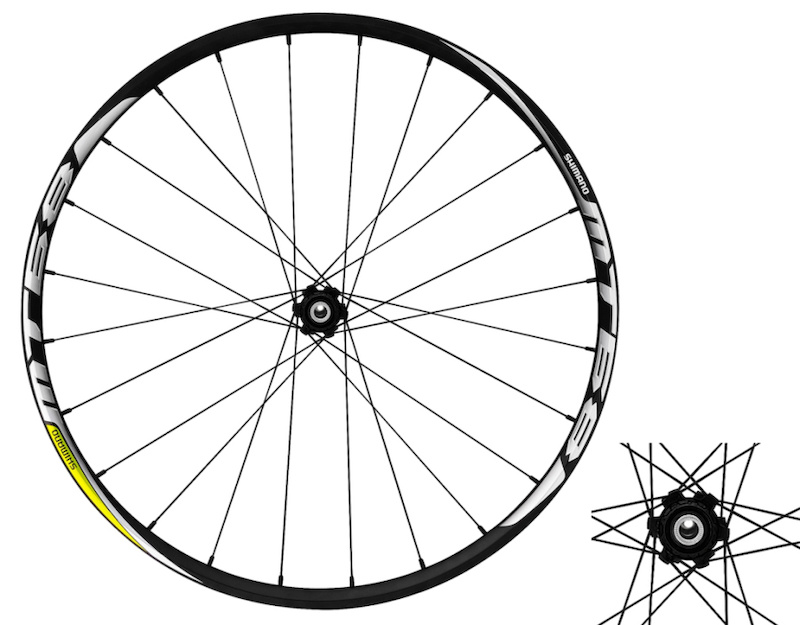 Not known for its fancy names, Shimano's latest 26-inch AM/trail wheelset is called the MT68. The '68 rim is a 21-millimeter ID profile - plenty wide to support 2.35 to 2.5-inch tires - and it is a true UST tubeless design, so mounting tires will be a snap.Shimano said that they will be hitting the LBS in July 2012.
Claimed weights are 910 grams (15mm front) and 1050 grams (12mm rear) for the 26-inch MT68 wheelset. Weights for the MT66 29er wheelset are said to be 945 grams front (15mm) and 1080 grams rear (quick release), with the 26er version making 840grams front (QR) and 985 grams rear (QR). Release dates are July for the MT66 wheels and September for the MT68. Prices have not been officially released, but Shimano says that the 66 and 68 wheels will fall into the SLX price range for both OEM and retail customers.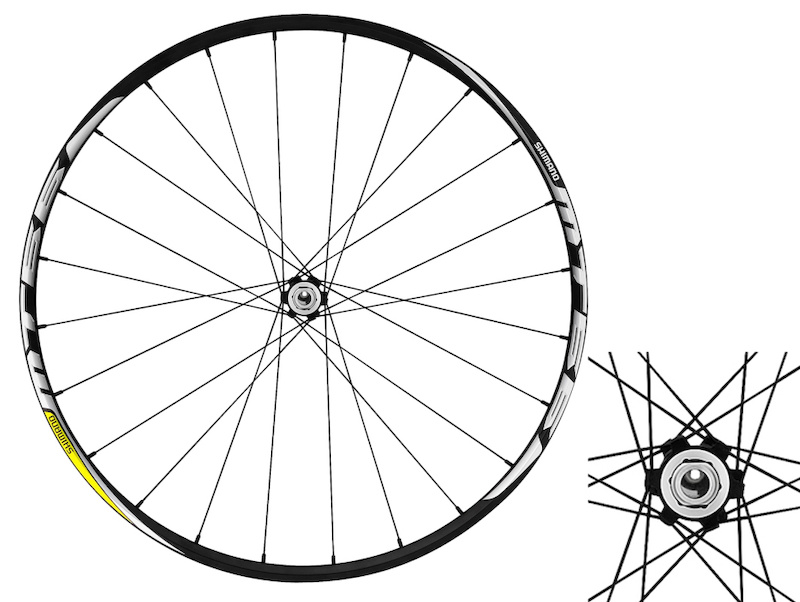 Shimano eludes that its MT66 series wheels are for XC racing, but when have they ever built a product that couldn't stand up to punishment? MT66 wheelsets are available in 26 or 29 inch sizes (29er is shown) for riders who want a lighter weight wheel and ride tires under 2.2 inches wide. Shimano developed its own tubeless system for the '66, and it's UST certified.
Pinkbike's Take:
| | |
| --- | --- |
| | SLX is good news from Shimano. By Boosting the performance of SLX to rival its most prestigious XT and XR ensembles, Shimano has raised the bar for all component makers and given cash-strapped hard-core riders reason to celebrate. The unspoken truth of 2013 SLX may resonate far deeper within the mountain bike community, however, because it signals a turning point where the bike's overall performance trumps any individual component. Would you downgrade from Deore XT to SLX to get a pro-level fork and shock? Would you ride an SLX crankset if it meant you also could have a dropper seatpost? Like all affordable component groups, Shimano's new SLX begs the question: 'Is it a compromise or an enabler?' In the present economy, I'd say, 'enabler.' - RC |
---