British Columbia Trails
It's no secret that British Columbia has some of the best trails in the world. There's no one single reason for this. Local communities in
North Vancouver
,
Salmon Arm
,
Lillooet
and
Central Vancouver Island
have dedicated volunteers, riding communities and in recent times, government support through the BC Trails Strategy as recounted in
another PB article
.
Sharon and I had the privilege of being shown and riding wonderful trails in the Central Interior of British Columbia and we told our story in what is still, to date, the longest ever
Pinkbike trip report
where we recounted two weeks of riding in Smithers, Burns Lake, and Terrace.
Recreation Sites and Trails BC: Partnerships with Burns Lake and Smithers Mountain Biking Associations
It has become somewhat in vogue to criticize government for blocking and not facilitating. However, this is a stereotype and certainly not true in British Columbia. Both Burns Lake and Smithers had trail organizations that needed help to build momentum. Kevin Eskelin, who works with
Recreation Sites and Trails BC
(which is an agency of British Columbia's Ministry of Forests, Lands, and Natural Resource Operations) was a primary mover in helping build this momentum.
These initiatives were so stunningly successful that Kevin Eskelin and the government agency for which he works won a provincial government award recognizing excellence for
Recreation Sites and Trails BC: Partnerships with Burns Lake and Smithers Mountain Biking Associations
. This win was for the Northern Region of B.C. in the category of "Innovation".
The Premier's Awards have been part of the BC Public Service's employee recognition program since 2005 and is an important way to recognize employees and show appreciation. The Premier's Awards include provincial and regional recognition to showcase some of the outstanding examples of innovation and excellence in all regions of the province. The awards recognize B.C. ministries, eligible organizations and partners.
All nominations are also considered for provincial awards. Nominations that specify a region, such as Recreation Sites and Trails BC, are considered for regional awards as well. This is where Kevin Eskelin, Smithers and Burns Lake's communities won (ie for the Northern Region). The provincial award ceremony includes dinner and will be hosted by the Premier on May 31, 2011 in Victoria at the Victoria Conference Centre.
Essentially the Premier's Awards are the BC Public Service's flagship recognition program. Recipients do not get any monetary reward. What they do get is recognition from their peers and their public of a job that has been done with excellence. To put it in mountain-biking terms, a local champion for mountain-biking trails worked very very hard with local grassroots volunteer-organizations on bike-trails. The results are a huge, incredibly well-built and entertaining trail system - proportionately much larger than small towns should have.
As a Canadian and British Columbia, personally I feel a lot of pride in being a resident of a province where resources are dedicated to a public good as deserving and noteworthy as small community, grassroots-level, bike trails. And not only does the government put in money but it recognizes the efforts of the people who've put in countless hours towards this public resource.
Kevin has this to say:
"
I am very excited and grateful to have such a high acknowledgment of the work Recreation Sites and Trails BC has been doing with our partners, the Burns Lake Mountain Biking Association and the Smithers Mountain Bike Association. We have had great success at implementing the provincial Policy (authorizing and enabling mountain biking on crown land) in Burns Lake and Smithers - to the end that both communities are bona-fide world-class riding destinations in a short 5 years.

As the District Recreation Officer, I continue to work with these clubs in their communities with an aim to continually add value to their Recreation Sites and Trails, as local recreation resources as much as a front-country tourism amenity, which is now aiding these communities in diversifying their local economies. Wherever possible I am also trying to help build local capacity for trail stewardship, and am most excited about the opportunities that these trails offer to our next generation of mountain bikers.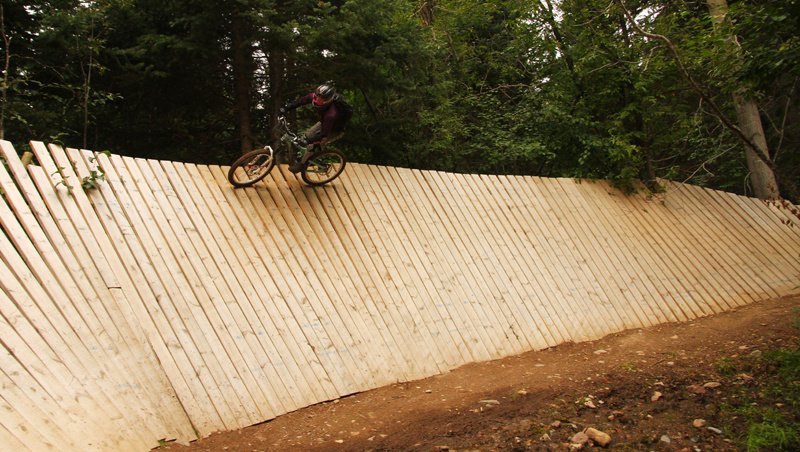 Paydirt wallride; government built!!



From a provincial perspective, the Mountain Bike Tourism Association has kicked off a marketing initiative – which aims at advertising communities like these around BC. As a Director at MBTA I am also involved with this high-level promotion and am very excited for the future of mountain biking in BC: 'safe, sustainable, fun, and legal!'.
"
Acknowledgements
More about Recreation Sites and Trails BC and their progressive mountain bike policies can be found
here
Hats off also to the following persons who contributed to getting this positive message out
- John Hawkings -
Provincial Trails Manager, Recreation Sites and Trails BC
. who nominated RSTBC Kevin, Burns Lake and Smithers for the award
- The
Mountain Bike Tourism Association of BC
- see pinkbike article on them
here
- The
Burns Lake Mountain Biking Association
- The
Smithers Mountain Biking Association
and a big thank you to everyone who helped show us the beauty of North-Central BC in summer and winter