What is it:
Spank has gone out of their way to design a pedal that is thin, at just 12mm (
not including pin height
), but still uses a large and reliable, inboard, full compliment, sealed bearing that is paired up with an outboard Igus bushing. Each pedal features 20 menacing looking pins to keep your feet firmly in place. A set of the new Spike pedals weighs in at 398 grams, a respectable weight that is lighter than some other options out there. The Spikes retail for $125 USD and are available right now.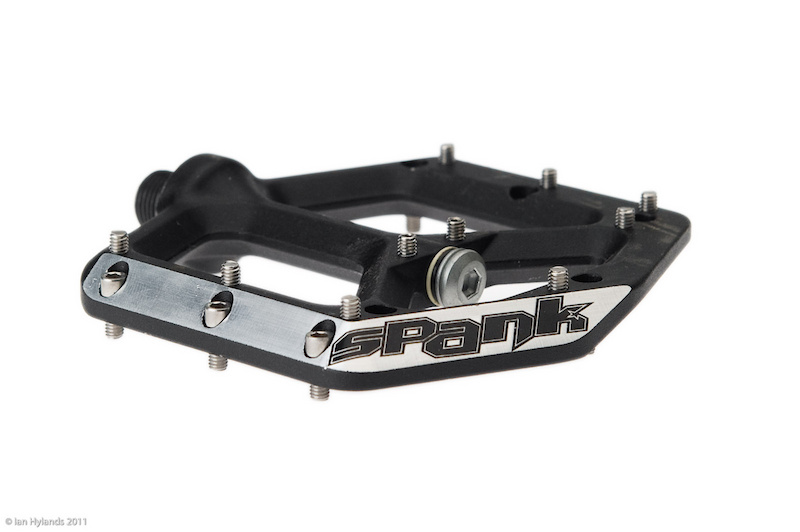 The Spike pedals use a slim 12mm thick body and chamfered leading and side edges to give more clearance and lessen the chance of damage from pedal strikes.
Spank Spike pedal details:
- Thin 12mm pedal body
- Large 90 sqcm platform
- 20 pins per pedal
- Cold forged and CNC optimized body
- Chamfered leading and side edges for improved impact deflection and more clearance
- Full compliment sealed inboard bearing
- Reduced diameter Igus outboard bushing
- Scandium enriched steel pedal axle
- Proprietary 'Spank Friction Seal' for durability and maintenance
- Reduced Q-factor
- Weight: 398 grams with cromo axle and alloy platform
- MSRP $125 USD
The details:
The Spike pedals have a number of interesting features, but the most obvious would be their slim body shape. Spank is able to use such a thin profile by designing the Spike pedals to rotate on an Igus bushing at the end of the pedal axle, while using a much larger than usual full compliment, inboard, sealed bearing. The 12mm body flares out close to the crank arm in order to accept the larger than standard bearing. The pedal body also sports chamfered leading and side edges for a touch more ground clearance, as well as to limit the amount of damage when that inevitable pedal strike does occur. They also have a slightly longer than average profile, 90 sqcm in total, to help reduce that chance of "pedal flip" on rough ground or when your feet are not in the ideal position. The body isn't extruded like the majority of other pedals, but instead cold forged. Spank claims that this allows them to achieve a smaller and more consistent grain size in the alloy and better grain orientation than extruding, thus a better strength to weight ratio. The trick tapered and hollow scandium enriched, alloy steel axle itself goes through a complex heat treatment process that Spank says increases strength and stiffness.
The Spike's sport 20 pins per pedal (
16 hex head pins, 4 grub screw pins
) and each one's position has been chosen carefully in an effort to provide a high amount of grip between the pedals and your shoes. Sixteen of these pins use sturdy full size hex heads that thread in from the opposite side, which should stand up to hits better, resist stripping, and make them easier to replace when the time does come. The four center pins are "grub screws" which thread all the way through the pedal body. These are optional to the rider depending on the intended discipline and required level of grip and adjustability on the fly.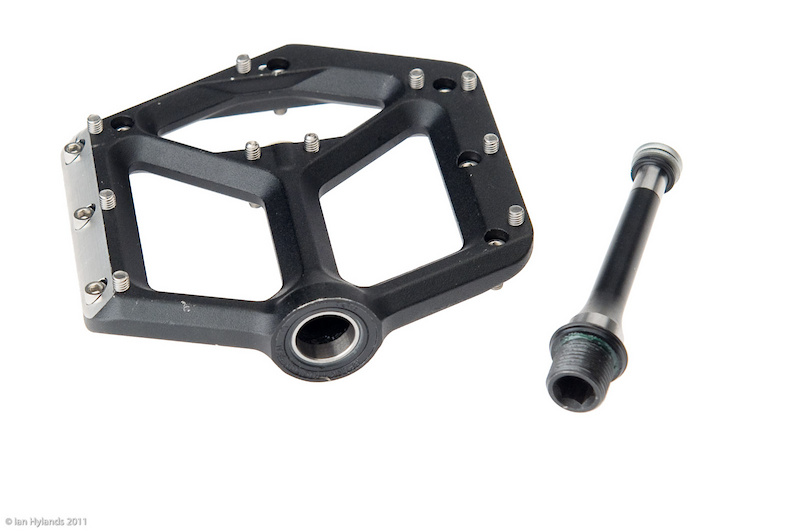 The Spike's large inboard sealed bearing is fitting directly into the pedal body where it flares out close to the crankarm.
Performance:
The Spike pedals got put through the ringer on multiple bikes during the review process, as well as ridden in some absurdly muddy conditions, only to be followed up with cleanings from the jet washer. We've come away quite impressed with how they have handled it all, but it is also the amount of grip that they provide that has us not looking to take them off our test bike anytime soon. Modern tacky soled shoes have managed to make even the worst pedals more acceptable, which is why we also spent time using the Spike pedals with standard flat soled shoes as well, and were pleasantly surprised to find that we never once found ourselves wishing for more secure feeling. Our feet felt firmly planted, even in the roughest and muddiest conditions. There was some initial concern about being able to feel where the body flares out to accept the inboard sealed bearings, but that isn't the case - the bulge was invisible to our feet, probably because it is not nearly as pronounced as it may look in photos, but also due to it being in the same same location as the wrench flats would be on a standard pedal (
right up against the crank arm and out of the way
).
There are quite a few pedal options out there that offer a lot of grip, but producing a pedal that can shrug off being dragged through rocks on a downhill rig or do long miles on an all-mountain sled without being any worse for wear is a whole different ball of wax. The Spike's sturdy hex head screws took a beating without a single one bending or breaking off to this day - impressive considering that most pedals with this much purchase use fragile set screws that can be easily damaged. Besides a few cosmetic marks, the body is also easily handling the abuse, as are the unique, hollow scandium enriched, alloy steel axles.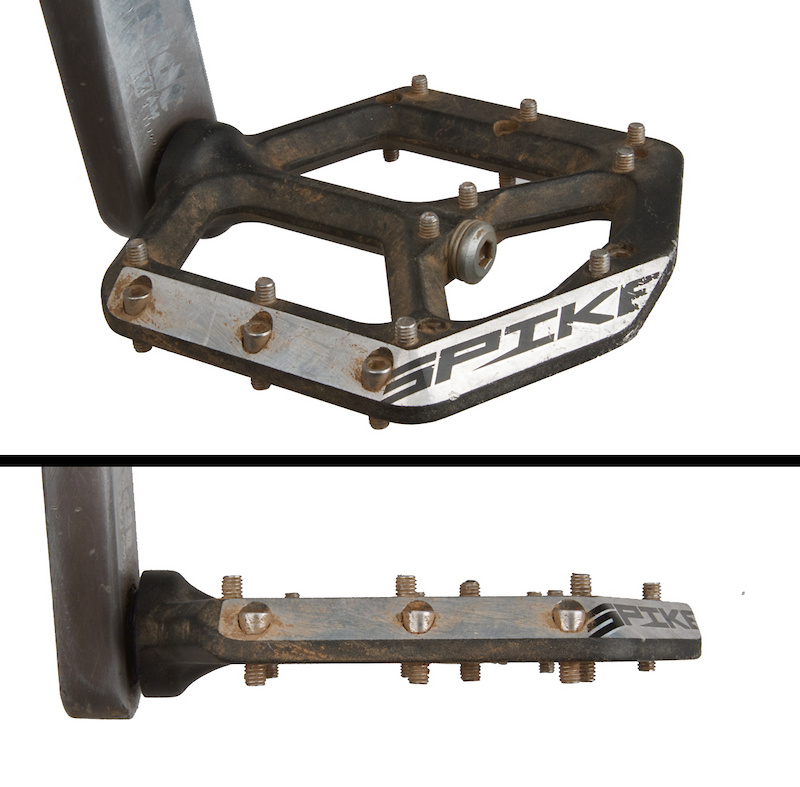 Spank's Spike pedals proved to be not only quite grippy, but also very sturdy, which is impressive considering their competitive sub-400 gram weight.
What's not to like? Honestly, not much. They proved to be a well thought out and rugged pedal that provides an impressive amount of traction. Those who rock flat pedals on their all-mountain or trail bike may want to look for a set of pedals that spin a bit easier - the Spike's don't turn as well as a dual bearing design and tended to get a bit stiff if left to sit for awhile - although most downhillers or dirt jumpers won't be bothered by this. I also found that the finish tended to mar fairly easy, but cosmetic concerns should be low on your list when looking for a new set of pedals.
Pinkbike's take:
It seems like there are endless choices when it comes to deciding on what to run, but given their competitive weight, high level of grip and durable design, the Spike pedals are among our favorite options.
Visit the
Spank website
to see their entire lineup.
Have you used the Spike pedals? Do you like the slim design and sturdy pins? Let's hear what you think of them - put those thoughts below!