Specialized prototype pedal details:
• Cold forged 7050 aluminum body
• 10mm body height (measured at the middle, not the edges like some others do)
• Body features dual concave (front to back, side to side)
• Each pedal spins on a large inboard sealed bearing and twin needle bearings
• Weight: 510 grams per set (production version could be lighter)
• Price: TBA
• Availability: Fall 2011

How are the Specialized prototype pedals different?
Pinkbike had the
first look at Specialized's prototype pedals
nearly two months ago, but these are worth another gander as they get closer to their Fall production date. They have been developed by Jason Chamberlain, the main man behind FSR suspension at Specialized, for the last year and a half and are currently being tested by the Monster Energy - Specialized team at races around the world. Chamberlain has included a number of novel features, but the pedal's bearing and body design are the two key elements that set them apart from the pack.
Unlike most other pedal axles, these don't make use of a threaded nut at their outer end to attach them to the pedal body. This means that the axle uses a smooth, tapered design all the way to the end, making it much stronger than an axle with threads cut into the end of it. So, you're no doubt wondering how the body stays put on the axle if there is no nut on the end to hold it in place? A threaded collar, removed and installed with a small pin spanner, is located on the inboard edge of the pedal body where you would expect to find flats for a pedal wrench. With no nut at the end of the axle required to hold the body on, the pedal can be made impressively thin at just 10mm. There are a number of designs that use a larger than standard inboard bearing, but Chamberlain has another trick up his sleeve...
Under the trap door:
Chamberlain had to be quite creative in the battle to build the thinnest pedal possible without having to resort to using bushings or micro sized sealed bearings, both of which can hamper smoothness and reliability. His answer was to not only use dual needle bearings, but to build their outer races (
the surface that the bearings rotate on
) right into the pedal body in the form of the hinged metal door. This means that the extra height from separate bearing races isn't added to the equation, but it also provides easy access for maintenance when the time comes.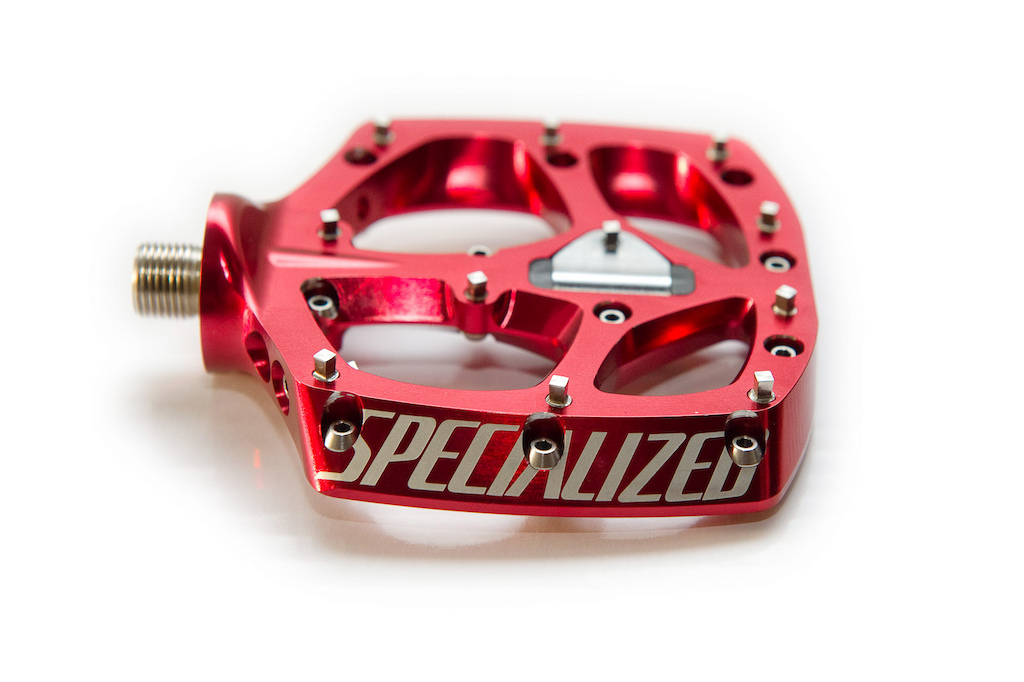 Wondering what the small trap door is all about? It actually serves as the access point for the twin needle bearings, as well as their outer race, helping to shave a few millimeters from the body height. The pedal pictured above is fitted with the shorter square pins instead of the taller 8mm spikes, although other shapes and sizes are being tested as well.
Is longer better?
Pedal body concave can certainly help hold your feet in place upon the pedals, but the pins act as your contact point(s), and therefore play the largest role in how much grip you actually have between the soles of your shoes and the pedals. Knowing this, it is somewhat surprising that a lot of pedals use simple, off the shelf set screws (
although cost certainly plays a role in the decision
) for traction. Specialized has been experimenting with different shaped pins, including some that are a whopping 8mm tall, although it was mentioned that even Sam Hill has been using some slightly tamed down 7mm versions. Interestingly, the team has also been testing square shaped pins with great results, presumably due to the pin's sharp corners. Specialized has yet to decided what the production pedals will use, although they do plan to include washers that can be added to the pins before threading them in from the opposite side to reduce their height. The pins are also shaped in such a way that if there is a rock strike, they will snap at a predetermined point and still be easily removable from the body - no vise grips or drilling required.

Can too much grip ever be a bad thing? Not if you're are racing World Cup downhills, according to Brendan Fairclough. Specialized showed us two versions of their prototype pedals, one with some very threatening 8mm tall pins (left) installed. Specialized is still undecided as to if this setup will be an option for consumers, although there are certainly many out there who would snap them up. They also had a version equipped with shorter square pins that are said to provide much more grip than the more common set screw design, presumably due to their pointed corners.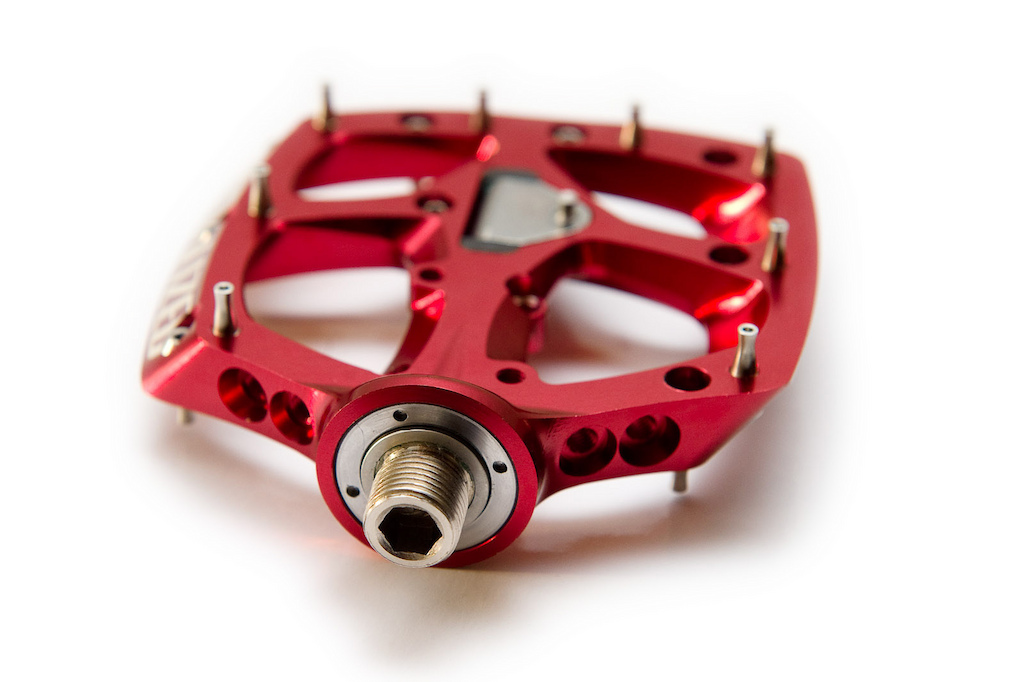 A large inboard sealed bearing takes most of the stress, while a set of two needle bearings are used at the end of the full length axle. The four holes on the facing edge of the body body are actually threaded to accept spare pins - pretty clever! All three outer edges are solid, no material has been machined away, for extra strength to survive the abuse that downhillers will be putting them through. Specialized is planning on producing a special run of pedals for team riders that use both titanium axles and pins in an effort to save some grams on their race bikes. Will these versions see production? The answer was ''maybe''. I hope so!
A lightweight option:
As someone who uses platform pedals on all of my bikes, cross-country rig included, because of both wobbly ankles and because I feel that they add an extra level of fun to the ride, I was very excited to hear that there may also be a lightweight version of the above pedal in the works made specifically for XC and lighter duty use. While Chamberlain wasn't keen to share too many details, it sounds like they could use a pared down body and more titanium components than the heavier DH version, but still use a full bearing setup instead of those nasty, and often very sticky, DU bushings. Tall pins, smooth spinning bearings, a reasonable weight and a thin 10mm body height all sound great to me - lets hope that these see the light of day!
Are you excited by what you see? Lets hear what you think of Specialized's effort to create the ultimate platform pedal - put those thoughts down below!
Visit the
Specialized website
to see their entire lineup.
Must Read This Week