TESTED
SPECIALIZED
STUMPJUMPER
FSR COMP
Lindsay Currier runs the Specialized FSR Comp down the rocks at Ted Williams.
Specialized honed its FSR rear suspension and aluminum frame technology to near perfection on the Stumpjumper series, and the $2750 FSR Comp benefits hugely from a raincloud of innovations and improvements developed for upper-level Stumpies. Its component spec is decidedly XC/Trail, with a sweet SRAM two-by-ten drivetrain, a fast-rolling tire combination, a Fox Evolution F140 RL fork and made-for-Specialized Float Fox Triad II shock. Its handlebar is wide and the frame geometry is slack enough to qualify as a 'modern trailbike design' without giving up the desirable quickness of an XC bike. The beautifully crafted frame has plenty of stand-over clearance for technical riding, ISCG chainguide mounts in case you want to run a single ring later, a 142/12 through-axle, and plenty of room for tires up to 2.4 inches. In short, the 140-millimeter-travel FSR Comp inherits indelible Stumpjumper trailbike genetics, but its creators added gravity features to ensure that it could hold its own if it got into a tussle with a pack of muscular all-mountain bikes.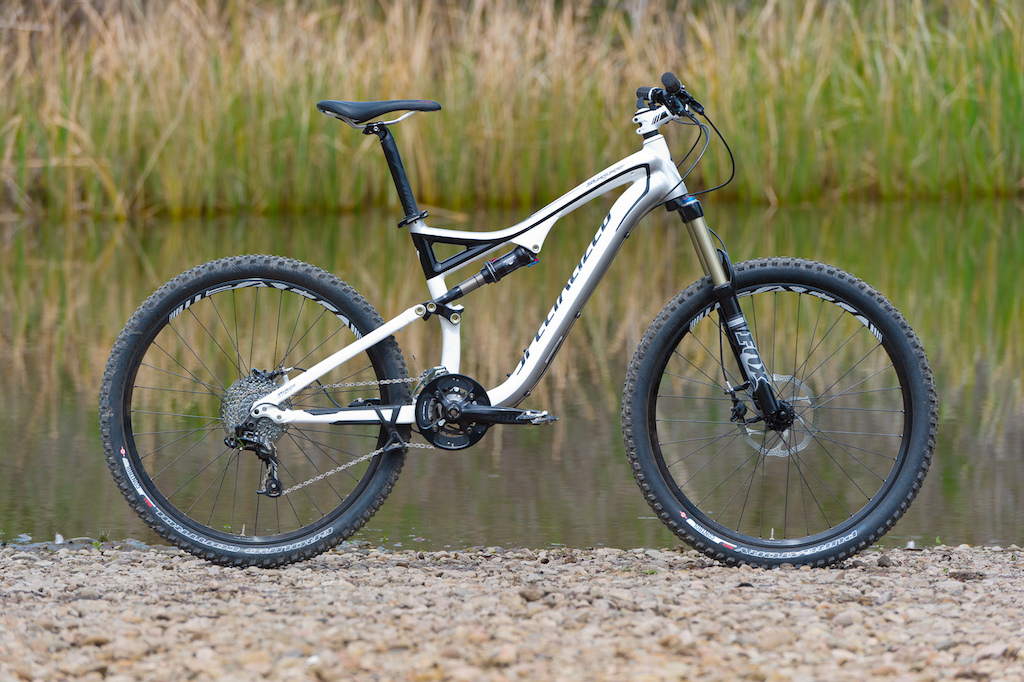 Stumpjumper FSR Comp Highlights:



-Frame: Manipulated aluminum frame tubes, 140mm travel, tapered head tube, 142/12mm thru-axle, ISCG-05 chainguide tabs
-Fork:140mm stroke, Fox Evolution F140 RL, standard dropout
-Shock: Fox/Specialized Triad with Autosag
-Chainguide: 'Dangler' integrated guide and chainstay protector
-SRAM X.9/X.7 two by ten drivetrain with bash guard equipped crankset
-Sizes: Small, Medium, Large, X-Large
-Weight: 28.1 pounds (med)
-MSRP: $2750 USD
Ian Hylands photo
---
Construction Notes
Surprisingly well executed for a mid-priced model, the Stumpjumper Comp's aluminum frame is painted with the quality and detail one may expect on a custom bike. Each main frame tube is manipulated in some way. The forked top tube has a tapered organic shape, while the seat tube morphs from round to square as it curves forward to support the upper suspension linkage. Look closely and you might notice the internal cable routing for a dropper post (RockShox Reverb or Specialized Command Post). Not so creative is its beefy downtube that copies the ubiquitous Northwest 'hockey stick' bend. A look at the bottom bracket area reveals a sturdy ISCG-05 chainguide flange and Specialized's version of BB 30 – an oversized bottom bracket axle and matching press-in bearings that, in this case, house a non-series Truvative crankset.
Specialized Stumpjumper FSR Comp Geometry
Most of the Comp's fireworks go off in the rear of the chassis, where the front derailleur operates on an extension of the swingarm so its geometry remains in line with the chain as the suspension cycles. The swingarm features internal routing for the rear derailleur housing, a 142/12mm through-axle and a trick-looking Moto-inspired XC chain guide that is molded into a beefy plastic chainstay protector. All the rear pivot points are clevises, which are the optimum design for those locations, and the shock is mounted on a yoke that keeps the upper rocker link short and stiff while controlling undesirable rate changes. As a side note, the non-standard shock might cause problems if you desire an upgrade later, or if Specialized moves on to yet another 'proprietary' shock design and leaves its previous customers short on spares (Just sayin').
Component Check
Mid-priced performance bikes are by nature, a series of intelligent compromises, and Specialized is one of the best at the game. The use of in-house components helps maintain important features like a wide handlebar, lightweight wheels (Roval Control Trail rims), a comfortable saddle (Body Geometry Henge) and high-performance rubber (folding-bead Ground Control 2.1 rear and Purgatory 2.2 front) while saving up some cash to purchase brand-name items like its Fox Float RLC fork. Brakes are Avid Elixir 7 (Rotors: 160mm R /180m F), which feature a handy reach adjuster under the lever blades and integrated shift-lever mounts. The drivetrain is a mix and match, with a high-profile X.9 mid-cage rear derailleur, an X.7 front changer, powered by X.7 shifters. The non-series two-ring Truvativ crankset is actually an upgrade, as it has a bash ring and perfect-for-trail-riding, 38 x 24-tooth gearing, matched up with SRAM's PG 1030 ten-speed 11 x 36 cassette.
Missing is a dropper seatpost which, it could be argued, would push the Comp well out of its under $3000 price point. That said; Specialized produces its own dropper post and thus, has the economy of scale to make it appear at lower price levels - providing that it puts its brain trust to the task. Get on it guys!
Stumpjumper Comp Trail Test
With 140 millimeters of suspension travel and 26-inch wheels, the Stumpumper FSR Comp is on the razor's edge of being eaten alive by the popularity of 100 and 120-millimeter 29ers. The Stumpjumper Comp rides and feels a lot more like a cross-country trailbike than an aggressive all-mountain ride puts it squarely in the path of the big wheel bike. To stay ahead of the 29er, the Comp, it must to be lighter, more nimble and its suspension must be able to handle bigger jumps and drops.
For the most part, the FSR Comp flies the 26-inch flag proudly. Its extra measure of suspension travel is a big plus, with a cushy feel landing to flat and handling G-outs and it punches through bumps like reasonably sized logs and rocks with a firm, controllable feel. Its wheels and tires stay on line when pushed hard around corners and there is a sense of solidarity between the wheels, suspension and frame when the bike is ridden near its limits. The smallish 2.2-inch Purgatory Control (F) and 2.1 inch Ground Control (R) tires are tacky in the turns and roll quite fast on the harder sections of the trail, but they miss the mark over rough terrain, bouncing and skipping where a 29er shod with similar-width rubber would maintain composure.
Pedaling/Acceleration:
At just under 28 pounds, the medium-sized FSR Comp is one of the lightest bikes in the $3000 trailbike category. Add its fast-rolling Purgatory Control and Ground-Control tires and firm-under-pedaling rear suspension and the Comp gets moving in a hurry. While it lacks some of the snap of an XC racer, the FSR Comp maintains momentum, rolling easily up and over small rises and reaccelerating out of slow corners with a few swift pedal strokes.
Climbing:
With a slightly slack, 68-degree head angle the FSR Comp's front end stays put and steers straight. Its compact, 429mm (16.5") chainstays and full-time suspension action keeps the rear tire biting, so the 'Comp is also an easy climber. Its 2.1 inch rear tire, however cannot deliver grip to match the technical ascending potential of the Stumpjumper chassis and it often spins the rear wheel at the crux of a climb. Wider rubber in the rear would be welcome. Specialized chose beautifully low 2 by 10 gearing (24 x 38 up front and 11 x 36 rear) with excellent spacing across the range, so little speed is lost while dropping gears up a steep pitch and the stump-pulling 24/36 low gear gives the rider enough grunt to top some serious pitches where traction is available.
Technical handling:
With moderately wide handlebars (720mm), numbers that give it a balanced feel fore-to-aft, and a steady-feeling 68-degree steering angle, the FSR comp is quick around corners and when the tires break, it drifts with a high level of control – an event that an intermediate rider can enjoy. Dropping down steep chutes requires some courage for those who are used to slacker head angles and depend on rear-wheel braking. The Stumpy FSR Comp's rear rubber doesn't add much control down steeps, but if the rider stays calm, the Specialized will come out of most any situation rubber side down.
Downhill:
In the gravity segment of testing, the FSR Comp was not the most favorite choice, although every rider remarked that it was sharp in the corners. As a jumper, its suspension is as capable as a bike with a 32mm-stanchion-fork can be, with smooth landings and big-bump performance that is head and shoulders better than your typical XC machine. In confident hands, it rips, but the FSR Comp will not inspire the complete confidence of an intermediate rider when descending the type of rutted, technical tracks that define the realm of a dedicated All-mountain chassis.
Suspension Action:
Specialized gets the nod for co-developing the Fox Triad II shock with the Autosag function. To set the shock's air spring, one need only pressurize the shock to 300psi, mount up and then release air from the red Autosag valve until air stops escaping. In two steps, proper sag and air pressure are achieved. The downside is that one never gets the chance to play with alternative settings. The end result is a firm feeling damper that makes full travel when pushed hard. We rarely used the two Pro-pedal settings, preferring to leave the damper wide open unless we faced a long climb.
Up front, the open-bath Fox Evolution F 140 RL fork was capable of knocking the edge off of big hits, and was very stable under hard braking. The feel while cornering was secure, with the fork assisting the chassis to remain level and in control. Over the chatter and at lower speeds, the fork felt harsh and this added a level of fatigue at the handlebar grips.
Oddly, Specialized chose a standard dropout configuration for the fork, and paired this with a quick release 9mm through-axle. Oversized flanges on the Specialized hub, combined with the beefy axle are reported to deliver lateral stiffness that nearly equals a 15QR setup. While that claim may be true, the funky axle configuration blends the most hateful aspects of a standard quick release system, with some of the drawbacks of a through-axle. It made it difficult to line up the rotor and bothersome to get the axle spaced properly to slip the wheel into the dropouts – fail.
Component Action:
While the FSR Comp's 720mm-wide handlebar was a good product spec, the bend felt harsh on the hands and wrists over the long haul. Some riders did not sense this, so it may be pure preference. The Body Geometry saddle looked like a cheapie, but turned out to be comfortable. We have bagged on Avid Elixir brakes in recent tests, but Specialized spec'ed strong-stopping semi-metallic pads and up-scaled the 'Comp to the Elixir 7-series brake which features levers with a sensible reach adjustment dial. We had some vague shifting troubles with the SRAM X.9 rear mech that we attributed to the bike's cable routing. It was an intermittent problem. Both the derailleur and shift lever checked fine, but we encountered slow-to-respond gear changes in the smaller cogs throughout the test period.
Pinkbike's Take:
| | |
| --- | --- |
| | Specialized's FSR Comp remains true to the Stumpjumper heritage, which means that it rings all the bells that make XC/trail riders happy. With evolutionary improvements like the 'Dangler' chainguide, two-by-ten drivetrain, and modernized steering geometry, the FSR Comp is as sharp of a performer as you will find in the 26-inch-wheel XC/Trail category for under $3000 - and that more than qualifies it as a must-ride for anyone in the market for such a machine. Aggressive trail riders who shuttle descents and hit up a ride park now and then will probably want to upgrade the FSR Comp's tires, add a dropper post and possibly move up to a more capable fork - all of which defeat the economy of the bike's MSRP. The Stumpjumper FSR Comp is an excellent performance value that gives an XC/trail rider access to the long-travel all-mountain realm without having to commit to it. - RC |
---
Five-Bike $3000 AM Tests:

1 - Cannondale Jekyll 4
2 - Specialized Stumpjumper FSR Comp
3 - Giant Reign 1
4 - Santa Cruz Butcher
5 - Norco Range 3
---
Must Read This Week