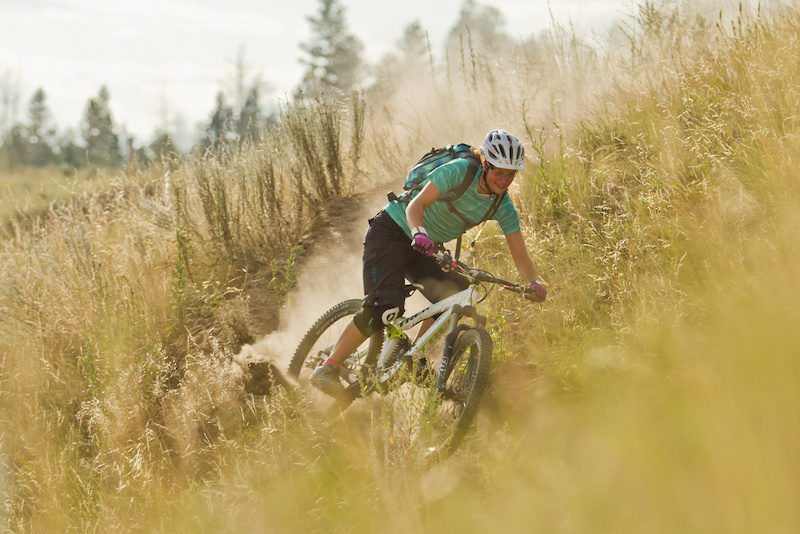 How long have you been riding?
BMX since 1997 and mountain bikes for about 4 years now.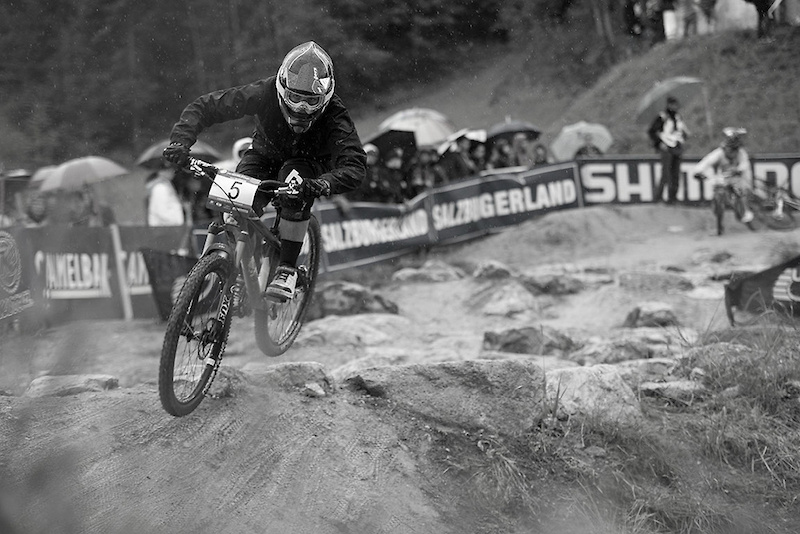 How long have you been racing?
Since I started BMX all my riding was always combined with racing. So I just finished my 13th race season ... I think I took one year off when I was in my wildest teenage year, 2000 I guess.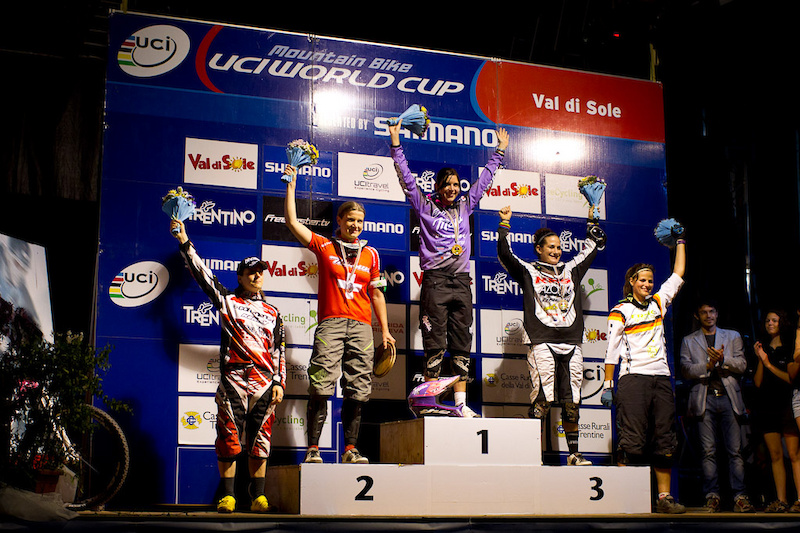 Best result:
My World Cup Podiums in Val di Sole 2010 and 2011...5th place.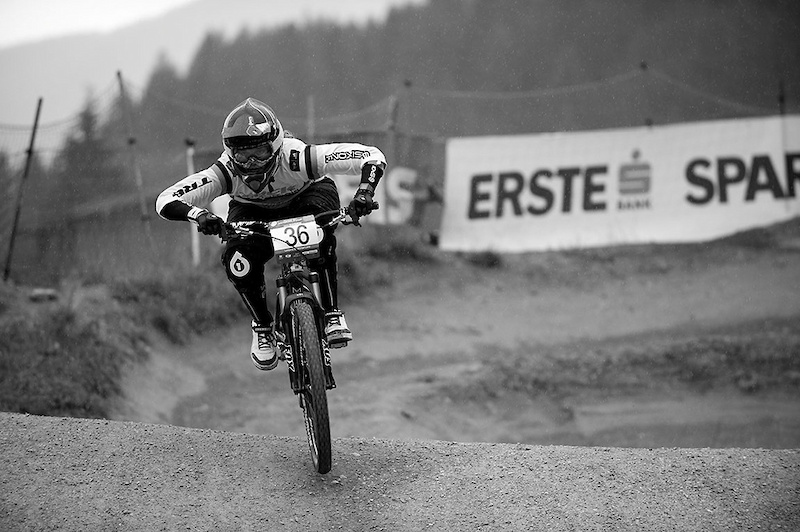 Career highlight:
Definitely my 2010 season and this year. It feels like since I started mountain biking every year gets better and better, and every time I think this is the best year I've ever had the next one comes up and it's even more exciting. I guess my highlight was my first World Cup Podium as I always dreamed of being one of the World´s best bikers. In BMX I had no chance at all and for 4X it took me a few years, but it just felt unreal to stand on a World Cup Podium for the first time. A dream come true.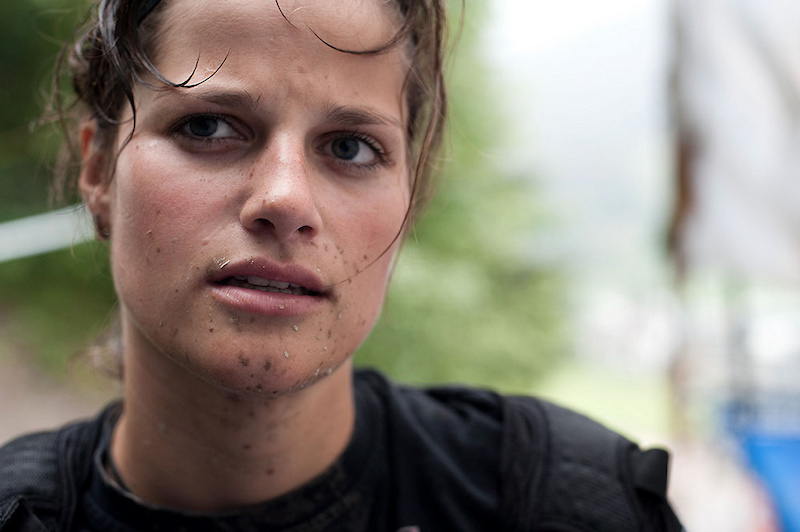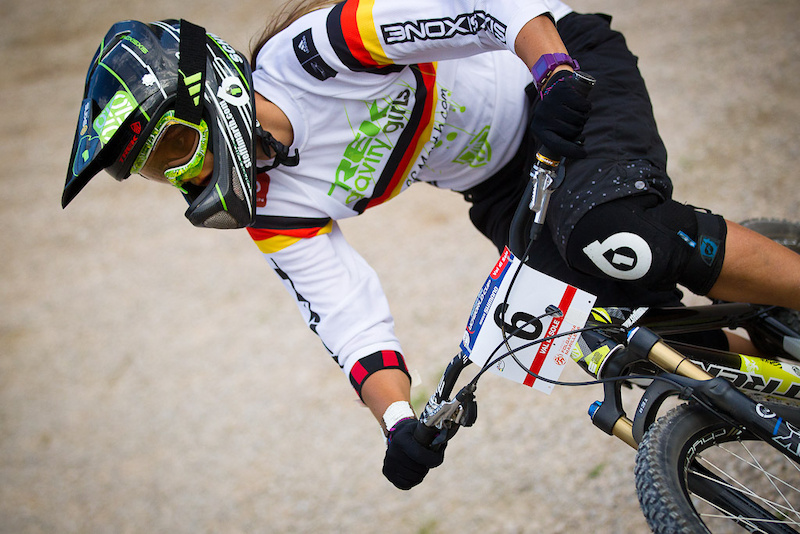 We asked Steffi about her plans now that there will be no World Cup 4X next season:
To be honest I was not too surprised about the UCI's decision, although I am super sad to not be able to achieve some more Podiums and also a World Cup Final which I came close to this year. But obviously everyone knew about the rumors for a long time and we riders didn't really see it coming that fast. Of course we had a lack of riders in the World Cup and some important people turned their back on World Cup 4X...

I have to admit that I also thought about leaving 4X behind if it's not changing for the good. I did many Enduro events this year and I loved them. I tried a Downhill race last weekend and I absolutely enjoyed it like crazy...

I will just ride my bike all winter and don't care too much about which races I am going to do next year. Once all the confusion is gone and we have a clear plan about which races will take place in what format next year I am going to decide what to race...
How did you get started mountain biking?
I went to a regional 4X race with my 24" bmx bike and won. Since then I raced 4X on a national basis and never got beaten by someone for the whole time (one time in 2009 I crashed in final and didn't win :-))
As the time went past I went from totally stiff forks to try more and more suspension and became a real mountain biker I guess. Now I enjoy riding all kinds of mountain bikes and still some bmx.
Why do you race?
I might sound a bit weird, but I need the adrenaline and success to be happy. A normal fun bike ride is cool and I enjoy doing it, but only if I am in the off season or a successful race just lays behind me I can be happy doing it. As I was never living in the mountains I don´t know how it is to just go outside and ride (instead of BMX). It always needs an event or race to make me drive hours to get into the mountains.
What made you choose 4X instead of XC?
I have to admit that I never tried XC, maybe I would be good in it, ha ha. As I have never been a top rider in BMX I guess I'm not much of a sprinter, but my technique from BMX helps me in the 4X and I guess also for the DH. I learned to handle my bike and I enjoy my life and riding so much that a full XC training plan would not suit me I guess. I love to train and teach the technique of bike riding more than just doing physical stuff.
Scariest moment on a bike?
I guess when I first started doing 4X World Cups with my weak BMX skills. I was standing at the 4X start of the World Cup in Andorra and had just 1.5 hours of practice before qualification and really didn't feel that I wanted to go down that hill on my super stiff 4X hardtail. I was so under pressure because all around were just experienced World Cup Riders and then the clock was ticking and ahhhh... no that was scary.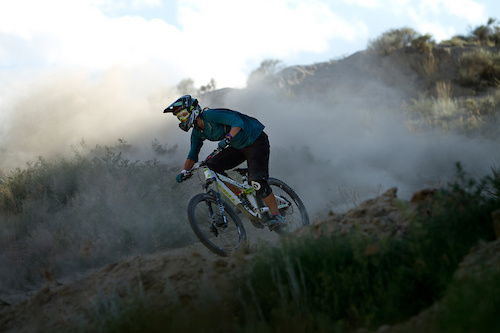 Favorite place to ride?
No question this is La Palma / Canary Islands. The different nature, rough volcanic mountains, the weather conditions, the people and their mentality... everything is just perfect on La Palma. It´s magic, once you go there you will always have to come back I guess.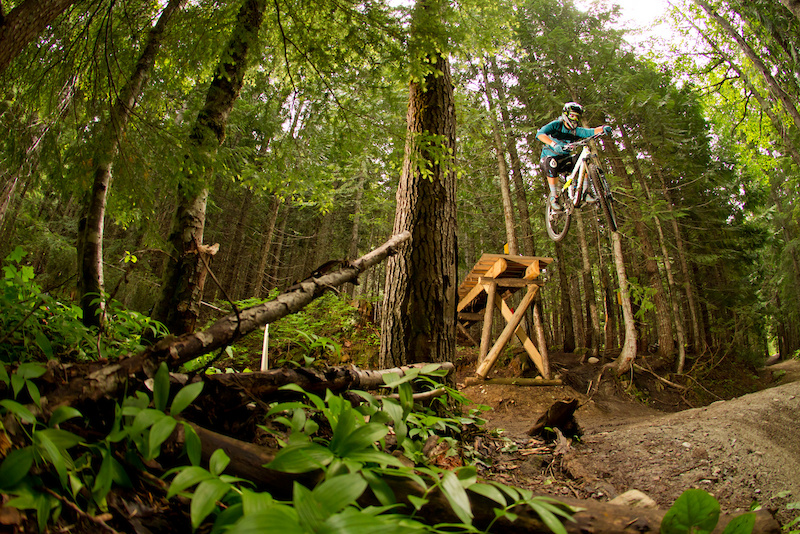 What influences you in racing, who do you look up to?
There are so many people I look up to, especially because I have been into BMX and 4X and a bit of DH and Enduro. For example legends like ACC who manage to be on the highest level in all of these disciplines, that´s incredible. I know how hard the bmx scene was before the Olympics and how much it's improved since then. To be an Olympic champion in BMX besides being the best female mountain bike rider for such a long time is just crazy. There is not just ACC, but for example Jill Kintner who was one of the very top girls in both bmx and mtb. That inspires me really. Of course I look also up to a lot of the boys too, but it just feels different for girls to ride I think and if girls can compete with boys in their skills and times on the tracks they are my real heroes.
Are you inspired by any pro women DH racers, if so, which ones?
I love to see the DH World Cups because these girls are really amazing. I'm so proud we have a German Girl in the Top 10 World Cup Riders now...Harriet Rücknagel. She is a very good friend of mine and I see how focused and relaxed she is at the same time. She is a bit like me in 4X, we train by ourselves, organize everything alone and go to the World Cups all by ourselves without much support and compete with the Top of the World in this sport. The huge difference to other countries is that we don´t have any experienced, good rider to look up to in Germany, we try to be the role models for the younger generation. I really look up to Harriet because she was getting better every year and this year finished 7th in the La Bresse DH World Cup.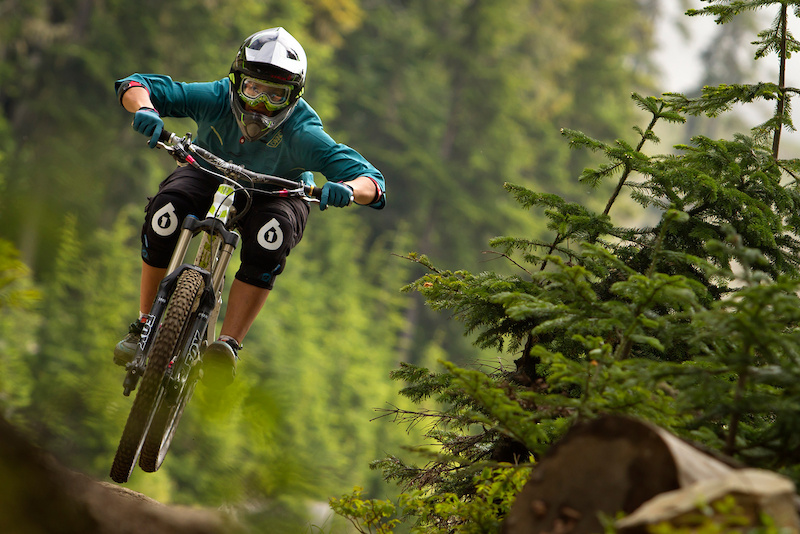 You're a girl, how does it feel to be in a sport that's predominantly male?
As I just said for me it´s two different Worlds. Of course I always try to compete with boys and am so happy when I can beat boys in riding or racing. It´s not much of a difference of the two when it comes to technique though, but boys are still stronger which plays a huge part in this sport I guess. Sometimes I wish to be a boy just for one day and try all my bikes with my skills and see how it is to ride with so much more strength and also a bit of a different mind constellation I think, ha ha.
Do you do any other sports? Cross training?
Well it became quite difficult for me to find time for anything else beside bikes. But I used to be in a boarding school for sports and an Olympic center for a couple of years, so I know what to do to get fit for the season. My closet is full of sports specific clothing for everything, gym, road bike, swimming, running, handball, snowboard ... but since last year when I went to La Palma I prefer just riding whenever I can because to my mind riding improves both, your skills and your fitness. So I still try to work on the specific parts riding can´t give me, but the main part of my sports activities is just riding bikes of all different kinds.
I dream of being a Girly, really! But I think I am more of a Tomboy. I always say I am already looking forward to when I stop the stupid bike stuff and be a real girly! But I don´t know if that will ever happen.
Definitely Jeans. Although I would love to wear a dress some times, but when and where and for what reason?
Loose Pants and a shirt... Freeride! ... maybe someone could invent dresses for riding?!
I used to be a coffee drinker, but now I can´t have it anymore. Tea!
No! Always natural.
Black ... I'm an architect. We love black.
I hope to still be involved in biking and be able to match my architect job with the bike branch. I already have an idea...