Marzocchi's 44 fork has been gaining traction among the sport's elite bikehandlers for good reason: it shreds technical descents as well as most large-chassis freeride/AM forks - an it is a must ride for anyone in the market for a super-capable 32-millimeter-stanchion slider. Pinkbike readers asked us for a tech video that shows how to overhaul the 44 while Marzocchi works on getting its version up and running. We also have been pressed to return to the TT video-edit format. You asked, we delivered. In this Tech Tuesday Marzocchi suspension guru Ronnie Dilan walks us through the steps to change the seals and suspension fluid of the mid-travel 44 fork. Scroll down for the video, or take your time and read the intro text - your call.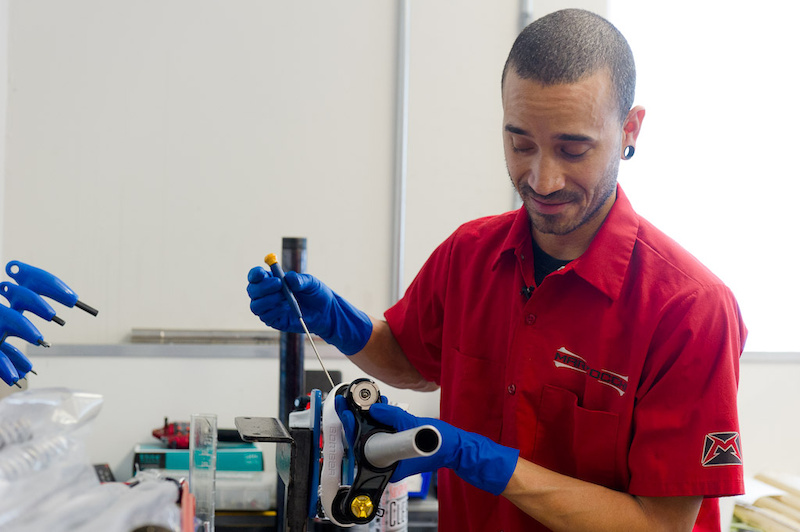 Ronnie Dilan makes it looks easy. Dilan has been sorting out suspension and customer's tech questions for much of the time that Marzocchi USA has been in business.
There are a number of 44 fork models, and in this Tech Tuseday, we focus on the top three: The 44 Micro Switch TA, the 44 RC3 Titanium and the demonstration model for this this tech piece,
While there are minor differences in the three forks, Ronnie says that the steps to disassemble, replace the seals and reassemble them are nearly the same.
if you have any questions about your particular fork.
(From left) Marzocchi's top trail forks - 44 MIcro Switch TA, 44 RC3 Titanium and our subject fork, the 44 Micro Ti 29.
While the following tech edit covers every step quite well, we'd like to add that eye protection is a must when you are dealing with sharp tools, chemical fluids and small missiles like errant C-rings. Use it. Also, Ronnie slipped and said 'oil' when he was lubricating the seals and wipers before assembling them into the lowers. He recommends lightweight low-friction grease as shown in the edit. Contact Ronnie at Marzocchi's tech center at
for the inside story of any Marzocchi suspension product.