Why Short Travel?
A short travel bike is both more difficult to ride and harder on the body, so why would someone, especially a rider whose bike spends more time on a chairlift or in the back of a pick-up truck than it does pointing up a hill, choose to ride one? It's how these less-forgiving bikes react to the terrain and, much more importantly, respond to rider input, that make them so enjoyable. For example, a downhill bike, simply because of the traction provided by its slack geometry, can often require a hard stab of the rear brake to square off a corner or make an abrupt line change, whereas a trail bike might only request that you lighten its rear end and commit to the line. Sure it might be easier (
read: require less skill
) to get the job done on the downhill rig, but nailing a formidable line on a little bike is infinitely more rewarding than the same move on a forgiving DH sled.
The same can be said of nearly any scenario you might encounter on the mountain, from the drop or jump with the sniper landing that will punish a short travel bike and its rider, to the fast and chundery sections of the trail that force you to pick the optimum line instead of simply leaning back and letting a downhill bike do the work for you. It's when you master finer inputs and the sharper handling of your steed that things come together to create an experience that is hard to equal aboard anything else.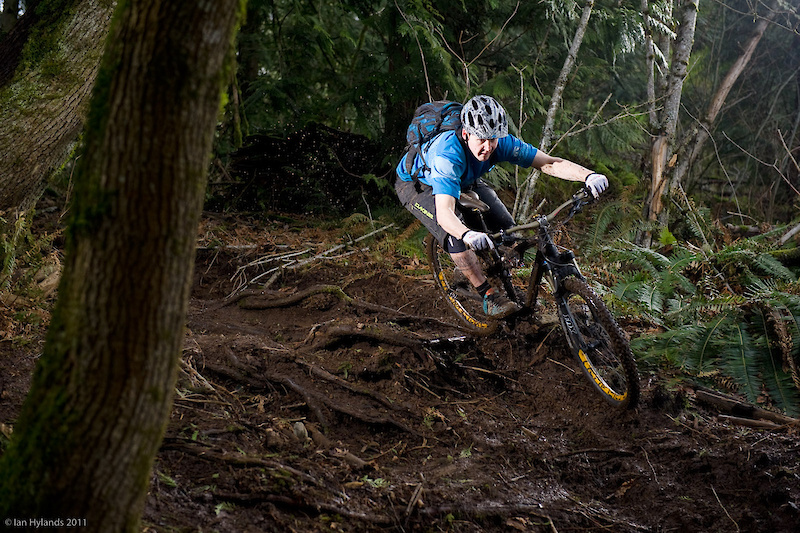 Proper line choice is key when on a short travel bike, especially when conditions are tricky. The reward is worth the risk in my book.
With their unparalleled ability to carry immense speed on truly challenging terrain, downhill bikes are fearsome ground coverers when they are called for. That speed is one of the main reasons that we take part in this sport, isn't it? I'm not convinced, and I'd argue to my grave that it isn't actually the out-and-out speed that makes a ride memorable, but the smaller moments that stand out. Nailing that move, big or small, and setting the bike down right at the top of the transition. That long manual through the trees on a foot-wide piece of singletrack. It's pulling Gs through a set of linking berms. It's the rear end breaking loose on that one tricky corner, throwing up a brown spray that you can see behind you out of the corner of your eye. All of these moments can happen more easily, and more often on a shorter travel bike because they use geometry that allows entry and expert level riders (
that's 98% of us, by the way
) to smash berms with ease, run smaller volume and less forgiving tires that break loose with less effort, and can usually brag about being light enough to allow a rider to really throw it around.
Don't get me wrong, there are many places and trails where a downhill bike is not only a blast to ride, but also the key to survival. The problem is that more often than not these bikes are being ridden on trails that don't require that level of forgiveness, and the riders aboard them have somehow convinced themselves that the opposite is true. The reality is that while some of you may go slightly slower on a shorter travel bike, I can almost guarantee that you'll have more fun.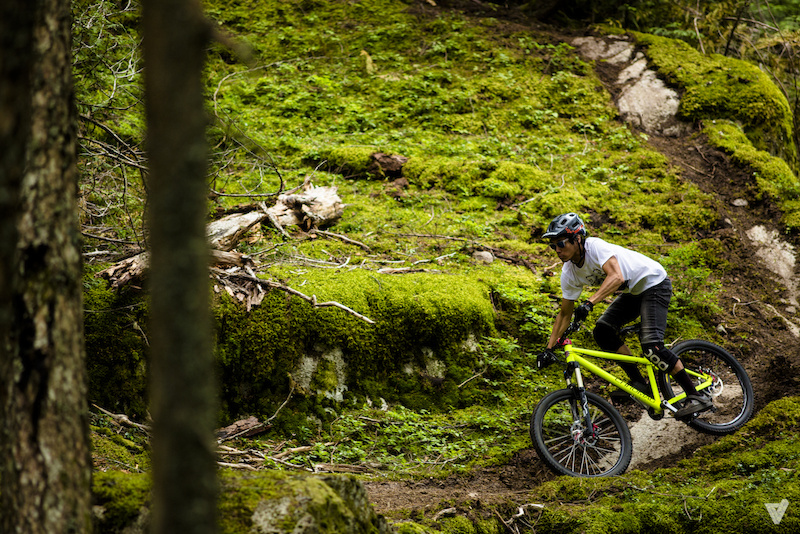 Chromag's Jinya Nishiwaki enjoys the fruits of riding a hardtail on Whistler's technical terrain.
Short Travel Bike Defined
With 8'' of suspension obviously being less than 10'', one could interpret the term 'short travel' in a number of different ways. The phrase is also surely terrain dependent, with who live and ride in Whistler and other areas of B.C. often calling their 6'' travel rigs 'little bikes', whereas 6'' of travel makes for a very 'big bike' in many other parts of the world. We have to draw a line in the loam somewhere, so I'm going to declare that, at least in confines of this article, a proper short travel machine should have around 5'' of travel or less. And let's not forget about the good old fashioned hardtail, of course. All other variables are wide open: single speed, single ring, triple or double, it doesn't matter. Coil or air sprung? Not important. And the same goes for the rest of the build. Catch my drift? Unlike a few years ago, there are more than a handful of well designed and capable 5'' travel bikes on the market, but that number seems to shrink proportionately as the bikes go down in shock stroke. A short travel bike simply has to work harder than a machine with more travel, meaning that it absolutely must be designed in such a way to allow the rider to get the most from what little it has on offer - the shorter the travel, the better the bike's suspension and angles must be. As you can imagine, this quickly eliminates many options on the market.
So what are the best designed, best performing short travel machines available? Trek's ABP-equipped Fuel EX, with its predictable and stable rear suspension layout and FOX DRCV shock, surely has to be included on the list. The same goes for their even shorter travel, 29''-wheeled SuperFly, a bike intended for pure cross-country racing that has blown us away with its everyday aptitude. Continuing with the big-wheeled theme, both the Tallboy and Tallboy LT models from Santa Cruz are proven winners. We also rate Specialized's Stumpjumper and Camber platforms very highly. There are others, especially burlier niche options from smaller companies like Banshee and Intense, but the common theme among them all boils down to both sorted geometry that suits where they will be ridden and by whom, as well as dialled rear suspension. These are the building blocks for a capable bike.
None of the models mentioned above are going to be able to hold a candle to true DH bike when it comes to a real downhill trail or in a racing scenario, but you have to ask yourself just how often you end up in these situations. If it is every weekend, then you are likely putting your big bike to good use, but I don't feel like I'm going out on a limb when I say that I doubt that is the case for most of us.