Before you read this, you should know that all of us here at Pinkbike ride for the very same reason that you do: fun. Some of us have enough fun by simply going out for an easy ride, others get the most enjoyment from progressing to bigger and bigger jumps and drops, and still others smile the most after a leg-burning, lung-exploding climb that leaves the taste of vomit in their mouths - different strokes for different folks. Despite what it might read like below, I'm not trying to rain on anyone's parade. With that in mind, the words beneath this disclaimer are intended to open a discussion on just how much sense downhill bikes make for the majority of riders. Read it, think about it, and then weigh in with your own thoughts. Now that we're done with the E-hugs...
-
Mike Levy
---
Talent vs. Travel
I firmly believe that if you don't know how to ride a short travel bike (
or hardtail
) with skill, you won't be able to ride a long travel bike with skill either. For many riders, in this day and age where it isn't uncommon to see a new rider whose first rig is an 8'' travel downhill bike, this is a completely foreign way of thinking. People have become accustomed to charging into challenging terrain with abandon, expecting to find traction and triumph that often happens solely because of these immensely capable bikes, not because of the rider's competence. This same capability allows people to ride trails or features that might otherwise be above their skill set, which, depending on how you feel about the subject, could be either a good or bad thing.
You're Not A Pro
With suspension that can make short work of some of the hairiest terrain imaginable, super tacky tires that riders happily accept will only last two, maybe three race weekends, and slack geometry that rewards ultra-aggressive, pro-level riding, a full-fledged modern downhill bike is an amazing piece of machinery. The trouble is, the vast majority of us are not pros. Not by any stretch of the imagination. Yeah, you may think that you're quick on a bike, and you very well might be, but the gigantic skill gap between most of us (
myself included
), and a top-level racer who holds a pro license is even bigger than you think. Practicing your 'Sam Hill' around corners with your buddies might be fun as all hell, but there is something else you can do that will make a much bigger difference: a riding clinic or coach will add to your arsenal in a way that an extra 3'' of suspension travel could never do. Tracking down some instructional help, from the basics of riding all the way up to refreshers for more advanced riders, may unlock potential that you never knew you had. No coaches to be found nearby? Lee McCormack teamed up with Brian Lopes for the 2nd edition of his 'Mastering Mountain Bike Skills' guide book, a how-to on getting your shred on. No, a book may not seem nearly as exciting as a new 8'' travel wonder-bike, but it is likely a much smarter investment.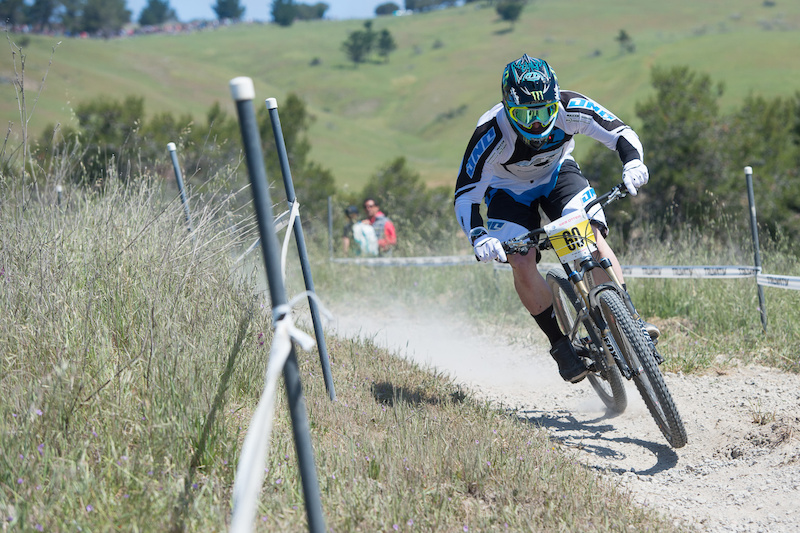 Yeti's Jared Graves takes yet another Sea Otter DH win aboard his short travel bike. His
winning streak on the tame track proves that he knows about picking the right tool for the job.
Sorry, Your Trails Aren't That Burly
There is absolutely nothing wrong with that, mind you, except that it leaves me wondering why in the world you'd be on a bike that is so singleminded in its approach that it actually presents a disadvantage when talking about both speed and fun on many trails. Sure, there are riding zones filled with nothing but Champéry-esque terrain, littered with lines that force riders to spend more time over their back wheel than Bobby Root in an early New World Disorder movie, but the honest truth is that these tracks are outnumbered a hundred to one by much tamer trails. Get a contemporary downhill bike on one of these 'average' trails, under an average rider, and it transforms from an all-conquering beast to being hindered by the very features that help so much on gnarly terrain, with it now wandering around like the town drunk trying to keep himself from falling off the sidewalk. That 64° head angle you think you need puts the front wheel too far out in front, with the result being a loss in traction because it isn't weighted enough to function how its designer intended. The front end of the bike goes from sticking like glue at high speeds to pushing and understeering through corners at
the now inadequate pace, forcing the rider to adopt an overly aggressive method on the bike in order to help it around corners. A big bike's extra travel obviously allows it to carry more speed through rough sections, no argument here, but it doesn't take a lot of skill to straight line the chunder. The same rider on a bike with a head angle that's steeper by a few degrees doesn't look as if he has to wring its neck to get around the same turns.
Because the downhill bike is not carrying speed as well as a solidly built, shorter travel bike would, the rider is forced to work hard to find that extra momentum, throwing down as many pedal strokes as possible, while those on smaller bikes coast and look for backsides to pump. Extra pedal strokes do more than just sap a riders strength, though, with the chance of a disastrous pedal strike increased thanks to a modern downhill bike's relatively low bottom bracket height combined with its 3'' of sag. In other words, a rider on a downhill bike has to work harder to find speed, but the harder that he or she works, the more likely they are to get bitch slapped by the ground after clipping a pedal.
And jumping? Sure, you can get away with casing a gap so hard that you render the rear wheel of your DH bike unusable, only to roll away laughing about it, but did you ever think that maybe you cased the jump
because
of the downhill bike? We've all been there... Knowing we should have listened to the voices telling us to hit the brakes rather than trying to sprint a bike that feels as if it has been wholly designed to sap nearly all of the paltry horsepower that our legs put out. Then again, you might have made it over the chasm if you didn't have to pull up through the bike's doughy negative travel. Again, I'd wager that most of these jumps are not large enough to require the full-on DH bike that forced the rider to either walk or shuttle up the hill to access them in the first place.
Why Short Travel?

A short travel bike is both more difficult to ride and harder on the body, so why would someone, especially a rider whose bike spends more time on a chairlift or in the back of a pick-up truck than it does pointing up a hill, choose to ride one? It's how these less-forgiving bikes react to the terrain and, much more importantly, respond to rider input, that makes them so enjoyable. For example, a downhill bike, simply because of the traction provided by its slack geometry, can often require a hard stab of the rear brake to square off a corner or make an abrupt line change, whereas a trail bike might only request that you lighten its rear end and commit to the line. Sure it might be easier (

read: require less skill

) to get the job done on the downhill rig, but nailing a formidable line on a little bike is infinitely more rewarding than the same move on a forgiving DH sled.

The same can be said of nearly any scenario you might encounter on the mountain, from the drop or jump with the sniper landing that will punish a short travel bike and its rider, to the fast and chundery sections of the trail that force you to pick the optimum line instead of simply leaning back and letting a downhill bike do the work for you. It's when you master finer inputs and the sharper handling of your steed that things come together to create an experience that is hard to equal aboard anything else.

Proper line choice is key when on a short travel bike, especially when conditions are tricky. The reward is worth the risk in my book.

With their unparalleled ability to carry immense speed on truly challenging terrain, downhill bikes are fearsome ground coverers when they are called for. That speed is one of the main reasons that we take part in this sport, isn't it? I'm not convinced, and I'd argue to my grave that it isn't actually the out-and-out speed that makes a ride memorable, but the smaller moments that stand out. Nailing that move, big or small, and setting the bike down right at the top of the transition. That long manual through the trees on a foot-wide piece of singletrack. It's pulling Gs through a set of linking berms. It's the rear end breaking loose on that one tricky corner, throwing up a brown spray that you can see behind you out of the corner of your eye. All of these moments can happen more easily, and more often on a shorter travel bike because they use geometry that allows entry and expert level riders (

that's 98% of us, by the way

) to smash berms with ease, run smaller volume and less forgiving tires that break loose with less effort, and can usually brag about being light enough to allow a rider to really throw it around.

Don't get me wrong; there are many places and trails where a downhill bike is not only a blast to ride, but also the key to survival. The problem is that more often than not these bikes are being ridden on trails that don't require that level of forgiveness, and the riders aboard them have somehow convinced themselves that the opposite is true. The reality is that while some of you may go slightly slower on a shorter travel bike, I can almost guarantee that you'll have more fun.





Chromag's Jinya Nishiwaki enjoys the fruits of riding a hardtail on Whistler's technical terrain.




Short Travel Bike Defined

With 8'' of suspension obviously being less than 10'', one could interpret the term 'short travel' in a number of different ways. The phrase is also surely terrain dependent, with who live and ride in Whistler and other areas of B.C. often calling their 6'' travel rigs 'little bikes', whereas 6'' of travel makes for a very 'big bike' in many other parts of the world. We have to draw a line in the loam somewhere, so I'm going to declare that, at least in confines of this article, a proper short travel machine should have around 5'' of travel or less. And let's not forget about the good old fashioned hardtail, of course. All other variables are wide open: single speed, single ring, triple or double, it doesn't matter. Coil or air sprung? Not important. And the same goes for the rest of the build. Catch my drift? Unlike a few years ago, there are more than a handful of well designed and capable 5'' travel bikes on the market, but that number seems to shrink proportionately as the bikes go down in shock stroke. A short travel bike simply has to work harder than a machine with more travel, meaning that it absolutely must be designed in such a way to allow the rider to get the most from what little it has on offer - the shorter the travel, the better the bike's suspension and angles must be. As you can imagine, this quickly eliminates many options on the market.

So what are the best designed, best performing short travel machines available? Trek's ABP-equipped Fuel EX, with its predictable and stable rear suspension layout and FOX DRCV shock, surely has to be included on the list. The same goes for their even shorter travel, 29''-wheeled SuperFly, a bike intended for pure cross-country racing that has blown us away with its everyday aptitude. Continuing with the big-wheeled theme, both the Tallboy and Tallboy LT models from Santa Cruz are proven winners. We also rate Specialized's Stumpjumper and Camber platforms very highly. There are others, especially burlier niche options from smaller companies like Banshee and Intense, but the common theme among them all boils down to both sorted geometry that suits where they will be ridden and by whom, as well as dialed rear suspension. These are the building blocks for a capable bike.

None of the models mentioned above are going to be able to hold a candle to true DH bike when it comes to a real downhill trail or in a racing scenario, but you have to ask yourself just how often you end up in these situations. If it is every weekend, then you are likely putting your big bike to good use, but I don't feel like I'm going out on a limb when I say that I doubt that is the case for most of us.
Hardtails on Hard Trails
Filmed and edited by Virtu Media
Skill, Not Suspension
I was recently arguing my stance with a number of fellow mountain bikers, using the points made above and feeling quite good about the case that I was making, when it was pointed out to me by photographer Victor Lucas that bike choice is often the culmination of not just the terrain it is going to be used on, but also what type of bikes your riding partners are going to be aboard. This thought hadn't ever occurred to me, but it certainly does carry weight. If your local riding scene consists of nothing but friends on long travel bikes, it is understandable that it would be hard to make the jump to a bike that might make it harder to ride with them. But what if, after getting used to the bike and honing your skills, you
could
keep up with them? Even the lightest and most nimble of downhill bikes are numb beasts compared to a well-set-up shorter travel machine. Ride one of these smartly spec'd shorter legged bikes at speed and it is like the bike is having a conversation with you about the trail, either letting you know you're doing something right by rewarding you with speed and agility or, on the other hand, punishing you if you deserve it. And I believe that is the very reason that many riders go up in travel rather than down when it comes time for a new bike - more suspension simply makes the bike easier to ride. But what about the sense of accomplishment that comes with nailing a tricky section not because the bike allowed you to do it, but because of your skill?
Is this rally cry against downhill bikes for the average rider, here on Pinkbike of all places, proof that Levy has lost his marbles? Or does he have a point when he states that more of us should shift our focus from the long travel race bikes the pros ride to the technique that will make us better riders? Let's hear what you think - put those thoughts down below.
Follow Mike Levy
@MikeLevyPB