Not so long ago, stunts were the shining knight of mountain biking's bold and brazen metamorphosis. They made their way on to almost every trail in every corner of the world. A mellow XC trail now had a slatted jump. A winding skinny would emerge smack dab in the middle of an already super technical descent. From Tennessee to Williams Lake, Prague to Bristol, stunts became synonymous with the modern mountain bike trail. And they were a big deal. Not only did they add a new dimension of adventure to the ride, they caused a massive shit storm among land managers, trail builders, trail associations and user groups. Local governments saw them as endless nightmare of potential litigation. Builders and riders saw them as forest art. Hikers saw them as aberrations to the forest landscape.
But we loved them. So much so we were willing to fight for them. We built them illegally, sometimes in the face of very real consequences. Kids constructed gnarly monstrosities from stolen 2x4s and "borrowed" sheets of plywood. Forest artisans learned from trail building legends like the North Shore's Dangerous Dan and Todd "Digger" Fiander to construct beautiful, aesthetic, masterfully created bridges and skinnies. And for a time, they played a huge role in mountain biking. In places like Florida, stunts transformed otherwise benign landscapes into veritable adrenalin-fests. Some were functional: logs over creeks, slated passageways over swamps, built airs over otherwise unnavigable terrain. Some, conversely, were totally gratuitous. But no matter, stunts, for a time, were intimately tied to trail building and the ride experience. They broke bones and caused blood to rush, both within the body and out of it. And while they've stolen hours in the form of annihilated derailleurs and political debate, they've given back in countless years of unadulterated fun.
And then they started to rot.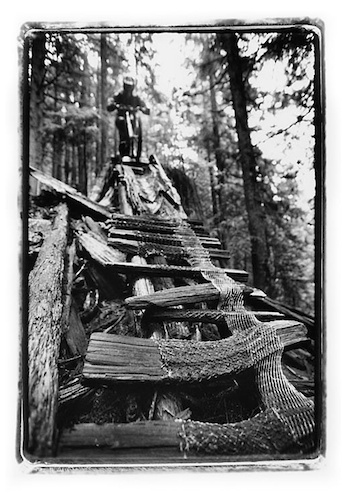 Photo: Sterling Lorence
Today, stunts seem to be fading from the lexicon of the modern mountain bike experience. One of my favorite trails is the classic example of what I like to call, the Stuntsonian, a perversion of the Smithsonian, the world's largest museum and research complex. Many trails today resemble a ride through the past, with all the fade, decay, and antiquity that comes with visiting a time gone by. This trail, called the Vein, used to be the most challenging of endeavors. A punishing hour-and a-half-climb to a wildly technical descent. What pushed it over the top, however, was its bevy of super challenging stunts: consequential log rides, pin point ramp airs and slick skinnies hell bent on not letting wheels pass. To nail it--to clean the climb then rail all the stunts with out dabbing and eating shit--was considered a massive accomplishment.

But as the years wore on, as the winters came and went, and the rains would fall, and with them the wood rotting with age, everyone stopped riding the 15 or so stunts on the Vein. And somewhere along the way, people seemed to stop caring that this transition was taking place. Maybe our newer, plusher bikes and fought for speed and flow had us ignoring the patience and precision of riding stunts. Maybe trail builders began to realize that crafting challenge with dirt was a much more sustainable way to build. For whatever reason, the stunts on the Vein, those radical pieces of trail infrastructure, became less appealing. And so they were left to degrade. Cedar slats lay snapped in half. Nails worked their up and out of the wood. Logs began to rot and disintegrate, returning to the earth as the ants and mosses and beetles churned their structure back into dirt.



But still, the legacy of the stunt lives on. We just don't ride or build them as much. As I ride the Vein, as I cruise by the log ride that pitched me 10 feet into a creek bed, effortlessly speed past the slated air that dropped my rear wheel and tossed me face first into oblivion, there's both this sense of longing and of goodbye. My nature tells me that we've somehow moved on. Sure, stunts are still built, but they are of a different vein, so to speak. They're bigger, wider, more focused on flow and air then they are exposure and technical skill. Their raw nature, their intricacy and balance now replaced by speed and size.



The Vein today, nearly a decade after it was built, is like riding through a museum from another time. Each pass by a wooded relic represents a ride through memories of success and failure. Of making it. Of frustration. Of manufactured challenge that was real and different and totally unique to a specific time and place. I don't think I'm sad, but perhaps a little nostalgic. Technical stunts were an event. They drew out the time of the ride. You'd hike back up to see if you could make it. Riders would connect. You'd talk about them, think about them, dream about them.

Now it seems, for whatever reason, we've moved on. Which is fine. At least it's nice to still see them. Still recognize them. Might as well enjoy this trip down memory lane before the world swallows them whole.
Must Read This Week