We've been getting this question a lot lately, and we're stoked to say...It's On. In late November, the Forest Service approved our proposal to build a Gravity Logic-designed bike park at Timberline Lodge. After years of development, this is a major step in the right direction toward the creation of an amazing bike park on Mt. Hood.
The publication of the approval was followed by a 45-day public appeal period that just ended. Unfortunately, two appeals were filed against the project. One appeal was filed by a conglomeration of groups including Friends of Mt. Hood, Bark, Mazamas, Federation of Western Outdoor Clubs, Northwest Environmental Defense Center, and Oregon Chapter of the Sierra Club. The other appeal was filed by an individual: Lori Ann Burd, Esq.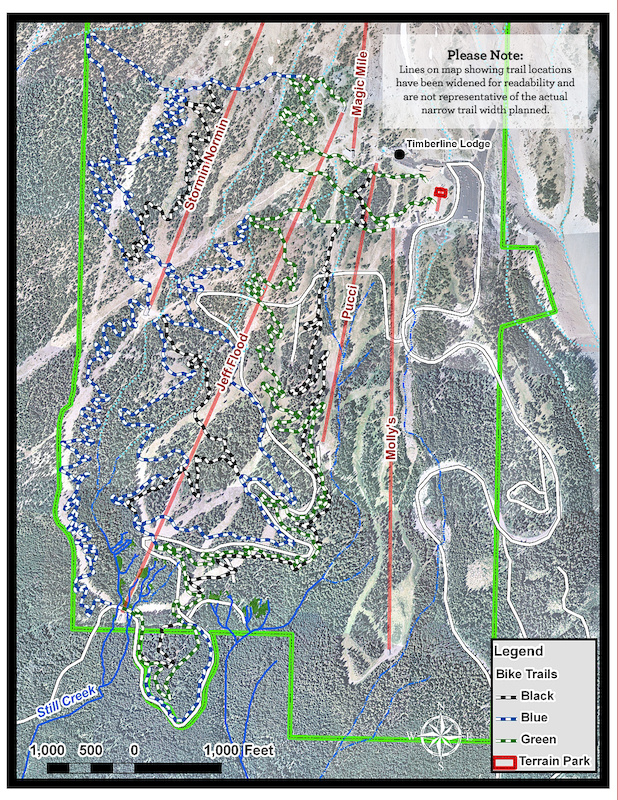 The Forest Service must respond to these appeals by the end of February, at which point we will know if any changes to the project will be necessary. Our hope is that they are able to defend the work they have done to reach their "Finding of no Significant Impact" and overturn the appeals that have been filed. We feel really good about our entire approach to the project so far and feel that we are looking out for the best interests of the community, our business, and the future of Timberline Lodge. For now, we get to wait and see.
In the meantime, we're getting everything in order to begin building this summer. We're ready to dig and build 7-days a week as soon as the ground is ready and complete 2/3 of the planned trail network before the snow flies. Builders are being contacted, and we've already assembled a team of amazing talent that will represent the different build styles found around the Pacific Northwest.
Thanks for all of the support you've given this project so far. Thousands of letters poured in to us, and the Forest Service, supporting this project and all of the benefits it will bring to the area including better recreation opportunities, economic stimulus, job creation, and a professionally designed and maintained downhill mountain bike area. We couldn't be more stoked on all of the positive energy!
We'll be posting updates to pink bike, our web site, and our soon-to-be-created Facebook page as we head into the summer.
To view the US Forest Service Decision Notice and "Finding of no Significant Impact",
click here
.
To learn more about the project, visit our web site at:
www.timberlinelodge.com/mountainbiking