Sante Pelot grew up in Santa Cruz, California, and has been riding mountain bikes since 1986. He attended the University of Oklahoma where he wrote his master's thesis on a magnetorheological damper design for tractor-trailers. Pelot has worked at FOX since the beginning of 2007, and currently spends most of his time working on FIT dampers (
he's handled every one since 2009, except for the Terralogic and iCD models
). He is responsible for design, development, tuning and testing - all the way up to handing off the new damper for production.

What is rebound damping and why is it important?
Let's start with a bit of background. Damping is the conversion of kinetic energy
(energy associated with a mass in motion) into heat. Typically, that damping
is achieved by forcing oil through tight spaces. This configuration yields a
damper that is velocity sensitive (the force generated is proportional to the axial
velocity of the damper shaft). A bicycle shock consists of a spring and a
damper. Springs are position sensitive (the force generated is proportional
to the axial position, and is not affected by velocity). A spring stores energy
and a damper dissipates energy. In some cases, a spring can be velocity sensitive
(an air spring is),) and a damper can be position sensitive (such as our Boost
Valve dampers), but let's ignore those complications for this discussion. Let's also
ignore that when you remove the spring on your downhill shock and depress the
shaft, it returns, just like a spring would, but slower. This is a by-product of the
damper architecture and is not important here.

Rebound damping controls the return of the wheel after a compression. It is a
bit simpler than compression damping, as typically it is only working against the
stored energy of the spring, so the forces acting on it are a bit more predictable.
It is important because without it, your wheel would rebound too quickly. Specifically,
you would get bucked all the time and your wheel would drop into every single hole
it could find, sending you over the bars more than necessary. Faster rebound does
not equate to a faster rider.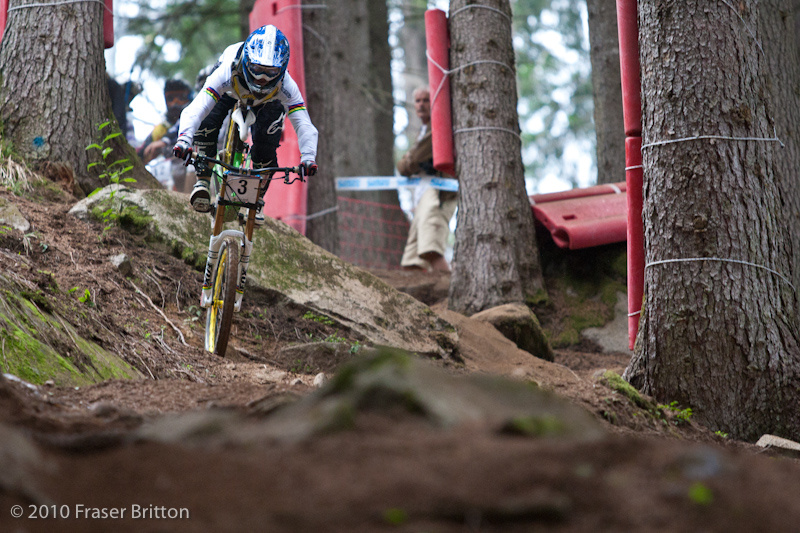 A wild ride can be the result of having your rebound speed set too quick.

How is rebound damping controlled?
All rebound circuits feature a hole or "orifice," as we like to say. During the
rebound cycle, the rebound check valve shuts, which blocks flow through the
compression circuit, forcing oil through this orifice. For adjustable rebound
circuits there is a tapered needle that fits through the orifice. We design the
rebound circuit so that (for all practical purposes) all of the rebound damping
occurs at the orifice. Thus, by moving the needle in or out on a threaded rod,
the cross-sectional area that the oil must flow through is changed, altering
the force that the damper produces at a given velocity. All of our FIT dampers
feature a patented, fluted rebound needle that breaks rebound flow up into six
flow paths which helps reduce the noisy "rebound woosh," which most of you
have probably learned to ignore.

Most of our dampers also feature a rebound shim stack which is a parallel
damping circuit, tuned to open at a certain pressure. Without a shim stack,
the designer must choose between not having enough rebound damping
at slow shaft velocities, or having too much rebound damping at fast shaft
velocities. Sometimes you can get away with no shim stack, but not always.
A poorly tuned shim stack can behave worse than an orifice-only circuit.

Something you probably don't know is that our rebound circuits offer both low
and high-speed damping adjustments. They are adjusted at the same time to
optimally complement each other. We do this by sizing the needle so that
it affects the entire damping curve, instead of just the low-speed portion of the
curve. I haven't met many people that would actually rather spend time setting up
their bike than riding it, so we try to make it easy for you!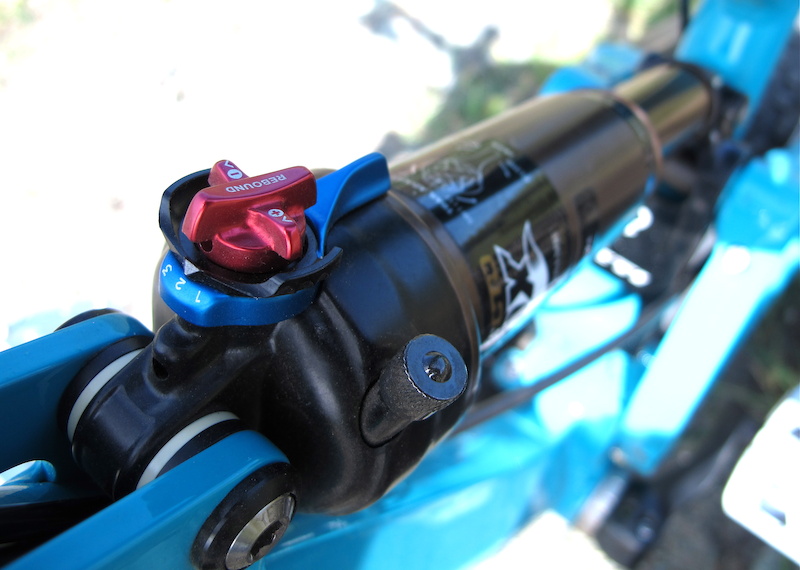 As with all FOX suspension, rebound speed is adjusted with the anodized red dial. The useable range for a given person is roughly 3 clicks of adjustment.

How vital is it that rebound be adjustable?
If you have a full-time tuner working for you, then it is not at all important. Since
most of us don't have that, it is very important. On a bicycle, the rider makes up
two-thirds of the system weight at a minimum. This means that variations in rider weight
have a huge effect on which spring will be used, and thus how much rebound damping
is required. Therefore, it is imperative that rebound damping is easy to adjust and that
it has a wide range. Compression damping is not as sensitive to fluctuations in weight,
because the (adjustable) spring is helping during a compression stroke.

So remember, we design a very wide rebound range to deal with the large weight
differences between our customers. No single person should think that they can
use the entire range. The useful range for a given person is only about 3 clicks.

How does rebound damping relate to the other setup elements such as spring rate and compression damping of a fork or shock?
In regards to spring rate, the stiffer the spring, the more rebound damping will be
required. For compression damping, depending on the damper architecture, there can
be a noticeable effect on compression damping from the rebound setting. This typically
isn't important because there is a very narrow range of rebound settings that a given
rider will use, and most people will set-and-forget (which is completely valid once you
find a good setting). Therefore, a rider will be able to find a compression setting they are
happy with after setting rebound. Also, conveniently, heavier riders will require more
rebound damping, which also results in more compression damping. So it is self-adjusting,
in a sense.

The order of setup should always be: measure sag, adjust spring until proper sag is attained,
adjust rebound, adjust compression damping. This follows the order of importance of each
element: the correct spring rate is the most important, then the correct rebound setting, then
the compression setting. Other interesting tidbits are that dampers are tuned so that, in general,
rebound damping is much higher than compression damping and rebound shaft velocities are
about one-third of compression velocities.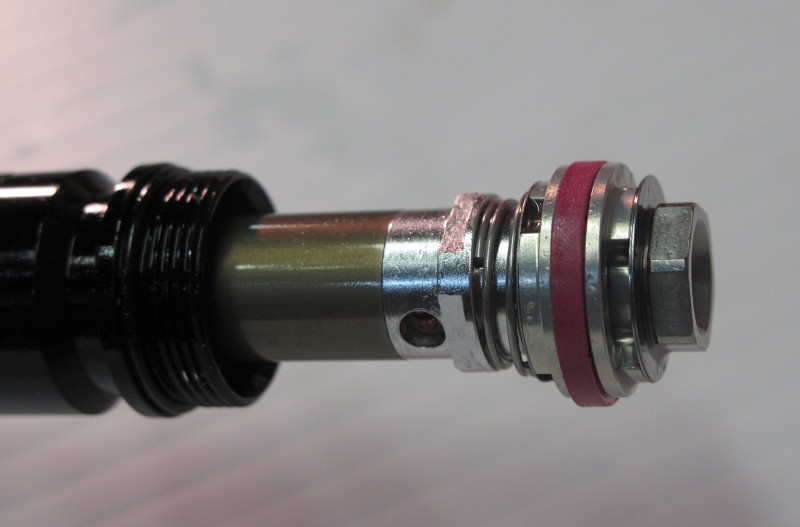 Rebound damping can be controlled via an orifice, a shim stack, or a combination of both.

Does one type of rebound setting suit everyone?
There is a very limited range of rebound velocities that result in a good setup. Some
people may prefer rebound on the slower side of this spectrum, and some on the faster side.
This is worth repeating: the useable spectrum for a given rider is only about 3 clicks wide. But
it is easy to have a bad rebound setup that will result in making you a slower rider. We are talking
about damping of frequencies generated between 5 and 35 mph at displacements of 1 - 8 inches
here (most of the time; special circumstances may require deviations from this rule), so either your
rebound setting does a good job at these frequencies, or it doesn't. When it comes to rebound
damping, there are right and wrong setups. Riding style will only dictate which end of the useable
spectrum you should use.

What are the telltale signs of an incorrect rebound setting? What about a proper rebound setup?
If rebound is set too fast, it will result in your wheel falling into more holes, instead
of skipping over the top of them, as it should. It will result in a bike that feels skittish and
uncontrolled, and will be scary off of jumps. You will get bucked, you will bounce upon
landing (even if you kept it rubber-side-down), and it will be a wild ride. At high lean angles
it can result in loss of traction.

If rebound is set too slow it can "pack down," where successive hits result in the wheel
getting deeper and deeper into the travel. This will result in not having enough travel to
deal with subsequent hits. Most people don't realize that a symptom of too much rebound
damping is harshness on compression. This is due to the bike riding deeper in the travel,
and your hands and feet working against higher forces in the springs. A common fix for
harshness is to reduce compression damping, but if you are packing down, it will exacerbate
the problem. Another symptom of slow rebound is your bike sitting too deep in turns
(especially fast berms). If your bike has the rebound set properly, you won't be thinking about
rebound while you are riding.

Remember, take the time to set up a bike properly. Don't trust that the person at the demo
booth or shop did it correctly. If they ask you for your weight, and don't measure sag, they
are doing it wrong. If they change the spring pressure and don't check rebound, they are doing
it wrong. And don't forget to check the tire pressure! Tires can have a huge impact on how
suspension feels. The best bike in the world can ride like a department store bike with bad setup.
www.ridefox.com
Follow Mike Levy
@MikeLevyPB