Although Geax's Ken Avery may not be a name that many will recognize, he is the man responsible for the design of one of the most successful downhill tires of all-time. Now the brand manager for Geax, Avery is in control of the Italian brand's product design and development, from basic concept, prototyping, and through to production. Given his background of understanding tread layout, compounds, and casing designs, as well as a history of racing at a relatively high level himself, Avery has an intimate knowledge of how air pressure effects tire performance.

There is always a lot of talk about tread pattern and rubber compounds, but where does air pressure fit into the picture?
Air pressure is the one thing that is easy for any rider to tune on their bike. Air pressure
allows the rider to get the most from their tire selection. In other words, if they chose
a fast rolling XC tire, the proper air pressure will allow the tire to do its job and roll as
fast as possible. If the rider chose an aggressive DH tire, and wants ultimate grip,
letting a bit of air out will allow the tire to conform to the ground better, deflect less, and
ultimately grip better.

When a tire is designed, the tread pattern is formulated around the intended use, casing,
and compound, as benchmarks for how the tire will flex (and ultimately perform) under load.
Tuning the air pressure allows the tire to deform the optimal amount that it was designed
around, for the rider's unique criteria: rider weight, use, terrain, and riding style. Air pressure
is essentially the link between the tire's design and the rider.
The optimal air pressure allows the tire to conform to the ground better, thereby improving traction. Too much air and the tire will tend to bounce off of objects, lowering traction.

If running more air pressure makes for a harder and faster rolling tire, why don't we all run higher pressures?
More isn't always better. Often, speed comes at the price of control. First off, the more air
you put into the tire, the more rigid the structure becomes. Also, air acts as a spring
inside your tire, and there is very little to dampen the feel of rebound at higher pressures.
An overinflated tire will tend to bounce off objects in the trail (deflection) and also not
conform to the ground (deformation) as much. This reduces the footprint of the tread in
contact with the ground, which reduces grip. The reduced grip will increase understeer, increase
braking distance, and can even increase rider fatigue. Even a road tire at 125PSI is designed
to flex a certain amount in order to increase performance.

What could a rider expect to feel if their tire pressure was set too low?
Again, more isn't always better. So often riders get the idea in their head that they will have
better grip by decreasing their pressure to an irrational point. Remember, it's the air pressure
that is keeping the beads in your rim (with the exception of tubular tires, which are glued on). You
will know when you reduce your pressure too much when you can feel your rim bottom out on
the ground as you ride over small obstacles, and if you "burp" air out of the bead when running
tubeless. The impact of your rim on the ground can cause rim damage, and can also (and likely does)
pinch the inner tube, causing a flat tire. Lastly, running too low of pressure can cause poor handling ,
especially on the front wheel, and increased rolling resistance. Despite the efforts to go faster, you
can actually go slower as a result.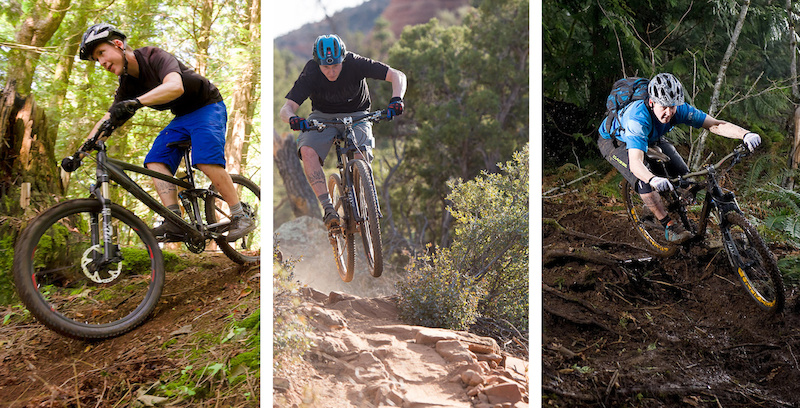 Adjusting your bike's tire pressure to suit the day's ride will allow you to get the most from your tires for the given terrain.

Do rim widths and different types of tire casings factor in when determining the ideal air pressure to use?
Absolutely. The rim width will affect the tire's profile. A wider rim will make the tire appear more
square, and a more narrow rim will make the tire feel more rounded. This will affect how the
tire deforms under load. A more square tire will allow the side knobs to start doing work sooner
than a more rounded tire, so the knobs won't be as likely to get overwhelmed under hard
cornering. A rider with narrow rims can tune this a bit by lowering their air pressure to allow the
rounder profile of a narrow rimmed tire to deform more and provide increased traction. This is only
true to a point however, and will likely be less stable at speed than a tire on a slightly wider rim.

The casing controls how the tire tread deforms, how impact-resistant the tire is, and (especially at
lower pressures) contributes to how the much control the rider has. A thinner or higher TPI casing
will allow the tire to deform more, thus increasing comfort and grip. They also weigh less than thicker
casings. However, in high impact applications like DH a thin casing can get overwhelmed and become
less stable due to the force of impacts. A thinner casing also allows the tire to "flop" from side to
side more than that of a thicker casing. For these reasons, DH tires are 2-ply, for impact resistance,
stability, and control, but are still used at a low PSI to increase grip.

Does a faster or more aggressive rider require higher air pressure than the average rider? Why is this the case?
If it were as simple as adding air to fend off impacts, all tires would be made the same. As a kid
growing up racing DH in the early 1990s, XC tires were all we had, and it was brutal. The
development of tire technology is one of the best performance advancements in the bicycle industry
yet. A World Cup downhiller pushes their bike to a level that no other rider does. The harder impacts,
speed, and required control demand that the tire be stable, and still grip better than anything else. Also,
at the end of the day a World Cup guy is a racer, so rolling resistance still comes into play.

Solely based on these points, it would seem that a World Cup racer would need a higher PSI. However,
as a famous car company once said, "speed is nothing without control". The tire still needs to deform
to the ground to provide grip. For this reason, the pressures that you see on the World Cup circuit are
fairly normal. As I mentioned earlier, it's the tire construction that is different on a DH tire, which allows
the speed AND performance that the World Cup guys demand.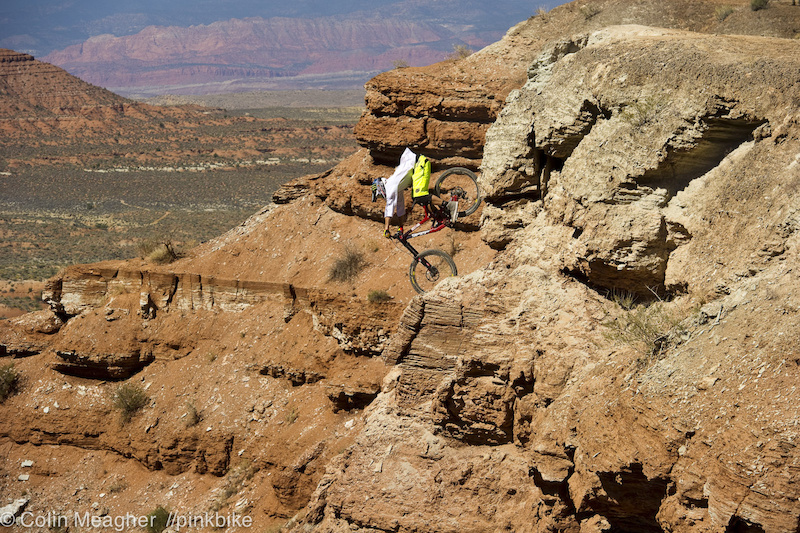 A rider like Cam Zink, shown here at the Red Bull Rampage, asks far more from his tires than the average rider.

Has the shift to tubeless setups changed the way we should be calculating our tire pressure?
The point of running tubeless is to be able to run lower pressures without pinching a tube, and to gain
traction and suppleness. It also saves weight, which is a perk. Because there are so many different casings,
and company standards, each company's tires will have a different feel when run tubeless. At Geax, we have
a TNT bead, which can be run Tube/No-Tube. Because the tire was designed to be tubeless compatible, a
rider can use a more broad range of usable pressures without burping at the bead.

When you take away a tube, you take away material. This material runs parallel with the casing, and can
provide a certain amount of stability and dampening for the tire. For this reason, when you take it away,
the tire can feel lighter and more grippy. Remember though, air is what holds the tire in place, so when a
tubeless tire burps, you can lose air in a hurry, and can also lose stability. On my personal bike, I don't run
drastically less than I did when I ran tubes, but as with everything MTB, it most often comes down to what
the rider prefers.
www.geax.com