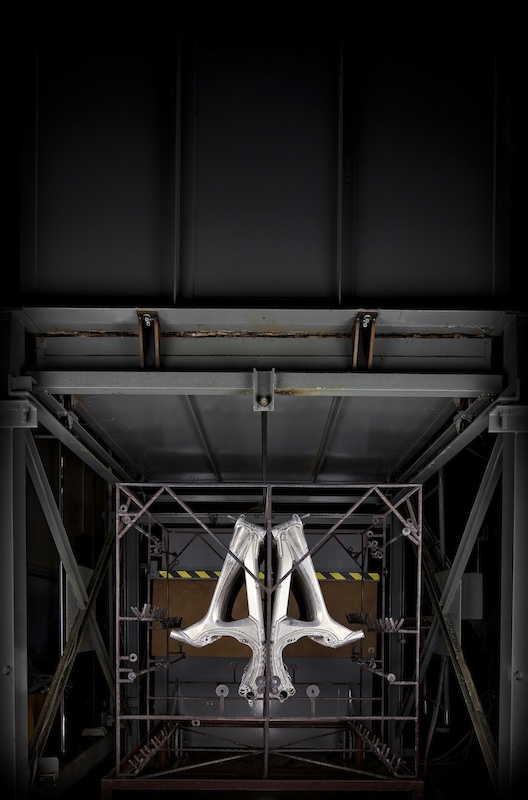 Frames are hung on special racks in the heat treat oven to prevent distortion at
temperatures near 1100 degrees F. Intense photo
Jeff Steber is both the founder and creative drive behind Intense cycles. Intense is unique to most North American bike brands because it still manufactures its aluminum frames in-house at its Temecula, California, factory. All welded-aluminum frames require some sort of post heat-treatment process to return the metal back to proper hardness and consistency. Because Intense has its own heat treatment oven, we asked Jeff to take Pinkbike readers through the process.

Intense does its own heat treating in-house, which is pretty unusual for aluminum fabricators. How does this give you an advantage?
Originally, we used to use a company called Alumatherm in Orange County to source all of our heat treating, but they did not specialize in bicycle frames, so we occasionally had problems with alignment and other issues. Plus, we had to make weekly trips from Temecula to Orange County, which was a considerable distance (over 50 miles, one way). We wanted more control over the process because it was one of the most critical parts of manufacturing our frames, so I began researching the possibility of doing it ourselves. I knew that Robert Reisinger at Mountain Cycles had a heat treating oven for sale that was just about perfect for us, so when he sold the assets of his company, we bought it.

What is a heat treating oven?
Basically, it's a big pizza oven that you put a number of frames into that are held in place with special racks. The frames are heated to a specific temperature that is close to the melting point of the aluminum alloy and held there for about an hour. A tank full of a water and glycol (antifreeze) mixture is rolled below the oven when the frames are ready. The frames are then dropped within seconds into the quench tank, which freezes the frames into an annealed state. When the frames are annealed, they are very soft and pliable – it is called 'zero temper' (T-0).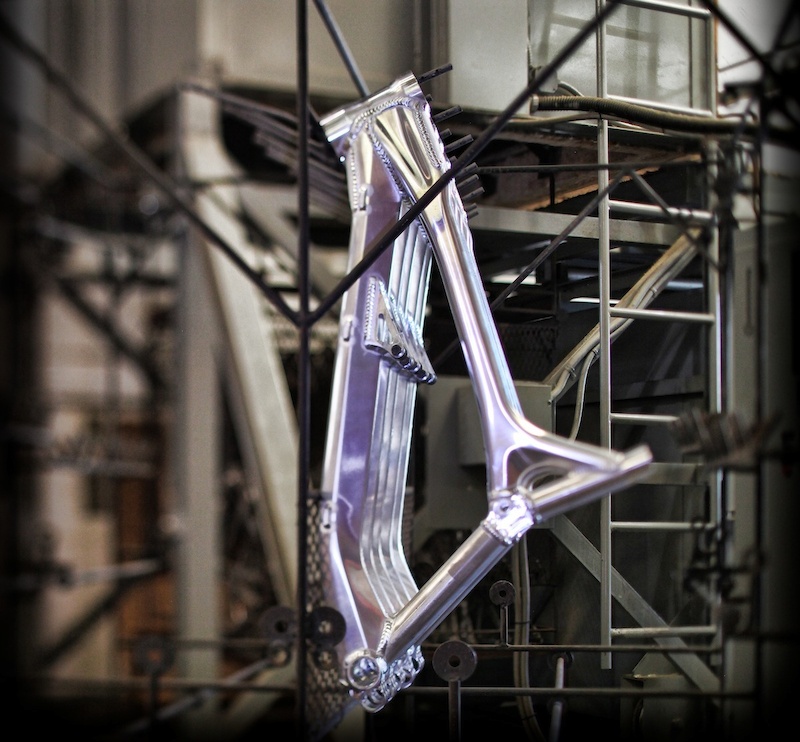 New frames waiting for the oven. The oven is elevated on the framework behind them. The quench tank is moved into place in the space below. Intense photo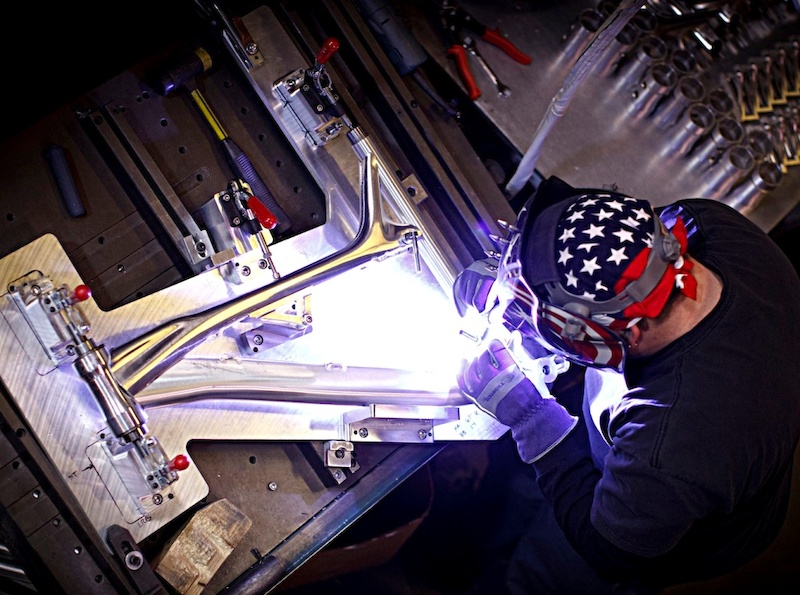 TIG-welding an aluminum Tracer frame: the heat-affected zones in the weld
areas are annealed and would fail without a heat treatment. Intense photo

Why heat-treat the frames?
Actually, we are dealing with different degrees of temper within the different material we make the frame with. All of the different parts of the frame can vary from annealed condition to full temper before the frame is assembled. The tubes can arrive at the T-4 stage, which is about half strength, and the sheet that we construct the hydroformed parts is annealed at the T-0 stage. Machined parts, like the bottom bracket, dropouts and shock mounts are full hard, in the T-6 stage. Also, welding puts stresses into the frame, because the center of the welding zone is essentially annealed and very soft, while the areas around the zone can vary from soft to full hard. So, the heat-treat process is necessary to return the entire frame to a consistent level of hardness – which for us, is the T-6 temper.

Does welding and heat treating require the frames to be re-aligned?
The water/glycol mixture helps the frames cool at a consistent rate during the quenching process, which prevents warping, but there is still some misalignment in the frame that we check for while the frames are annealed. We align the frames within 12 hours while they are soft, on a special fixture, and then we put them back in the oven to artificially age them. The aluminum will automatically begin to harden at room temperature, but the oven gives us control over the final temper, which is the optimal T-6 condition.
A batch of swingarms, just out of the annealing process, await their turn to be checked and straightened on Intense's four-inch-thick, steel alignment table. Intense photo

Explain the artificial aging process:
After the frames have been annealed, the crystalline structure of the various elements within the aluminum is more or less lined up, so when the metal is stressed, they slip over each other quite easily, which causes the metal to be easily bent or deformed. As the alloy is aged at a temperature near 350 degrees F, the crystals begin to gravitate towards each other, which forms uneven pathways for stress within the alloy. This causes the aluminum to resist deformation and it becomes much more rigid. The aging process occurs at 350 degrees for about eight hours in the oven.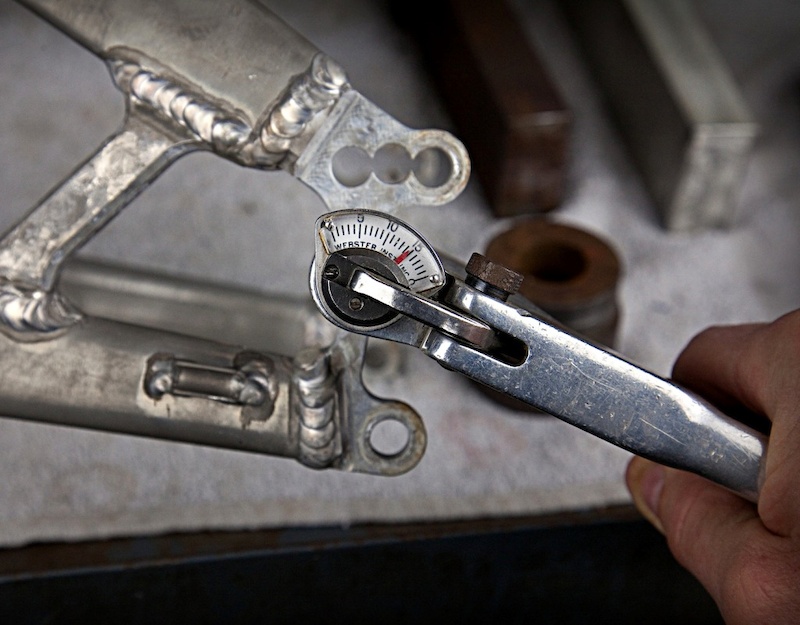 A simple Rockwell hardness test is used to accurately gauge the temper of the
heat-treated frames. Intense photo

How can you be sure that the frames are annealed to the proper T-6 hardness?
We use a simple Rockwell Hardness Tester on every frame that is basically a hand-press with a pointed probe that pushes exactly the right amount into the aluminum with a measured amount of force when the temper is right. Several times a year, we send samples to an independent lab where they perform a strip-tension test that indicates the metal's ultimate tensile strength. We also have our ovens calibrated at regular intervals to ensure consistency.

If a frame is broken, can it be repaired, welded and then re-heat treated?
Well, yeah. It depends upon whether it is repairable. Some say that it may not be
wise to re-heat-treat a frame, but we essentially are re-heat-treating each part of a frame when we first assemble them. The key to building or repairing a frame is that the aluminum cannot be contaminated with paint, grease or any foreign substance. We have a special washer that every part which will be assembled into a frame goes through and we also use it when we do a repair. The fact that 6000-series aluminum can be returned to full strength is what makes it such a good material for a frame - and makes it possible to repair them with good results.

What kinds of aluminum alloys do you use at Intense?
All of our frames are made from 6000-series aluminum. Some parts are 6061, some are related alloys like 6009, and all require the same heat treat process. We use different alloys, like 7075 for non-welded items like suspension pivots, custom screws and rocker arms that we machine which have different strength requirements, and for parts that will be anodized later.
Intense Cycles