This morning the UCI confirmed what appeared to be a lack of 4X on the official World Cup Calendar released yesterday.
Following the publication of the 2012 Mountain Bike calendar, the UCI confirms that Four-cross events will form part of the programme of the 2012 UCI Mountain Bike and Trials World Championships to be held in Leogang, Austria.

However, due to the high costs of constructing tracks and their impact on the environment, the UCI has decided to withdraw this speciality from the programme of events at UCI Mountain Bike World Cups from next season.
-- UCI Official Release
We can only wonder how many top athletes will bother to race and train 4X for World Championships only? There still appears to be a reasonable 4X circuit in Europe or at least parts of Europe, however 4X has been pretty much gone from North America for several years. All of the bigger North American events including Crankworx. the Sea Otter Classic, and the US Open have switched to a GS or Dual Slalom format for the past few seasons.
With Jared Graves committing full time to DH next year he won't really miss it, but how about athlete's such as this year's women's World Champion Anneke Beerten or US 4X racer Melissa Buhl?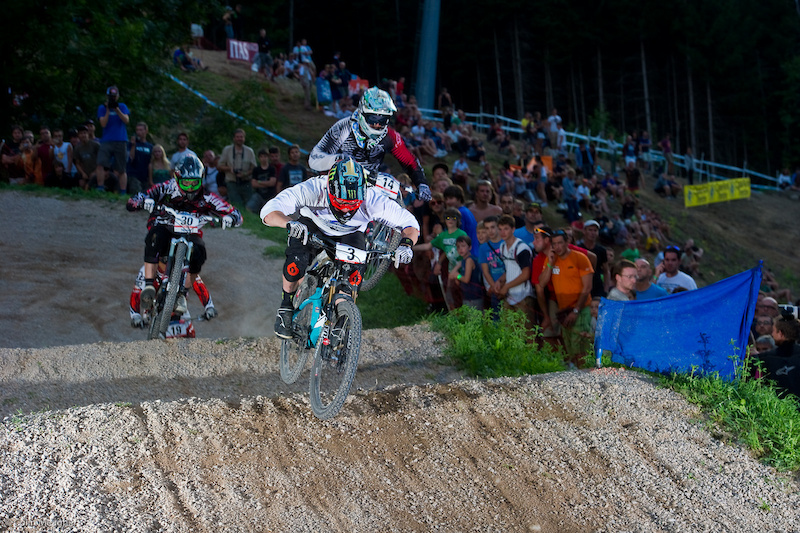 Graves in one of the early rounds in Val di Sole this year. Graves has officially retired from 4X to concentrate on DH next season. Did he see this coming?
While 4X may have been taken out of the World Cup Circuit there is still a decent 4X scene in Europe with several National Series and also the Scwhalbe Euro 4X Series which winds up this weekend in the Czech town of Pec pod Snezkou. We're waiting to hear the results of a 4X Alliance meeting tomorrow morning, we'll post what we find out.
UK 4X racer Scott Beaumont had this to say on his facebook page
| | |
| --- | --- |
| | 4X Alliance statement will be issued on Friday. It's not over yet #excitingtimes -- Scott Beaumont |
UPDATE - read what the Fourcross Alliance have to say in response.
Check back, we'll have more info to come...