Aaron Gwin has just become the first man to win 5 World Cup DH races in one season!
With his win today at Val di Sole Aaron Gwin has become the first man to win more than 4 DH World Cup races in one year. In 2000 Anne Caroline Chausson won 6 out of 8 races on the women's side, but the men's has been stuck at 4 since the second year of the DH World Cup. In 1994 François Gachet won 4 out of 6 races, and starting in 1998 Nico Vouilloz won 4 races a year, three years in a row, but not until now 11 years later has anyone been able to raise that bar.
1. Aaron Gwin
2. Danny Hart
3. Gee Atherton
4. Troy Brosnan
5. Cameron Cole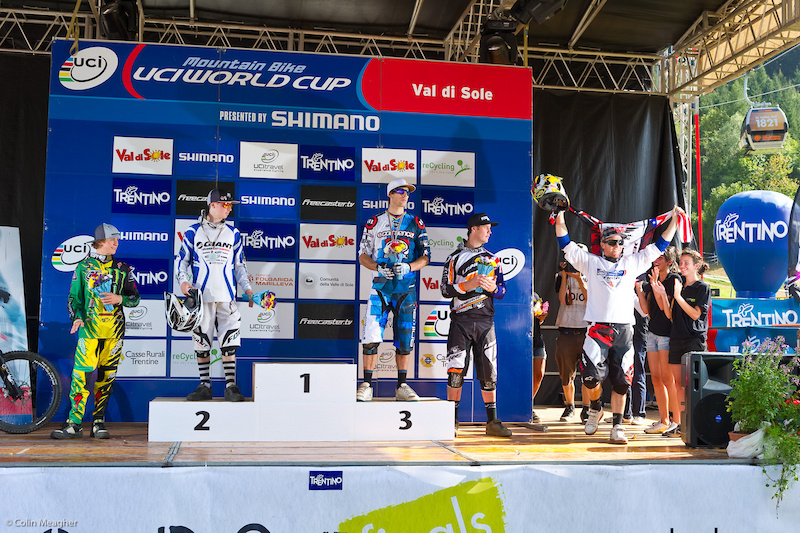 Aaron Gwin taking the historic fifth win for a 7 race World Cup season. Brosnan (4), Danny Hart (2), Gee Atherton (3), Cam Cole (5), and Aaron Gwin (1).
It was a sunny day in Val di Sole and conditions were dry and dusty as the seventh and final round of this years World Cup DH got underway. The hot seat changed hands fairly infrequently after Mitch Ropelato took it fairly early on. Remi Thirion raised the bar by over 4 seconds on his run, and then Neethling took the hot seat before Minnaar took it away from him. Matti Lehikoined put in a solid run to move into to second with 14 riders to go, then Brook Macdonald looked like he might do it but only managed to edge out Lehikoinen for second. Cameron Cole put in a crazy fast run leading all the way down to beat out Minnaar by 0.8 with a 3:16.529, and then we moved into the top 10 and the 3 minute gaps. Markus Pekoll looked like he had a fast run in him but he flatted near the bottom, and then it was Gee Atherton's turn. Gee has won on this track before, and he was fastest by 1.6 seconds at the split with a run that ended up over 2 seconds faster than Cameron Cole. Troy Brosnan qualified 4th and had an amazing run here today, starting a bit slow but moving up at every split. He finished up only 1.6 seconds behind Gee and moved into 2nd, guaranteeing him his first ever World Cup Podium. Danny Hart has had a pretty good year, and showed everyone here that he can do it. In his typical loose style he was 1.6 seconds ahead at the first split and then almost 3 seconds faster than Gee at the finish to move into the hot seat. The way he slashed the final berm was spectacular, roosting the spectators. And then it was Aaron Gwin's turn. Another 2.6 seconds faster than anyone else at the split, he put in a run that was 1.23 seconds faster than Hart. Steve Smith qualified 2nd fastest but didn't run today because of an injury he sustained in practice.