An explosive start at the Swatch Rocket Air 2013. The winning crew of the first team competition at a FMB World Tour Event with a stoking Rapid Fire was Team Scandinavia. The winner of the Best Trick Award is Louis Reboul from France. Today the slopestyle final is taking place at 20 p.m. CET. The 15 best riders out of 28 will be nominated by the judges. Today's show will be broadcasted live here on Pinkbike
The world premiere team battle at the slopestyle Swatch Rocket Air was a huge success. The team from Scandinavia blew the crowd away with a spectacular choreography that led them to the throne. Nobody had a doubt that the atmosphere on Friday night would be amazing. Although the temperature was low, the crowd cheered and still had fun. You could feel the excitement before the Swatch Rapid Fire even started, where one rider follows the other. Seven teams took the challenge on representing their country. The idea was to create a team show where they ride synchronic or in short gaps in order to impress the crowd, as the team with the most applause wins. Team Scandinavia and team UK ruled the first run and therefore achieved the super finale. Söderström, Sjöholm, Thelander, Fredriksson and Tell from team Scandinavia created a standing ovation and captured the deserved victory of the Swatch Rapid Fire team battle.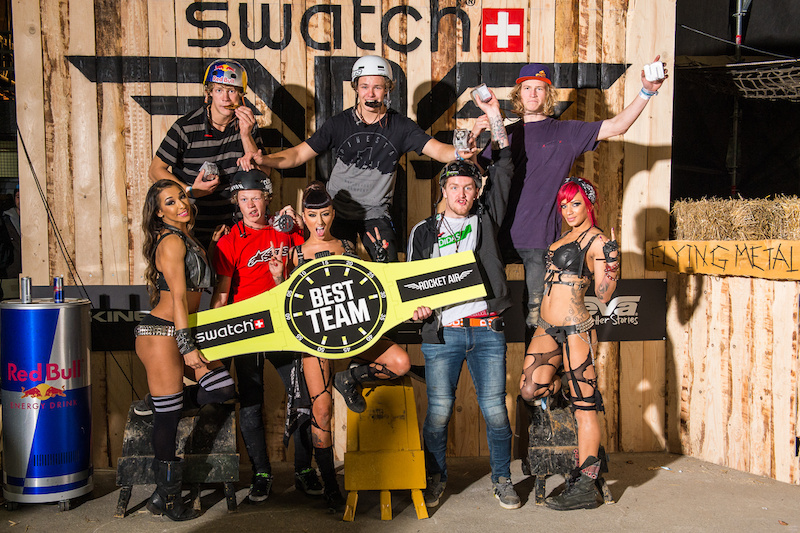 Martin Söderström and Linus Sjohölm during Swatch Rapid Fire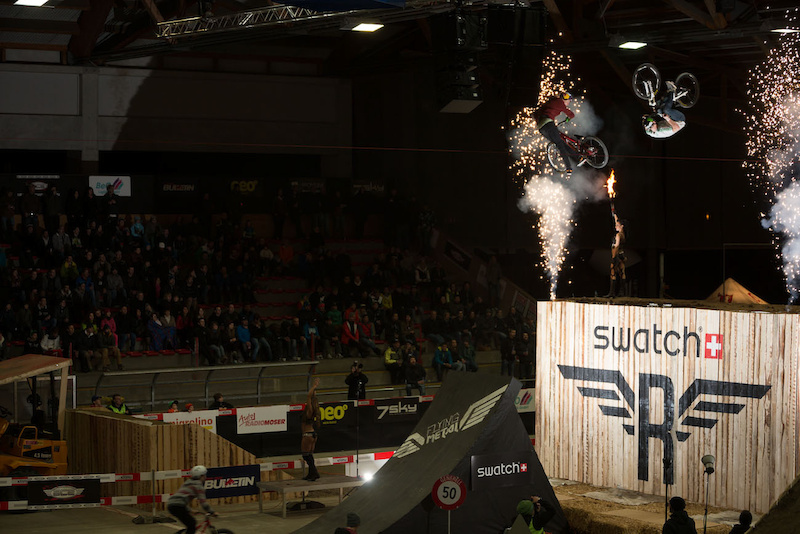 During the team battle the jury picked out Louis Reboul who showed the sickest trick. With a super high flipwhip he deserved the CHF 1000.- .
High-Leveled Prequalification
10 out of 30 international riders passed the prequalification. The riders already went crazy on Friday and put the standard up to a high level, which lets us only guess how fantastic Saturday is going to be. Present at the prequalification were the Swiss slopestylers Joel Porternier, Anders Würsten, Stephen Brullé and Jonas Turin. By only one point Jonas Turin missed the entry into the qualification. Course builder from the Swatch Rocket Air Ramon Hunziker passed directly to the final on Saturday due to his last year's results on the FMB Worldtour. But it won't be an easy one to hold his ground against the other 24 international riders. The Swatch Rocket Air is Ramon Hunziker's first stop on the FMB Worldtour and with this the start of his contest season. He's aware of the high qualification level: "Each rider has to push his limits already during the qualification to reach the final. Nevertheless I know where my limits are and only do tricks I can handle."
Livestream on Saturday evening
Tonight at 8 p.m. the final of the Swatch Rocket Air can be watched live on the Red Bull TV Bike channel. 11am in Vancouver!
The finals will be streaming live here on Pinkbike - check back at 11am PST.
Saturday, April 13th program
• 17:00 - 19:00 Qualification Slopestyle (18+10 Riders)
• 19:00 - 19:30 Super Finale Pumptrack
• 20:00 - 21:15 Final Slopestyle (15 Riders)
• 21:30 Awards
• 22:00 - 03:30 Big Baang Party at Bierkönig Thun
Photos copyright:
Andre Maurer Photography
and
spitznagel.ch
Homepage:
rocketair.ch