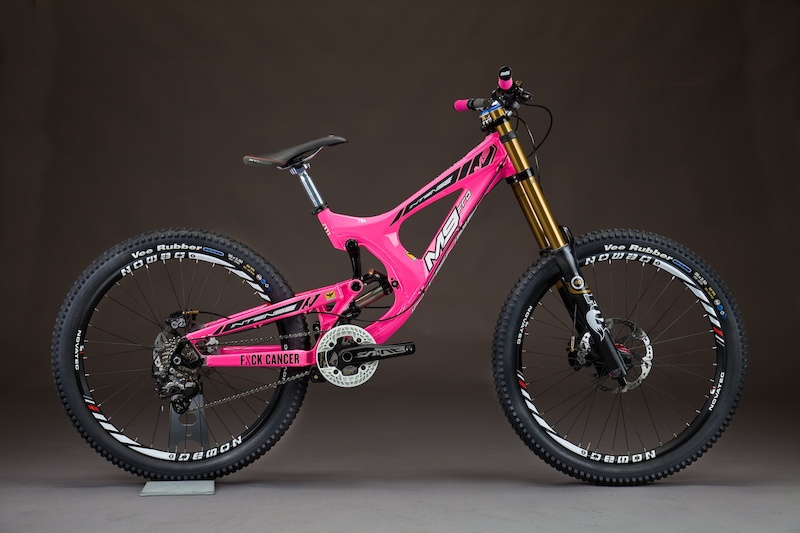 To thank all those that contributed in the battle, a grand prize was drawn at random. The winner of the Custom Pink Intense M9 is Mark Cowperthwaite and this was his reaction when asked about why he supported and his cycling background:
I am Mark Cowperthwaite, 30 years old and I am an engineer. I live and ride in the lake district in Cumbria, UK. I donated as I am a keen supporter of Cancer research since my wife's father was diagnosed with terminal lung Cancer 4 years ago and subsequently passed away 2 years ago. The pain that the family went through at this time cannot be described and anything that we can do to help others either through the pain or even better to prevent then we are only too happy to help.

-Mark
Some Stats and list of winners
:
2275 people donated and we raised a staggering $57,535.77 USD for Breast Cancer Awareness.
· Intense M9 - Mark Cowperthwaite
· Saint Group – Keith Barber
· Saint Group – Anonymous*
· GoPro Black Edition – Matthew Taylor
· GoPro Black Edition – The Taillon Family
· Pink Bike Prize Pack - Erick Gonzalez
· Pink Bike Prize Pack - Prime*
· Strength in Numbers – Jason Liang
· Strength in Numbers – Drew George
· Skull Candy Headphone – Anonymous*
· Skull Candy Headphone – Philip Krook
Your contributions have gone to
:
-Fund support and education programs for young women affected by breast cancer.
-Help support YSC's mission to ensure no young woman faces breast cancer alone.
-Raise awareness that young women can and do get breast cancer.
-Finally, If you want free stickers like on the chainstay,
visit this link
.
Go to the following link (
www.ysctourdepink.org
) to check out the website and have a little read, it is a great organization, doing super human things for people that need our help.
Thanks to Intense Cycles (Frame), Shimano (Saint Groupos), Gravity Components (Bars, Stem and Seat Post), Fox (40 Fork), Novatec (Wheels), CaneCreek (Rear Shock) Vee Rubber (Tires) and ODI for putting this amazing bike together.
*
some contributors preferred to not have their names listed