Chad Hendren and Kyana Livingstone
spend most of their time here in Whistler teaching riding skills to mountain bikers of all levels. Both bagged third places in their respective categories at the Crankworx Air DH. That is called walking the walk on PB's book, and it reflects the dept of talent among the entire coaching staff on the mountain. We caught up with the duo in Whistler Village for a short interview.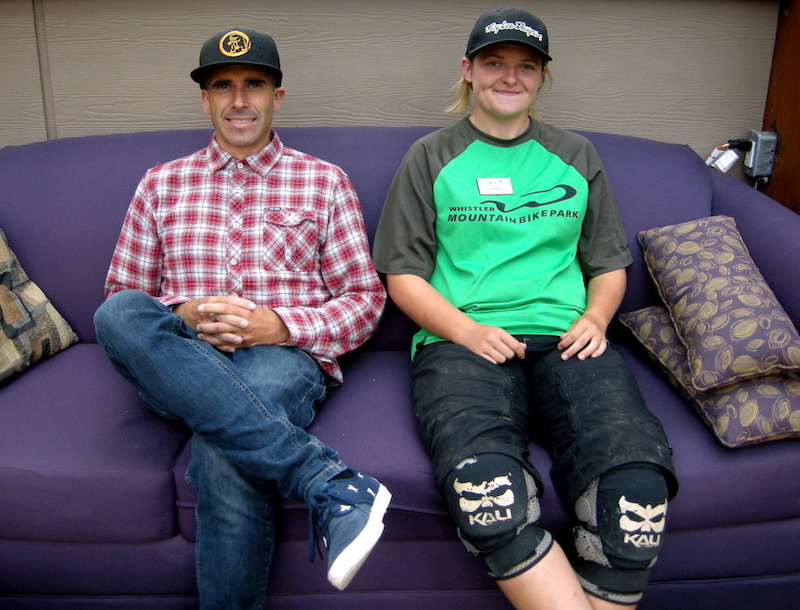 Chad Hendren and Kyana Livingstone take a break from riding duties to talk about riding duties. Chad has been coaching riders at Whistler since 2004. This season is Kyana's first year on the job.
Chad and Kayana have diverse backgrounds. This is 19-year-old Kyana's first season as a Whistler Skills Coach. Chad is 41 and has been coaching on the mountain in some capacity since 2004 when he and Caroline L' Hereux started the park's first DFX program. As the story goes, the acronym originally meant 'Downhill and Four-Cross.' DFX now stands for 'Downhill, Freeride and Cross-Country, and is operated by a different organization. The lion's share of Chad's technical experience was honed during ten years racing pro DH, while Kyana's experience came from freeriding near her home in North Vancouver - the infamous North Shore trails.
| | |
| --- | --- |
| | I just wanted to ride my bike all the time and I found a way to do that. Coaching allows me this lifestyle. - Chad Hendren |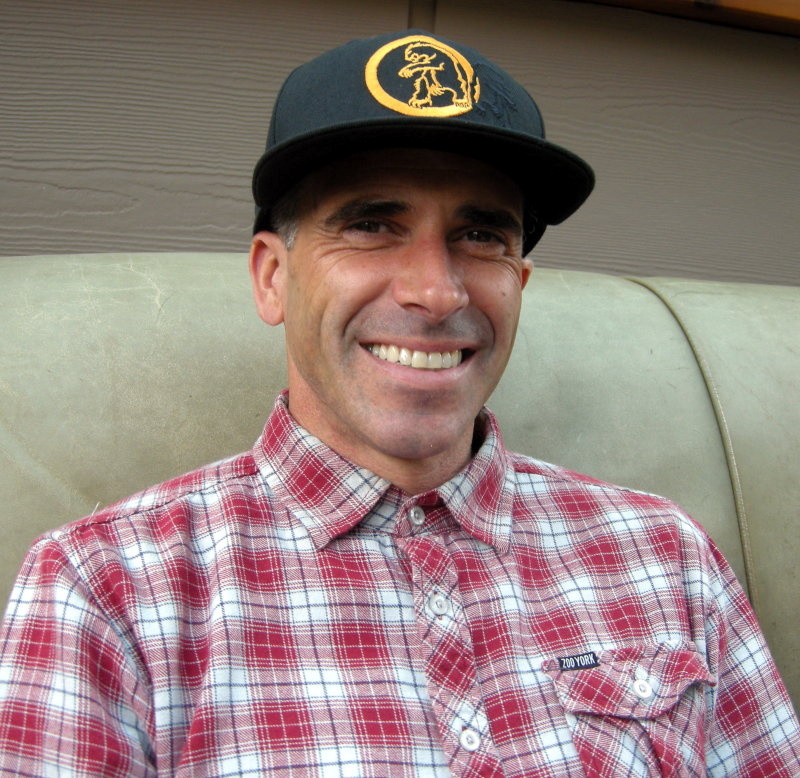 Chad Hendren's DH students include Miranda Miller,
Forrest Riesco and Rene Gaudrin
When asked, "why would a pair of top-level riders choose to spend most of their saddle time herding groups of inexperienced riders instead of shredding the mountain with their friends," they both had similar answers:

"I had a clothing business and then I worked with Sombrio for while," says Chad. "I just wanted to ride my bike all the time and I found a way to do that. Coaching allows me this lifestyle.
Kyana's decision was also a lifestyle choice. "The the riding is good up here," she said. "And I wanted to live in Whistler. I took the Peak Leaders courses and passed levels one and two, and then I was hired as a coach."

Whistler's intensive three-week curriculum isn't an extended check ride. Kyana says she spent many days rolling around a parking lot covering the basics, like dealing with group dynamics, rehearsing potential situations and relearning the science behind the turning, jumping and braking skills that most of us take for granted. When the student-teachers did get onto the mountain, they were scrutinized for proper technique and bike-handling skills.
| | |
| --- | --- |
| | Taking the course felt more like a three-week job interview, because the instructors you were riding with were the ones who were going to hire you. - Kyana Livingstone |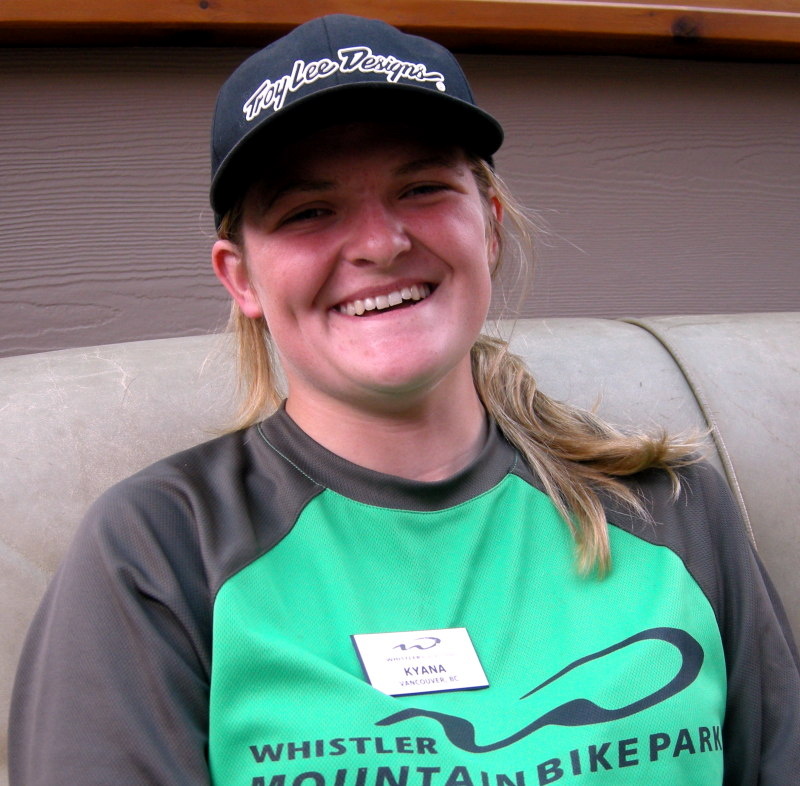 Coach Kyana Livingstone teaches the science of cornering,
braking, standing, pedals-level and body position.
Kyana teaches mixed children's groups and adult women at the park's DFX program, while Chad has been busy teaching a three-hour skills training and race-preparation clinic for men, in conjunction with Whistler's summer-long Tuesday DH race series. Coaches learned early on that dividing the sexes reduced conflicts and improved the experience for all involved.

"If I am coaching adults," Kyana agreed. "The guys, mostly want to go fast everywhere and don't tend to pay attention. With children, it doesn't matter if they are boys or girls, everyone wants to learn as much as they can so we can get on the mountain."

Either way, the two coaches get a lot of trail time on the mountain, which one would assume, gives them a local advantage over their competition at events like the Air DH.
"It helps when you are racing the lower divisions," says Chad. "But not in the pro class. Pros come out here, do two or three laps, and have the courses memorized. The enduro is where local knowledge can be helpful - you pretty much have to be a local rider to memorize the trails for all the stages."
Kyana is a ripper, although her racing experience is minimal.
She raced DH as a junior and has entered a few DH races since, but she admits that she is a freerider at heart. "I only like courses with lots of jumps," she laughed. "Like Garbonzo and A-Line."