Rachel Atherton is back!
Women's top 5
1. Rachel Atherton
2. Floriane Pugin
3. Tracy Moseley
4. Myriam Nicole
5. Emilie Siegenthaler
Full results at bottom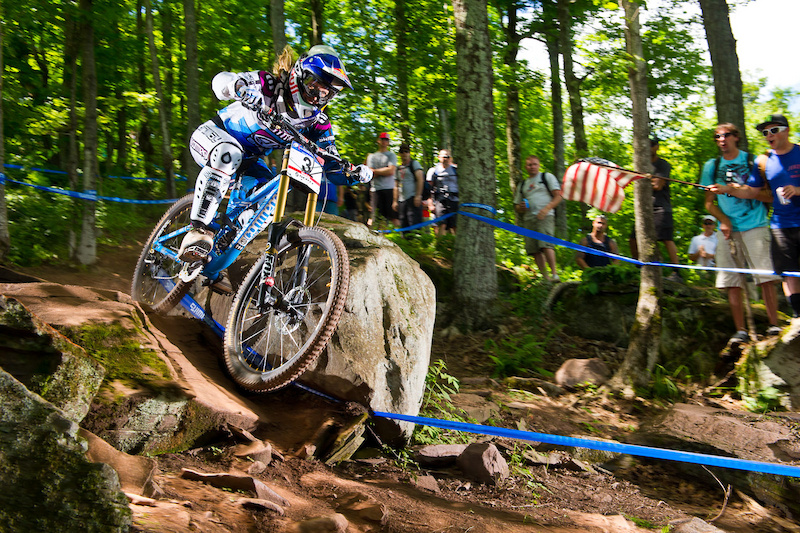 Rachel, back on top!
Women's Podium
The women's race started off with Canadians in the lead, Miranda Miller held the hot seat for several riders before Micayla Gatto took it from her with more than a 3 second advantage. Micayla held the hot seat for a while until Sabrina Jonnier took it away with 1.5 second lead with 8 riders to go. From that point on it went to Emilie Siegenthaler, then Myriam Nicole with a really quick run and a 4.6 lead, "look at the time!" Myriam held the hot seat for only one rider as Tracy Moseley ran next and moved into the lead by 1.38. "look at the time!" again. Rachel Atherton is back! With the fastest splits and a 2.67 second lead on Moseley and only Pugin to go Rachel moved into the hot seat. Pugin had some problems up top and although she looked to be moving really fast at the bottom she couldn't make up the difference and Rachel took the win. It's been a bit of a comeback for Rachel, but she won this event last year and really liked the fast track, it's great to see her back up on top!
Jill Kintner had some troubles up top, and while she looked fairly fast in the bottom sections she ended up 12 seconds back. Emmeline Ragot looked to be having a fast run but crashed in the the lower rock section in a similar spot to Melissa Buhl's crash early on. Even with the off the bike crash Emmeline still ended up in 8th place.
38739 DHI WE Results
38739 DHI WE Standings