Without
doubt, the most interesting bike at this weekend's
London Bike Show
is Empire's 3D printed titanium trail bike. Based on the brand's innovative 6in-travel aluminium MX6, the titanium prototype is a collaboration with additive manufacturing firm
Renishaw
and was built in the UK. We spoke to Empire's Chris Williams about the project, and about 3D printing's likely role in the future of the bike industry.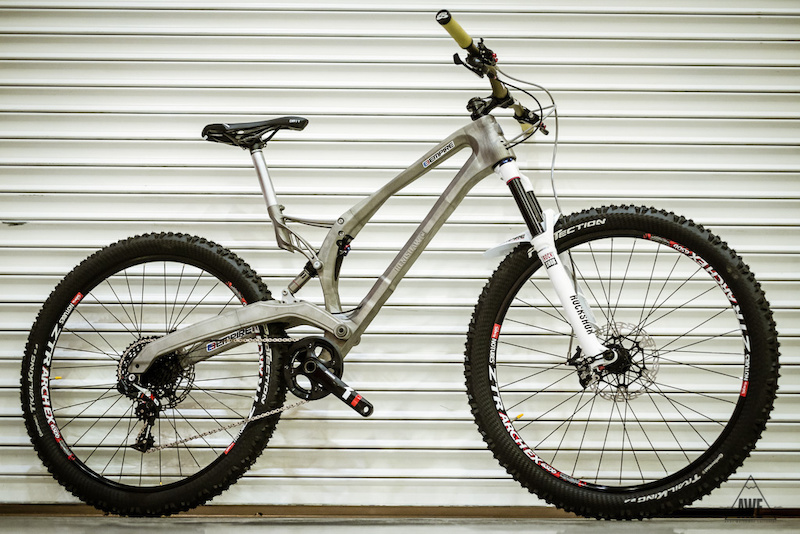 The version on display was purely for show, but a rideable version has now been built and will be ridden in the coming weeks
The version on display at the show isn't rideable, but it had just come back from lab testing in Germany, where, Williams tells Pinkbike, "We tested the seat tower and surpassed the standard by six times, and that gave us the confidence to build the rest of the structure which we're now going to test properly and ride. It's genuinely the first time this has been done."
While we've seen 3D printing used in the bike industry before, notably on
Charge's titanium dropouts
, this is the first time a complete frame has been built in this way.
The complete bike is made up from nine separate components. Each component is designed to fit with a 250mm square build area no higher than 300mm, so we've tried to keep them as big as possible, then make a bonded joint on the end of each part that is designed to keep the adhesive within the joint.
- Chris Williams
"What I've done here is rather than building a small component that fits into the build area many times" says Williams, "I've taken large components and broken them into smaller pieces to fit into the build area. I think we'll see more of this in the future. This is the very forefront of it, because I started this project six months ago, and the other week Renishaw told me that if I'd approached them six months earlier, they would have had to decline the project. It's such cutting edge technology."
3D printing makes the prototype frame 1400 grams, 700 grams lighter than the aluminium MX6 without forfeiting strength, thanks to
topological optimization
of the structures.
Six months to build a frame probably sounds like quite a long time to you or I, but in engineering terms, it's nothing. "We were starting from nothing" says Williams, "there's nothing in the world like this, so we were starting from scratch so I think that timing is actually very quick. And to go to a rideable product that quickly is unheard of."
All the components on the bike have a nominal wall thickness of 1mm, including the seat tower which looks like it's a solid piece of metal but is actually hollow. "You can create structures that you can't create in any other way" says Williams. "You can't cast them, you can't mill them because they're hollow. You have to really change the way that you think in terms of your design to get something that works and is optimised for the process."

The way the material is laid down creates a strange feel, looking somewhat like a carving with its soft finish. The seat mast on the right is completely hollow
At present the process uses titanium, but Renishaw is now working on transferring the process to aluminium. "Aluminium is a little bit tricky" says Williams, "because it reflects a lot of the energy of the laser, so you need a higher powered laser and a more expensive machine."
Williams says that the current prototype is a showcase of what Empire and Renishaw are able to do, but that in the future it may make sense to create some type of hybrid structure, utilizing 3D printing for some parts whilst using more traditional methods for other parts.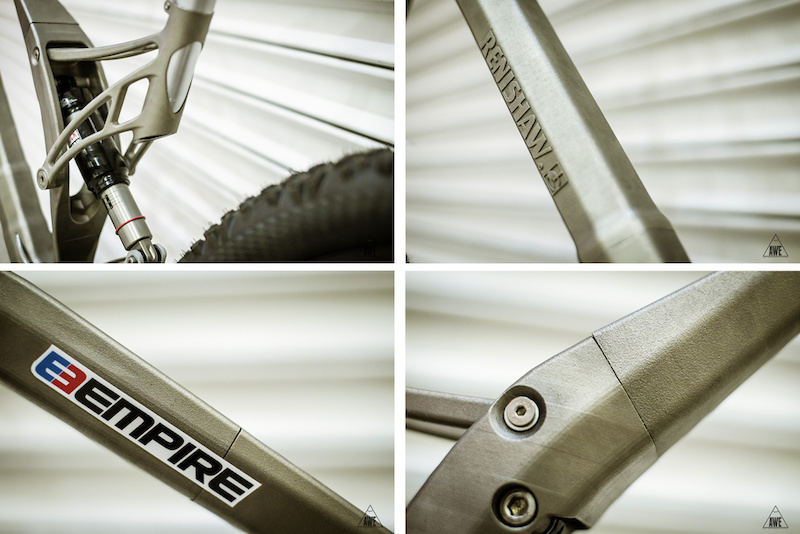 Williams describes the project as a showcase for what both Empire and Renishaw are able to do. Also, notice the bonds on the tubes - a result of having to fit the manufacturing process into a small volume bloc
"We've always done things that are different, but we've always been upfront about it", he says. "This is a showcase and a learning experience for everyone involved. It may well be that we end up with a hybrid structure of titanium and carbon components, we don't know, but we're never going to know until we try. This is just my first take - not how it should be, but how it could be."
It's unlikely you'll see Empire's 3D printed Ti trail bike in a bike shop near you any time soon, but it's an incredible project and gives us a fantastic glimpse of the future of bike manufacturing. For the time being though, Empire are concentrating on selling their equally innovative
MX6
, a UK made 6in-travel trail bike that easily swaps between 26in and 650b wheelsizes and comes in at under £1000 frame only.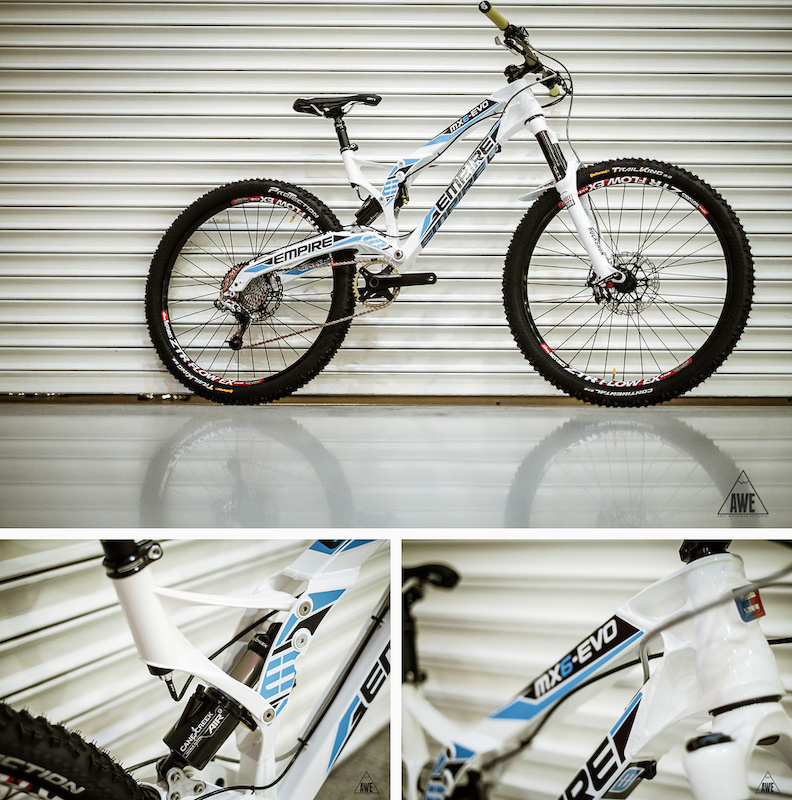 For the moment, anyone wanting to try an Empire will have to make to with the British designed and manufactured aluminium MX6
empire-cycles.com