X-Fusion has been gaining traction, both as a competitor to Fox and RockShox in the OEM market, and in bike shops that serve enthusiast-level aftermarket suspension customers. X-Fusion sent us a 2012 Velvet fork and O2 RCX shock tuned for our Santa Cruz Blur LTc test sled and we returned the favor by putting some quality miles on both to assess the longevity and performance of two suspension products that we will be seeing a lot more of on medium to upper-end trailbikes.
---
Velvet RL Fork
Velvet series is positioned as an XC/trail fork and its design and construction follows the time-proven blueprint established by Fox and RockShox – cast-magnesium sliders with reinforced offset axle mounts, 32-millimeter hard-anodized aluminum stanchion tubes, a forged-aluminum crown and post-mount brake caliper bosses. The Velvet's air spring is in the left stanchion, with its damping cartridge in the right side. Its red low-speed rebound control is below the slider, with a blue, lockout dial on top. X-Fusion offers tapered (1.5 x 1.125-inch) or a straight, 1.5-inch steerer tubes for aftermarket sales. Weight for the RL version is around 1812 grams, depending upon steerer-tube length, and the MSRP is around $450 USD.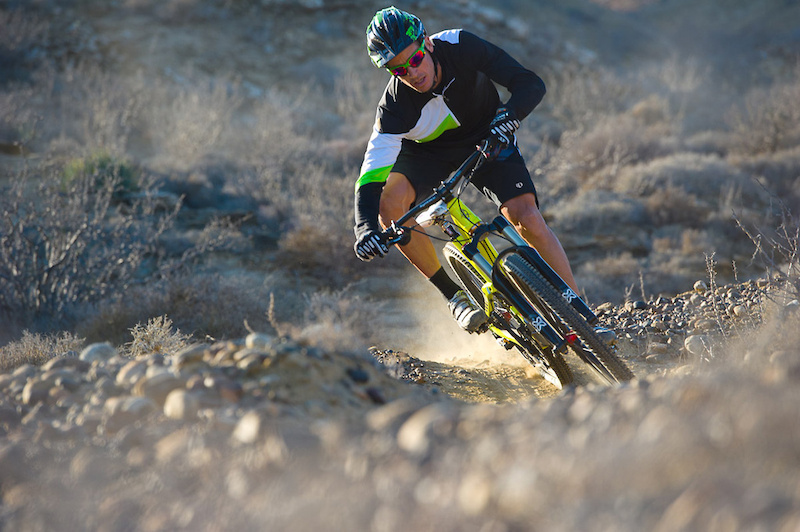 Brian Lopes rides an X-Fusion Velvet fork. Brian, who recently signed on with X-Fusion tipped us off on the fork's excellent mid-stroke stability. After pounding out some miles on the fork, we'd have to agree. Ian Hylands photo
Velvet Options
Axle options are the Syntace X-15, 15-millimeter through-axle or a conventional 9-millimeter quick release dropout. X-Fusion supports 26-inch or 650b wheel-sizes with the same platform using plastic spacers and its unique internal travel adjustment that can be set by moving pins up or down a series of holes in the limit rod on the air-spring-side. Standard travel is 140 millimeters, and by using the 'pin ladder,' the Velvet RL's stroke can be configured to 80, 100, or 130 millimeters. The more-expensive Velvet DLA (Down Low Adjust) fork has a crown-mounted dial that allows on-the-fly travel reductions (from 80 to 120 millimeters, or from 130 to 140 millimeters). Color options are white or black. If that isn't enough, Velvet forks can also be configured with a handlebar-remote lockout.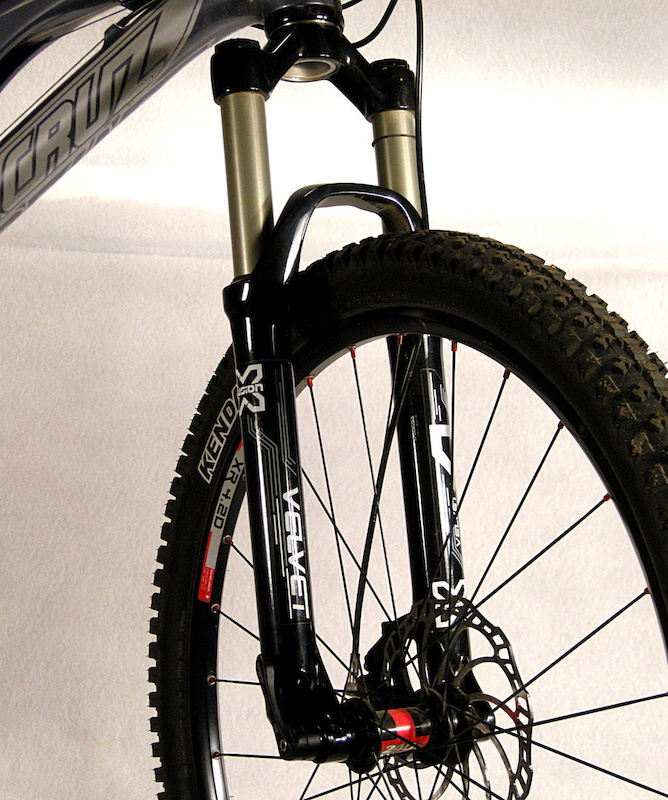 Meet the Velvet fork. With 140-millimeters of travel and sport-tuned damping, X-Fusion targets its 32-millimeter-stanchion slider at the aggressive side of the XC/trail spectrum.
Damping Upgrade
This year, X-Fusion revamped its cartridge damper with a modified compression tune that is intended to keep the fork from blowing through its travel in the mid-stroke. The new tune is the product of a second compression valve that sits below the primary washer stack. The Mid-stroke valve does not affect fluid flow through the primary washer stack until it opens all the way - then the mid-stroke valve monitors the volume of oil that can flow past. This frees the fork to suck up small bumps, but slows it down when it receives a full-travel impact. The new tune stabilizes the fork under hard braking and while descending steeps. We heard about the new valving from X-Fusion team riders who had been pre-running the 2012 forks this Winter. The buzz was that it made a noticeable improvement over its competitor's fork, so we were more than curious to see for ourselves.
Riding the Velvet RL
Before you pass judgment on X-Fusion's premier XC trail fork, give it a few hours of riding to break in the seals and bushings. That's about how long it took for the Velvet to live up to its name. We found that setting the sag to 25-percent required the spring pressure to be slightly less than half of our riding weight (body and gear). Five psi less was a good starting point, with the rebound set on the light side – just enough to feel it after manually compressing the fork. If you want a plusher feel, or you are not achieving full travel, then subtract another five psi from that figure.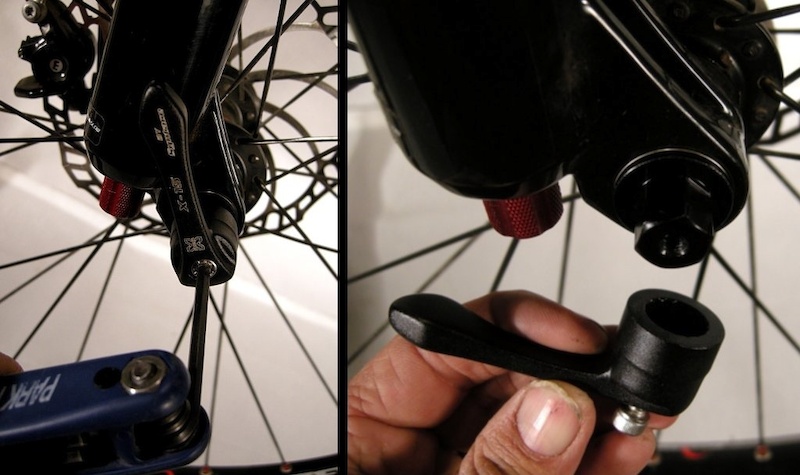 Syntace's X-15 axle system simply screws in with its stout handle. Once it is tight, simply remove the handle with a 4mm Allen key and clock the handle to your preferred position. Snug up the screw and the handle always returns to the same place.
Mid-stroke magic:
X-Fusion lives up to its promise of less brake dive and more stability on descents. The Velvet makes the most of its 140-millimeter stroke by not wasting it over chatter and braking so that the fork is poised and ready for larger events. We found that we could lean on the front wheel for aggressive turning and to commit to roll into drop-in sections. The firmer-feeling mid-stroke compression damping added a measure of confidence by keeping the bike balanced front-to-rear, which gave us a better feel for where the wheels were and how the tires were biting.
Racing tune:
The payback for the Velvet's sweet technical handling was that some of the trail's pounding is communicated to the rider's hands and upper body. The Velvet sucks up full-travel hits quite well and its small-bump sensitivity is quite good. The slight harshness is transmitted when the bike is banging over sharp impacts that are well within its range of travel, like imbedded stones, roots and stepped rock sections.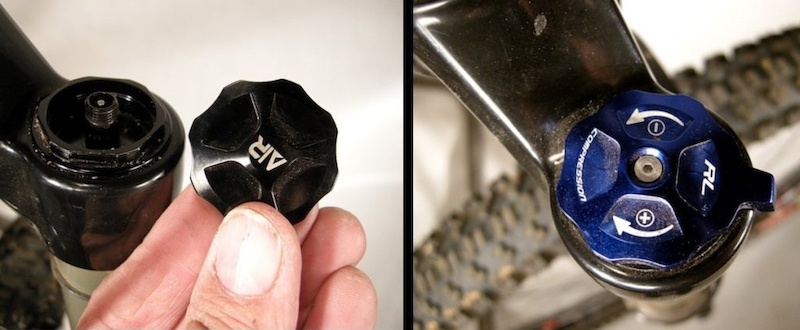 A machined aluminum cap protects the Schrader air valve in the left-side stanchion. The right side features the on/off lockout dial.
Full-travel events:
X-Fusion's 140-millimeter trail fork can be trusted to handle bad landings and unexpected G-outs. It's big-bump performance is on par with the best in its class, meaning that it bottoms rather softly, and it well-controlled rebound nullifies any tendency to bounce out of a full-travel event. We expect to sense flexing when we ride forks with 32-millimeter stanchion tubes. In this aspect, the Velvet also shines - with a rigid feel when we slapped it down landing flat, or when cornering through embedded rocks. No, it won't match a 36-millimeter-stanchion AM fork, but it never feels wimpy.
Climbing and acceleration:
Pedaling performance is good enough in the Velvet's wide-open position to discourage all but the spandex crowd to forego turning the blue dial to firm up the fork. If you hate fork movement when you pounce on the pedals, however, then X-Fusion has a pleasant surprise waiting for you. Switch on the pedaling platform (lockout) and the Velvet firms up dramatically – enough to hit the tops of every roller out of the saddle without feeling a hint of fork bobbing. The dial has a strong detent on the lockout position that offers only an open or closed option, so like us, you'll probably only use it for smooth, extended climbs or on pavement.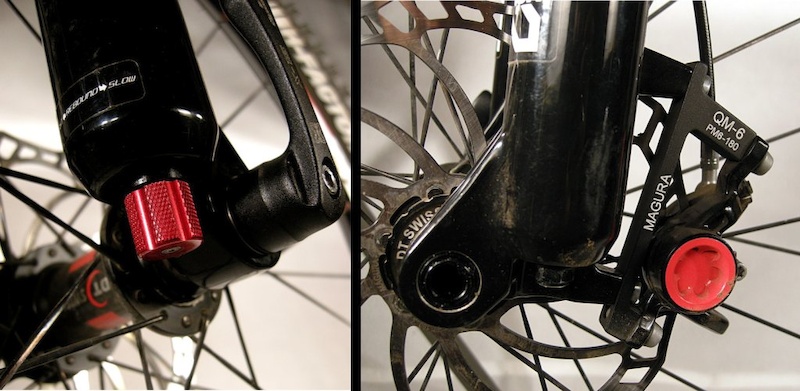 The Velvet's large, easy to access low-speed rebound dial sits below the right-side slider. All X-Fusion forks have post-type brake caliper mounts.
Pinkbike's Take:
| | |
| --- | --- |
| | X-Fusion's racing roots are evident in the Velvet's decidedly sport-tuned damping performance. This is a good fork for riders who push the limits of traction around every corner and envision every sizable bump in the trail as a kicker. The feel is like a dual-slalom racing fork with an inch more travel and with softer trail damping. The Velvet is a fresh take on the classic mid-travel XC/trail slider for riders who want the lighter weight of a 32-millimeter stanchion fork platform with a tune that will get them within reach of the 36-millimeter-stanchion AM guys when push comes to shove. - RC |
---
X-Fusion O2 RCX Shock
If there is just cause for X-Fusion to throw everything they had into one product, it would be its O2 air-sprung shock. If it could dislodge a fraction of Fox Racing Shox's stranglehold on the cross-country/trailbike rear suspension market, X-Fusion would be in the chips. Convincing OEM and aftermarket customers to choose its O2 damper, however, will require more than dialed-in suspension performance. X-Fusion must also establish a history of no-hassle reliability before its O2 RCX shock will start rolling sevens. X-Fusion is hot on the trail to success in both aspects, with OEM Spec on the best brand names and a growing respect among upper echelon riders. The O2 series shock comes in three configurations: The RCX (our test model), a remote lockout version called the RLR and two OEM models with fewer options.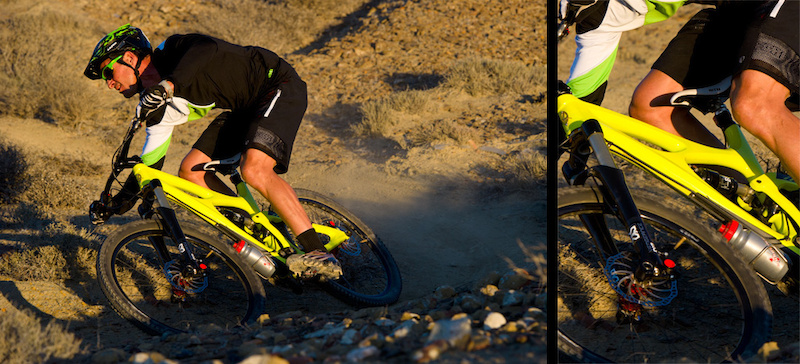 Paired with the Velvet fork, X-Fusion's O2 RCX shock provides a stable, firm-feeling platform for hard-charging riders. Ian Hylands photo
O2 RCX Shock Walk-Around
Looking at the profile of X-Fusion's well-constructed O2 RCX shock does not reveal its secrets. The chassis follows conventional design with a hard-anodized damper body sliding inside an aluminum air-spring canister, which can be fitted with an external air sleeve to control the ending-stroke spring rate. Up top, the O2 RXC has a four-click low-speed compression lever stacked on top of its low-speed rebound dial. X-Fusion designed the detents of both adjustments to be ultra positive – which is a good thing. Each position has a distinct feel, so there is no ambiguity to the tuning process.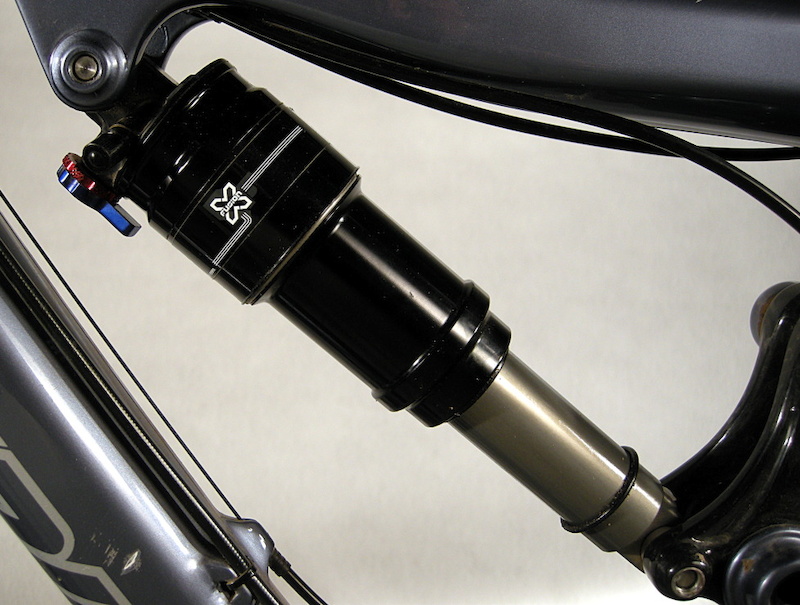 Up close and personal, the O2 RCX has quickly grown from a value-priced shock to a high-performance suspension product that offers XC/trail riders a "race-tune" alternative to established industry leaders.
Invisible to the casual viewer are the shock's most important features, beginning with sized bushings in the shock eyes for smooth action and redesigned seals throughout. Inside, the shock shaft is aluminum and both high-speed and low-speed damping has been revamped. To ease the tuning process, there are separate circuits for low-speed rebound and compression adjustments. In its lightest (smallest stroke) configuration, the O2 RCX weighs 218 grams, which is quite competitive. X-Fusion makes the RCX in seven eye-to-eye and travel lengths, and it offers dedicated tunes that cover nearly every bike in the Trail/XC category. Expect to pay about $420 for the AV air sleeve-equipped models and $380 for the base model RCX.
Four-Way Compression Damping
X-Fusion foregoes the need for a dedicated pedaling platform circuit with an adjustable low-speed compression circuit that is keyed into the blue lever. The open position allows a portion of the fluid to flow freely through the center of the shock shaft and bypass the primary compression circuit. The remaining three positions compress a spring-loaded check valve that raises the pressure threshold necessary to get the fluid flowing through the bypass circuit. The effect is three useful compression tunes with the full-slow, number-four click acting less like a viable tune and more useful as an ultra-firm pedaling platform.

O2 RCX shocks feature a four-option low-speed compression lever (where most expect a pedaling platform feature) above a conventional rebound dial. The detents are crisp feeling, so a rider can make mid-flight adjustments with gloved hands if necessary. (Right) Our test shock featured the optional air-volume sleeve to reduce the end-stroke spring rate
Riding the O2 RCX Shock
X-fusion's O2 RCX is good news for anyone in the market for an air shock. Installing the damper was as easy as it gets, with the supplied hardware precisely fitting the Santa Cruz Blur LTc shock mounts. Setup was also a no-brainer, we set the shock pressure at 30-percent sag to keep the VPP suspension riding in its sweet spot and then turned the low-speed rebound dial in until we just started to feel it slowing down the rear suspension. One click of the red rebound dial makes a significant change in the damping, so approach your setup one click at a time or you will likely to overshoot.
Small-bump compliance:
While not as smooth as a dedicated gravity damper, X-Fusion's RCX trail shock worked the chatter quite well, and its performance over small hits is as good descending as it is climbing up and over steps and roots. We tried various tunes and spring pressures and experience taught us to err on the soft side of both the spring and low-speed rebound damping. The shock maintained its ride-height quite well (this is also a characteristic of the Blur LTc) and transitioned smoothly from mid-travel to full travel when the suspension spiked over a G-out or full-travel smack.
Big bump performance:
Some of our testing was done on trails simply carpeted with imbedded baby head rocks, which required an ultra-fast tune on the low-speed rebound. Normally, this would make the rear end bouncy when the suspension rebounded from a full-travel hit. This was not the case with the O2 RCX. The internal high-speed rebound circuit controlled the second half of the return stroke and then made a seamless transition to the low-speed circuit as the shock neared the suspension's ride height. This indicates that the internal rebound valving is speed-sensitive.
Playing with the compression lever:
Dirt jumpers, or anyone who pops the rear suspension to get more out of a kicker will probably use X-Fusion's four-position compression lever a lot. The first two positions are useful tunes for suspension performance. When we ran the fork's spring pressure a bit on the stiff side, we used one click of compression on the shock to keep the bike riding level. The second click gives your legs something to push against to get extra air from small ramps and kickers. Three is more of the same, while position four feels more like a super-firm pedaling platform than a ride-quality choice.
General notes:
By now, you may get the idea that the O2 RCX shock is perfect over all types of terrain. Truth be told, no short or mid-travel shock can make that claim. From top to bottom, the RCX rides on the firm side of plush, so the rider feels everything that is going on beneath the bike. Firm is not bad, however, and the RCX covers the spectrum from chatter-bumps to full-travel events in a seamless manner that lets you forget about the shock and concentrate on riding – which is the hallmark of well-tuned suspension.
Pinkbike's Take:
| | |
| --- | --- |
| | The O2 RCX shock does not offer revolutionary innovations, but its sharp performance earns it an invitation to the high-performance trailbike club. Those who judge a shock purely on the plush scale may find the RCX's ride a bit too firm. That said, the RCX is the right fit for experienced riders who push their bikes to the outer edge of the performance envelope. Anyone who wants a close approximation of a factory race-tuned shock can now buy one off the rack from X-Fusion. - RC |
---
---