The Pietermaritzburg World Cup round kicks off the season earlier than ever before, meaning that many teams are working hard to get their race bikes sorted and delivered to the South African venue in time. Yeti are one of a few teams who are debuting a new machine at the first stop of the season, although they seem to have gone about it in a much quieter manner than most of the competition - no press releases, no secretive videos or blanked out photos, and no build-up. Instead, just a few simple photos were posted to the
Yeti Facebook page
that showed team riders Jared Graves, Richie Rude, and Eliot Jackson, along with Yeti videographer John Reynolds, all looking pretty chuffed about the new carbon frame in front of them.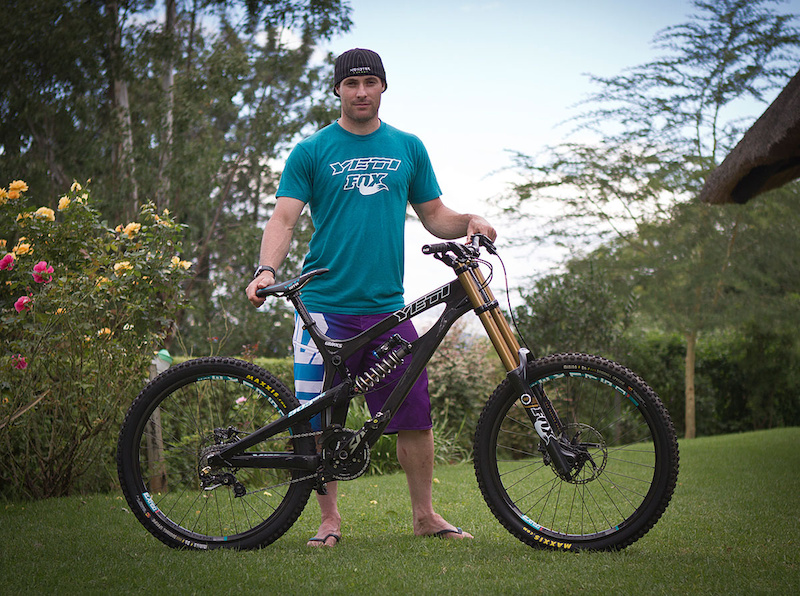 A very fit looking Jared Graves poses with his Pietermaritzburg World Cup race bike, Yeti's brand new 303wc Carbon.
The 303wc Carbon pictured in front of Graves is just one of two in existence at this point (
with the other at Yeti's Colorado headquarters for internal testing
), but that's not to say that there might not be others that employ different carbon layups, or even altered frame layouts, that have been built for testing purposes. "
The 303wc Carbon frame has been in the works for about 15 months,
" Yeti's John Pentecost told Pinkbike, "
but the basic frame layout and design started almost 3 years ago
", meaning that Yeti has likely put a number of different variations though testing.
| | |
| --- | --- |
| | It's just a special race project for now - we want it to be tested pretty hard under World Cup conditions before we consider releasing it for sale. We do not have a release date in mind yet. - John Pentecost, Yeti Cycles |
The big news here is, as the bike's name suggests, its carbon fiber front triangle. The carbon front end features very similar lines to the 'standard' 303wc that the team has been riding, and uses the exact same suspension mounting points and swingarm (
not to say that we won't see a carbon swingarm in the future
), meaning that the new bike features the same 8.25'' of rear wheel travel as it's aluminum brother. Hidden up against the seat tube is the bike's vertical rail that the swingarm mounted shuttle travels up and down on. While the upper link controls the bike's suspension rate, the vertical rail determines its wheel path. This means that the new 303wc Carbon makes use of the same wheel path as the aluminum version, although Yeti could certainly alter this by simply changing the angle of the rail.
The carbon frame utilizes a tapered head tube and threaded bottom bracket shell, as well as integrated fork bumpers.
We don't have an exact weight figure to compare to the 9.9lb frame weight of the aluminum version, but it's a safe bet to say that it is likely 1.5 - 2lbs lighter. "
You're in the ballpark, but that's as much as I can say,"
was Pentecost's cagy reply when questioned about the weight savings,
"As with all of our bikes, we'll build it as light as possible while still meeting our strength and durability requirements.
"
Pinkbike's Take:
| | |
| --- | --- |
| | They may have not gone out of their way to attract attention to the new bike, but its arrival doesn't surprise us given the all-mountain SB-66's carbon frame that we showed you from Eurobike. Yeti is a very race oriented company, building bikes for racers from day one, and the 303wc Carbon is no different. Even though the aluminum framed 303wc is just now slated to begin shipping in about three weeks, World Cup team rider Jared Graves already has a carbon version. Word is that Graves has dropped an impressive 30lbs of body weight in his switch from 4X to focusing on top level downhill racing, and we're betting that he very much looking forward to using that fitness on the pedal-heavy Pietermaritzburg World Cup track aboard the new 303wc Carbon. - Mike Levy |
Photos courtesy of Yeti Cycles
www.yeticycles.com