How do you improve upon an already well received aluminum mountain bike? Well, how about making a carbon version, shedding over a pound of weight in the process? That's just what Yeti did with the SB95, taking the same geometry and suspension layout of their popular 5" travel 29er and constructing it completely from high modulus carbon fiber. The resulting frame is a thing of beauty, something closer to what would be found in a modern art museum rather than ripping through the mud and loam out on the trails. Available in either carbon or turquoise, the SB95C frame only retails for $3,000 USD, with complete bikes ranging from $4,700 to $7,800 USD.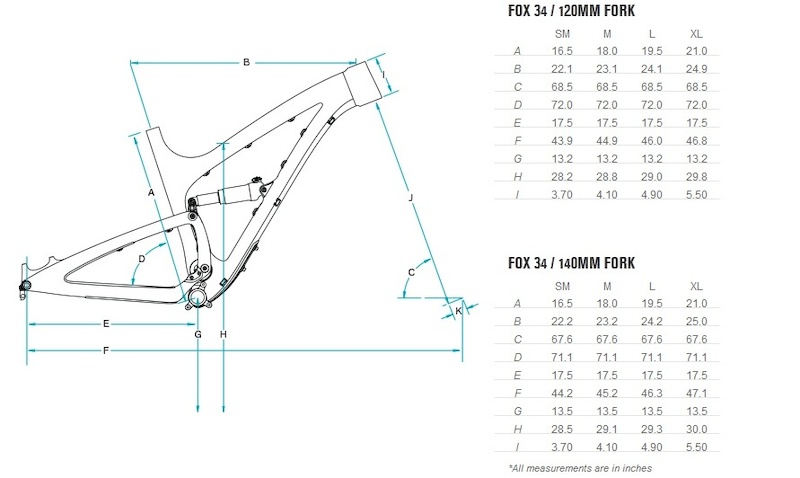 • Purpose: Trail
• Rear-wheel travel: 127mm / 5"
• Hi-modulus carbon frame
• Tapered headtube
• 12 x 142mm rear axle
• Switch Technology suspension
• Weight:29.06lbs (without pedals)
• Sizes: S, M, L, XL
• MSRP: $6200 USD
Frame Details
The SB95C has all of the required features of a modern mountain bike, with a tapered head tube, dropper post cable routing, the option of adding on ISCG tabs, and a 142x12 thru axle in the rear. Other niceties include custom chainslap guards on the rear triangle, and a downtube frame protector to ward off any rocks or other flying objects. Most of the housing is routed along the top of the down tube, with only the front derailleur housing running along the underside of the frame. Purely from an aesthetic standpoint, we'd love to see the internal cable routing found on the rear swingarm expanded to the rest of the frame, possibly with the option to run a stealth post. There's nothing wrong with the current configuration, but additional internal routing would take this already clean looking frame to the next level of drool-worthiness. The SB95C's Switch Technology suspension layout takes up the space where a water bottle would normally be mounted, but Yeti has included one mount on the underside of the frame. It's a useable location, but one that's certainly more prone to coating a water bottle in mud on those wet rides.
Yeti's Switch Technology
As with the SB66 and the aluminum SB95, the SB95C uses Yeti's
Switch Technology
, a suspension design that uses an eccentric pivot to alter the wheel path of the bike. Initially, the link rotates counterclockwise, with the intent of creating an efficient pedaling platform by using chain tension to slightly stiffen the suspension. As the rear shock sinks deeper into its travel, the link's path changes directions, and it begins to rotate clockwise, a motion that removes the majority of the chain force from the suspension in order to help with large bump absorption. The Switch eccentric is tucked low on the frame, just above the bottom bracket, and rotates on sealed cartridge bearings. Additional o-ring seals are also in place to provide further protection from moisture and grit. No special tools are required to remove the unit for maintenance or bearing replacement.
Specifications
Price
$6200
Travel
127mm
Rear Shock
Fox CTD Adjust K+
Fork
Fox 34 Float CTD 140 Kashima
Headset
Cane Creek
Cassette
Shimano 10spd
Crankarms
Shimano XT 24-38
Rear Derailleur
Shimano XT
Chain
Shimano
Front Derailleur
Shimano XT
Shifter Pods
Shimano XT
Handlebar
Renthal Fat Bar Lite
Stem
Thomson X4
Grips
Yeti Lock-On
Brakes
Shimano XT
Wheelset
DT Swiss 350/XM LTD
Tires
Maxxis Ardent 2.4
Seat
Yeti Custom
Seatpost
Thomson Elite Dropper
---
| | |
| --- | --- |
| | As long as there's a modicum of forward rolling speed, the SB95C will keep chugging along towards the top, scaling whatever chunky, nasty sections of trail gets in its way. On more than one occasion we halfheartedly attempted to ascend a rooty, rocky mess of a climb, fully expecting failure, only to end up cleaning it with relative ease. |
Climbing
While the SB95C is lighter than its aluminum relative, it still weighs in around 30 pounds all decked out, which is a fair weight, but it won't have XC racers rolling up to the starting line with one. Still, the SB95C has more than enough gumption to take on the trickiest of climbs. The key is to maintain momentum – as long as there's a modicum of forward rolling speed, the SB95C will keep chugging along towards the top, scaling whatever chunky, nasty sections of trail gets in its way. On more than one occasion we halfheartedly attempted to ascend a rooty, rocky mess of a climb, fully expecting failure, only to end up cleaning it with relative ease.
We weren't sure how the SB95C's rather slack seat tube angle would feel on long slogs up logging roads, but our worries proved to be unfounded, and the climbing position ended up being plenty comfortable even on those long, seated climbs. With the Fox CTD Float rear shock all the way open the rear end did have a slight bobbing motion, but a quick flip of the lever to the Trail position counteracted the vast majority of this movement, making for a calm, controlled ride, but with enough available suspension to provide traction and take the edge off rough sections of trail.
Descending
Our review SB95C came with a 70mm stem, but we ended up swapping it out for something shorter, a highly recommended change. Tossing a 50mm or 40mm stem on this bike makes a world of difference, helping the bike come alive as a technical trail eating machine. There's no denying it – get the SB95C pointed downhill and it becomes immediately apparent this is one damn fast bike, one that will wring every possible mile per hour hour of a straightaway. The relatively slack head angle (
67.6 degrees with a 140mm fork
) deserves partial credit for this, helping to create a stable rocket of a bike, one that possesses an endearing mix of solidity and playfullness. The bike stays planted and glued to the ground at high speeds, but at the same time can still easily be maneuvered to change lines or for some extra air time. This propensity for speed can make it a little tricky to reign it in when a trail has fast sections interspersed with slower speed turns, with some forward planning necessary to be able to shut it down in time to navigate extra-tight switchbacks.
We're lucky enough to have a machine built jump trail as part of our testing grounds, so we took the Super Bike out to see how the big wheels dealt with some proper air time. Sure, the SB95C is intended more for trail riding, but it turns out that it's an incredibly fun bike in the air as well. It maintains speed well, which meant that on sections where it's usually necessary to throw in a few pedal strokes between the landing of one jump and the takeoff of the next we were able to coast into the takeoff and still nail the landing perfectly. We did bottom out the suspension a few times on hard landings where we really pushed into the travel - the Switch Technology suspension layout doesn't have as progressive ramp up at the end of its stroke as other designs.
Technical Riding
The SB95C proved its worth on smoother, lightning fast descents, but could it handle slow speed technical trails, the kind where a certain sequence of precise moves is necessary to navigate through the gnar? To find out, we headed to Vancouver's North Shore to spend time on some old-school classics. While the North Shore's trails have been slightly 'modernized', with more berms and flow than they had in years past, there are still plenty of puzzling rock sequences and sections of trail that are closer to riding down a dried creek bed than something intended for mountain bikes.
Yeti might be based in Colorado, but the SB95C took to the trails of the North Shore like it was born there, leaving us impressed with its ability to get through the nastiest rock gardens without getting hung up or pulled into wheel sucking holes. The suspension, which we switched over to 'Descend' mode prior to dropping in, felt like it was working as one cohesive unit, with a very balanced feel between the front fork and rear shock. The Shimano XT brakes also deserve credit as well, making it possible to creep our way into and down steep rock rolls without any fading or pumping up. The fact that we were able to feel comfortable riding a 5" travel 29er on trails that a few years ago were populated almost solely by long travel freeride bikes is a testament to how far mountain bike technology has advanced; Yeti's SB95C is one of a growing number of bikes that can comfortably tackle a huge range of terrain.
Component Report
• Fox suspension:
We came away impressed with the performance of both the 34 Float front fork and the CTD Adjust rear shock. Fox's revised CTD damper is a marked improvement over last year's offering, making the fully open 'Descend' mode much more useable, and turning the Climb mode into almost a full lockout.
• Maxxis Ardent tires:
Maxxis' Ardent tires are fast rolling, predictable performers, and the 2.4" width was appreciated for the extra traction it delivered. It was better suited to dry conditions, but even in the wet it hung on as long as possible before letting loose in a (
usually
) controllable slide.
• Thomson Elite dropper post:
For some reason, Yeti still doesn't include a dropper post as part of their build kits, but they were kind enough to include a Thomson dropper post on our review bike. The post is rock solid, with no hint of the side to side play that some other dropper posts have, and offers 125mm of infinitely adjustable travel. The lever is small and takes up a minimal amount of cockpit room, with good ergonomics, although it can get a little slippery and harder to engage when wet. We do wish that the post was activated from the fixed portion rather than from the top of the post, which would eliminate having a loop of housing that rubs against the frame as it moves up and down.
Pinkbike's take:
| | |
| --- | --- |
| | Every once in a while a bike comes along possessing that special blend of handling characteristics that makes us continue to gravitate towards it long after we've put in enough miles to make a fair assessment of its capabilities. This was certainly the case with the SB95C, and we kept grabbing it out of the test fleet, pretending that there was some specific trait we wanted to evaluate, when truth be told, we just wanted to disappear into the woods for hours on end, riding ourselves silly on the Super Bike. It'd be easy to look at the bike's numbers and dismiss it as 'only' a 5-inch travel 29er, but that would be selling it short. This is a ridiculously capable performer, one that left us continually impressed by its abilities. - Mike Kazimer |