The following article, originally written by Max Schumann and posted on the German website
www.mtb-news.de
, has been translated into English by me and it's an account to fit together with my film called "Zugspitze-X".
Does the Zugspitze by bike make sense? The Zugspitze is one of those mountains that attract attention in a special way. Especially considering that the 2962m summit is the highest mountain in Germany. This motivates a lot of mountaineers throughout the whole summer to put in some sweat and hard work to climb to the summit, or just pay €48 for the Gondola. For a long time, I too have been attracted to this idea of climbing the Zugspitze, but with my bike. Mountain tours make sense to me if they offer a lot of down hill riding fun, both in summer and winter time. Consequently, I am looking for beautiful and memorable trails here in the local area or in other mountain ranges. The tour of the Zugspitze is one of my favorite trails. The climbing is a touristy must-do thing and the riding down is an extreme challenge. I knew that the descent from the summit was possible after speaking to some other Garmisch locals who are also extreme bikers who know the area intimately. If it makes sense in the end to ride this section then you have to decide for yourself, it depends on your personal taste, your experience and vertride performance. I had been wanting to do this for a long time but always something came up that prevented me from doing it. Other mountains or projects were in the way or the weather was bad or I had to do some studying for University.
This Fall all the conditions finally came together to achieve this descent. A long period of stable weather offered us perfect high mountain conditions and dry rock with no snow on the critical passages. Quite often the late season also means that there are less hikers, especially mid-week. I took the crazy mountain bike photographer and filmer Colin Stewart on a Monday morning at the beginning of October to do this project.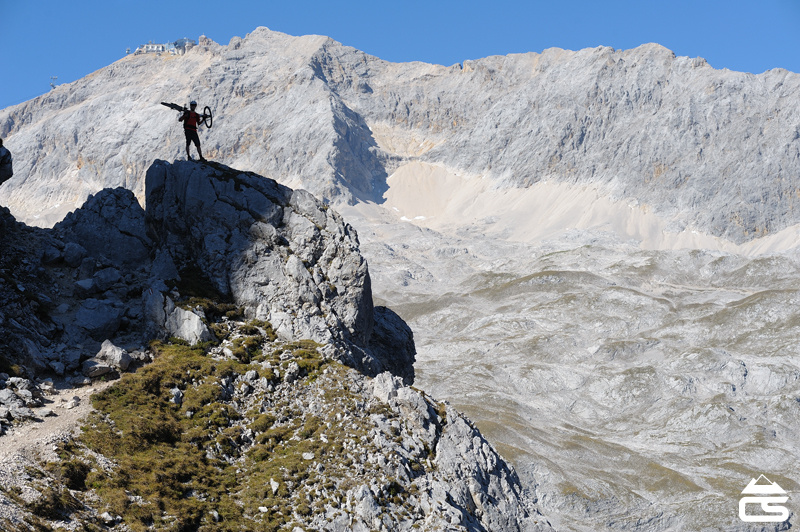 Starting point was in a village called Erhwald and from there there is a pleasant ascent on forest road to begin with, slowly changing into single trail and going on up to the Zugspitze Plateau. As we went over a pass from Austria back into Germany we got our first glimpse of the summit. Here we began pushing and carrying our bikes over to the Knörhütte where we planned to spend the night. We aimed to have a relaxed afternoon on the sunny terrace at the hut and enjoy some amazing alpine views. In the evening we had some great "Bergsteiger Essen" with a couple of Weiss biers and a Schnapps. We hit the sacks early that evening because we wanted to leave the next morning at 3am.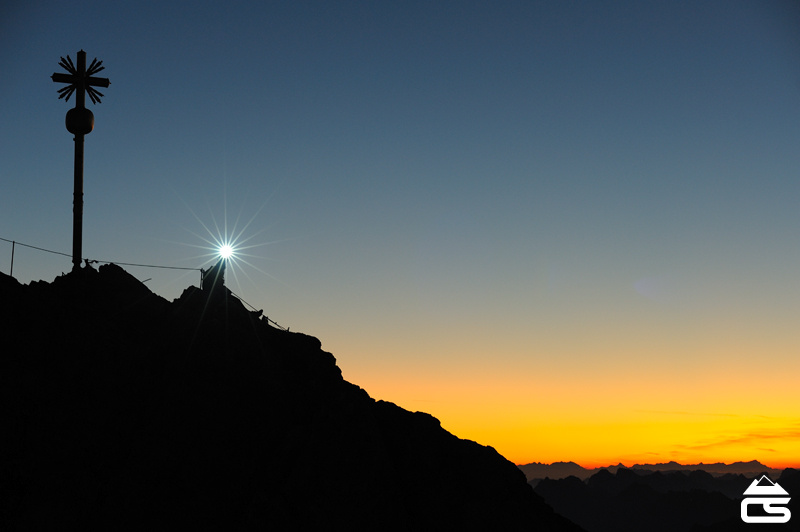 It seemed only 5 mins later when we were standing outside the hut at 3am holding our bikes and with head lamps on. Surrounded by awesome rocky mountains that were all the more impressive in semi-darkness. It was windy and the stars shone brightly, it was very atmospheric. Colin got impatient and wanted to start because there was no way he was going to miss the summit sunrise. It took us an hour and a half up to Sonnalpin at the head of the Zugspitze plateau, some sections of that we could even ride. From here the steeper climb up the summit ridge line begins and Colin left his bike hidden behind a rock. I shouldered my bike and it took another one and a half hours to reach the summit. After the initial scree most of the way is secured with wires. We couldn't see much in the dark but could still feel the exposure, especially with the strong winds. At this hour, which is normally wake up time for me, I was feeling a little uneasy, however, after exactly three hours we were finally on top.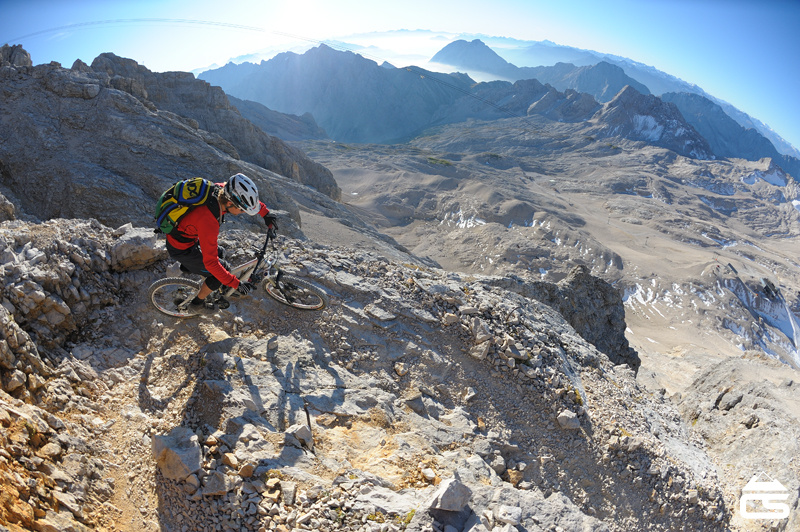 After yesterday's high alpine ambience we suddenly hit the top tourist zone which is the summit area of the Zugspitz. Suddenly we faced terraces, cosy huts, kiosks and telescopes. It was still pre-dawn and we climbed over to the summit rock itself and sat and looked East waiting to enjoy the warming colors of the sunrise sky. These 20 minutes of incredibly changing light made the pain of the climb suddenly worthwhile.
Our aim was to catch the sunrise from the summit and in the early morning light to ride the rocky ridge line trail down to the SonnAlpin. This part of the descent is very steep, narrow and exposed with many fixed wires for the safety of hikers. It was essential to do it early before any hikers came up and to be extra careful to avoid causing any stone fall inadvertently displaced by riding.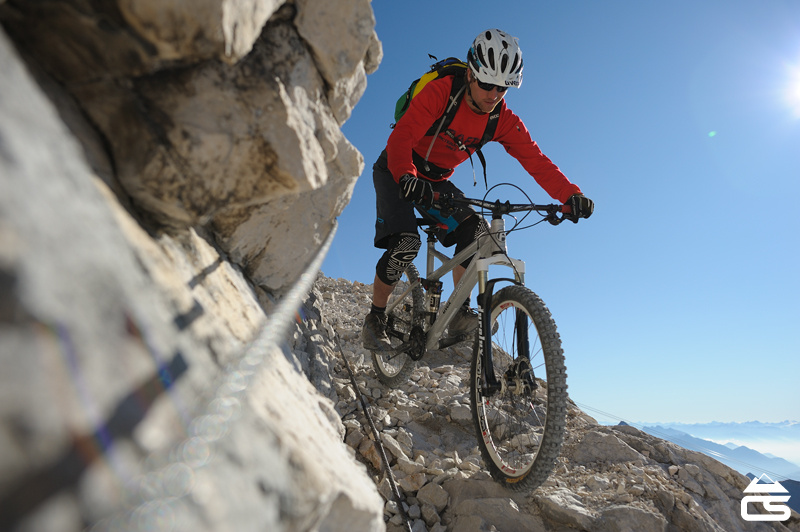 After warming up for 10 mins in the Müncher Haus with hot coffee and chatting to a curious hut warden about a bike appearing in front of his door, I put my pack on and saddled up on the bike. The descent literally started from the front door of the hut. I was excited with lots of adrenaline pumping through my veins. It was quite windy to start with and the steep steps off the summit terrace were a tough warm up. It took me about 15 minutes to really get going again. I began rolling slowly down and tried not to look to much either side of me because of the huge drops, on the left back down to the Knörhütte and on the right to Garmisch. I had to be careful about many of the small stones because they were like ball bearings and coupled with the high winds on the initial section made it very sketchy. After several bends the trail dropped left, we got out of the strong wind and I slowly found more flow. I trusted my tyres and brakes and my skill and it began to go better than I thought it would. After a few flowy bends I became more relaxed and continued over some rocky steps. The safety wire was always running beside me at the same height as my bars and only offering me false safety. Colin followed me on foot with the camera gear and on some of the steeper sections he may even have been slower than I was.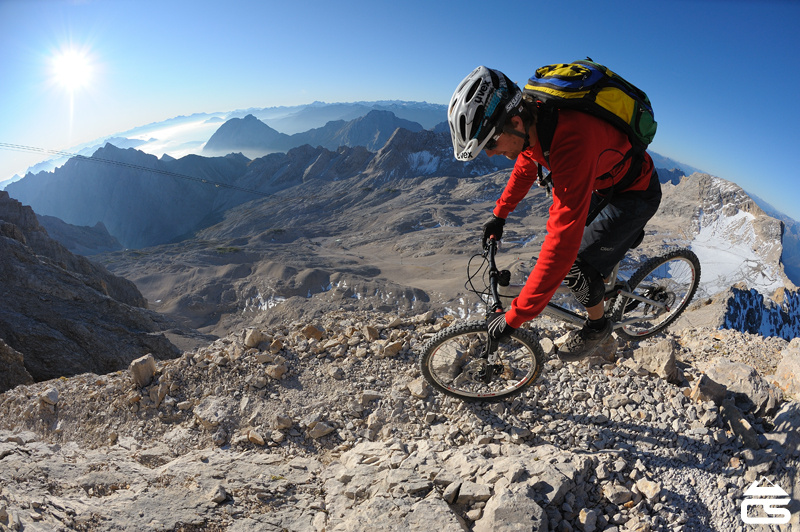 All of a sudden there was a very steep smooth rock slab beside a small hut. It took me a couple of roll-ins before I was certain I could ride it and that the rubber of my tyres would really stick to the rock. Consequences of stacking on this section were unthinkable, Colin was not even forcing me to ride it for the camera but I ended up riding this section twice. These are moments when the bike and materials reach their limits and this is one of the reasons why I am motivated to ride such tours. After years of experience you develop and ride passages which you thought would never be possible. But it is very important to be realistic and honest about your skills and carefully consider the consequences. After riding this crux slab there were still some steep technical sections but the exposure was much less. Finally, I reached the end of the rock ridge and had some fun sliding down the final scree slops back down to the Sonnalpin.
At this point we meet the first of the hikers coming up from the hut, so timing turned out to be perfect and we were both happy that we faced no traffic higher up. The hikers all shaked their heads in disbelief but they were all very friendly. They all asked if doing such a descent by bike really made sense. I couldn't really give them a straight answer and I understood their doubts. It's a lot of fun in a crazy way but in some ways it makes no sense to push the limits in high alpine areas.
Colin found his bike and we both rode the easier and faster trail back down to the Knörrhütte. The exposure risk was suddenly gone, the trail much easier and I could relax and ride much faster. We made it back in time for lunch at the hut with big pasta, a cold beer and some sweet cake. We chilled for an hour or so at the hut and then made the beautiful descent through Rein Tal with the amazing Fall colors on the trees back to Garmisch. We hit the town late afternoon and returned to civilization with memories of a beautiful mountain sunrise seemingly only hours beforehand.