Anyone who followed Aaron Gwin's 2013 season
is well aware that it didn't come close to matching either his or his fan's expectations, with it being the first year that his results were in decline since he began doing a full World Cup race calendar. This fact wasn't lost on many rabid race fans who immediately pinned the blame on his switch from the Trek World Racing program to riding for Specialized aboard their Demo 8 Carbon. It should be pointed out, however, that his two previous seasons were so dominant that it would have been extremely difficult for him to continue at the same level given the on-the-edge nature of elite level racing. In a way, he was only ever going to hold steady results-wise or the competition was going to get faster, much like you see in any sport, and it would be selling Smith, Minnaar et al. short if you don't believe in the latter. Regardless, the Demo took the brunt of the abuse from those who were convinced it was the root of his problems. But was it? Talking to the man himself about his equipment will have you convinced otherwise, and it's clear that he has the utmost confidence in his machine. And while that may sound like a sponsored racer only saying what he's been told to say, Gwin says he is 100% happy with his race bike and unperturbed by those who believe otherwise. ''
It's definitely harder to win on something that's less dialled,
says Gwin about equipment at the top tier of the sport.
''If you have something that you're really comfortable on, it's an advantage, but at the same time you'd be blown away by some of the stuff the privateer guys race at the World Cups, and they go really fast, or even stuff that I've ridden in the past. It is more rider than anything, but the times are so close at that top that you have to have everything.
'' And it is exactly that - being really comfortable with your bike - that is one of the keys to success, which is why Specialized manufactured a set of
custom longer chain and seat stays for Gwin's bike
. And if you think that custom components, or even a custom frame, is out of the ordinary for a top World Cup racer, you're mistaken because it's far more common than the sponsors want you to think. Regardless of the updates, a big win still eluded the American in 2013, though.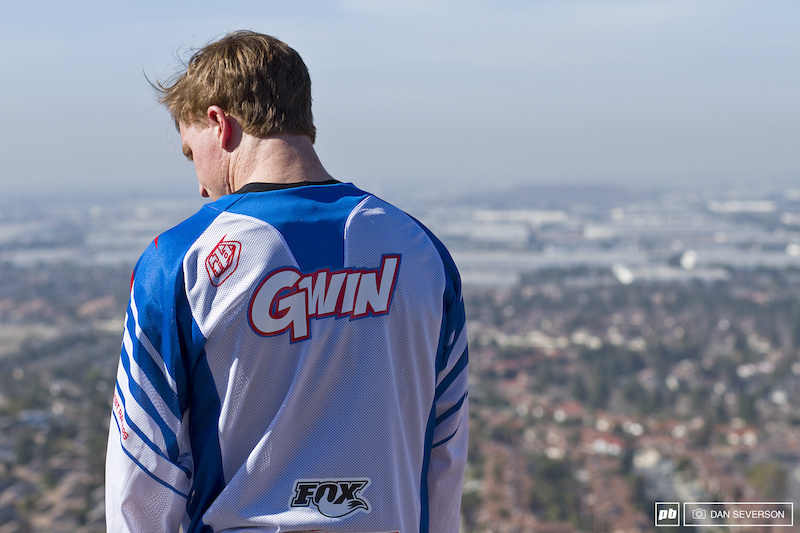 So, if it's not the equipment, what happened that saw Gwin go from laying down runs that looked so in control, so composed, that they appeared to actually be slow before he broke the finish line laser beam with times that defied belief, to a 2013 season that saw him unable to notch a single World Cup win? ''I think the competition is getting better every year. Everyone is taking it more seriously and they're really putting in the hours,'' he explains, with the most obvious example of this being Steve Smith's steady rise to the top that has been built on hard, focused training combined with some serious skill. Gwin is also well aware that at the end of the day it all comes down to each racer's ability to lay out not just an incredibly fast run, but also one that manages to walk the fine line between control and raggedness, a balancing act that can result in turning those split timing lights green.
| | |
| --- | --- |
| | I just straight up didn't execute race runs top to bottom last year. I was off the pace at Fort Bill, but every other race I just didn't ride to my potential. I was riding really good in practice, I felt faster and more relaxed than any of the previous years I've had, but the mistakes and crashes just kept coming for some reason. I was on race runs that felt perfect, runs that almost never happen but a few minutes in I'd wash the front wheel or something stupid and end up stopped out in the trees. They weren't huge mistakes but I'd make them in critical sections of the track and they added up to four, five, or six seconds on the clock. It was really frustrating, man, and I felt like I was handing out time all over the place. You can say that all you want though, it just sounds like an excuse, and people only see the end result and whatever few shots they happen to show online. A rider's thoughts of "If only I wouldn't have messed up I could have won", even though being sometimes true, don't mean a thing when you look at the results and you're out the back. But you know what, I did mess up, I made the mistakes, nobody else. Things don't always go as planned, and it definitely wasn't from a lack of effort or preparation from me or my team, I can promise you that. I had the bike, the equipment, the team, and I had the speed to win, but it just didn't come together. That's racing, and these guys are all extremely talented and driven, they throw it down when it counts and if you want to win you'd better have your stuff together. I've been on top before and I know what it takes to be back there now. I'm excited for the challenge. I don't know what the end result will be but I know I'll show up ready to race like I do every year and, if I ride to my potential, I'll be stoked. - Aaron Gwin |
Remember, too, that when Gwin uses the words "come together", he is talking about something very different from when the same thing happens to you or I when we manage to hit that tricky gap jump on our local trail. No, he's talking about shaving tenths of seconds that add up to just a few ticks of the watch that separate the top racers at any given World Cup race, all while thousands of fans watch from the sidelines and live feeds beamed around the world. No pressure, though... And how does Gwin plan to make it ''come together'' in 2014? He's stealthy on that topic. Training like a mad man? Testing new product developments? A level of focus that borders on having an obsessive compulsive disorder? All of the above, obviously. The Fontana, California, race that we talked to Gwin at also plays a part in his prep, not to mention it's the place that Gwin started to turn some heads six years back. ''
These are my roots. I started racing here at Fontana during the 2008 winter series, so it's kind of like home turf for me,
'' he says. ''
It's a good time hanging out with all my friends, and I have a junior team that I coach, so I'm just riding with the boys and helping them out. I'm also trying to get myself ready for the season, with the first race in South Africa, which is a pedally track, and this is also a pedally track so it's good off-season training.
''
Aaron Gwin's Fontana race bike

may look like a standard Demo, and even an up close inspection won't reveal too much about the blue and black machine beyond the fact that its pilot is fond of carbon, titanium, and some Kashima treatment, but you'd certainly be mistaken if you think the 2012 World Cup overall downhill champ is rolling on a completely stock bike. His Demo flies just under the radar, with slight changes to the frame, RAD-spec suspension from FOX, and some prototype clipless pedals that you might otherwise miss if it rolled by you in the lift lineup. ''

These races are just small preseason stuff for me, so my setup doesn't change a whole lot when I race these,

'' Gwin admitted to us, "

and I just race what I'm usually riding.

'' His weapon of choice for Fontana certainly doesn't hint that he'll be on anything other than a 26'' wheeled Demo come the pedal intensive South Africa opener, but we also know that Specialized isn't a company to sit back and relax when it comes to the arms race that is World Cup downhilling.

Details

• Production Demo 8 Carbon front triangle (

med

)

• Chain / seat stays are 19mm longer than stock

• Rear wheel travel: 215mm (

15mm more than stock

)

• FOX RAD 40 Float fork

• FOX RAD DHX RC4 shock

• Avid Code brake calipers / X0 Trail levers

• SRAM 8spd drivetrain

• Prototype HT clipless pedals

• Specialized Butcher tires (

27 PSI/30 PSI

)

• Weight: 36lbs
| | |
| --- | --- |
| | The longer rear end was a small change, but people definitely made way too big of a deal over that. I actually have you guys at Pinkbike to thank for that, so thanks, haha! The rear ends on Demos are really short, which is awesome at pretty much any track that the average dude would ride, and the bike really does does turn amazingly well with its low bottom bracket. For me, though, when I got to a World Cup, some of the really fast, rough straights on certain tracks had me wanting just a little more stability. I'm also used to riding stuff that is a bit longer since I first started racing, although I do enjoy the shorter rear end more than my current longer setup for practicing and riding my local trails, but the World Cup courses are changing. They're kind of dumbing some of them down a little bit; they're getting flatter, with higher speeds and more berms, so the bikes have to change with it. - Aaron Gwin |
Suspension:
Gwin is known for preferring a stiff suspension setup, even relative to other World Cup racers, and his setup for Fontana is no different. ''
It's pretty much running exactly how it was at Mont St Anne,
he told us. ''
I've been riding this bike all year, so same setup, same everything. I'll put a couple more pounds of pressure in to try and make it roll faster on the 'wall' (
Fontana's notoriously tough finish line sprint
), but that's about it.
'' So while Gwin might not be on anything out of the ordinary for this winter race, even his standard suspension is far from stock, with the RAD designation signalling that there is surely some internal trickery going on. We had a
chance to ride a RAD-spec FOX 34 recently
and were very impressed with its performance, and we can only guess that there are similar things going on inside Gwin's FOX 40 Float fork - a custom valved damper is a given, likely employing a mid-valve (
essentially another set of shims and a check valve that sits behind the rebound piston to provide added low-speed compression damping
) to help it stand up in its travel, as well as more progressive damping at higher shaft speeds. It also wouldn't be out of line to assume that Gwin prefers a more aggressive ramp-up to his stroke that would come from less air volume on the spring side but, much like the damper talk, this is pure speculation on our part. There is also a good chance that there is more gold hidden within the fork as well, with FOX giving both the damper and air piston rods with the same Kashima treatment as the stanchions.
The Drivetrain:
We've seen Aaron utilizing a few very special drivetrain components during the past World Cup season that fall under SRAM's BlackBox development program, some of which may lead to production items in the future, but his Fontana machine features far less exotic bits for the most part. 165mm carbon X0 cranks turn over a Renthal chain ring, which is worth noting as many SRAM sponsored downhillers have begun to use their X-Sync chain rings for a touch of added security, and an e*thirteen LG1+ guide has been bolted in place. Out back, a standard X0 DH derailleur moves the chain across a relatively conventional, trimmed down eight speed cassette rather than the
wild custom X-Dome spread and BlackBox derailleur
that we spotted on his bike during last year's race season.
There is something interesting to be spotted in the shape of what appears to be prototype DH pedals, likely from HT, Gwin's long time pedal sponsor and the brand that he would fit to his bike when using platform pedals. Gwin doesn't race on platforms, though, and he's often been pictured using Crankbrothers' Mallet DH pedals in the past, but it is looking like he'll be clipping into something different this year. The pedals, which definitely have an unfinished prototype look to them, utilize a one-piece body with a number of adjustable height set screws for traction, and it looks like some extra material has been left on the lower leading edge (
the section most likely to make contact in a pedal strike
) for added strength. The clip mechanism on each side, which is bolted onto the body from the face, uses a wound coil spring, and there is likely a screw that can be used to adjust entry and release tension. No word on how far along these are in the development process, but it will be interesting to see if Aaron is using them come South Africa.
Controls:
Renthal's 138 gram Integra stem has been mounted directly to the FOX 40's upper crown via steel hardware, with no riser spacers for a bit of added bar height as we sometimes see, and in the longer 50mm reach position rather than the optional shorter 45mm setting. The handlebar is also from Renthal, a 780mm wide aluminum Fatbar, and if you look closely you'll be able to spot the white witness mark from a paint pen on both the stem and bar that make it easy to achieve a repeatable setup if the handlebar should have to be removed for any reason. A set of thin ODI Ruffian grips and SDG's I-Beam post and seat combo round out Aaron's contact points.
| | |
| --- | --- |
| | I definitely have to have the bike not making obnoxious noises. That's something that I like about the Specialized bikes, with them being the quietest bikes I've ever ridden. If I have something that's making noise, it drives me insane. I'm also really picky about my bar and lever setup, but it's all stuff that I adjust when I get on the bike, and once I set it I don't ever change it around. - Aaron Gwin |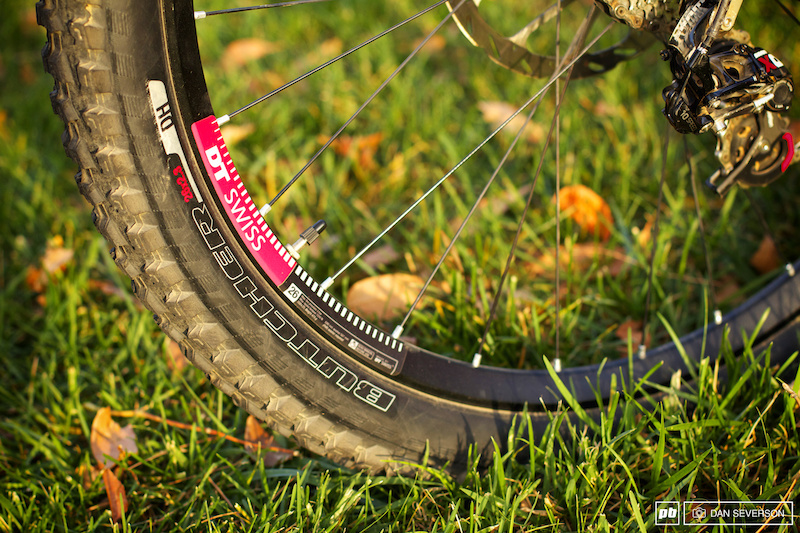 Wheels and Rubber:
Gwin's Demo is rolling on what appears to be a set of DT's 28 hole EX 471 rims that weigh in at just 475 grams - a smart choice given that the race finishes with a long sprint beside 'the wall' - and shod with Specialized's own Butcher DH tires. The Butchers use a stiff 70a base compound with much softer 42a outer layer applied over top, and the 60 TPI dual ply casing features butyl inserts low along the sidewall that Specialized says helps protect against pinch flats. Air pressure is sure to vary depending on the course and the conditions, but Fontana saw Gwin run 27 PSI up front and 30 PSI out back.
www.specialized.com
Must Read This Week