Everyone I talk to about what I do for a living is blown away. "You do photos and video work for a living?" is usually the answer I get, and when I respond to them with "Yes, basically" they respond with "wow, if only...". Out of everything I saw myself doing after school, sitting at a desk working for the largest mountain biking website in the world was not in my top 5, or even 15, but I can honestly say it has effected me in an extremely positive way.
As my position revolves a fair amount around journalism I get to go on some fun trips, however, my most recent trip to Aptos California was my first solo trip on behalf of Pinkbike, so...
Click here for more info on my trip to California...
Traveling with work is something completely different. Essentially everything is dealt with by Tyler (the most organized out of us all) and we are simply the sheep to the Shepard. Gate to gate, airport to hotel, Tyler has us locked in on where we have to be, and what were doing. If something goes sour he hears about it, so he makes sure his plans are rock solid to avoid this situation. However, what happens when you take everyone out of the equation accept the one kid who has never traveled alone, even over to his parents house? This is my story of my trip to Aptos, California.
After weeks, no, months, no, close to a year of planning the Ham and Steeze Jam with Justin Brantley using the Pinkbike message system, I had finally nailed down all my plans. Flights were booked and paid for, accommodations were dealt with and getting around resolved. Everything was all lined up days prior to leaving, however, Murphy's Law says "what can go wrong, will go wrong". As negative as that sounds here's how it all went down.
After recently buying my first truck, I was now an "independent" person. I'm 21, have my license, got a truck, and a hand full of bags with more money wrapped up in camera gear than I had in my bank account (ok heck it's worth more than my truck and bike too). Pretty basic sounding so far. I had a flight to catch at 4pm leaving YVR (Vancouver International Airport) to San Jose, where I was meeting
Justin Brantley
. YVR is roughly 3 hours from where we're located, and during my way in, I decided to hop off the highway to drop Tyler a call to insure that I was on the right track. After getting off the highway I momentarily pulled into a random driveway to talk to Tyler. After being greeted by the owner of the house at the front steps after pulling in I turned off my truck so I could talk to her. After explaining my situation she jumped back inside and I made my phone call. "You're going the right way" was the answer I got from Tyler, ok good to know, now I just needed to get back on the road. Click goes the seat belt, bump goes the bass, but wait, the truck didn't go vroom. Click, click... click! The sour sound of something not turning over.
Ok, so issue number 1 became present. I was nowhere even close to getting out of Canada, my truck had now quit working, and I was wigging out. With 500$ tied up in plane tickets to San Jose, I did not have too much time to fiddle around with my truck to get her working. After some minor trouble shooting with the owner of the house I was piling up my luggage into the back of a cab and was heading to the airport. Kindly enough the gentleman that was attempting to get my truck running with me said I could park it in his driveway for the 4 days I would be gone, so thankful for that!
After getting everything wrapped up with customs, getting all my bags checked and carry on cleared I was ready to go to the United States of America. A couple short flights and I was in San Jose, waiting outside of the airport for Justin Brantley. I had never met Justin, heck, I had only talked to him once or twice on the phone, but we speak daily on the site and Justin seemed like a really genuine dude. He's interested in photography, and getting his local riders known world wide. After a quick hello on the phone with Justin, I was jumping into his little truck and burning over to his place. A short stop at Safeway for some eats and so forth and we were good to go. The trip to San Jose had a couple small hickups along the way, but I made it there in one piece and that's what counts.
The next morning I got a true taste of what Aptos is really all about. First thing in the morning we headed over to the water's edge to click some tight shots of the water. Whenever I go somewhere, I like to grab tight shots of the surrounding nature and anything that is different from back home. Stuff like water rolling over sand and rocks, and even the sun coming up over the trees. To me it's a genuine way of sharing what the location looks like, without going into a full documentary. Here's a couple snaps Justin took of me filming the shore line first thing in the morning.
The first day in Aptos was spent meeting the locals, and getting the jumps ready. We got a breakfast burrito that was more like a steak dinner for breakfast. I've never been more full in my life! After eating my burrito and letting it settle in my belly it was time to do some digging. I knew prior to coming to Aptos the term "no dig, no ride", so I made sure to put in my time with a shovel to earn my stripes. After basically completely rebuilding a berm with a small group of people riding commenced, and this is what I pulled out of day 1, or practice for the Ham and Steeze Jam.
After being up till roughly 2AM compiling, editing, and converting the video for the website, I had an article ready to go and hit the site. Day 1 was a success. A comfortable but short sleep was had and I was up early again the next morning. It was Saturday, the day of the event, and we had stuff to do, and people to see! We met up with one of the head guys at Barry Swenson Builders who hooked it up huge! He owned the land we were using, the parking lot we were going to occupy, heck, without him we would have had serious problems. Mega props to him! After that we headed over to Fox Racing Shox to meet with Elayna. Elayna was putting in one hell of a prize, an 831 fork! Mega props to Fox! Along with that prize, there was prizing donated by Pinkbike, Republik, Straitline, Specialized, X Fusion, Deity, and BicycleTrip.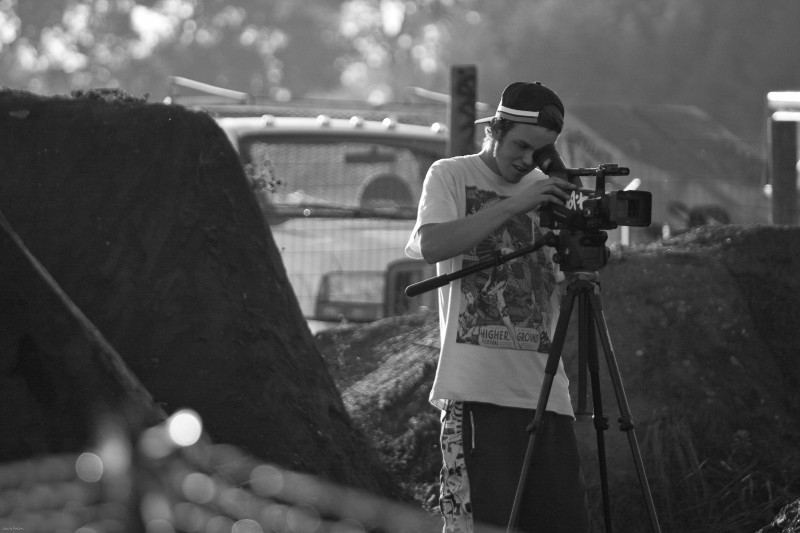 Checking the footage after getting the shot
The competition day went great. Tons of awesome riding went down, some mega tricks and big lines were thrown, and the contest went great. Ryan Howard took the most steeze award, Greg Watts got money for best trick, and Cam McCaul got best overall rider. The idea was who can steeze the best, and Ryan Howard throws down a mad steeze. After the event was done it was back to the time line to get the video up on the site.