:: from Lars TribusApr 28, 2002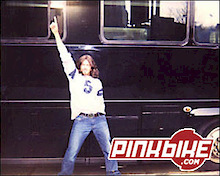 Lars Goes to Hollywood -- Sort Of!
Last week I am on my way to race my BBR at Bud's Creek Motocross Park in Maryland and I get a really cool message on my phone. "Lars, we found out about you and we are interested in having you be a stunt double for a music video." So I thought to myself, "that kinda sucks. That means I might have to get PAID to ride my bike." Life is tough.