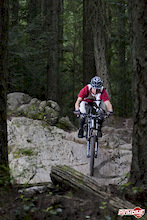 Magura Gustav Review-C-Team Style
Chiron Kantakis of the C-Team here, with another installment of " Wreck and Review".

As a bit of background, I have been a dork of the bicycle variety for just over twenty years now. I just recently downgraded myself to Master Expert from Elite for DH: How did every kid on the block get so damn fast? As an assistant manager at one of Vancouver's larger bike shops, I was able to really let loose the bike slut in me. I have a good portion of the products on the market, so I think I have a good idea of the benchmarks out there.