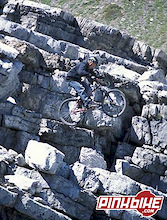 Jared Jesperson Interview
Last Saturday I made a short trip to Thorsby Alberta to attended a jam competition.While there I had the pleasure of sharing a cool one and pizza with Dropin rider Jared Jesperson. After seeing his antics and the craziness on the Dropin bus he was not at all what I had expected. While sure he can throw it down at a party with the best of them, what I found was an easy going,well spoken young man.During the competition he had at least 50 young riders approach him, he greeted everyone and answered all their questions with a friendly easygoing attitude.

To see how Jared finished my sentences read on.........